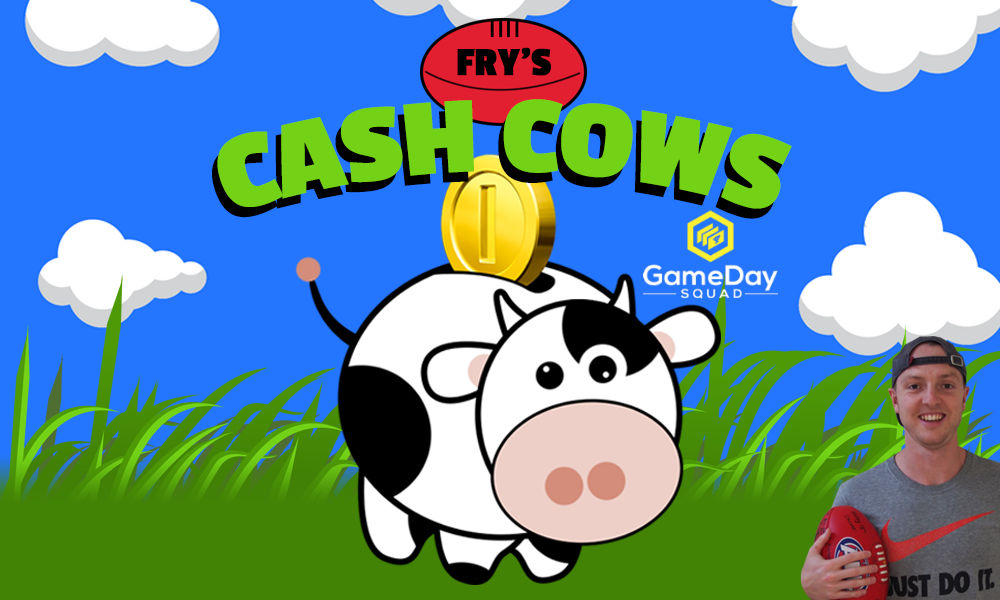 11 down, 13 to go!
Ahhhh the bye rounds. When miserable bench rookies get their time to shine and we scramble to find 18 players to take to the field. Coaches are often trigger happy during the best-of-18 rounds as we try to find our best team, but the stress has been compounded this season straight off the bat with issues to key premium players and a pair of Gold Coast spuds. To generate cash and leave the byes with a better team, it's important to keep half an eye on the cash cows you trade into your side. Don't get too greedy by trying to pull off the upgrade that will send ripple effects through the rest of your season.
Rookie/cash cows are defined as players who started the season priced at $300,000 or lower
---
Mooooving On
Part of our weekly trade focus is to remove the rookie-priced players who are no longer making money. When a cash cow sees their average fall in line with their breakeven or they find themselves on the outside looking in for multiple weeks at a time, that's a good time to give them the axe.
Fattened cash cows
Ollie Hollands, Blues ($491K, AVG 58, BE 85)
Samson Ryan, Tigers ($459K, AVG 51, BE 73)
Kade Chandler, Demons ($483K, AVG 62, BE 78)
Reuben Ginbey, Eagles ($499K, AVG 63, BE 67)
Luke Pedlar, Crows ($492K, AVG 61, BE 63)
Injured/non-playing rookies
Fergus Greene, Hawks ($361K, AVG 42, BE 71)
Alex Cincotta, Blues ($397K, AVG 62, BE 34)
Lachlan Cowan, Blues ($327K, AVG 41, BE 29)
Alwyn Davey Jr, Bombers ($300K, AVG 40, BE 44)
Matt Roberts, Swans ($223K, AVG 28, BE 18)
Cash Cow King – Round 11
Eye-popping scores weren't on offer from the cash cow class in Round 11, with a familiar name topping the scoring charts. Most would have moved Will Phillips (90) on by now, but he and Kangaroos teammate Harry Sheezel (82) were the only rookies able to top 80 points this week. The in-form Bailey Humphrey (72) wasn't far behind, neither were inexperienced duo Seamus Mitchell (70) and Matthew Johnson (68). The votes could go a number of different ways this week and I'm siding with Bailey Humphrey, who continues to get it done.
Loading ...
Round 11 Power Rankings
After 11 weeks of action, these are the top 10 cash cow performers in season 2023!
DPP Updates
We were all excited for the new dual-position players to enter the game, however a fresh batch of 17 DPP's didn't bring us much rookie joy. There were a few relevant names, but only one cash cow added a second position to his fantasy profile.
Dylan Williams – FWD > DEF/FWD

Making Moves
Money makers
The impressive scoring streak continued in Round 10 for Bailey Humphrey ($478K, 72, BE 10) as he soars in value for his owners at the same time. Rising $176K in the past month, Gold Coast's young phenom has averaged 80.5 points in that same stretch, with his presence during the bye rounds set to be a huge factor. One of his peers with the Rd 13 bye that may interest coaches includes recent debutant Oisin Mullin ($233K, 56, BE 5) who scored a respectable 56 from 15 disposals last week vs GWS. We don't usually trust rookies in Chris Scott's team, however, Mullin may be able to feature regularly during the best-of-18 rounds for the fantasy faithful. Labelled by teammate Zach Tuohy as "Ireland's equivalent of Nick Daicos", let's hope Mullin can score half as well as the ascending Collingwood talent.
A lot of coaches are using this week to dump Will Ashcroft ($726K, 46, BE 92) now that he's reached his bye, although the majority of the fantasy community is planning to keep the Brisbane rook. Roughly 14% of coaches have traded out Ashcroft as it stands now, but I'm in the 86% of his owners that think holding him is the preferred option. Another cash cow taking Rd 12 off is Matthew Johnson ($349K, 68, BE 14) with a full game for Freo leading to the best score of his young career. Even though there's still an element of risk associated with targeting MJ given the uncertainty around his spot in the side, if the Dockers pick him to play Richmond then he's a fine trade target.
Some who missed the George Wardlaw ($360K, 51, BE 14) boat may still be looking to bring him in, currently snapped up by nearly 3,000 coaches. He and North teammate Harry Sheezel ($797K, 82, BE 102) will appear on the field for a lot of team during the byes and I've got faith the duo can perform admirably. Obviously, Sheezel's scores are expected to be greater than Wardlaw's, but both should continue to play their part as handy cash cows. DEF/FWD pair Seamus Mitchell ($511K, 70, BE 27) and Dylan Williams ($498K, 56, BE 42) have both continued to ascend in value as well, with the Hawks youngster pipping Williams this week thanks to his 20 touches. Given their convenient positional flexibility, expect Mitchell and Williams to hang around until Round 14 and 15 respectively when they'll likely be offloaded.
Keep the faith
Josh Weddle ($438K, 55, BE 20) was unlucky not to find himself in the higher tier this week, however he hasn't performed at the same rate as the aforementioned rooks. A 102-point game against the hapless Eagles inflated his average, with a 53.2 AVG in his other four games this year. If you're an owner, there's no reason to panic with Weddle showing enough to suggest he'll continue to feature for Sam Mitchell and rise in value. However, if he fails to top 60 again he could be flicked out to facilitate another upgrade.
Most coaches traded Will Phillips ($436K, 90, BE 31) away earlier in the season, but those who stuck with him would've been stoked with his efforts against Collingwood. Hugh Greenwood and Jy Simpkin were the only Roos midfielders who attended more CBA's than Phillips and there's nothing wrong with sticking with him until LDU is back in the mix. While Phillips may continue to feature, Mattaes Phillipou ($461K, 59, BE 43) has reached the end of the road for a portion of coaches. You probably didn't know that the exciting Saint is yet to decrease in value to start his AFL career, although there isn't a lot of growth left now that he's eclipsed $450K. If you desperately need the green dot throughout the byes Phillipou could be trusted, but don't expect great scores.
Cut them loose
I'm surprised that Ollie Hollands ($491K, 40, BE 85) isn't the most traded-out player halfway through the week, with a fractured collarbone almost set to end his 2023 campaign. His ownership is expected to decrease quickly, along with rookie forwards Kade Chandler ($483K, 38, BE 78) and Samson Ryan ($459K, 26, BE 73) as their week off quickly approaches. Ryan offers additional flexibility thanks to his RUC/FWD status, but it's wise to trade both him and Chandler ASAP. There will be the temptation to keep them until their bye round does arrive, although with breakevens in the 70's there are no guarantees they'll be the same price.
Some were hopeful that Cam Mackenzie ($456K, 31, BE 51) could keep himself off this list and increase his price over the next few weeks. Instead, Hawthorn's rook struggled to back up his 94-point game and could find himself dropped. Playing in a winning side could keep Mackenzie safe, but Judd McVee ($368K, 28, BE 62) isn't in the same position. A lot of his owners would've happily let him reside at D7/D8 from Round 1 however it's smart to jump ship now.
GameDay Squad – Create. Coach. Compete.
Thin Ice
Instead of trading Luke Pedlar ($492K, 56, BE 63) he gets another life. Just. There isn't a lot separating the Adelaide hard nut and someone like Kade Chandler, but I have slightly more faith in Pedlar's ability to turn things around and kickstart his cash generation again. For a different reason, a lot of coaches will keep Darcy Wilmot ($423K, 42, BE 44) this week as well, optimistic that he can contribute on field in some capacity over the bye rounds. Unless you're taking a lot of marks, the back pocket isn't conducive to noteworthy fantasy scores and Wilmot doesn't have a great history of big numbers either. I won't be shocked if he drops another 30 in the near future and ends up flicked out before Round 16 for most of his owners.
Getting his hands on the footy again has breathed some life into Reuben Ginbey's ($499K, 67, BE 61) fantasy potential, quickly putting his dud against the Hawks in the rear vision mirror. 19 disposals and 5 tackles are an encouraging sign for those who stuck with the West Coast jet and he doesn't need to be culled right away – every playing rookie is helpful right now. Bench pieces like Jacob van Rooyen ($385K, 49, BE 39) and Ryan Angwin ($302K, 51, BE 27) could find themselves amongst the on-field 22 for a lot of coaches as well over the next fortnight. No one will complain if they can at least keep hitting 50's, even if we know the better option is to move them on.
Wait and see
One week is a long time in fantasy and the positive vibes that were being channelled towards Lachlan McAndrew ($245K, 18, BE 17) stopped quickly when he recorded a lousy three disposals against Carlton. A significant injury to Peter Ladhams means that McAndrew may get another chance in the senior side after Sydney's bye and every green dot is crucial over the coming rounds. There's a strong likelihood that McAndrew has already made most of his coin though.
If you've held onto Miller Bergman ($381K, 49, BE 36) and Max Michalanney ($452K, 59, BE 57) this long then you're probably not looking to trade them before their bye. I've still got some faith in both of the backmen making money and hitting the 50-point mark a few times, however they aren't going to steal too many headlines in the process. Bulldogs duo James O'Donnell ($200K, 45, BE 42) and Arthur Jones ($347K, 46, BE 36) will come onto the field for their owners and we could see them produce respectable scores up until their scheduled break in Round 15. Similar to the rest of the rookies in this section, neither instil me with a great amount of confidence and anything over 50 from this duo will be a blessing.
Sub status
Subbed On – Corey Warner, Sam Sturt, Mitch Knevitt, Josh Fahey, Francis Evans, Judson Clarke, James Madden
Subbed Off – Lachlan McAndrew, Kade Chandler, Lachie McNeil, Samson Ryan
We've waited 10 bloody weeks to see GWS trot Josh Fahey ($200K, 6, BE 55) out in their senior side, with the teenager averaging 119.7 points in the VFL this season! Instead of giving him a decent run, Fahey was only able to chalk up one +6 in his 16 minutes of game time, ruining his potential cash gen in the process. The familiar disappointing theme continued throughout the rest of the round for the substitutes with a top score of 33 coming from Mitch Knevitt ($387K, 33, BE 40).
Reserves Watch
The pool of reliable cash cows in the state leagues tends to dry up around the mid-season point, with a lot of the popular names already breaking through for a game or two. We've seen Alex Cincotta get a chance only to be dumped after four appearances for Carlton. However, a recall for the mature-aged defender could be on the cards in the coming weeks after Cincotta gathered 31 disposals in their VFL win last Friday. If Cincotta doesn't return to the side, Jaxon Binns may finally earn a gig after he too had 31 touches to go with nine marks and a goal. On the other side of that clash, you could find Angus Sheldrick doing his usual thing with a lazy 36 touches for a team-high score of 118.
No state league player scored more fantasy points than Box Hill's Ned Long last weekend and his monster game may see him re-enter the mix for the Hawks. Long posted 151 points thanks to 34 disposals, 11 clearances, 9 tackles and 3 goals against Essendon's VFL side, with Rhett Montgomerie continuing his impressive form for the Bombers. Registering a team-high 10 marks and 19 disposals (91 points) won't see him force his way into Essendon's senior side, but it's worth monitoring Montgomerie as a chases a debut. Earlier over the weekend Brisbane cash cow Harry Sharp was back in the two's, staking his claim for another chance with 23 disposals and 7 marks for 100 points. It'll be tough for him to squeeze his way back in soon thanks to the timing of the Lions' bye, although it's still a possibility.
Geelong youngster Ollie Dempsey continued his dominance in VFL colours, chalking up 104 points from 27 disposals against Port Melbourne. The Cats small is now averaging 88.2 points in five VFL games and it may not take him long to return to the best 22. It appears to be a longer road back for Corey Wagner at the Dockers, but he did his chances no harm over the weekend for Peel Thunder. Wags chalked up 33 disposals for a score of 119 as the best performing cash cow in WA – although, I don't expect to see him back for Fremantle any time soon. In the SANFL, Josh Sinn had his best game of the season in Port Adelaide's close loss, recording 24 touches, 7 marks and 2 goals amongst his 104 points. More of the same from Sinn should see him build momentum for a spot in the Power's AFL outfit.
Remember the Name
In no particular order, here are some of the other rookie-priced players to consider throughout the season.
DEFENDERS
Jake Stein (Suns, $288K)
Rhett Montgomerie (Bombers, $200K)
Jaokb Ryan (Magpies, $246K)
Sam Banks (Tigers, $200K)
Sam Durdin (Blues, $213K)
Darragh Joyce (Lions, $241K)

MIDFIELDERS
Connor Blakely (Suns, $235K)
Billy Dowling (Crows, $216K)
Elijah Tsatas (Bombers, $292K)
Ed Allen (Magpies, $264K)
Hugh Bond (Crows, $202K)
Jaspa Fletcher (Lions, $278K)
Henry Hustwaite (Hawks, $228K)
RUCKMEN
Jacob Edwards (Kangaroos, $200K)
Alex Mirkov (Blues, $200K)
Hamish Free (Kangaroos, $200K)
Harry Barnett (Eagles, $256K)
Max Heath (Saints, $200K)
Dante Visentini (Power, $200K)
FORWARDS
Josh Sinn (Power, $233K)
Jaxon Binns (Blues, $238K)
Joe Richards (Magpies, $206K)
Finlay Macrae (Magpies, $290K)
Patrick Voss (Bombers, $200K)

---
FOLLOW ME ON TWITTER: @SportsbyFry for all things AFL Fantasy (and more)! Feel free to hit me up with any questions you have throughout the season. Good luck! ✌️