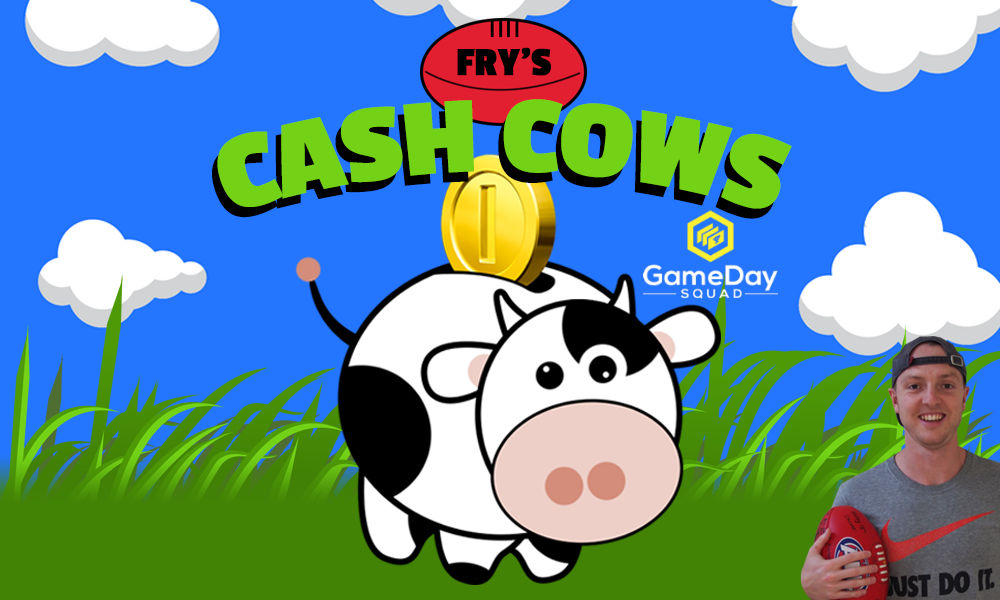 12 down, 12 to go!
The technical halfway point of the AFL Fantasy season is here, with coaches breathing a sigh of relief. One bye round is behind us and this week shouldn't cause too many headaches for the fantasy faithful. Rounds 14 & 15 could be a different story, as a lot of popular rookies and mainstream guns will miss leaving us to rely on the rest of our squad to find 18 players. While shuffling players to maximise the number of green dots will be the main focus for coaches, be careful you don't get stuck with dead weight on your benches.
Rookie/cash cows are defined as players who started the season priced at $300,000 or lower
---
Mooooving On
Part of our weekly trade focus is to remove the rookie-priced players who are no longer making money. When a cash cow sees their average fall in line with their breakeven or they find themselves on the outside looking in for multiple weeks at a time, that's a good time to give them the axe.
Fattened cash cows
Luke Pedlar, Crows ($478K, AVG 59, BE 70)
Reuben Ginbey, Eagles ($498K, AVG 63, BE 64)
Alex Cincotta, Blues ($401K, AVG 58, BE 55)
Samson Ryan, Tigers ($451K, AVG 52, BE 66)
Will Ashcroft, Lions ($726K, AVG 83, BE 93)
Injured/non-playing rookies
Ollie Hollands, Blues ($491K, AVG 58, BE 85)
Fergus Greene, Hawks ($361K, AVG 42, BE 71)
Lachlan Cowan, Blues ($327K, AVG 41, BE 29)
Alwyn Davey Jr, Bombers ($300K, AVG 40, BE 44)
Matt Roberts, Swans ($223K, AVG 28, BE 18)
Cash Cow King – Round 12
Harry Sheezel, Bailey Humphrey and Will Ashcroft were nowhere to be found among this week's top rookie scorers. Instead of the mainstream trio leading the charge, the somewhat forgotten man Will Phillips (90) scored his second consecutive 90 to pace the way for the cash cows in Round 12. There was a smidge of daylight between Phillips and the other nominees, with Kade Chandler (80) and Josh Weddle (80) the next closest pair. JVR (77) produced a timely score for his owners and Dylan Williams (78) continues to ascend to round out the top-5 this week.
Loading ...
Round 12 Power Rankings
After 12 weeks of action, these are the top 10 cash cow performers in season 2023!
Making Moves
Money makers
There is an abundance of money makers as we gear up for the 'easiest' bye round. The majority of our cash cows will be available for selection this week, although there are a few handy contributors who will put their feet up. Coveted this time last week, Oisin Mullin ($244K, 34, BE 10) and his Cats teammate Mitch Knevitt ($424K, 91, BE 23) are on the bye and as veterans around them return to full strength, there are doubts over their place in the AFL side. If Max Holmes, Patrick Dangerfield and Mitch Duncan all return for Geelong we could see one, or both of the cash cows excluded from the senior team. There are no worries about Bailey Humphrey's ($520K, 68, BE 35) spot in the senior side after he kicked two goals against Adelaide with 17 touches to take his five-round average close to 80.
Over 26,000 coaches opted to keep Seamus Mitchell ($511K, DNP, BE 28) in their squad, despite the budding Hawthorn line breaker missing the match against Port Adelaide due to illness. In his absence, Josh Weddle ($481K, 80, BE 24) picked up some of the slack and managed to produce a noteworthy score fuelled by 25 disposals. Both Weddle and Mitchell appear to be entrenched in Sam Mitchell's back-6, and there's no reason why you should offload either Hawk just yet. The Hawthorn duo aren't the only teammates making noise in the rookie realm, with Roos rooks George Wardlaw ($395K, 62, BE 20) and Will Phillips ($479K, 90, BE 21) continually increasing in value and making the most of their additional MID minutes.
The North theme continues with Miller Bergman ($404K, 68, BE 31) vaulting into relevance after the best score of his young career against the Dons. It appeared as though Bergman had made most of his cash, suggesting coaches should look for a trade as he stalled in value. Instead, the Kangaroos backman helped himself to 18 touches and five marks to ensure he'll keep trending upwards. A timely 77-point outing from Jacob van Rooyen ($413K, 77, BE 28) has seen him land in a similar position as Bergman, kickstarting his cash generation with a significant score in a time of need. The Melbourne key forward may return to scoring 40's next week, but coaches will tip their cap to JVR for his bye round assistance. Last, but certainly not least, Port Adelaide's Dylan Williams ($525K, 78, BE 48) continues to audition for a place in fantasy teams post byes with his third score exceeding 75 in his previous five games. A trade in Round 15 is probably the wisest move, but there's no urgency to deal Williams and he continues to excel off the halfback line for the Power.
Keep the faith
If you opted to trade Will Ashcroft ($726K, DNP, BE 93) last round, chances are you netted a decent upgrade and you're not too concerned with how the Lions jet is tracking. He'll travel to the MCG this week, but then Ashcroft plays three of his next four at home where he averages 103.4 points. I've got no issues holding onto him and/or his main competitor for Rising Star honours in Harry Sheezel ($772K, 64, BE 117). Through the first half of the season, the aforementioned pair have separated themselves from the rest of the field as potential cash cow 'keepers' with a lot of the other popular rookies more pressing trade matters.
First-year Demons Kade Chandler ($485K, 80, BE 52) and Judd McVee ($373K, 68, BE 40) both fit the criteria with most coaches already giving them the flick. Thanks to their high point totals in Round 12, both Chandler and McVee could eek out a few more dollars prior to their bye, but opting to move them on is still the preferred method. Brisbane youngster Darcy Wilmot ($423K, DNP, BE 44) is still on the chopping block for coaches, although now that his bye round is behind him we could see some opt to hold the versatile Lion for the next 2-3 weeks. Noah Long ($358K, 65, BE 32) gave us reasons for optimism with his efforts last weekend as well, coming to life against Collingwood with 16 touches and his first score north of 60. You shouldn't be expecting these numbers every week, but there's no reason to suggest Long will be excluded from the team again in 2023.
Only a few $$$ cheaper, Long's crosstown rival  Matthew Johnson ($349K, DNP, BE 14) is expected to be one of the most traded in players this round now that Fremantle have had their week off. With Jaeger O'Meara set to miss Round 13 through suspension, the opportunity for Johnson to chalk up another score in the 60-70 range is right in front of him. I don't have the same faith in Judson Clarke ($285K, 60, BE 31) hitting that mark, however he was able to shake the sub vest against GWS and produce reasonable stats in the process. He's cheap and while there's a chance Clarke pops if he maintains the role in Richmond's side, I think the cons still outweigh the pros when it comes to acquiring the Richmond FWD.
Cut them loose
Some have traded them out already, but those who haven't are ready to swing the axe down on Reuben Ginbey ($498K, 58, BE 64) and Luke Pedlar ($478K, 42, BE 70). While both cash cows have performed admirably throughout their first fantasy season, it's wise to ditch them now that they've stopped accruing value. There will still be a few 60's scored by the pair and coaches may want to wait until their bye next week to pull the trigger. If you can facilitate a trade before Rd 13 kicks off though, that'd be the smart play. Tigers tall Samson Ryan ($451K, 60, BE 66) could be moved on as well after he hit a similar roadblock with Toby Nankervis back at full fitness.
You wouldn't make a great deal of money by trading Arthur Jones ($341K, 26, BE 52) away, although it's clear the Bulldogs forward is about to slide in value. Making the most of his current price tag and giving him the chop is preferred, with the forgotten Bodhi Uwland ($247K, -3, BE 42) now a must-trade after his impossible sub zero showing. Similar to Jones, there isn't a lot of value to be had, but trading Uwland is a good way to use one of your three moves this week. Don't forget, Oliver Hollands ($491K, DNP, BE 85) is currently slated to be out until Round 20, so 8.4% of coaches should prioritise giving him the axe.
GameDay Squad – Create. Coach. Compete.
Thin Ice
No one expected Ryan Angwin ($311K, 39, BE 29) and Ollie Lord ($311K, 25, BE 30) to light the world on fire with their fantasy output, and lacklustre scoring numbers could soon see them moved on. There was hope that Angwin could be a handy money maker after his 54 points on debut back in Round 6, however, the Giant's prospect hasn't reached that threshold since – despite avoiding the dreaded sub vest. As a key forward, less was expected of Ollie Lord, especially with Charlie Dixon, Jeremy Finlayson and Todd Marshall still dominating the targets inside-50. If we weren't in the middle of the bye rounds, then more coaches may elect to get rid of the underperforming cash cows. Instead, as long as they survive the cut on Thursday they'll likely stay for their owners.
Alex Cincotta ($401K, 39, BE 55) fits the same mould as an underperformer that may have to hang around for some. Returning to the lineup to take on Melbourne, Cincotta failed to fire with an uninspiring stat line that may see the Blues demote their mature-age defender. Three scores in the 70's to start his fantasy career have been well and truly forgotten now and there are nearly 36,000 coaches who are hoping Cincotta can refind his scoring mojo. St Kilda's Mattaes Phillipou ($461K, DNP, BE 43) is another rookie who has produced indifferent fantasy scores, with coaches unsure if they can trust the cult figure from Moorabbin. Phillipou will still churn out 50-70 points during each of the byes, although his residence in a lot of fantasy teams will come to an end once Round 16 arrives.
Wait and see
Encouraging performances in Round 12 have led to Phoenix Spicer ($236K, 56, BE 11) and Harvey Harrison ($221K, 54, BE 5) becoming popular downgrade choices as coaches scramble to free up cash to unlock other trade moves. However, there's an element of risk associated with both of these youngsters, given concerns about their scoring ability and job security. Registering a game-high 9 tackles should bode well for Spicer's place in North's team, although I expect his scores to hover under 40 more often than not. Collingwood's recent debutant showed more promise when it comes to accumulating points, although Jamie Elliot's return coupled with Patrick Lipinski and Dan McStay waiting in the wings makes me think Harrison only has a week or two left.
Now that his bye round is in the rear vision mirror, Lachlan McAndrew ($245K, DNP, BE 17) owners are hoping the Sydney tall can get his cash-gen back on track. He and Hawthorn's Bailey Macdonald ($219K, 51, BE 8) boast low breakeven's that they should reach without too much trouble, although Macdonald could be straight back out if Seamus Mitchell returns. There are bound to be coaches tempted by James O'Donnell ($200K, 33, BE 19) or perhaps even Eddie Ford ($415K, 40, BE 39), despite his already inflated price. It's wise to keep both of these potential cash cows out of your team for now though, with other downgrade targets instilling me with more confidence.
Sub status
Subbed On – Josh Sinn, Cam Mackenzie, Bodhi Uwland, Josh Fahey
Subbed Off – N/A
One game as the substitute wasn't quite enough to ruin Josh Fahey's ($200K, 17, BE 70) ability to generate money, but a second appearance as GWS' sub has certainly done that. Fahey was given more game time against Richmond, but that didn't impact his score in a great way. Now that he's destined to stay stuck at $200K, we're going to need consistent, full games from the Giants youngster to unlock his fantasy ability. One rook that has had such an opportunity already this season is Cam Mackenzie ($456K, 50, BE 56), who benefitted from a Lloyd Meek injury to feature in 47% of the game. Mackenzie's score was fine, but the sub that fantasy coaches would've had their eyes on in that game is Josh Sinn ($228K, 21, BE 34). The Port speedster has had to wait for his AFL opportunity this year and a gig as the sub will hopefully lead to Sinn getting a chance inside the best-22 in the near future.
Reserves Watch
There were plenty of encouraging numbers from the two's this week, with mid-season draftees suiting up for their new teams for the first time. A lot of the focus has been on Quinton Narkle and Caleb Poulter with the duo having spent time on an AFL list before. Poulter only had 46 points, but he found 17 disposals and has been tabbed as a potential replacement for the hamstrung Ed Richards, while Narkle shone for Port Adelaide with 29 disposals, 7 marks, 8 tackles and 127 points. Neither of them recorded prolific numbers like Gold Coast's Sam Flanders as he continued to put pressure on players like Bailey Humphrey with a whopping 150 points from 34 touches. His teammate and fantasy favourite Charlie Constable kept his name in a ring with 29 disposals and a score of 110.
Surely this is the week Carlton rewards Jaxon Binns with an AFL debut, following another dominant display in the VFL. Gathering 35 disposals saw Binns top score against Frankston, paving the way for him to earn a call-up to clash with Essendon. Discarded defender Lachie Cowan made his return from a finger injury in the same contest, producing a solid score of 69 from 21 touches. Another cash cow from down back who intrigued coaches once upon a time is Cam Fleeton, with a return to the senior side not out of the question. A game-high 32 disposals and 8 marks helped Fleeton record 110 points last weekend and more strong showings like this could cause headaches at the selection table for the Giants.
Around the rest of the VFL, Finlay Macrae was his usual self with 25 disposals (83 points), throwing his hat into the ring as a Jordan De Goey replacement. It may only be for the short term, but Macrae deserves a crack after his strong VFL form, with Richmond youngster Tyler Sonsie another one who is building towards a senior game. If the Tigers opt to deploy the kids in the back half of the season, then we could see the likes of Sonsie and/or Sam Banks get a highly-anticipated promotion. Elijah Tsatas is another young gun who we expect to see at AFL level in 2023, with the Essendon draftee making his return to football after a lengthy layoff due to a meniscus injury. Tsatas scored 64 points from three-quarters, chalking up 18 touches and 6 clearances in that time frame. Expect Essendon to proceed with caution, but the budding midfielder is primed to matter after the byes once his fitness builds. One other player whos cored 62 fantasy points in the state league over the weekend was Campbell Chesser, featuring heavily in the midfield as he tries to recapture a spot in the Ealges' 22. Chesser helped himself to 19 touches against Swan Districts, putting in a mountain of work as a midfielder for the bulk of the contest.
Remember the Name
In no particular order, here are some of the other rookie-priced players to consider throughout the season.
DEFENDERS
Jake Stein (Suns, $288K)
Rhett Montgomerie (Bombers, $200K)
Jakob Ryan (Magpies, $246K)
Sam Banks (Tigers, $200K)
Karl Worner (Freo, $200K)
Sam Durdin (Blues, $213K)
Darragh Joyce (Lions, $241K)

MIDFIELDERS
Connor Blakely (Suns, $235K)
Billy Dowling (Crows, $216K)
Elijah Tsatas (Bombers, $292K)
Ed Allen (Magpies, $264K)
Hugh Bond (Crows, $202K)
Jack Peris (Saints, $200K)
Jaspa Fletcher (Lions, $278K)
Henry Hustwaite (Hawks, $228K)
RUCKMEN
Jacob Edwards (Kangaroos, $200K)
Alex Mirkov (Blues, $200K)
Hamish Free (Kangaroos, $200K)
Harry Barnett (Eagles, $256K)
Max Heath (Saints, $200K)
Dante Visentini (Power, $200K)
FORWARDS
Jaxon Binns (Blues, $238K)
Joe Richards (Magpies, $206K)
Finlay Macrae (Magpies, $290K)
Hugh Jackson (Power, $200K)
Patrick Voss (Bombers, $200K)
Kai Lohmann (Lions, $209K)
---
FOLLOW ME ON TWITTER: @SportsbyFry for all things AFL Fantasy (and more)! Feel free to hit me up with any questions you have throughout the season. Good luck! ✌️