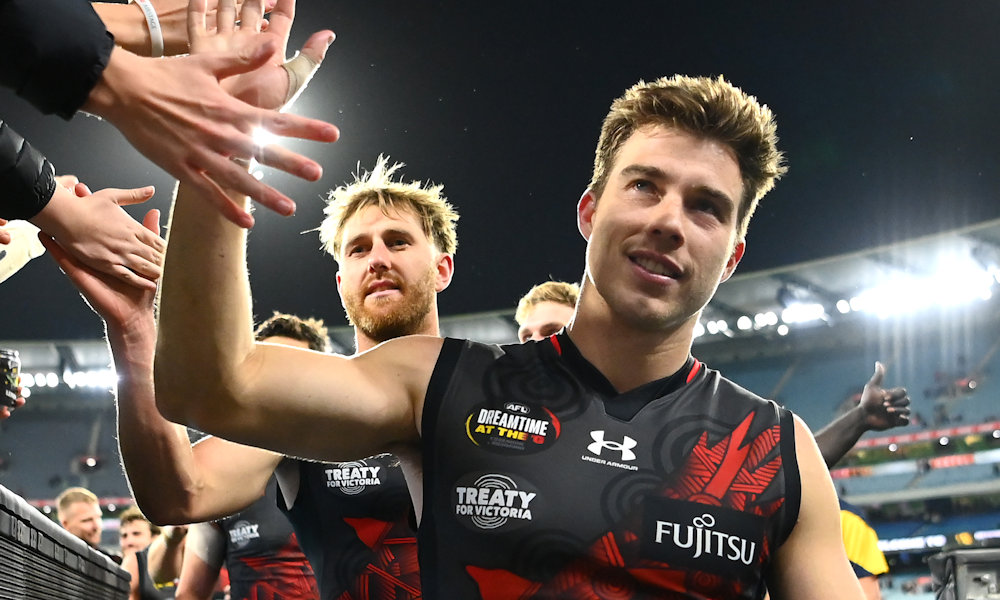 Honestly what do you even need me for this season? A quick glance at the length of the legends list tells you how this year is going. We're close to halfway through the season, the byes are almost upon us and things are getting very real at the top of the rankings. We're going on a journey this year, I'd just hate to be the player that eventually costs me. So far, it's just myself doing that. Strap in, it's time for the weekend wash-up!
LEGENDS
Butters (148) – We all knew he had a serious fantasy game in him, but god damn that was arguably the best individual performance of the season. I don't think we'll see him back at half forward on the back of 41 touches and 2 goals, what a bloody legend!
Rozee (121) – Not to be overshadowed, Connor Rozee made up for his previous few down performances with 31 disposals of his own. Has he been consistent? Absolutely not. But an average of 98 works. Let's just hope we see this more often.
Simpkin (115) – There he is. The role is perfect, it's not going anywhere and we already know he's a 95-100 guy. The law of averages suggest he's going to go 100 for the remainder of the year, meanwhile he's still priced around 85 and owned by just 0.6% of coaches. Not the worst move, byes dependant.
Warner (115) – Cheeksy! He has tonned in 70% of his games so far, if we could just be sure those 50's are out of his system…. He's a gun.
Parker (113) – We missed this one, Parker has dominated his last 4 games and is probably priced close to his value at this point. One for the old schoolers.
Sheezel (112) – Oh no, Sheezel didn't start down back. Everybody panic it's time to trade. Or maybe he's just a dead set gun and will dominate where ever he plays. I wouldn't love to see him lose his half back role permanently so it's a close watch next week. Legend.
Laird (131) – I don't know if he's actually sore or it's all total bullshit, but Laird's 5 round average of 114 is probably where he's at. Top 5 lock.
B.Smith (121) – Yeahhhh…. I don't think Bailey Smith is going back to the forward flank. Then again, it's Bevo? If 37 touches and 7 tackles doesn't get it done, I don't know what will. Even a drop to 50% CBAs would hurt his upside, and it sounds like Treloar is on the brink of return. Cross your fingers.
Brayshaw (135) – That knee soreness is certainly a thing of the past. We all know Andy Brayshaw is a fantasy gun, there's no shocker here. Congrats to anybody who got on board a few weeks ago, enjoy the ride. A serious chance to be the top scorer for the rest of the season.
Serong (125) – Any concerns I harboured over the previous couple of weeks were quickly squashed after quarter time. The Serong and Brayshaw tandem is hard to counter, and if Andy is flying the tag isn't much of a concern. All aboard the uber premium train.
Ashcroft (127) – Man this kid is unbelievable. He's now averaging triple figures at home, a decent score away from the slip n slide conditions at the Gabba would lock him in until after the byes. Huge.
McCluggage (128) – I almost traded him in a month ago, and I've got very little interest in doing so now. It should be said, Brisbane have started scoring a little better…. It has been noted.
Dunkley (125) – This is more like it. Now just a little bit of consistency would be great.
Neale (117) – Orrrrrrr maybe it was just Gold Coast. We'll know more next week, I wouldn't jump on Neale just yet.
Merrett (158) – You absolute LEGEND! It's one thing to have the added opportunity against an easy fixture, it's another to go out and have 39 touches, 8 marks, 7 tackles and carry your team to victory. Oh captain my captain.
Ridley (127) – You couldn't… Could you? No, you couldn't. But what if….. No. I'm being silly. But what if you did? He's cheap and I'll leave it at that.
Caldwell (112) – Read above.
McGrath (117) – Listen, I'm man enough to admit my errors. Do I regret that I upset a bunch of bombers fans last week? Honestly I don't think I could possibly care less. We're objective here, and Andy McGrath had been objectively terrible all year. Well this week the VICE skipper finally bounced back from that rocket in style. I still don't think cheering on your number 1 draft pick to play a lockdown role in a 50 point loss is worth celebrating, but the only thing they've been able to celebrate in the last 20 years came from a bloke jabbed up on horse tranq. For that, I do apologise. Play on Andy, keep that level up.
Sheed (139) – Wow. I said last week I should have gone Sheed, but that was without the knowledge he has a god damn 140 bombshell ready to nuke the top 100. Unbelievable. In probably the worst AFL loss in history as well. Forget the Eagles, Sheed is a lone soldier out there. And it might just work for us.
Nash (130) – How much should we take out of this game? Connor Nash scored 130. That's how much.
Sicily (125) – As we always say, it's going to be a bumpy ride but Sicily's rollercoaster hits highs not many do. Has the firepower to be worth prioritising if he suits your bye structure. It's just a shame he doesn't face the Eagles every week.
Witherden (125) – His role has clearly changed over the last couple of weeks, I just don't know whether we can trust it. Probably a great value option, I'm just way too scared to do it.
Weddle (102) – I give up. I'm Shanghai Brooks for three when it comes to rookies. Embarrassing.
Sinclair (141) – Less CBAs, huge score. It's no coincidence. I liked his value last week, I love it this week. Likely a priority for me after his bye, a perfect upgrade target.
Steele (121) – Similar sentiment to Sinclair. A week off should do him the world of good but you want to hold off from Round 12 players and target them coming off their bye. Watchlist.
LOSERS
Oliver (108) – It's certainly not for the score, an injury was going to be the only thing that could slow him down and Oliver's string went ping. He'll be a priority addition coming off his bye, but until then his owners must wave goodbye. I'm a poet now apparently. Luckily you won't be short of options with a million dollars cash in hand.
Brayshaw (57) – Ok, hear me out… this is terrible, and we've certainly had our issues with Angus Brayshaw in the past. However a whole bunch of CBAs have just opened up in the Melbourne midfield and he's cheap. Very cheap. Cheap for a reason? Perhaps… His bye works for my team and he's certainly on the watchlist for next week.
Gawn (66) – DPP or not, Max isn't really presenting himself as an option. He's still averaging 93 without the injury score but we'd need to see more for him to be a legitimate option. Bloody Grundy.
Drury (14) – How many injuries do North have again…? It won't be enough for this tripe. Embarrassing.
Sheldrick (8) – Sydney rookies, never again. I don't know what James Rowbottom holds over Longmire, but it must be bad. Real bad.
Johannisen (43) – On one hand this sucks and is unlucky, on the other hand you traded in Jason Johannisen and quite frankly don't have a leg to stand on. A good opportunity to move him on, but bloody annoying if you took any of the other multiple bullets this week.
Soligo (29) – One for the future, but I don't know what the hell this is supposed to be. 7 disposals at 42%. That's tough to do. Go Crom.
Stewart (72) – That's…. Not great. A 3 round average of 86 and a 5 round average of 94 doesn't scream premium. The bye is handy but I'd love a timely Tom Stewart 150 to make up for this effort.
Anderson (79) – Lord have mercy what the hell is this? His 5 round average of 127 was fun, but this is now 5 scores under 90 outside of that hot month. Who's the real Noah Anderson? He can be so dominant, it just makes these piss ant efforts even more disappointing. He has two weeks to show me something or I'm swinging the axe.
Powell (67) – F**k me. Will Powell. Will Powell?!?! No more to add here.
Prestia (30) – A few draft matchups might have been decided by this one. Have yourself a game son.
Ginbey (24) – One kick. I love the guts and endeavour, but man he is about as useful as a grave robber in a crematorium out there right now. May as well not be there.
Chesser (37) – Pick 14 hey. What a ripper. The future is bright!
Gaff (42) – I could keep going with the Eagles but what's the point. The club went downhill the second we didn't take North for a ride with this champion of the game. Would the Eagles beat a WAFL team? Would Gaff get a touch in the WAFL? I fear the answer might be no. Gutless.
Duggan (63) – This sucks. I was hot on him and I'll hold my hand up. I pray nobody actually listened to that, I just had a moment.
Hollands (32) – He didn't make it to the byes, but give the kid credit. It was a great ride.
Hewett (39) – That's a little more like it. In the VFL next week please Vossy.
Kelly (97) – No. No? This guy just can't stay on the park, and we just can't learn our lesson. You have to respect him playing out the game and I think you can still turn it into a positive, but for the love of anything that is holy can the injury gods just lay off our midfielders. Also – What kind of new age bionic hamstrings are these where you can play out a game with a tear? Bizarre.
THIS GAME SH*TS ME
Coulda woulda shoulda. Will Powell. Bloody shin splints Will over an inside mid. It goes against everything I've ever learnt in fantasy. A purely moronic move that cost me a top 10 Round and a top 15 live rank, and it's going to take me all week to get over it. Thank god I finally got a captain right… This game sh*ts me.
THE OTHER BITS AND PIECES
2466. Pretty boring this isn't it? I should be ecstatic but seriously, Will Powell over Dom Sheed. That's as bad as trade moves come, and my mates just sat around and let it happen. They're going to be sacked off if that happens again, Friday meltdowns will be a reoccurring theme for me at this rank. Regardless Zach Merrett is a hero and the top 50 beckons.
Cash generation is a real issue now as I can't throw it in the ocean when it comes to picking rooks, and my moves are probably treading water this week. Wardlaw is a must have so he comes in for Cincotta, and it doesn't leave me with much to play with. Missing Dylan Williams, Kade Chandler, Seamus Mitchell, Samson Ryan and just about every good rookie this season means I'm bringing in Dom Sheed instead of Bailey Smith or even Rory Laird. We'll see if that eventually costs me, but welcome back Dom. His round 14 bye is desperately needed. It's all about setting up bye structure and fixing red dots this week and next, no rookies on field makes this task a little easier.
Powell -> Sheed
Cincotta -> Wardlaw
Good luck next week legends, of course may the luckiest man win and may that man be myself. Again. Call me Neo.