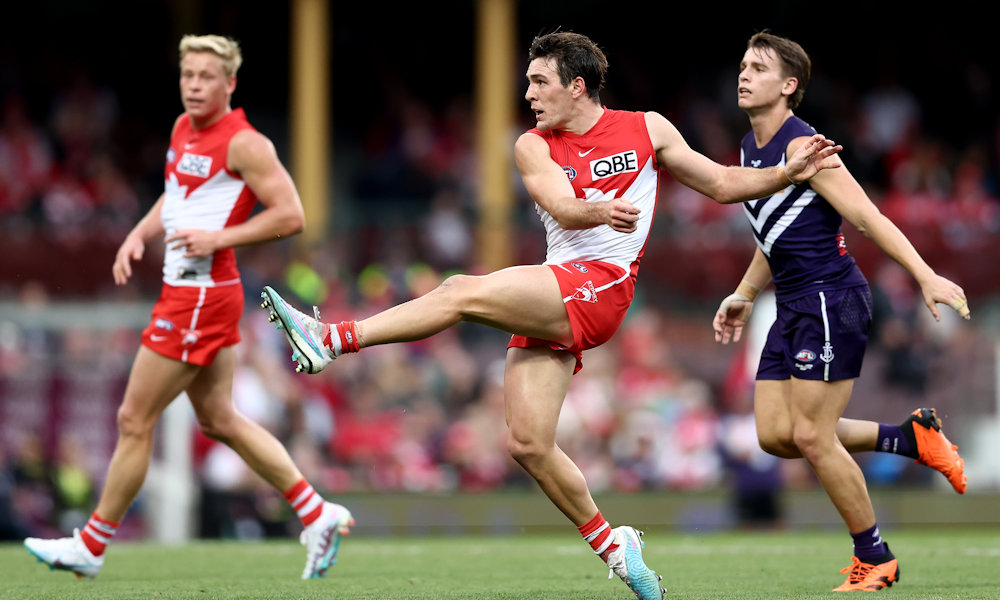 After a brief hiatus the wash-up is back and better than ever! Well maybe not quite yet. There's not much rage going on from my end so far, but I promise you it's coming. A lot of teams got sniped down at 2:30pm on Saturday arvo and this one is for them. It's time for the weekend wash-up!
Legends
Duncan (109) – I gagged at the thought of bringing in Mitch Duncan at over $800k. I'd fallen for that trap before. At under $700k with a perfect bye however… Now I can see the appeal. It's risky, it's gutsy… But it could pay off in spades. I need to watch his role closely one more time before pulling this trigger. You're playing Russian roulette.
Taranto (129) – I've captained him once this season and it ended in tears. In hindsight, it was through no fault of Tim's and he's totally dominating every week. Great vice last week.
Short (113) – He didn't quite get cheap enough for me to consider bringing him in as a midfielder, and defender status is no guarantee after he was back in the centre bounces over the last 2 weeks (over 40%). He's dominating but the role keeps changing and I'm happy to avoid.
Rowell (142) – I expected a Gold Coast midfielder to dominate that game, I just didn't expect it to be Matty Rowell. There must have been something in that Optus Stadium grass. He would have needed 7 tackles to reach the ton, instead he laid 17. I just need a player with an outside game in Fantasy, he's capped until he learns to spread from the stoppages. Scarily, I think he might eventually become that guy. Gun.
Duggan (113) – I don't know about you, but of the 6 teams that have the round 14 bye I barely own one. Due to this imbalance, Liam Duggan is right at the top of my watchlist. He has had a few CBAs, takes kickouts, he's doing it all really. In his prime and shaping up to be an elite POD.
Gulden (153) – Wow. Happy learned how to putt. I've mentioned this before, but I always liken it to Michael Clarke and the wall he hit when he reached 150. One day he learnt he could make even more runs, and we know what happened next… Gulden has a ceiling that I'm not sure anyone else in the competition can match at the moment. My vice next week for sure, what a jet. Future pig.
Darcy (115) – In any other year, you'd be absolutely loving Big Sean's production. Having a great season.
Serong (113) – Nice bounce back after a couple of down weeks where he received some extra attention. Should match his current average of 108 and be around the top 8 midfielders, he has arrived.
Young (108) – Speaking of Happy learning how to putt, has Hayden Young and JL finally realised he is Freo's best route out of defence?! I still hate that Luke Ryan owns kick-ins, if he went down Young could explode. This is what we expected at the start of the year, I think he averages high 90s for the remainder of the season. Definite option.
Butters (118) – Zak Butters moved into the midfield 5 weeks ago. He carries a 5 round average of 102, he's flying up the coaches votes leaderboard and I expect this to continue the rest of the way. If you don't own him, it's not too late to jump on. 10% ownership is WAY too low, he's a gun. I've got him above Rozee that's for sure.
Oliver (126) – Thank god his tackles have been down over the past few weeks, otherwise he would be averaging 130. He has become a pig level ball magnet, this guy is insane. I'm just not sure how I'm ever going to afford him. Beast.
Mitchell (95) – I tell you what's going to cost me this season. Rookie roulette. Seamus Mitchell. Where the hell did this come from? Good on him and his kissed owners, what a joke. I'm stuck with Matty Roberts and his MCL.
Ashcroft (109) – I guess Ashcroft really loves the Gabba then. He is averaging 98 in his 4 games at home, and 70 in his 5 games away. That's significant. He plays the Gold Coast at home this week, look out. He stays for now.
Walsh (123) – Sam Walsh is so awesome to watch and own, but I tell you what I don't need to see. Anymore George Hewett. Sam Walsh is a gun, but he's still not in the main centre bounce rotation thanks to a dead average footballer who continues to clog up midfield minutes. Get Minson off and get Walshy in the guts full time. He might average 130.
Liberatore (118) – Libba started the season priced at 90 and is averaging a cool 105. The biggest beneficiary of Dunkley leaving, gun.
Bontempelli (118) – I really wanted Bont last week but just couldn't afford him. I think there's a real chance he averages 120 the way he is tackling. Machine.
Docherty (112) – His role is getting flipped about and I don't love that, but no matter where he plays the Doch will dominate. We need him at some stage, I'm just so loaded on Round 15 guns he might have to wait.
Smith (102) – The score isn't huge, but I need to mention Bazlenka. He had 87% centre bounces with Treloar out of the side. That's not a little flag where he had 50%. He was full time guts. Will it last? I don't know, but he's the perfect modern day prototype for a midfielder and if he gets the opportunity we know he can score huge. He also has forward status. This 30 touches came with 10 clearances but only one tackle, it could have been even bigger. Huge green flag.
Dawson (116) – I can't watch Adelaide play. I simply can't. Not owning Jordan Dawson crucifies me every single week without fail. Someone please tag him I beg. What a gun.
Marshall (116) – I'm just surprised they didn't sub him out. Averaging 110 and finally becoming the player we've known he was for half a decade. Thank you Ross Lyon, who knew not playing Tom Campbell was the answer?
Ash (123) – Consecutive tons and a 3 round average of 105, priced at 85. If he had a better bye I'd be all over it. Potentially a season making POD, also potentially a season ending POD. Risky play.
Mitchell (120) – Bacon anybody? He's averaging 100 in his last 5, is priced at just 95, and we all know what Tom Mitchell is capable of. He averaged 120 after his bye as recently as 2021, you'd be stupid not to consider him. Did I mention he plays North and Eagles before his bye? You didn't hear it from me…
Daicos (115) – Yeah, he's back. He didn't have 40 touches for 2 weeks, what a loser. There's no way I could ever not pick him in my fantasy side, it's disgusting to watch. Potential future fantasy goat.
Whitfield (105) – I wanted him in the week that LDU went down injured. In the 3 weeks since he has averaged 108 with consecutive tons and a massive 130 last week. 7 kick outs is just a bonus. Getting expensive now but we know he has a monster ceiling.
Losers
Hopper (47) – Hopefully nobody here owns him in Fantasy, but this is a draft killer. Does it open up extra opportunities for anyone at Richmond? No, it's Richmond. Pass.
Fiorini (65) – I know Fiorini is out on a wing, but wingers usually dominate the wide open spaces of Optus and he was facing the Eagles. I had this pencilled in for a ton, not a bloody 60. A big score would have been huge as his breakeven would have stayed low and continued his elite cash generation as his 60 against Freo leaves his rolling average. Never mind. Now his head is squarely on my chopping block if he doesn't go big next week. There's no room for complacency at this time of year, I doubt he even makes it to the bye for me. Pathetic.
Macpherson (55) – Maybe I should have been more lenient on Fiorini, because I don't know what the hell I watched at that game. The Eagles total inability to do anything with the ball meant Gold Coast could just hack it forward and play the Richmond and Collingwood brand of football. That's good and all, but we want the Gold Coast chippy chippy back. I need it back. It's a close watch next week against Brisbane, hopefully they want to take care of the footy. Dmac could be on the way out if they don't.
Mills (3) – This game sucks. Seriously it's sh*t. Callum Mills was the perfect trade last week. Underpriced, huge ceiling, uber premium, nice fixture. If I could have brought him in I absolutely would have, just circumstances prevented me from doing so and saved my season. And they say this game isn't luck based. Just hold off that delete team button, there's still 3 months to go…… I for one can't wait to own him after his bye.
Rozee (79) – 79. Against North? Nope. After his game against the Eagles it looked to be all systems go. The midfield time is there, the ability is seemingly not. Be better.
LDU (95) – What a total nightmare of a season for the man crowned as the next Chris Judd after 2 weeks of football. The piss ant continued his ways and I can't wait to do it all again next season.
Simpkin (82) – He was at the top of my watchlist a couple of weeks ago. Even this week he had 90% CBAs!! The role cannot possibly be better and he has averaged 95 for consecutive seasons. I seriously think he can go 100 for the rest of the season, but my confidence is wavering. Still, he's so cheap…
McGrath (69) – I said a few weeks ago that it was his last mention, but apparently people are still holding onto this sad sack and pitiful excuse of a number 1 draft pick. He can't kick, he's not quick, he can't defend, somebody tell me what he's doing out there. Leading? He's the skipper and quite frankly he should be dropped, disgraceful.
Merrett (83) – Ok. Brad Scott we need to have a word brother. Darcy Parish was out, so what does he do? Gives Zach Merrett less midfield minutes. Because that makes total sense. He's an expensive forward pocket rocket. But it's not enough time for him to get forward status either. It's just… Nothing. Meh. Bizarre stuff.
Caldwell (56) – Good to see Caldwell made an impact with his 71% CBAs. What are we doing here?
Hewett (72) – He's just so annoying… Sorry George it's nothing personal, but with Patrick Cripps in the team what is he actually there for? Unleash Walsh and Cerra.
Cincotta (22) – I do apologize for not getting a wash-up out last week, because my spidey senses were tingling here. I thought a poor Cincotta score was coming, I have to admit I didn't see a 22 coming. Twenty-two?! In a loss. He might be the first to go….. Huge watch on Thursday. If he got dropped, people might be scrambling for that last rookie spot. Concerning.
Clark (77) – Me and Hunter Clark have had a fun little ride, but the reality is he hasn't even managed a ton. His role is awesome, he racks up the pill and one day I see him being a fantasy staple. St Kilda aren't really putting up fantasy scores and that might be having an impact. Needs more TOG% to be a legit option.
Steele (75) – At what point can we no longer trust Jack Steele? In fact, I think the question is really at what price are we willing to trust Jack Steele. Everybody has their price and I will certainly be eyeing him up after his bye. But lord have mercy, this has been bad. Despite a minor medial issue the club expects him to play, you'd just hate for him to score poorly playing under duress. Late out watch next week, it just goes from bad to worse.
Perryman (61) – Grim. I liked it, but in hindsight Kingsley isn't messing about with the midfield rotation as much and he clearly sits in fourth spot in the pecking order. I'd be jumping overboard ASAP.
Fleeton (31) – Ok seriously, this is becoming a bit of a joke now. Can I just pick up a rookie who gets his chance at AFL and doesn't look like he has been brought up from C grade ammos?! Scoring well in the VFL they said. Intercept marker they said. My ass I said. Another red dot for me to deal with during the byes, what an absolute pisser.
This Game Sh*ts Me
Honestly I am getting kissed left right and centre, so there's not much for me to complain about. It's more frustration at my total inability to pick a reasonable captain.  That's with a double chance too! I'm 0/6 in the last 3 weeks. I missed Rowan Marshall's VC, missed 5×150's in favour of taking Taranto's 117, and finally I VC'd Noah Anderson and captained Tim English, two blokes who failed to combine for an average of 90 between them. It's bleeding points and holding my team back week in week out. I need you next week Errol. Please. This game sh*ts me.
The Other Bits and Pieces
2246. I can't buy a good captain and at this rate it's going to cost me the car. But boy am I getting kissed. Seriously, the Mills turnaround is a season changer. On one hand it was somewhat genius by me, but there's a few people I need to thank. Darcy Parish, for giving Will Setterfield his midfield minutes back just in time for 3 juicy fixtures before his valuable bye. My mates for supporting me during a Friday afternoon meltdown over a pint. And my crystal ball for thinking Cincotta was due a shithouse score. My one rule all season has been stick with your trades earlier in the week, thank god I didn't.
Instead of fixing up Cowan and going Setterfield to Mills, I cashed in JVR and moved Pedlar up to Will Powell. Was he great? Not really. Should I have gone Dom Sheed? Maybe. Was he better than Cincotta who moved off my field? Absolutely. Mills and Cincotta combined for 25 points. TWENTY-FIVE POINTS. The change gained me 152 points, saw my rank fly to 125 and marked my third consecutive week inside the top 3,000 for the round. Yeah things have been going well while I was away.
Now prepare for an all time meltdown. It's the first time I feel like I've ever genuinely been in the running, and I'm going to be a mental basket case every Thursday and Friday afternoon making trades. My thoughts this week are simple. Yes I may have nearly 10 red dots on my bench, but I need to be chasing points and that can is getting kicked down the road until we get 3 trades per week during the byes. That way I can guarantee the rookies I bring in will at least get one gig, as if I go chasing an extra one this week he'll almost certainly be dropped by Round 12.
Cowan will go to whatever rookie gets named, Fahey is the easy gap filler for now. This allows me to move on from Hunter Clark and bring in… Bailey Smith. All the (dodgy) rookies are off my ground at this stage and it's time to keep improving the squad.
Call me crazy but I can argue that's 17 players in or just outside the rolling 22 already. If I don't compete at the top this year I may as well pack it in. Yes there is a reason I cut off the bench but never mind that.
Good luck next week legends, as always may the luckiest man win!