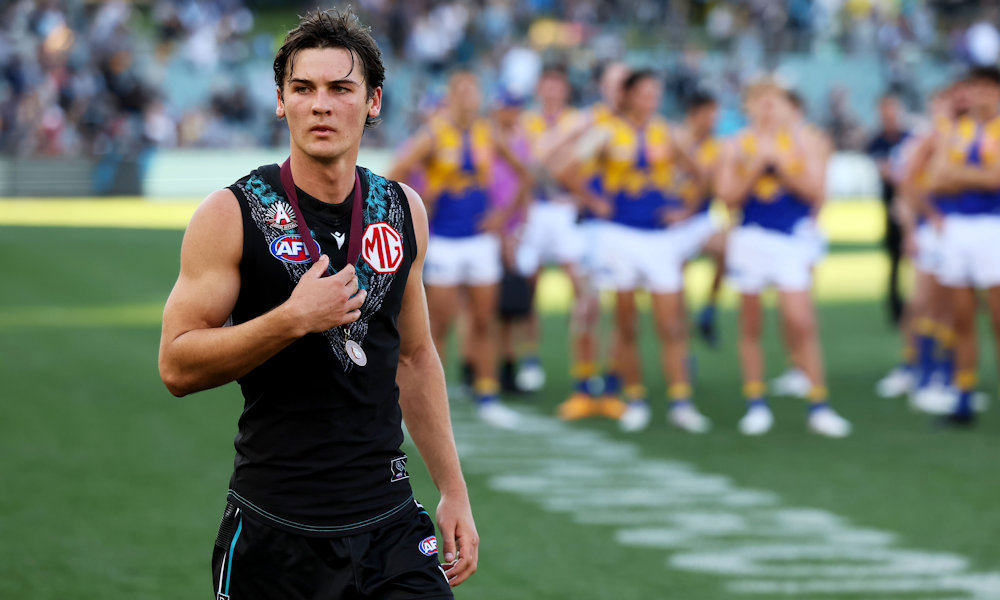 Who can be f**ked with 5 days of footy? What sounded like a great idea at the time has descended into one of the longest weekends of fantasy in recent memory. I'm probably not getting 2000. You're probably not getting 2000. If you are on track for 2000, just know that nobody cares and you can feel free to jog on. Unbelievable. It's time for the weekend wash-up!
LEGENDS
Ryan (119) – I didn't think Freo could keep playing this ugly, but Luke Ryan is lapping it up. Good on him.
Serong (114) – Our ill feelings have been left long in the past. It's a shame he had literally no help out there on Friday night. I hope a few wash-up readers got on board early with me, the train has long left the station. What a gun.
Bontempelli (148) – There you go Bont. He finally puts together 4 quarters and get a load of the score! He is on fire and the tackle numbers are huge. I have him marked to average around 110, and there's even upside in that. Potential value this week if you can get there.
English (129) – People actually didn't start with this guy. Bizarre. I'm not going to say anything otherwise the karma bus will hit me head on………. But his hamstring looks alright.
Treloar (112) – Pure midfield Adam Treloar is a 110-115 guy. We've seen it before. We might be seeing it again. Gun.
Darcy (112) – I guess there's two ways to score as a ruckman. Give me the extra midfielder any day, but Big Sean has been awesome. Dominant.
Rozee (133) – Rozee looked every bit a Brownlow contender out there on Saturday, he was a class above anyone else in that game. Of course he did it against witches hats, but that's the score we needed. Proven to be a great pick.
Coniglio (135) – Leaving Dunkley in the dust. Cogs has been totally dominant over the last 2 weeks, he passed the eye test when I saw him in Round 2 as well. I honestly watch Dunkley and fear he may never score a ton again, kudos to those who backed Cogs.
Kelly (125) – So he's back in the middle and to the surprise of absolute nobody, he dominated. 41 touches, wow.
Newcombe (122) –  The Will Day injury opened up the door for Jai and he barged straight through it. Looks like he has arrived and a good option this week.
Laird (120) – Yep, Rory still has it. Huge option this week if he's good to go.
Walsh (131) – This mention goes for all the Blues midfield. I didn't get to see this game so it's a tough one to wrap my head around, but at least they racked up the cheapies for us unlike your Brisbane and Port Adelaide's of the world. Hell, even Cowan scored 48. Sam Walsh could be an elite POD this week, he might be on another level this season.
Weller (133) – Well I'll be damned, maybe this is real after all. We weren't short of relevant players scoring well this week, the only issue was none of us owned them. He has a great bye and is a legit option next week.
LOSERS
Wagner (62) – This is incredibly harsh, but I'm going with it. Wagner made a couple of decent plays, but goodness me there was a few get Minson off moments in this performance. Hopefully he holds. We need him too.
Young (77) – Booooooooooooring.
Brayshaw (99) – I don't know if he gets a week for that bump, but it looks like he needs a week. He can't get his hands on the footy. Bizarre stuff. Must be hurt.
Pearce (44) – Way to lead from the front. Seriously the whole Fremantle v Rory Lobb storyline was one of the most pathetic I've ever seen. Both the players and the fans forgot there was actually a game going on, you'd think he committed a crime. Tell me a single word Lobb said that wasn't spot on. Hope those salty Lobster Tears went down well on Friday night. Losers.
Amiss (12) – Amissing from next weeks squad I would have thought.
Johannisen (67) – Good save, but that doesn't cut the mustard. Big game coming up next week, he needs to go well.
Horne-Francis (38) – Listening to the commentators try to justify this blokes performance was sad. "He's just so powerful." Have the biggest spell of all time. Once the ball leaves the stoppage the Hornbag literally brings out his deck chair and waits for the next break in play. That includes defensive efforts. Awful.
Dunkley (86) – What an absolute piss ant. Seriously. Does. Not. Look. Like. It. Bleeding cash and quite frankly our worst pick of the season. Complete and utter disgrace. $700k in no time.
Neale (70) – The Brisbane system can get in the bin. No good. If that's the way the AFL goes I fear for our fantasy squads.
Wilmot (22) – Thank god I unloaded this dumpster fire last week. No marks, no tackles, no f**king hope. Get him out.
Cumming (55) – Wish I had offloaded Cumdog in dynasty last year. Is he a lock down defender? He's not stopping anybody. Terrible player.
Ash (63) – This is what's keeping Fahey out of the team? I would be spitting chips. 20 touches, 3 contested and below zero impact. Worthless.
Whitfield (83) – What happened to the gut running fantasy machine Lachie Whitfield?! I really want to bring him in, but he's 28 playing like he's 38. 2019 is long gone.
Mills (87) – Callum Mills. CALLUM MILLS. On Tom Hawkins. At least they didn't get belted in the middle and he kept Hawkins quiet……………. Genius.
Roberts (19) – The delete team button is starting to look more tempting every round. Feel like sh*t for the bloke, and feel even worse for the fate on my fantasy bench. Dropping like flies.
Gulden (70) – Pathetic. Pre-season trap of the year, and we're stuck with him. Check the fixture, because if Gulden has to work for his touches you won't be happy with his score. Hopefully he puts 150 on the Eagles.
Warner (53) – Can someone just tell me why this guy gets free reign in the guts, while Callum Mills sits at full back. The most inconsistent player in the comp, he didn't look up to the level of the NEAFL team on Saturday. As ugly as it gets, now he'll probably ton next week.
Duncan (44) – Guys I'm sorry to do this…. But I couldn't have been any clearer. HAHAHAHAHAHAHAHAHAHAHAHAHAHAHA. That's a rage quit score.
Mackenzie (45) – Is this AFL support? Yes I believe Cam Mackenzie's stats were taken incorrectly in the final term. You'll double check? Cheers guys.
Jones (37) – Guys, what are we doing here. Chayce Jones? A young winger? Have mercy. I don't even want to blame the kid, have a look at yourselves squarely in the mirror. And then swiftly trade him out for anybody with some resemblance of ability.
Stocker (58) – Stonks go down. It's time to go.
Steele (78) – Ew. Just a couple more of those thanks Jack.
LDU (66) – Ah yes, from Chris Judd to total piss ant within a month. What a transformation. If you think you have the luxury of sideways trading LDU in Round 6 I'll be the first to tell you, you're absolutely kidding yourself. 30 green dots? Not a single rookie to cash in or upgrade? Then by all means go ahead. Otherwise, we're stuck with him. Hopefully his ankle is pieced together.
Miller (48) – You know what. Sometimes you just have to sit back in your chair, relax and take a deep breathe… And just ask why the f**k you put yourself through this total bullsh*t every year. What a joke. I'm not here to tell you it's alright. I'm here to tell you, you're probably screwed. And that I'm really sorry. And that….. This is really good for Noah Anderson. Sorry not sorry. (Seriously this sucks)
THIS GAME SH*TS ME
It was all fun and games when Campbell Chesser hurt his knee. I wasn't laughing so much when Elijah Hewett got dropped to the WAFL only to snap his ankle within 8 seconds. And then Noah Long went down injured. And now I've brought in Matt Roberts and his buckled knee. Put the cherry on top in Max Heath and I am completely and utterly screwed. I was down to two fit men on the bench this week, while Cowan and JVR could be dropped at any second. That leaves me with sweet f**k all cash generation, and literally zero cover for when the MRO decides to be a massive legend and suspend my next player for a perfectly legitimate tackle. At this rate it will take me 6 trades over 3 weeks to make a single upgrade on my field. Disaster. Total disaster. This game sh*ts me.
THE OTHER BITS AND PIECES
1676 with Taranto, Daicos and Setterfield, which gets me to about 2015 if they hit their averages. Which they won't. I had two extra rookies on the ground this week covering for Green and Day, thank god for Fergus Greene. It has been a sh*tshow of epic proportions and next week may not be much better. I will say this much. I could be down to zero fit emergencies on my bench, but I'll still refuse to sideways trade a rookie before the byes. The cash generation can is getting kicked down the road, you need to be maximising points on field. That being said, one more Matt Roberts trade in and I'll be dead out of luck. I have gone Hewett and Roberts in over the last two weeks, I'm on fire.
Cincotta needs to come in assuming he will hold his spot, and I refuse to believe he was Carlton's worst player. Just look at some of the passengers in that team. Lord have mercy. He will come in for Ginbey who is being strangled by Simmo, the whole resting bullsh*t is just that. It's all guess work, but with my cash in the bank it will give me ~$300k to play with. That is going straight on Cam Mackenzie's head. The issue is I'm going to have to be bold with who comes in.
Lachie Weller will be out of reach, as will Jai Newcombe. Chad Warner will be affordable but… Well I don't need to add anything there. Lachie Whitfield is the clubhouse leader which says it all. Adam Cerra? No. Then there's the likes of Harry Perryman who carries a score of 2 and Brayden Fiorini (lol) who might make something of Touk Miller's knee injury. No matter which direction I go it will probably decide my season. The positive is I'll be down to 4 rookies on field next week, including Sheezel and Ashcroft.
Let's hope for an ANZAC day miracle, we bloody need it. Best of luck legends.