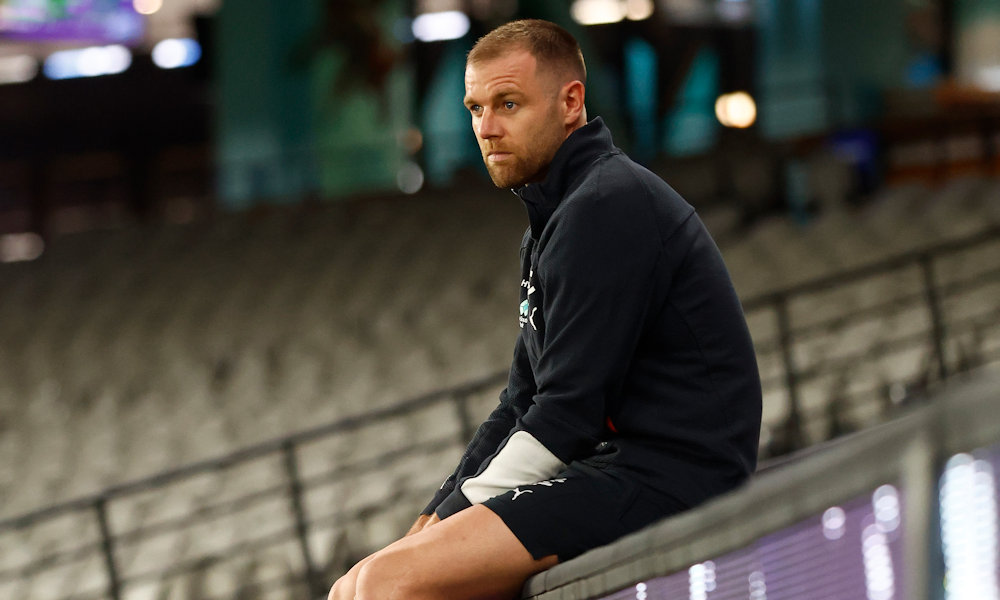 We're now a month into the season and some patterns are starting to emerge. The same midpricers dominated once again, and the same premiums shat the bed again. Apparently Will Setterfield is a top 5 mid in the comp, Rory Laird is washed, Josh Dunkley has gotten fat and slow and Jezza Cameron has transformed into Leigh Matthews. It's time to wrap up the week that was, it's time for the weekend wash-up! *And thank god it was a late one*
LEGENDS
Daicos (126) – There's not really much more to add here is there. He's pretty good…
Sheezel (119) – What a shocker to see these two names kicking off the legends. Groundbreaking stuff to not throw your best young rookies into the graveyard shifts.
Dawson (122) – With the bad news coming out about our popular defenders today, this score has to be of note. My only concern with Dawson is the potential tags, because he's just so damaging if allowed to run free. Having not attended a centre bounce in Rounds 1-2, he has attended 60% over the last two weeks. A likely in for me this weekend. Gun.
Taranto (114) – At quarter time coaches who had the armband on him might have switched the game off. He's not exactly doing it in style, but he's getting it done. Tackling machine.
English (145) – Oh captain my captain… I said it last week, English is a walk up 110. That doesn't mean there won't be weeks where he goes above and beyond. Bloody legend!
Crouch (125) – Speaking of miraculous recoveries, I was on Brad Crouch to get 30 and thousands of new fantasy coaches were cheering him on… To 7 touches and 23 points at half time. What the hell. Don't ask me how he pulled this off or why he was so bloody awful in the first half, but what a legend for doing so. I'll assume he was getting extra attention.
Anderson (159) – I'll be the first to put my hand up and apologise if I'm ever wrong. Maybe Noah Anderson reads the wash-up? Yeah right, anyway it obviously wasn't his last mention of the year and now I'd be keen to bring him into my team. Congratulations to those that held on, commiserations to those that didn't. Massive taste.
Green (111) – Just another day at the office for Tom Green. Role and opportunity is everything.
T.Kelly (142) – Sometimes the role and opportunity can be there, it just takes a while for a player to find their feet. Tim Kelly finally looks home in an Eagles jumper, it's just a shame they're a basket case of a team. I wouldn't get him now but man was he a great pickup last week. Kudos to anyone that had those balls.
Oliver (129) – Can someone please tag Clayton Oliver? Asking for a mate.
Grundy (119) – Grundy beat up on the interns West Coast are running in their ruck department. Good on him, let's see how he fares against ruck tagger Draper.
Hunt (95) – I couldn't do it myself, but Jayden Hunt did look good… Again. In hindsight he was the clear Constable option, but the ship has quickly sailed. If he scores a couple of 60's, he'll be priced at $550k with a BE of 60. The Eagles play away from Optus against Geelong and Port. I just don't love it.
Duncan (127) – I wouldn't be touching Mitch Duncan with a 10 foot pole this week. They beat up on the Hawks, his calf has about a months life in it and I barely think he'll be a top 6 defender anyway. In my opinion he's this weeks trap, but I've been wrong before. Many times… Back your gut.
Cameron (137) – What are we witnessing here? I'm honestly not sure if it's Jeremy Cameron or Leigh Matthews running around out there. Unreal.
LOSERS
Wilmot (36) – Not much of a loophole is it really. A heartbeat. Just. And it might just stop beating this weekend. Cross everything.
Dunkley (81) – I said it last week, that 116 wasn't impressive. Which is a bizarre comment really, but he just looked slow and off the pace. He's getting around the ground for cheap marks ok, the inside stuff just isn't there. If he starts tackling we're on, so trust the long term process here.
Mitchell (63) – Pendles saved a lot of people a lot of pain. Without those comments his pre-season score might have been enough to get him into a lot more fantasy teams. Just remember the good old days…
Cunnington (28) – Heads up. If you're going to try and loop in draft, just make sure you double check all your players in that same game have been named… I learnt that lesson the tough way. I can't have a crack at Cunnington, but his comeback hasn't gone quite as well as Docherty's did. I don't really see his long term place in this team, which makes me regret passing on Will Phillips.
Docherty (74) – Oh boy. I was going to have a go at his score, but maybe there was a reason he struggled so much. The bombshell dropped on Tuesday that he will miss at least a month with a knee injury suffered in their Good Friday game. He's a must trade and I don't really see how we put a positive spin on that. Congratulations to any non-owners. Lucky bastards.
Cerra (69) –
G.Hewett (53) – Better this year than last. Disgusting.
Laird (84) – Make it make sense. If Rory Laird had been priced in the $800k's, every single fantasy coach would have started him. 100%. And he would still be underperforming, badly. It's hard to fathom such a sudden and dramatic drop off, and it's hard for me to have a good opinion on it as I do my best not to watch too much Adelaide. What I did see of that game, I didn't really notice Rory. Come on mate, we're all waiting to bring you in. Just show us something. Owners, hold on for dear life at this point…
O'Meara (64) – Worst pickup of the year. Comfortably. Will Brodie was the Dockers second best player last year and is almost certainly better than JOM. Sadly his name will avoid the chop, so good luck with that one Freo fans…
Macrae (89) – This is who Macrae is now. He's only 28 but he's playing like he's 38, Jackson Macrae is finished as a fantasy asset. Until the byes, when he's value and I do something really stupid… Looking forward to it.
Smith (83) – Same can be said for Bazlenka. Hang on, he's only 22… Maybe it's their coach or something? Who knows. Hopefully he's not on a long-term contract.
Witts (-) – On one hand that sucks… On the other hand, that's what you get. I've been burnt too many times going down that ruck path, and my ranking is reflective of the fact I finally held it together all pre-season. Hopefully he's back this week and you handcuffed him with Ned, that can still be turned into a win. Or you just used common sense and brought in Tim English. Hopefully the latter.
Mills (75) – Listen, I get it. Luke Parker has been a warrior. But f**k me horse, playing James Rowbottom and Luke Parker ahead of *checks notes* Callum Mills…..????? AFL is a simple game. Get your best players around the ball, so they can maximise their impact and hopefully help you win. Pretty easy stuff. I guess Mills just walking around and pointing people where to go is pretty hand as well… Honestly. As useful as a trapdoor in a lifeboat.
Franklin (14) – How much is he getting paid again this year?
Rozee (69) – If lockout opened on Saturday night, Connor Rozee would have been packing his sh*t. The high CBAs are the only saving grace here. Port have had 2 players ton up this year. TWO. And one was Jeremy Finlayson this week. Embarrassing. We will hold, but we probably won't enjoy the ride.
Houston (64) – It's a total mystery to me how Houston was ever fantasy relevant. The draft trap of the year, this bloke is completely useless. Plodder.
Wines (48) – Speaking of plodders. Wow. Port won so I guess you have to tip the cap to Kenny. He still has no f**king idea, they're barely getting a touch but somehow they're getting results. Fair play. I don't care what Ollie Wines' price gets to, I'm not doing it.
McGrath (65) – Nope. You should have been gone two weeks ago, and I'm not letting total defensive carnage get in the way of what must happen. Pack your sh*t Andy, and feel free to let the door hit you on the way out. What a disgraceful effort. He doesn't even try? He'll just stand there with his c**k in his hand while Mason Redman and Jordan Ridley not only lock a man down, but actually present as an option to rebound the ball out of defence. Heppell almost overtook him in half a game. We always get stuck with these blokes until the bye, and in my experience I can tell you one thing. It doesn't get better. He's finished.
Coniglio (79) – I actually had regrets not owning Cogs early in that Eagles game. Boy that was a long time ago… Those forward 'premiums' are straight up stinking.
Yeo (48) – Aaaaaand moving on shall we? At least Simmo gave us a warning. 10 foot pole. Use it.
E.Hewett (17) – No, that is not a typo. Honestly it's hard to do in a full game. I would have gladly taken George Hewett's 53. Or perhaps I should have taken Ollie Hollands 54 I had ready to go on the bench. Idiotic. Truly moronic. Almost as moronic as playing your first round midfield rookie at full forward. Yes, full forward. I'm talking Oscar Allen and Jack Darling pushing up the ground so Elijah Hewett could genuinely play out of the goal square. And he had about as much clue as I would have. How did I not see that coming. Shoutout to you Adam Simpson. Shove your bullsh*t positive spins where the sun doesn't shine, we're terrible yet I have to watch our gun new midfield rookie play out of the square so Andrew Gaff can play as an inside mid. Do one. Even so, I don't know how you manage 1 kick in an entire game of footy. It's hard to comprehend just how bad 17 is. He could have doubled that score with a 34. This ruined my weekend and sadly that's not an exaggeration. Why didn't I go Will Phillips……
Sicily (49) – This game of virtual fantasy sporting is so dumb. Sicily was on 31 midway through the first quarter?!?! I didn't see the game so I have nothing to add here other than fantasy can get in the bin.
MRO – High impact. HIGH IMPACT?! Will Day literally dragged him down all of 1 metre, only for his leg to get caught up in the tackle and flip him over. I could live with a one week suspension, it's a bad look. I can't live with Gary Rohan getting a lesser suspension for a proper sling tackle. Absolute pisser. Clown show.
THIS GAME SH*TS ME
Why do we feel the need to re-invent the wheel and overthink every decision in this fickle game. Or maybe that's just me. Tim English rolls out of bed and goes 110. Maybe we should captain him. Ollie Hollands scores 54 as my loophole, MAYBE I SHOULD TAKE IT! Elijah Hewett should get a chance to run through the guts though given the Eagles injuries… Right… Right?! 17 points. Seventeen. F**k me. This game sh*ts me.
THE OTHER BITS AND PIECES
2086. It really should have been 2123, but I digress. Shoutout to skipper Timmy English. I've moved inside the top 500 and feel like it's only a couple of bonehead lineup decisions keeping me out of the top 100. The team structure is there.
*edit* Most of this was written without the knowledge of today's train wreck, I'll touch on that at the end.
Serong was obviously awesome and I'm happy to be rid of the Worpel headache, but trades this week is where people will really start to make moves on the competition. It was all well and good swapping your underperforming premiums around for the hot new toy every week, but these trades are more valuable now. You can pocket some cash from these rookies and look to start properly upgrading your team, and given some of the poor scores this week that needs to be a priority.
But there's one bigger priority. Get Andrew McGrath as far out of your team as possible, never to return. And I think I mean that one. I don't mind that he got a bit of attention and remained relatively quiet, Tom Stewart is a must get at his price and I'm making that swap in a heartbeat.
My second trade… This is where we will see some different tactics. I have to assume Will Day will get suspended for that tackle, and here's where I sit on it. If it's one week, I hold. If it's two weeks, call me crazy, but I hold. Who am I getting priced at 80 playing in the midfield as a defender averaging 105. I'll give you the answer. Nobody. In fact, if you asked me to trade him to another defender I confidently think will outscore him, I can potentially list one man as I already have Doch and Daicos. Jordan Dawson. Even that's touch and go. Sicily is smoking hot or ice cold, I don't buy Luke Ryan, I certainly don't buy Mitch Duncan and then you're at Dan Rioli. My point is either you're making a long term downgrade, or you're spending $150-200k to make a sideways swap. Yes you'll benefit short term but I'd rather use that trade to pickup a rookie and cash in someone who's treading water. And if you think I'm holding McGrath over Day you've lost your mind.
*Given the Docherty news, he obviously has to go and I don't want to mess around here. I played around with the idea of going Docherty to Stewart and making an upgrade elsewhere, but it would mean trusting someone like Lachie Weller, Liam Baker, Jayden Hunt or Elliot Yeo. And I absolutely do not. I'm serious about holding Will Day too, Andy McGrath is basically upgrading a rookie anyway and we'll be better for it in the long run. Let's just hope Wilmot or Cowan can get us through to DPP's… 
McGrath -> Stewart
Docherty -> Dawson
Good luck next week legends, as always may the luckiest man win.