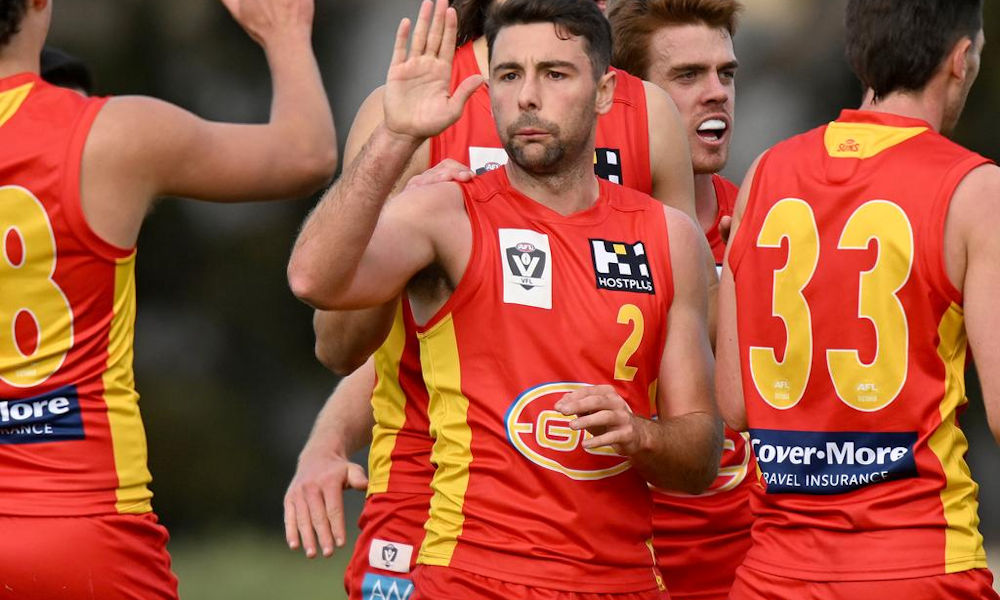 The byes are here, and right on cue we have been hit by a wave of carnage. What a shocker. This game sucks, but we already knew that… It's time for the weekend wash-up!
Legends
Lloyd (123) – A Llllllllllloyd. A trade in target for those living in the past. So a huge chance for me.
Blakey (114) – Meep meep.
Walsh (112) – Am I being greedy for wanting more…? A classic Walshy, solid but not spectacular. He just always gets it done.
Sicily (165) – My goodness me. Yes, Sic Dawg did a Sick Dog and got himself suspended for the byes, but come on… That game made up for it. It was a perfect captain loophole too. 43 disposals and 16 marks. Huge, and now he goes.
Moore (126) – Where has this Dylan Moore been all season? He's cheap. Very cheap.
Crouch (114) – Brad Crouch has to be on your upgrade radar coming off his bye. I've done worse.
Jackson (108) – If we get a concrete update on Sean Darcy's hamstring lasting for the byes, Luke Jackson is a legitimate option. Watchlist.
Stewart (121) – What a rocket. It wasn't quite the 160, but it makes up for last week. Beef Stew is a must have given the Round 13 bye and the fact the rest of Geelong's team may as well not lace up their boots.
Briggs (111) – Kieran Briggs. Briggsy. Stupid, foolish, or completely f**king bonkers? I've never seen him play, frankly I don't even know what he looks like. But…… I give it the tick of approval. Especially if you're around the top 100. Please do it.
Daniels (100) – Fun fact – Brent Daniels has almost made $300k this year. It wasn't really that fun was it, but I nearly fell out of my chair when I saw it. He was an option as rough as his head, but kudos to the… *Checks notes* 1500 coaches who own him? He must have a lot of mates.
Rowell (124) – Remember when I said Rowell could become one of the best players in fantasy when he learns to spread from the stoppage…… Well maybe he doesn't need to. 23 contested possessions and 16 clearances?! This kid is nuts. He has learnt to kick the ball more than he handballs, and my god does he work his ass off and tackle until his arms fall off. He's got more guts than a fish market, what a bloody legend.
Macrae (123) – Hmmmm….. Hmmmmmmmm…. Bevo. Bloody Bevo. No Bulldogs for me.
Duggan (140) – So perhaps the Duggan pump ups weren't totally baseless. The Eagles are a basket case and there might be games where he does well to get to 60 in a 25 goal drubbing, but triple doubles don't grow on trees. Hurn wasn't a factor.
Hunt (120) – Shoutout to this legend. He hasn't got much love here but what a miss from me. One of the picks of the season.
Redman (125) – Redmoney was on my watchlist alongside Dom Sheed last week. I had just messed around with too many piss ant halfbacks. Redman isn't one of them. Gun!
Taranto (145) – What is the universe made of? How did the big bang happen? Why is Taranto not my permanent skipper yet? These sort of questions keep me up at night. LEGEND.
De Goey (127) – Go on, do it. Best of luck. In fairness, I put his line at 140 this week.
Daicos (116) – 43% CBAs… Now we're talking. A 150+ score is just around the corner for the Brownlow medallist. What a legend.
Greenwood (114) – I heard Hugh Greenwood's name mentioned at the start of the week and threw up in my mouth. Having laughed it off, I took a deeper dive and the next thing I know he's in my team and I'm giving him the full green light to everyone that asks. 24 hours later, LDU is supposedly on the verge of returning, Shiels is back and I think common sense needs to prevail. It just has disaster written all over it.
Dawson (135) – Seriously mate, just piss off. I'm sick of it. Cool you've moved into the middle, you don't have to lay 10 tackles every week? I just sit there and watch my rank plummet every Crom game, genuine nightmare. He's a legend.
Laird (131) – Oh, so Will Day gets lashed in the village square but Rory gets off because everybody on twitter has labelled Lachie Neale a diver? What a joke. He obviously should never have been cited and it's nice to see some common sense prevail. It's just not nice to see it happen the only time I don't have the suspended player in my team. Total pisser.
Keays (109) – Feeling lucky, punk? There's a 95% chance that this blows up in your face and ends in total disaster. That other 5% though… That other 5% is really tempting. That ends with Keays moving back into the middle, averaging 110 and winning you a hat. His bye is nice too. Let's see where he's named…
Losers
McAndrew (18) – Well, that was fun while it lasted. I think he may get an extended rest after the bye….
Parker (75) – Yeah, that was a bad idea. Straight in the bin.
Newman (27) –
Clark (3) – Jesus thank you lord. I pray every night for dodging bullets like this. The toys would have been thrown everywhere.
Steele (78) – 14 touches…? Fourteen disposals? Really. He can't be fully fit, but Ross Lyon wasn't giving him that excuse. I don't know what this effort is regardless. Pathetic.
Chandler (38) – You're telling me this bloke has tonned up for teams this year… Where was this score when I needed it earlier in the season.
Darcy (34) – Yes, this is unlucky… Very unlucky that it happened to be in the second quarter. BUT. This is Sean Darcy we're talking about. Is there a coach in Australia left who he hasn't burnt with a soft tissue injury? Sicily suspended and Darcy hamstrung, who could have ever seen that coming?! Seriously though this is a gut punch. I like taking a swing on Briggsy. When life gives you lemons, make lemonade.
Fahey (6) – I look at some of the names in that GWS team and wonder what the hell we are doing here? A prayer circle is needed to get him in the 22 for this week, we bloody need it.
Firoini (33) – OK. Here we go. It's been 3 months in the making but we've finally got a player in need of a good old fashioned roasting. Some of these sprays could be considered a rocket for next week. Well there's no next week for Brayden. "Oh but he's playing a role". A role? If you can play a role in the AFL these days by playing 92% of the game for 10 f**king touches then get me on a fitness regime and get me in the league. I was fully aware he might be on a wing, but I thought he loved hunting the pill and had a nose for scoring. Quite frankly he has been about as useful as a glass hammer at this point. Completely pointless. Get out of my sight.
Atkins (30) – At least Rory made us a quick buck before he kindly shat all over our weekend. That may have been our last ever sighting of the rat king in the AFL so let's just take a moment to appreciate those few weeks we had. Enjoy retirement Rory, I hope you've got another career lined up. Embarrassing.
Powell (44) – Yeah…… Who the hell suggested Powell was a good option? What an idiot hahahahaha.
B.Smith (67) – Any issues you have with my advice can be taken directly to our complaints inbox where I'll be sure to not give a flying f**k and never get back to you.  I am sorry for this one though. Bevo. Never underestimate Bevo…….. Remember this when you trade in Macrae next week.
Rotham (21) – We will all look back in 20 years time in amazement that an ammos player got to carve out an AFL career for over 5 years. This guy goes for marks like myself in a game of king of the pack. After 12 beers. Hands of cement and co-ordination of a…
Gaff (45) – This is a bigger fall from grace than Lindsay Lohan. Not that prime Gaff could ever compare. I'd pay him out and let him walk now. We may as well send rick the rock eagle out there.
Sheed (64) – This bloody game… It sh*ts me to tears. Yes, Dom Sheed wasn't having his best game but his TOG% was great, he was around the ball and could have been scoring better. Next thing I know he gets corked in the calf/ankle and spends the next 50 minutes running around like he has just run a half marathon. It was as tough a watch as I've seen, it's just lucky our sub was already activated. It sounds like he's good to go for his 150th this week so here's hoping for a bounce back.
S.Ryan (25) –
Simpkin (69) – Can somebody figure this bloke out for me because I haven't got a clue anymore. He's making me question everything I know about this game. Just a bizarre player. Get minson off.
Ashcroft (46) – We're taking the piss now hey Will? The whole home/away gag was a funny one, but now you've got to be doing it on purpose. I'm not standing for someone scoring 46 and then having a week off. It's been a great ride but get out of my sight. Terrible.
This Game Sh*ts Me
It's all about timing in fantasy. I stress it all the time. Get lucky during upgrade season. Then get lucky during the byes. If you have a crystal ball that can manufacture that, see Selby and Matt Mottram… Then you're a chance. Matt's even got his players getting off at the tribunal for dangerous tackles! Absolute pisser. This game sh*ts me.
The Other Bits and Pieces
2166. Yeeeeuuuuup. That will send you back plummeting down the rankings. And that's what happens when you purchase a couple of turds and try to polish them. Shoutout to you Rory Atkins and Brayden Fiorini. A few risky players came back to bite me this week, and I can just be thankful I avoided the carnage so I can send them all packing. Here's the slight problem. I have literally no cash generation. At all. Zero. Zilch. Having missed every single good rookie since Round 1 I'm left with a dilemma, and I won't be the only one.
For those of us in that situation we could bring in a couple of premiums this week, but it may leave you with no wiggle room at all. We have to create value somewhere, somehow. It needs to be through either underpriced premiums, of which there are none. Rookies, of which none are good. Or jumping from one risky midpricer to another. It's not ideal, and I still haven't decided which direction to go.
Ben Keays is an eyebrow raiser, and I wish I could guarantee Hugh Greenwood's spot in the midfield for the next few weeks. I would love to launch at these two guys, but it's the byes and a straight bat is probably the way to go. I love how Matt Rowell is travelling and his bye is a huge factor. He doesn't have to be a season keeper, but he can get us through the byes. Who knows, he may be turning into an uber premium right in front of our eyes. Bringing in a player on his bye makes me feel ill, but the lack of rookies has me in serious trouble for Rounds 14 and 15 so that's the way I'm currently leaning with Lachie Neale.
ATKINS -> MULLIN
FIORINI -> ROWELL
ASHCROFT -> NEALE
They've arrived, and here we go. Good luck legends, may the luckiest man or woman win…