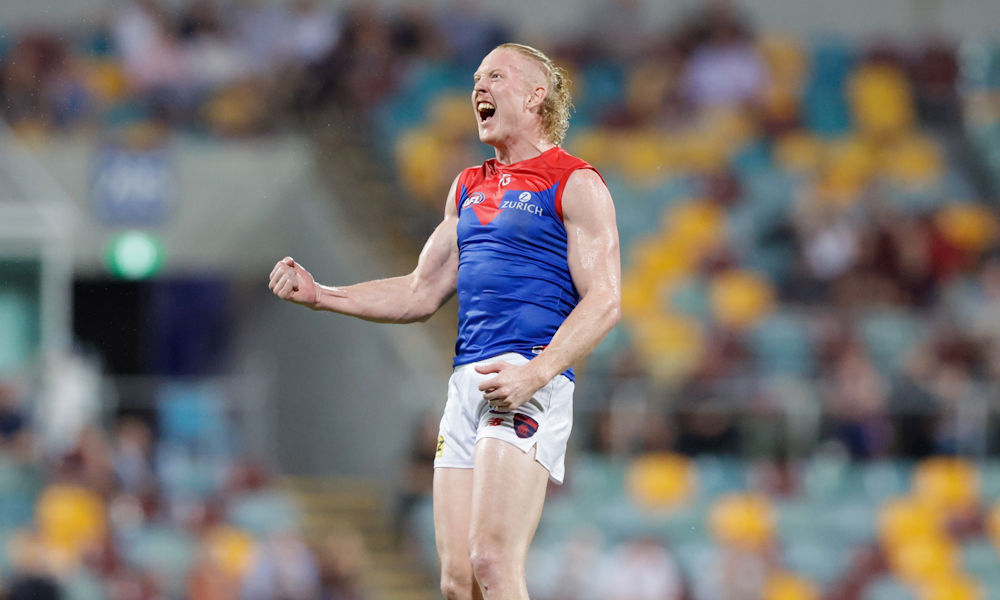 In true AFL Fantasy fashion most of the scripts were flipped this week. It turns out Hayden Young isn't the next Sam Docherty, Rory Laird is not a rookie and Jarrod Witts is in fact not the best ruckman to ever grace the game. One stayed the same however, picking a captain isn't as easy as it used to be. There's plenty of highs and lows to get into as we start the weekend wash-up!
LEGENDS
Cameron (138) – Not really classic relevant, but wow Jezza Cameron can play footy. Looking like an elite draft pick.
Oliver (149) – I'm always against starting the most expensive players, but those who started Oliver are laughing. There's a chance he can go 120+ this season and be the highest averaging player, it's easy to forget he's only 25. Unreal. Just be wary of tags and I wouldn't go chasing him now.
Daicos (117) – Speaking of tags. I don't think we need to bring it up again. Yes teams are going to send players to him, but he's just too bloody good. There will be some stinkers of course, but the Pies have a pretty clear game plan. If Daicos is near you, get him the ball. Jet.
Laird (142) – I usually need to see a couple of good scores before you make it back into the legends, but Rory Laird is just too damn good. That's how you bounce back… 120 is still on the cards.
English (117) – The clear and undisputed number 1 ruck. People were worried about his calf, interrupted pre-season, price, you name it. Injuries are a concern, but until that happens he's looking on the level of pig Grundy back when he could play footy. An extra on baller.
Marshall (116) – A much needed bounce back. Hopefully that secures Marshall's solo ruck spot for the foreseeable future. Crisis averted.
Steele (118) – It's devastating to see him go down with a disintegrated collarbone, but his effort to come back out in the last quarter and get to 120 is absolutely unreal. He holds his price and you can cash him in for some value you may have missed this week. Legend.
A.Brayshaw (120) – Tags are always a concern, but Andy Brayshaw looks here to stay as an uber premium midfielder for the next decade. Perfect fantasy game.
Serong (115) – I don't want to go early on this, but coming from his biggest hater… Caleb Serong might have finally arrived. The biggest positive? His TOG%. No longer is he spending a third of the game on the pine, he's inside and looks awesome. Great pick.
Sheezel (127) – What more can I say about this kid? He's Nick Daicos on crack. Not only is his role is a thing of beauty, he's so clean, composed, and will be a stalwart in our teams for years to come. That sounded like a fan fiction, sorry. One of the best ever starts to a rookie season, and he's only 18. LEGEND.
LDU (123) – The role, the huge TOG%, the second half breakout last year. This is very real. His price may not reflect it yet, but I think he'll be on the level of our big gun 110+ midfielders by the end of the year. Tags are going to start coming his way so let's see how he handles that. Finn Maginness is on the horizon.
Ziebell (109) – I said it last week and I'll say it again. Name aside, Ziebell was a gimme pick. I was watching him score with an evil laugh on Saturday, it's disgusting. Aaron Hall, suspensions and injuries are always a concern but you can't deny the output. He's a safe 90 with the potential for him to be a keeper.
Gulden (104) – Man this guy is good. Really good. His CBAs are only at 50% so it's pretty hard for him to average much more than 100, but he's still dominating regardless. Looking like a top 6 forward and a great pick. No pre-season trap here.
Setterfield (130) – I think I have a new favourite player. There's something about a unique Bombers midfielder that's just fun to watch. His role is as good as it gets. 90% CBAs this week!! He is a proven scorer in that role, so you can be confident he can average 100. Can he go 110+? Never say never. He looks incredible.
LOSERS
Docherty (79) – Who were my two most expensive players? Josh Dunkley and Sam Docherty. Who have been my two most disappointing players? Josh Dunkley and Sam Docherty. It's a common theme every year in my squad, but we've got to spend the money somewhere. Bloody lift.
Bruhn (43) – Oh dear. My mental health was saved on Thursday night when I couldn't face holding Bruhn another week after watching his role in Round 1. It was even worse this week. It's Geelong, it's Chris Scott and it's not happening. An absolute must trade, he's basically an underperforming rookie. Worth a look in 2025.
McCluggage (69) – What the hell. I had McCluggage pencilled in as a safe 105+ mid for the next 10 years. The major concern here is he went from 70% CBAs in Round 1 where he could only manage 13 touches and 55, to 19% CBAs as Jarrod Berry took over. The fact that it helped Brisbane belt Melbourne is a huge worry. Alarm bells are going off everywhere, and if you have him in classic I'd be jumping over board. In draft… Good luck.
Gawn (4) – Thank GOD Max Gawn was never in our classic plans. Having said that, he'll be a bargain pick up around the byes this year… Hopefully he picks up DPP. As a draft owner, this was an unmitigated disaster and hopefully Maxy is back ASAP.
Horne-Francis (42) – I was concerned that Horn dog wasn't going to have a consistent scoring ceiling this year, but I didn't see a score this bad coming that quickly. He played the best game of his career and only scored 90, which is never a good sign. 42? Gutless.
L.Jones (19) – I have never seen a bigger mismatch on a professional sporting field than Lachie Jones lining up next to Nick Daicos. That was embarrassing. Lucky to be playing AFL.
Macrae (73) – Sook. This was always ending badly. You have a petulant child who tilts his head if he isn't played in his preferred position, and you have a coach who thinks he needs to re-invent the wheel every week. He replaced Treloar's midfield time with a midget as an inside mid while taking on ball time away from Macrae and Bailey Smith. Bizarre. How Bevo got that contract I will never know.
Howe (29) – If I see a worse sub effort than Daniel Howe's for the rest of the year, I'll be seriously impressed. Almost got Fremantle over the line.
Young (52) – I don't know what to make of Hayden Young, but while Luke Ryan is back there he's going to struggle to make that leap to top 6 premium. Fremantle are a mess. You have to hold and cross your fingers.
Brodie (60) – Just when you think Will Brodie has turned a corner, he reverts back to 60% TOG. With Brayshaw and Serong locks in the guts, Jaeger O'Meara's arrival has spelled the end for Brodie. I have him in draft and it's DEFCON 1. Disaster.
Darcy (61) – The Luke Jackson acquisition will go down as one of the most baffling to me in AFL history. You have one of the elite young ruck prospects in the league, and now you start spot fires and throw gasoline at them with Jackson in the mix. Kane Cornes isn't often right, but I don't see how Darcy and Jackson work in the same team. And one is getting overpaid by about a million dollars.  Hopefully Big Sean gets out.
Warner (61) – If you thought you had a bad weekend, there's the guy out there who traded Rory Laird to Chad Warner. It can always be worse. And if you know that guy, give him a call to make sure he's ok… And then tell him how stupid that was.
Anderson (83) – Noah Anderson was high on my pre-season list, his price was just a little expensive for my taste. Phew. I think he comes good but man it has been ugly. Try laying a tackle brother.
Uwland (27) – Yeah…… I don't think we should be fielding a defensive rookie who isn't named Reuben Ginbey. Brandon Ellis is on the horizon and I think that might be the last we see of Bodhi.
Sheed (72) – Just… Meh. His +6 on the siren saved this score too. His role is awesome. 80% CBAs. The bloke is just an average footballer, by AFL standards of course. I can't get mad at him after 2018, but I can trade him far away from my team. I still think he averages close to 90 so he's a luxury trade only. One more chance…
Chesser (27) – I don't want to go early on this but… I'm just not seeing it. I saw more from Elijah Hewett getting done holding the ball than I've seen from Chesser over the opening two weeks. I want to be wrong but it's not looking great. I'll be shocked if he's not in the WAFL next week. Red dot pending.
Callaghan (61) – It could have been worse as he looked like his shoulder was done. The doctor made sure we all saw it too when he decided to treat it in the middle of the play. He recovered in the final term and he's not a must trade if he gets up, but he's a glorified rookie make no mistake.
THIS GAME SH*TS ME
Honestly I love this game at the minute, so let me quickly vent out the issues facing my main draft side. I don't know where the line should be drawn on league punishments, but we're pushing it right to the edge. So I really don't need to see Harry Perryman pull his string on 2 last week, Kelly and Whitfield get KO'd in the same game, only to follow it up with my second round draft pick and leading ruckman do his MCL in the first 5 minutes of the bloody game. What a sh*tshow. It's Round 2 and any thought of winning the league is long gone, anything but last will be a win in my books. This game sh*ts me.
THE OTHER BITS AND PIECES
2170. I don't want to jump the gun here, but I'm getting 2018 vibes from my current squad. A common misconception is that the worse my score is, the better the wash-up will be. And that might be true if there was something to play for. That hasn't been the case for half a decade. Well my hopes are up this year and my dreams are ready to be crushed, so stick around for the inevitable capitulation to follow.
Seriously though, Jack Ziebell was a no brainer, you're welcome. Will Setterfield however was the first time I have come away a winner from the absolute chaos and panic that is the 30 minutes between teams being released and the early Thursday night footy bounce down. 4:20pm in WA to be precise. If I had held Tanner Bruhn we would be having a very different conversation right now.
While everyone chases Will Day, Ziebell and Setterfield this week (rightfully so), I have no bloody clue what to do with my trades. That usually ends in disaster. Andy McGrath doesn't get a look in on kick-outs, and therefore it's hard for him to match the numbers Dawson, Sicily and Docherty put up. That's an easy 15+ points he misses out on every week and for that reason I'm out on him being a top 6 defender.
Dom Sheed has the perfect role, but as I've warned, he's just not very good at footy. Comparatively of course. Thank god he kicked that goal. I still believe he averages 80's and can push 90, meaning he has plenty of room for cash growth and you can comfortably hold him until the byes. However now that I have the luxury, he can pack his bags.
Caleb Serong. A familiar name in these parts, I hate Caleb Serong just as much as I love Darcy Parish. And I love me some Darcy Parish. However there's only 2 numbers I need to see. He has played 82% and 85% TOG, and attended 75% and 84% CBAs. He's now 22 years old, has an AFL tank and is playing full time inside mid. We already know he can score. The writing is on the wall for a full breakout and I'm jumping on board.
My second trade target is… Risky to say the very least. Hunter Clark burst onto the scene at the end of his second season, moving into the midfield and looked set to breakout into a future star. Due to some bad injury luck, poor form and no continuity, it hasn't eventuated. Yet. He has a great role this year, floating across half back and rotating into the midfield very similar to Will Day. Only now his captain has snapped his collarbone into a thousand pieces and there's 20 CBAs to get handed out. Yes the TOG% is horrendous but I need a defender and the rookies… Well the defensive rookies just plain suck. Is this insane? Maybe. But every genius was once called insane.
McGrath -> Clark
Sheed -> Serong
Caleb Serong and Hunter Clark. If that doesn't provide some entertainment next week I don't know what will. Good luck in Round 3 legends, may the luckiest man win, and may I be that man.