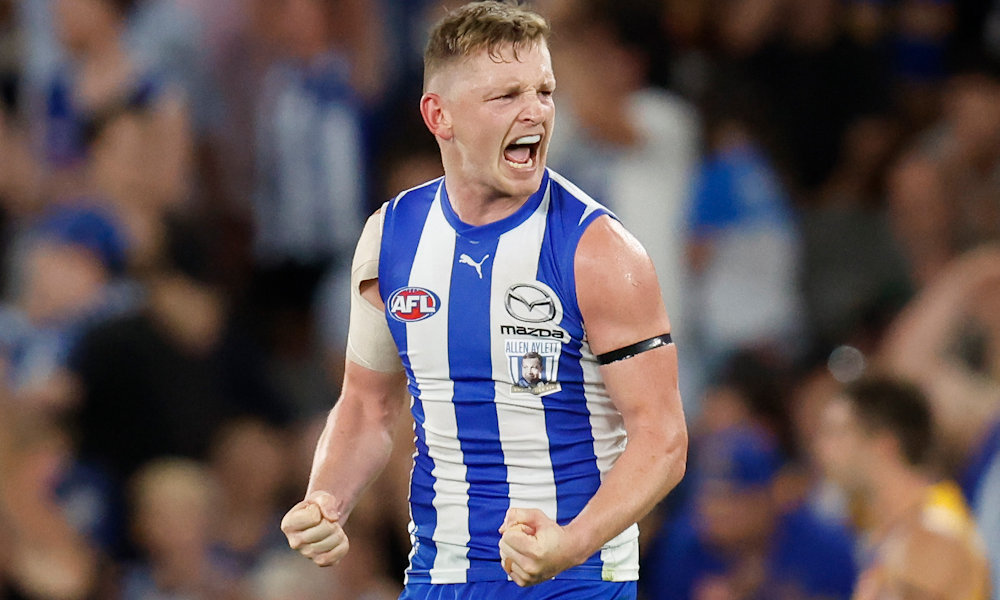 It's official. The biggest sook in fantasy is back for another half season before my team capitulates and the dummy is inevitably spat. Hopefully we make it further this year. One glance at the top 10 scorers in Round 1 is all you need to know, what an absolute train-wreck. Let's strap in for another season of endless pain and suffering. It's time for the weekend wash-up.
Legends
Taranto (123) – If he wasn't the easiest pick this year I don't know who was. We can rule out the 45% of the competition who decided it would be a genius idea to not start with him. 110+.
Docherty (110) – Oh how I wish I could go back in time and take that VC score. I'm definitely not the only one. Reminder, don't get greedy. Doch didn't have the huge mid clock but it didn't matter, if he stays healthy he should perform to his price tag at the very least. Legend.
Rioli (108) – I'm not suddenly buying him as a top 6 defender, but that's an awesome start and he was an elite draft sleeper. Gun.
Pendlebury (118) – This was… Weird. And unexpected. The 23 centre bounces will keep him irrelevant in fantasy as that half back role refuses to eventuate. I'm not sure if that makes him a win in draft or not, but man he is awesome.
Daicos (114) – Of all the shadows to jump at, a pre-season tag is one of the harder ones to understand. All of our guns are going to get tagged at stages, he had no reason to push that hard to break it during a warm-up game. This guy is probably a top 10 player in the league already, he's ridiculous. Geelong perhaps took it too far though, don't expect this every week.
Sheezel (118) – My god. He was born in 2004 and won't even turn 19 until the season is over. Let that sink in. What a dominant debut. LEGEND.
Ziebell (109) – In reality, this was one of the safer picks this season. He has played 21+ games in 5 of his last 7 seasons. He was guaranteed a certain half back role by Clarko in pre-season, which we had proof of. The last time he had that role, he averaged 100. He was priced at 60. But it's also Jack Ziebell. He should be a safe 85-90 average at a minimum and is a genuine trade target this week.
LDU (108) – What a gun. The writing was on the wall. Copy and paste what he produced at the end of last season with some potential upside, he's a full time midfielder and that's a rare commodity these days. Great pick.
Ginbey (92) – I've seen enough of Andrew Gaff, Dom Sheed, Tim Kelly and the other 10 Eagles that were over the hill in 2020. But damnit it's exciting to finally see a genuine bull in our midfield. He won't lay 12 tackles every week, but the 16 CBA's are more than enough for him to push for our fantasy rookie of the year. Beast.
Oliver (124) – Yep, he's pretty good at footy. I'm not convinced Clayton can ever average 120 but he's as safe as top 8 midfielders come. Judging by some of the other notable midfield premiums this week, Oliver is still underrated.
Gawn (113) – In a shocking turn of events, Max Gawn split his time between the ruck, floating across half back and dominating up forward. Just like he did last year. And scored amazingly well. Again. Because he's really good. Unlike his ruck teammate.
English (115) – If he can have 24 touches as an on-baller against Gawn and Grundy, we might see him push Grundy's peak averages in the 120's. The best ruck in fantasy and I don't think it's close.
Chandler (104) – Who? What did I miss? Job security would have been an issue without a dominating performance, but that's exactly what we got. He must have earned himself a spot and should be a priority add this week.
Witts (137) – Yes the conditions were perfect and the opposition ruckman was… Not. But Wittsy still had to deliver, and deliver he did. The full pre-season chatter wasn't just a fugazi, he can average triple figures without a doubt. I don't think I can say the same for my 'locked and loaded' R2. Great bye and great pick.
Warner (117) – I'll resist the temptation to throw around any nicknames here, but the new Chad was here and he is dominant. I would need to see him at over 70% CBAs to make that leap, he shared a similar number to Gulden and it looks like Sydney will rotate that midfield as expected. Gun.
Green (128) – Contested bull. Midfield time opened up. Pure inside role. You know what happens next. He was my lock of the season and Round 1 was a great start. I'd try make room for him this week if you're not onboard. Beast.
Sicily (130) – Yewwwwww. He finished last season going 101, 116 and 151. That's some 4 game stretch. Maybe there was value in defence after all…
Setterfield (122) – I don't really know what to make of this. He beat up on a bunch of kids, but you can only beat what's put in front of you. I need to see one more week, but if you're happy with your team and have guys like Tom Green already, you could do a lot worse. Awesome pick.
Day (98) – I don't usually include guys who can't even hit a ton, but I'll make an exception. I thought I was being a total idiot picking Will Day, so I'm glad this will wait until Round 2 to blow up in my face. Great start.
Worpel (96) – Repeat line above.
Ryan (156) – I missed these Sunday games so cut me some slack for not knowing what in the actual hell was going on here? Brennan Cox had 20 marks, so forgive me if I want to see another week before I get excited about the prospects of Luke Ryan and Hayden Young (118). Bizarre.
Darcy (104) – Fremantle paid Luke Jackson a kings ransom to get his deck chair laid out in the forward 50 and take in some Perth sunshine. Really weird and I don't get it but here we are and Sean Darcy is still one of the best young ruckmen in the comp. Go Sean.
Losers
Cowan (37) – It didn't take long for our first relevant vesting of the season. One bloody game. I thought he was solid and our cheaper defensive rookies are a potential disaster, so I think we have to take it and back him in.
Hopper (71) – In the minds of fantasy coaches, he stole a living at GWS being thrown in the guts ahead of names like Coniglio and Kelly. If he could do us a favour and go and ruin the Tigers, a lot would be forgiven. Dead set average.
Mitchell (84) – The role was solid, but I don't think we can expect Mitchell to push too far past 100 on the season. His days of 120+ piggery are over, but he'll be solid. Still a gun.
Bruhn (65) – Ugh. God I thought I was a genius watching Q1, despite the fact he started on the bench. Even though he looked clean around the ball and dominated inside, the Tom Stewart injury changed everything. Parfitt came on as the sub, Bruhn moved out onto the wing during the 10 minutes he actually spent on the ground, his confidence fell and he started butchering the footy. A tale of two halves is an understatement. Which Tanner will we get next week? I don't know, but he has one week to show me something or he'll be packing his bags without a second thought. You could see the talent, but it might not happen this year.
Xerri (26) – Oh boy. I've learned the hard way that picking a mid-priced ruckman often ends in tears. Man he was looking like a great pick for all of 15 minutes there. Seriously unlucky, but if you play with fire you often get burned. How do you fix this mess….? A few hard alcoholic beverages. Good luck.
Chesser (32) – I can only assume Campbell Chesser sunk into the Marvel Stadium turf on Saturday as I'm pretty sure I didn't see him once. I'm a little concerned, but I'll let him pass on this one. Until he gets dropped next week, then we're all f**ked.
McCluggage (55) – I've seen better performances from Australian batsmen on an Indian dustbowl. Quite frankly that's gutless.
Dunkley (73) – Josh, you weren't much better. Port Adelaide can't be that good. They've thrown a bunch of kids into the guts and you would have thought they were facing off against Voss, Black and Lappin. He's not deserving of the armband and that's on me, but I've paid almost a million dollars for what? If I don't see at least a 120 next week there's going to be ramifications. I'll abuse you through my keyboard again. Think about that one before you dish those scores up.
Jones (7) – Oh boy. Let's put that All-Australian on ice shall we? Bleeding cash which is really impressive stuff.
Johannisen (28) – Oh how the once terrible have fallen even further. Stealing a living.
Lobb (23) – See line above.
Whitfield (48) – I look at my never again list and I see Shitfield's name right at the very top. So why do I check my Round 1 classic squad and see him in it? If it's fool me once shame on you, fool me twice shame on me. What do I deserve for the tenth time I've been blinded by this seagulls love of cheap kicks and easy touches? As soft as a post coffee dump, good riddance.
Kelly (91) – Josh Kelly isn't in the same bracket as Whitfield, but man has he burnt coaches over and over and over and over and over and… over again. Great scorer, great role and a great upgrade target. But not a name I'm rushing to add when he's back in Round 3 (fingers crossed).
Perryman (2) – Yes, I managed to pick the GWS midfield trifecta in a draft. We're off to a flyer. I hated seeing that much orange in my team and I've got what was coming. Deserved.
S.Berry (36) – Did somebody say midfield breakout? Hopefully no one sheepishly has their hand down.
Milera (52) – Just a reminder that we can never pick this guy. Ever. I'm glad we dodged that bullet.
Laird (57) – I've seen some head scratching scores in my time, but when I came off the field at tea to see Rory Laird had scored 57. Fifty-seven. One of the bigger WTF moments I've had in Fantasy. Right up there with Zach Merrett's 300 point half and Lachie Neale's 37 bomb. I didn't see the game so I can't try to explain it, or justify it, or help talk you down off that ledge. I'll just be that guy who scored 14/80 in an empathy test and remind you that paying top dollar for a guy who averaged 120 has failed almost every time we've done it. One Tom Mitchell and Tom Rockliff season, and a prime Dane Swan are the only exceptions. Never do it. Ever. But hey, at least that 57 doubled into 114…. It looks a little better. Just pretend you forgot to put your armband on before lockout.
Greene (30) – Why did I pick a player called Fergus in my team? Probably a fair score in reflection.
Serong (83) – What did you expect? The 3 year sample size of Caleb Serong finding ways to not score clearly wasn't enough. If you can take a positive, he had more than 60% time on ground. So maybe there's something there.
Marshall (72) – Rowan Marshall was considered a lock. Yet Rowan Marshall has the second most question marks above his head in the ruck department behind a man who has ruined the definition of Fantasy pig forever. Shoulder knock? Tom Campbell? What have we done. I hope Witts owners went English…
This Game Sh*ts Me
There's some players you miss but can wear it on the chin. JHF looked awesome, but if I start him he probably gets KO'd in Q1. I missed the memo on Kyle Chandler, but nobody actually knew who he was or what he was capable of. But there was one guy with a clear cut role change at a bargain price that sat in my team for 2 months after the game came out. Yet somehow Jack Ziebell found himself out of my team at the final bell. Ignore the name, the history, the never again list that I constantly ignore anyway. That was a gimme pick and I ended up with a bloke who spent 50% of the game on the pine. Always back yourself. Unless it's going different with Lachie Whitfield. This game sh*ts me.
The Other Bits and Pieces
2060. Not bad, not good. Honestly what you score in Round 1 isn't nearly as relevant as how well your team is constructed. If you've been following enough to remember that once upon a time I won a hat (I won a hat), I had Libba do his ACL on 9 and I then traded him straight to Matt Crouch for him to ping his string next Friday night on 30. Bad luck happens, but you can recover in these first few rounds by trading well.
I didn't take Docherty's 110 which was clearly idiotic, ending up with Dunkley's turd as my captaincy score. Thank god for Rory Laird. Will Day was awesome, and my call to back in inside midfielders paid off with LDU, Tom Green and Worpel all justifying their selections.
This week is one of the most important for trading, and it's also the easiest. Chandler is the obvious rookie pick up if you missed him, assuming everyone has Ginbey and Sheezel. Pedlar also looked fantastic. He comes straight in for Noah Long.
Ziebell, Setterfield and Horne-Francis are the guys I like the most of players I missed, but my Chandler bottle job means I can only bring in one this week, and Ziebell gets the nod via DPP. I'm not completely sold on JHF averaging huge numbers this season but if his role remains the same he's hard to ignore.
Long -> Chandler
Whitfield -> Ziebell
Good luck next week legends, may the luckiest man win.