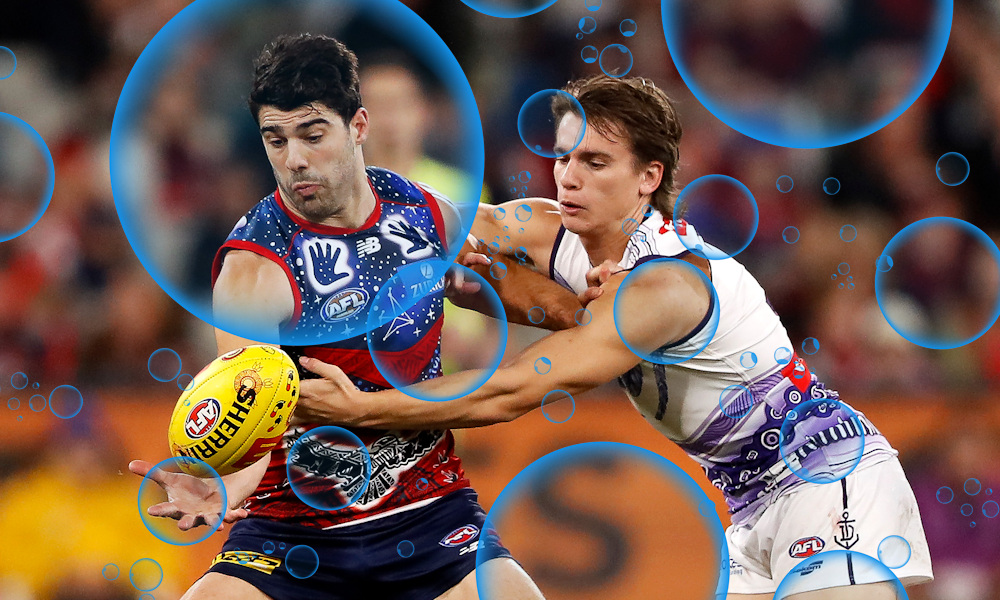 And look at this. There's tears in the stands from the washup fans as I step up to the witness stand. A silence falls across the room… My mum can barely look at me. And who can blame her? My score this week has to be seen to be believed. The bi-weekly whenever the hell I can be bothered writing it wash-up is here, let's make it count…
Legends
Neale (143) – News flash, Lachie Neale is pretty good at footy. And I still don't own him. So, yeah, there's that. Moving on.
Kelly (120) – Josh Kelly's revival is scripted every year, and only assisted by the absence of Leon Cameron. He's expensive now but worth every penny for someone looking to get him after his bye.
Coniglio (108) – I haven't seen a comeback like this since Tyson Fury got back up (How did he get up?). 22 centre bounces and god Cogs looks good in the guts. Who could have possibly predicted this?!
Stewart (169) – Uhhhhh. I guess Adelaide just let Beef Stew take his own footy down to the local park and have a kick around. How an AFL player is afforded 34 kicks and 16 marks in a game is beyond me.
O'Brien (159) – What kind of voodoo is this? Reilly O'Brien, the big antelope, Bambi on Ice, had 24 contested disposals, 9 clearances, 47 hitouts and 7 tackles… Those are SANFL numbers, if not NEAFL. Yeah I think he might hold his spot.
Blicavs (135) – I'm just shaking my head at this point. Obviously I should have picked Mark Blicavs, how did I not see this coming. 2022 makes heaps of sense.
Guthrie (126) – He almost plays less time on ground than Will Brodie, but Cam Guthrie loves playing without Danger. You won't sleep well at night but I guess he's an option.
Laird (119) – I miss owning this guy, I really do. He just gets it done. Every. Week. Gun.
Hately (112) – Jackson Hately is ticking most boxes at the moment and if he was a Round 14 bye I'd be all for it. I've got myself in trouble during previous seasons by bringing in players that aren't keepers around the byes. In Round 6 he'd be a bargain pickup, right now I'm just not convinced. Yes he may average 90, but is that enough? It's just another issue that will need fixing, but don't get me wrong. I get it. If you're strapped for cash you could do worse if it fits your bye structure.
Dunkley (139) – Did what he pleased against the Eagles which should surprise absolutely nobody. I'd still love to see Dunks in the guts on his own team but how he manages to get it done in this role is just amazing. He'll be forward again next year.
English (132) – Forget Max Gawn and he who shall not be named, Tim English is your number 1 ruck. Totally dominant.
Treloar (129) – Trelly had 22 CBA's and carries a 3 round average of 120. He's a nose ahead of Bont at the moment, which is impressive considering the size of Bont's schnoz.
Sinclair (133) – Man. Jack Sinclair is really him. I was never a chance this year.
J.Anderson (149) – Jed Anderson has one good season for his entire career. With a huge COVID asterisk hanging over it. Therefore, he's right in my trade plans. On his day he's a gun and his bye with forward DPP combo is big. I fear this ends badly but he can't be worse than Isaac Heeney.
Walsh (120) – It's going to be hard for Sam Walsh to push his ceiling much higher than this. His lack of tackling effort is similar to a prime Andrew Gaff. The man can rack up on a wing like not many others but 110 is probably his range.
Docherty (114) – Don't need to add much here do I. Bloody legend.
Hewett (116) – Hewett was always a safe pick with the potential upside of becoming a 100 average midfielder. He has become just that, and in doing so he's now a top 6 defender for the next few months.
Rozee (113) – Do my eyes deceive me. A Connor Rozee ton?! The midfield time has always been there, the scoring return had not. I'm not convinced he's anything more than a high 80's guy this season but I would love nothing more than to be proved wrong. He has at least earned his spot for the byes.
Parish (119) – A fan favourite at the washup, we all know what Darcy could do. It's just a shame I traded him and not Macrae in Round 1. I hope everyone in the media keeps beating up on him so we don't have to worry about tags. It makes total sense. He's elite in clearances, contested possessions and has the most effective disposals this season yet I have to hear mud former players like Cameron Ling throw shade his way when he wouldn't be fit to tie his shoelaces. Lachie Neale plays on a great team and he's labelled a gun. Parish is playing with plumbers and janitors.
Martin (113) – Nic Martin is the exception to the rule. I traded him out last week so everybody – you are very welcome.
Losers
Roberts (6) – Matty Roberts went about as well as me on the weekend. Imagine being so bad you have to get benched for over half the game… You hate to see it. See you in 2023 mate.
Heeney (51) – What am I watching here. You have played the Hawks, the Suns, the Bombers. Nothing. All you can manage against the Tigers is 12 touches, 2 marks, 1 tackle and a goal?! Up there with De Goey for most over rated player in the competition. Just because they're capable of the spectacular, doesn't make them good when they can only do it once or twice a game. He may as well not be there for the remainder. Pack your bags Isaac it has been embarrassing. Disgraceful.
Lloyd (81) – Alllllooooyyyyd. This isn't 2018 people what are we doing, we actually kick the ball forwards now. Hard pass.
Vlastuin (79) – Yet I picked Nick Vlastuin. I deserve everything I get.
Zorko (49) – 49. Forty-nine? I didn't realise I spent $800,000 on a rookie? Forty f**king nine?! Deadset as useful as Anne Frank's drum kit.
Green (70) – I'd like to apologise for what I said about Tom Green in my last washup. That was harsh on ginger freaks. They didn't deserve to be compared to this bloke and I'm sorry for that.
Duncan (84) – You are telling me that Tom Stewart can get 40 disposals playing kick to kick down back, yet Mitch Duncan, top 5 seagull in the league, can only manage to score 28 points in the second half. This should have been a 130. Disgraceful effort.
Milera (36) – Cheap next year?
Serong (68) – You didn't actually fall for that, did you…? Unless Caleb Serong is going to average 15 tackles one year, he will never ever ever ever ever ever ever ever ever be fantasy relevant. Ever.
Petracca (40) – Now we're just taking the absolute Michael Jamieson. I'm now supposedly an idiot for trading in Christian Petracca? How could I be so stupid. If you're going to have 10 f**king touches mate, just sit out sick. That is as gutless as Dylan Shiel going into a contest.
Bontempelli (80) – 80? What the hell am I supposed to do with 80 points? Use you as a stepping stone to a real premium like Brad Hill? That is just a bizarre effort.
Jamieson (35) – This is ugly from me and I told myself not to do it… But we're here now. Cal 'Jamo' Jamieson. I've seen more talent down at your local ammos C grade fixture. By a 35 year old. Wearing black Asics' from 2011. If big Jamo can get a gig in AFL kids anything is possible. Follow your dreams.
Anderson (64) – Sorry if I ever pumped him up, Noah Anderson is still horrendous. And also still 5x better than Rick Astley. Sorry, Matt Rowell.
Rowell (66) – Will Matt Rowell ever take a mark in the AFL again? Tune into next months washup to find out.
Larkey (17) – For those that think they had a stinker in their respective local sports on Saturday, just take a glance at Nick Larkey's effort. That will cheer you up. He will be lucky to get his match pay.
Thomas (44) – Tarryn Thomas. What the HELL is this? Draft owners where are you? That pick has been about as helpful as a concrete parachute.
Cripps (89) – Oh so Carlton have won a couple of games and all of a sudden you can put your feet up and go along for the ride skipper? Dishing that up in your biggest game of the season is nothing short of a disaster and I'm holding major concerns. The week off can put to rest any rubbish "banged up" excuses so he's on the block in Round 13.
Daicos (52) – Nick Daicos has gone so off at this point I fear keeping him in my squad is going to send my team down with salmonella. Put it in the bin.
Young (10) – 100% TOG for 10 points. Lewis Young, we salute you.
Wines (86) – If it wasn't for his bye I would have chased Ollie Wines last week, and I'll probably do it again coming off his bye. I can't tell you why though because last season is looking more and more like a fluke. Not aging like a fine Wines at all.
Smith (37) – Devon Smith. This bloke averaged 107 in a season. Never forget that. Miracles happen everyday.
Hayes (34) – Big Hayesy looked at my R2 in Jamo and said all good mate, I've got this. Burdening the load of my R1 spot, he said follow me boys as he dished up… 1 kick. One. His boots may as well have been painted on. And to be fair, take a look at him. His IQ is probably lower than his boot size.
Draper (47) – Look at all these names above. These under performing, good for nothing dogs. None of them can hold a candle to Sam Draper as the worst player in the AFL. Maybe even the worst player to ever play the game? Hang em up brother.
This Game Sh*ts Me
I actually don't care anymore. You try cull a rookie too early, Nic Martin scores 150. You bring in one of the best midfielders in the competition. He scores 40. You spend up for a gun premium, Touk Miller barely hits a ton. You make some stupid trades to get Duncan and Zorko and yep they're sh*t too. It's beyond a pisstake. Did I mention I don't care? Because I don't. Doesn't sound like it? That's because I do. I can't even show my face for the next 6 months it's that embarrassing. Whatever. This game sh*ts me.
The Other Bits and Pieces
I won a cap once, did I ever mention that? Just keep that in mind, please.
Because I don't even know anymore. Honestly, you think you get to a point where it's "only up from here." Like, it cannot POSSIBLY get worse. Then blokes like Zorko, Petracca and Heeney say hold my beer. I started the week ranked at 15,000 and I spiralled out beyond 20,000, ranking 54,000 for the week. Do you understand how hard that is to achieve when you're actually trying?
Seriously, there are ghost ship teams that are performing better than mine at the minute. I don't even want to type my score from last week out of pure shame.
Anyway I'm not telling you what trades I make because whatever the f**k you do, DON'T LISTEN TO A WORD I SAY.
All I have left is my draft teams, and they aren't even running for the next 3 rounds. What am I supposed to do. Actually watch the footy?! Lord have mercy.
I scored 1900. 1900? 1900…….. Hmmmmmm. Did I mention I won a cap? (I won a cap). See you when I see you.