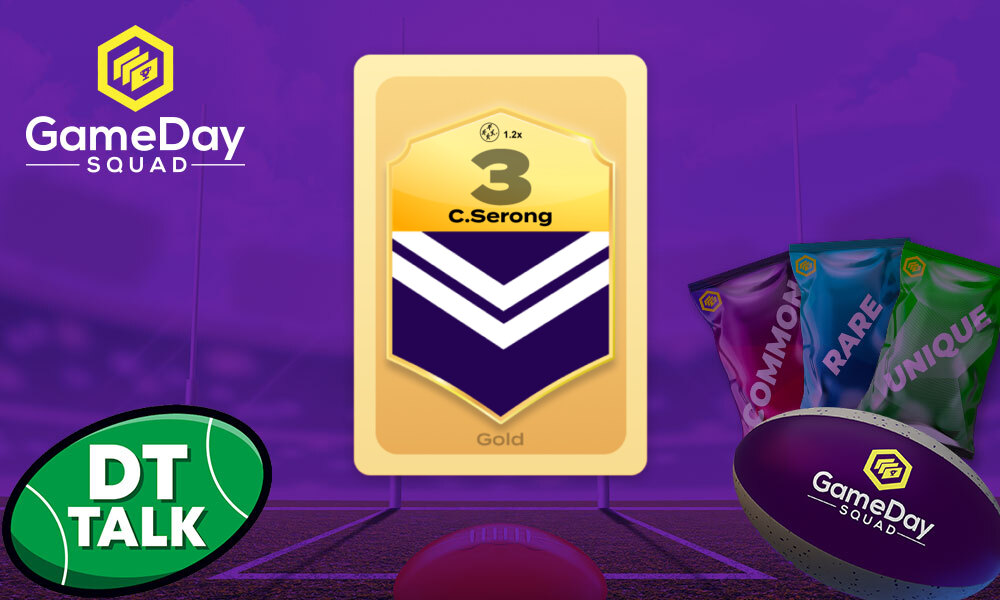 | | |
| --- | --- |
| Player | Caleb Serong |
| Club | Fremantle |
| Position | MID |
| Price | $777,000 |
| Bye | 12 |
| 2022 avg | 87.7 |
| 2022 gms | 12 |
| Proj. avg | 93-98 |
| Draft range | Top 50 MIDs |
Click here for 2023 Fantasy Classic prices.
Why should I pick him?
Caleb Serong has the feel about him of a guy about to Bang. He has the ability to punch out very decent scores of 110+ and has hit 120+ which shows some juice, he just hasn't done it often enough…yet.
Last year he was a popular pick for a mid-pricer breaking out but he let coaches down who jumped on his back. He came out with only 1 score above 100 in his first 5 and threw coaches 3 scores in the 60's! Eeeewwww!! As a result he actually lost his coaches coin in the early going. Then came a rebound where he averaged 96 over 8 games and he finished the season averaging 102 over the last 5 games, including finals. Still it was too late and not enough overall to keep his coaches happy with him. This year, as a result, he's on very few radars in Classic.
Serong's best is better than handy and it is coming more rapidly than many Mids of his draft year. After Selwood and then Junior Rioli's buttocks put the brakes on Matt Rowell's ascension to Pig status, its Serong, Warner, Green and Anderson as the lone guys from his draft year in terms of midfielders who are already taking on major mid roles for their teams and having consistently damaging, high level output with impact in the league.
He's already an integral part of a strong midfield on a team with finals and Flag aspirations and he's only going to grow in to his role and increase his impact in the real world and Fantasy realms. His CBA numbers are very tasty, he tackles, he's durable, he's a leader and permanent member of his team and he can hit the scoreboard.  All that leads to the reasonable expectation is that his 9 scores of 100+ last season will increase this season and we'll see progressively less of his 60pt floor. These are all elements we're looking for when we're trying to dig up a midfielder who is that mid-priced/break out gem who can help us build a bank or that guy who can be a potential Keeper who allows us to spend trades or coin in other areas.
When we reviewed Caleb's role, last season we thought the removal of the defensive-mid role from his game from the previous season would benefit us in his scoring for 2022. Unfortunately, Longmuir didn't completely eliminate his defensive roles in the Freo midfield early on in the season. He played a game of cooler football and was adversely affected by knee soreness for another few games within the first 9 and this affected his scores. That knee flare up disappeared not to be seen again, as did the defensive roles and then, it happened.  After the Melbourne win at the G Longmuir instead him and Brayshaw as a damaging midfield package and this was evident in his scoring, particularly in the big games at the end of the season. Any midfield cooling or tagging was now James Aish territory so we can forget Caleb doing any more of that and his knee stuff is now no more than urban myth.
He's also another year bigger and fitter so where he has been previously exposed by big bodied midfields like Carlton, Geelong and Sydney, he showed towards the end of the year and in his finals he was able to match those units much more effectively. This was very evident in the great performances against Collingwood (118) in the losing finals side and also the previous week against the Doggies (122) where he was a key factor in the game swinging back to Freo as wildly as it did. It's not unreasonable to assume this is the new standard for him, especially with more meat on the rig and more experience in the noggin.
Worried about a tag?  Hasn't happened yet and I'd bet dollars to donuts a guy like Brayshaw would get first look at that, history backs me up there too.
The final thing I'll add here is coming from Josh Hart on Twitter (@yoshgiddey).  His series of very interesting tweets presented names like Dangerfield, Parker, Neil, Laird, Kelly amongst a host of other big names in Fantasy history who, at age 22 went Banonkers compared to their age 21 seasons and added 20+ to their averages that year.  Most on that list weren't popular names in DT teams the year they went mental but the majority were mainstays in many teams beyond that.  Josh also added a list of those who averaged something similar to his historical list last season at age 21 that may be ready for the LEAP.  His list started with Warner, Serong, Newcombe, Green, Martin & Rowell (do yourself a favour and look up the tweet for the rest).  Serong was comfortably above those behind him on that list in terms of role and previous performance so he has to be looked at if you're after that upper-mid priced bloke about to go Bang and win you a Hat.  Don't let the negative vibes around last year's start blind you, he's a young man on the rise and worth every bit of consideration if you're hunting in this part of the jungle.
Warner, Newcombe, Green, LDU etc are all names hitting the shirtlists and popping up on message boards and podcasts.  Serong isn't, and whilst he may not make teams, he should be in the discussions.
Why shouldn't I pick him?
The case I've raised for picking Caleb is very much based on cherry picking his stats and then pretty much relying on the Mabo defense from the movie The Castle – "it's just the vibe!". Hard nosed analysis does paint a more negative picture. Whilst he had 9 x 100+ scores he also had 6 in the 60's and also a low 70's. He shares the State with a guy who has been referred to as the Yeo-Yeo but Caleb has definitely earned a Yo-Yo moniker as well. He's up as often as he's down and his floor is perhaps too low to take a risk when you're paying $777k.
Looking deeper in to the raw numbers and it gets even more confusing. He has 100+ scores against top line opposition and in finals but also has 60's against finalists in big games as well. Concurrently, he pounded out some good scores of 100+ against weaker teams but he has as many 60's against poor teams as he has against top line ones. It's hard to run a line through the reasons for the good and the bad performances so it's hard to know which will grow and which won't. In season 2021 it was easier to justify the poor scores because he had more defensive assignments in amongst his scores so we could discount those when projecting forward. Last year he had much less of that but was still scraping the bottom of his barrel too often to be acceptable.
Even after being released from defensive-mid roles he only average 91 which is only 3 up on his average. He had poor scores of 60 against Carlton, 73 against Sydney and 68 against Richmond. If he can eliminate those poor scoring games he's very tasty but that floor for Caleb is rightfully scary.
Unlike last year when we considered him, there's no likely role change or CBA lift we can confidently point too and count on which will immediately impact his scoring. His role won't change, those picking him will simply be relying on him getting more consistent and better at doing what he's already doing. Given his age and rapid development to this point that's not hard to see – but can we bank on it? And even if it happens will it lead to a big enough bump up in average? If we go full cherry picking and remove his def-mid assignments and other 60pt games he might remove as he develops further we see he averages 102 across 15 games. Nice for sure but it's a potential a 15pt bump that comes with a lot of ifs, wishes and maybes.
Finally, as mentioned in the Andrew Brayshaw Deck piece, the Dockers are reviewing their CBA mix and, whilst losing David Mundy from the rotation, they will be adding a fit Nat Fyfe and a hungry JOM to the midfield mix. What will this mean for Caleb? Does he find himself on a wing from time to time, or up forward for stints as he did in the U/18's? I doubt the forward spot happens but there's a lot to put together for the Dockers and this might stunt any Fantasy growth we see from the little gun.
Deck of DT Rating.
JACK
There's no doubt he'll be less discussed this year as a Fantasy option than he was last year. A combination of the poor start last season for his coaches and a less than impressive body of work overall last year will put him on many people's "Never Again" list and with some justification. However there is something about Serong which just hints at him having a year where he adds 15 or so to his average and we're all trying to jump on him at some point in that season with many of us missing the boat and those who saw something reaping the rewards. Maybe this is that year for Serong? There's also no doubting Serong's credibility and value as a player but his relevance as a Fantasy guy demands scrutiny and is pretty easily picked apart.
To me though, Serong has the hallmarks of a Fantasy Creeper. His breakout season may never come but each year for the next 3 he might quietly add 5pts to his average each season and then suddenly he's that stable mid-rock you plonk in your team knowing he will average 105 for you but you never whack the C on him. There's no doubt there is the ability and the opportunity for him to break out and so there's a chance he'll whack 15pts on his average this season, but to me the likelihood of it happening is too low and the potential negative impact on your team at his price is too high to take the risk. But if he does break out then just remember I wrote the bolded bit in the previous sentence and remember me well. I'll not be doing it with Caleb and instead waiting for him to creep to his max and will consider him then. Caleb Serong is a Deck of DT Jack.
Catch FlipperTC's "Dicks of DT" article from earlier in the pre-season.
FOLLOW US  ON TWITTER: @DTTALK for all things AFL Fantasy (and more). Got something to say about the Deck or AFL Fantasy in general? Join the conversation and use the hashtag… #AFLFantasy.