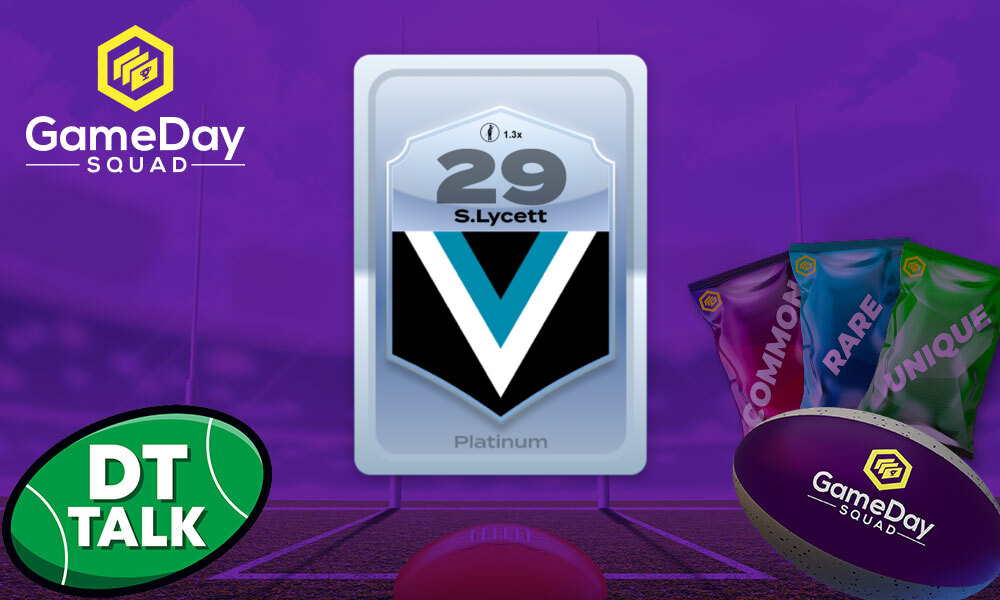 | | |
| --- | --- |
| Player | Scott Lycett |
| Club | Port Adelaide |
| Position | RUC |
| Price | $622,000 |
| Bye | Round 15 |
| 2022 avg | 72.3 |
| 2022 gms | 4 |
| Proj. avg | 82 |
| Draft range | 80ish (6th-7th RUC) |
Click here for 2023 Fantasy Classic prices.
Why should I pick him?
In the past, the term 'set and forget' has been commonly used in AFL Fantasy when it comes to selecting your starting rucks. For years, successful teams slotted Max Gawn & Brodie Grundy into R1 & R2, with a similar trend developing in 2023. Right now, the two most popular ruckmen in the game are Rowan Marshall (34%) and Tim English (32%), but that doesn't mean you have to follow suit.
Scott Lycett has yet another frustrating injury setback to blame for his reduced price. In a Round 4 battle with Max Gawn, he suffered a shoulder injury that required surgery and forced him to miss three months of footy. Lycett mentioned on the BackChat podcast late last year that he suffered an infection and complications following the surgery which ruled him out of action for the entire season. It's not ideal that the Port Adelaide big man has had to deal with an infection following major surgery three times, but when he's on the field, Lycett can still score in consistent bunches.
In the three healthy games he played last season, Lycett produced scores of 42, 98 & 95. Two out of three ain't bad and the 2018 premiership player has proven that he can be better than the 70 points he is priced at. In fact, in 53 games as a Port player, Lycett has an average of 83 and it's not absurd to expect similar scores in the upcoming season. If you're considering rolling the dice, it's good to know that four of his first six games come at Adelaide Oval and there are some decent fantasy matchups on the slate.
Lycett will have to do battle with Reilly O'Brien and Tim English, but the Lions, Magpies, Swans & Eagles should be fruitful for the Power's hitout specialist. While he usually ranks inside the top 10 for hitouts when Lycett is up and running, he's no stranger to accumulating possessions either. That bodes well for his scoring in 2023, with Port lacking recognised competition for his spot as their primary RUC. Sam Hayes was given a chance last year when Lycett went down, only to find himself dropped following their Round 12 bye. The Power then tried to deploy Jeremy Finlayson, Charlie Dixon, and even mid-season draftee Brynn Teakle at centre bounces, all of whom will start the year behind Lycett on the depth chart.
It's possible that we see someone like Teakle share ruck responsibilities with Lycett as the season progresses, but right now the Port veteran is their best option to help them win. While he may be forced to share the load, that shouldn't deter coaches who are interested in picking Lycett. A solid run to open the fantasy year and his cheap price tag are two massive ticks working in Lycett's favour – making him worthy of recognition as an R2 option.
Why shouldn't I pick him?
Despite all the positives I've just highlighted, let's remember this is Scott Lycett I'm talking about. He is an aging ruckman with a history of injuries who may face competition for CBA's and hitouts around the ground.
While he has shown an ability to rack up a reasonable amount of touches for a ruck, Lycett hardly offers the same fantasy pedigree as some of his peers. In fact, Port Adelaide's current R1 has played 132 AFL games in his career for only 17 scores in triple figures, with just three of them over 120. That's not incredibly alarming for a ruckman, but Lycett comes coupled with durability concerns, playing in all 22 games of a fantasy season just once back in 2018.
Coincidentally, just a few days before this Deck of DT article dropped a piece appeared on the AFL site where Lycett stated 'I am one of the older ones so they're definitely going to be trying to come for that spot'. None of them are expected to overthrow him anytime soon, but Port Adelaide need to start thinking about who's going to be Lycett's long-term replacement. The presence of Brynn Teakle, plus budding prospect Sam Hayes and unproven teenager Dante Visentini isn't going to force Lycett out of the team, however, it's realistic to see the Power utilising two ruckmen in their side during the season.
Teakle and Hayes are both 23, with the pair serving a decent footy apprenticeship honing their craft. They could be given a chance to shine if, or should I say when Lycett goes down. Given his injury history, it's hard to envision the veteran ruck playing every game during the fantasy season and his exit could create an opportunity for one of the young talents. Even if he returns to the team Lycett could find himself dropping consistent 60's and it'll be at that point you'll be wishing you went down the Marshall/English route. Just set and forget.
Deck of DT Rating.
QUEEN
Scott Lycett currently sits in my second starting ruck spot and if nothing goes wrong, he'll be there in Round 1. The threat of a dual-ruck setup at Alberton is real, although none of the young guys will be posing an immediate threat to Lycett's throne. He's poised to give coaches a value option at R2, allowing you to take a wait-and-see approach with the top-dollar ruckmen and save some money. There are safer options than Lycett out there, but he could serve as a stepping stone to eventually help you complete your RUC rotation – capable of scoring at a decent clip along the way.
---
Catch more from Fry by visiting the SportsbyFry website for additional AFL Fantasy articles, plus NBA and NFL updates!
FOLLOW US  ON TWITTER: @DTTALK for all things AFL Fantasy (and more). Got something to say about the Deck or AFL Fantasy in general? Join the conversation and use the hashtag… #AFLFantasy.