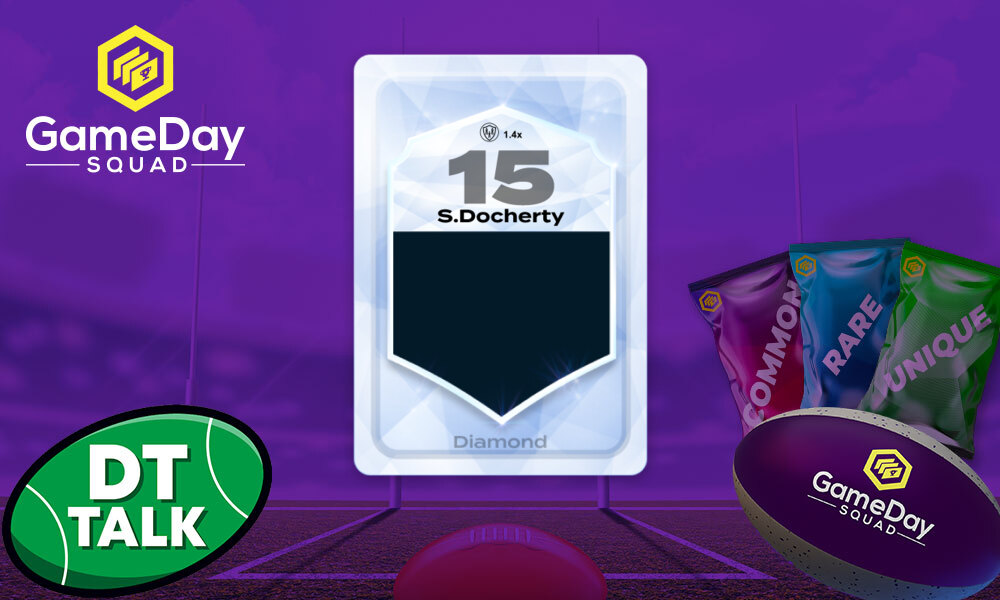 | | |
| --- | --- |
| Player | Sam Docherty |
| Club | Carlton |
| Position | DEF |
| Price | $977,000 |
| Bye | 15 |
| 2022 avg | 110.2 |
| 2022 gms | 22 |
| Proj. avg | 105-110 |
| Draft range | First defender off the board |
Click here for 2023 Fantasy Classic prices.
Why should I pick him?
If there is one thing we know about Sam Docherty, it is that he is an absolute fantasy star. Since breaking in his fourth season Doch has always put up top 6 defender numbers, with averages of 101 and a massive 117, before missing back to back seasons with a number of documented issues. He would then slowly build back, putting up averages of 88(adjusted), 98, and last years average of 110 which comfortably sat him as the highest averaging defender.
Coming into last season, it was documented that Doch was dealing with his cancer treatment. You will often hear coaches talk about the value of having a full uninterrupted pre season, ensuring that players can start the season off with a bang due to having a high fitness base and plenty of work with the main training group. More often than not, when a player misses large parts of the pre season, it takes them a fair chunk of the season to catch up and begin to play their best footy. Last year, Doch essentially missed the entire pre season. Off the back of one practise game in the reserves, Doch sensationally got up for round 1 when no-one expected him to. He began slow for his lofty standards, averaging 102 for the first 5 rounds of the season. This is crazy considering even the slow start has him comfortably inside the top 3 defenders. After the bye Doch would average 114, being the clear number 1 defender in the game. If he can replicate this form, which isn't a one off as we have seen him average 117 before, that 110 price tag could potentially be unders and he could see himself being the best defender in the game by 10+ points. From this position if you don't start him, how do you get him?
This last point may be a stretch, but with Carlton's midfield injury woes last year, Doch was put into the midfield in the last 2 rounds. In rounds 22 and 23, Doch had 75% and 88% CBA's respectively, putting up monster scores of 123 and 137. It is documented that Sam Walsh will be missing the beginning of the season. He didn't just score well, he played some very good football in that midfield. Just have this information in the back of your mind and if we see some midfield time in the pre season, it could be an indication of a potential role change. Big if I know, but worth noting.
Why shouldn't I pick him?
The only reason you don't start Doch is that you back in a slow start like last season that helps drop his price and he can be one of your first upgrade targets. With the way the AFL Fantasy pricing mechanism works, the beginning rounds see the largest shift in prices due to so many rookies outperforming their starting prices. For Doch to maintain his price point, he will actually have to outperform his average by 3+ points, which is no easy feat for someone priced at 110. You are basically taking a gamble that you will be able to pick him up at some point at a cheaper price, which at the end of the day is one of the main objectives inside this trade based game. Whether you start him or not, Doch is someone you will want to have in your final team and you will want him sooner rather than later.
Deck of DT Rating.
ACE
Sam Docherty is a gun, plain and simple. It is always tough to start players at such a high price tag, but all the information and research we have currently suggests that starting Doch has to be a serious consideration for your starting squads. At the end of the day, it will come down to your structure and whether you can fit him in without having to butcher your team too much elsewhere. I am currently right on the edge of whether or not I start Doch, but whether I do or not, he will be someone I am targeting to get into my team as early in the season as possible!
Catch more from Kyle as part of the Point of Difference Podcast and through The Fantasy Community Discord Server.
FOLLOW US  ON TWITTER: @DTTALK for all things AFL Fantasy (and more). Got something to say about the Deck or AFL Fantasy in general? Join the conversation and use the hashtag… #AFLFantasy.