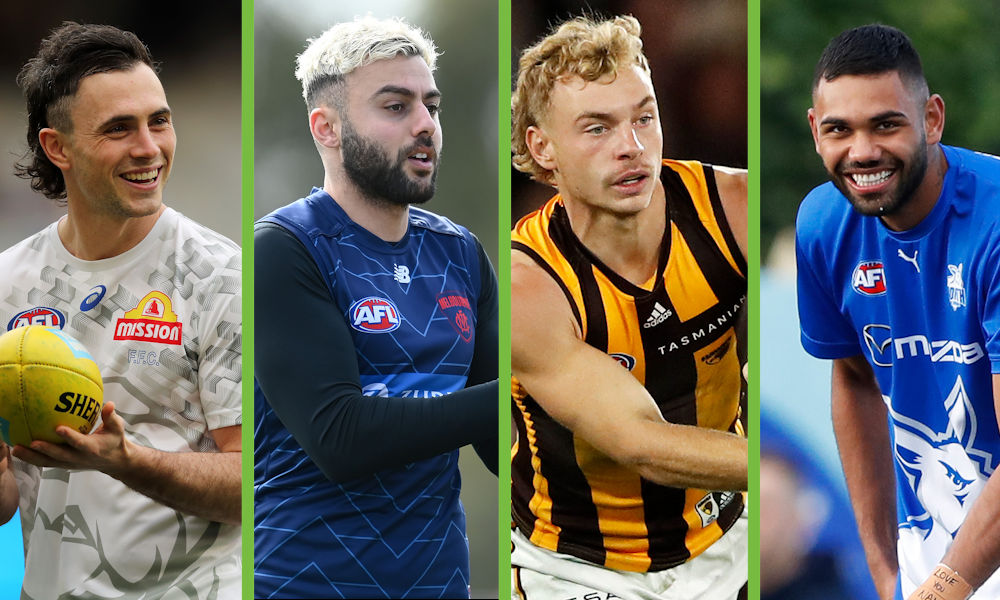 Players of interest based on their projected price due to either not playing in 2022, getting a discount or will be naturally cheaper for one reason or another. Have you got other names? Post them in the comments!
Details on how pricing is applied can be found on the 2022 price page. We believe the same formula will apply.
If you're keen to do price calculations, @LewyAF has created this sheet.
Matt Crouch (MID) – Priced at 88 which is a long way from what he did between 2017-2020 where his lowest return was 104.8. Issue is that he was on the outer at the Crows and not sure what a new club would look like. It should be remembered that he missed 2021 through injury and averaged 116 in the SANFL.
Wayne Milera (FWD) – A few coaches were keen on Milera priced at 45. He'll be priced at 50. Only worth considering if he was locked into a defensive role again… but even then, it would come with a truckload of risk.
Luke Pedler (MID/FWD) – Some Crows supporters are bullish on his stocks. Averaged 69 in SANFL. Close to basement price.
Fischer McAsey (DEF) – The former pick six hasn't played a senior game for two seasons after playing 10 (of 17) in 2020, his debut season, so will cop the 35% discount that will make him basement priced. Don't expect a lot from the key defender, though. McAsey average 43.3 from his 20 SANFL matches this year.
Jarrod Berry (MID) – Priced at 75. Maybe more of a draft sleeper if you think he can hit the number that he did in the semi and preliminary finals playing midfield (back-to-back 98s). It should be noted that Jarryd Lyons was out of the side playing VFL in these games.
Darcy Wilmot (DEF) – One of the pre-season bench locks. Made his debut in the elimination final which means he will remain basement priced for next year. Scored 51, 61 and 52 in finals series after averaging 65 in the VFL this year.
Zac Williams (DEF) – Roy will be keen. Priced just under 70. Averaged a career-high 93 in 2019 but hasn't been great at the Blues – body an issue as well.
Ed Curnow (MID) – Signed a contract extension even though he didn't manage a senior game this year (played two VFL games in an heavily injury interrupted season). 30% discount makes him priced at 62. If he's used, the 33-year-old may present some value as he's twice averaged over 100.
Paddy Dow (MID) – Priced at 46. I will not comment any further.
Sam Durdin (DEF) – Likely to be basement priced. 61 average at VFL level for the mid-season draftee.
Taylor Adams (MID) – Priced at 82, the lowest since 2014. Body has continued to be an issue with just two full seasons to his name in his 11 years in the system.
Jordan De Goey (MID/FWD) – Similar value to last year being priced at 79. Can he recapture the form of 2021 that gave him the nickname of De Goat? He should retain MID/FWD status and with the lack of premium FWD options possibly available, De Goey could be a winner priced under 80.
Finlay Macrae (MID) – Played two games so gets a 24% discount which will price him around 37, similar to the higher end draftees. Averaged 92 in the VFL and will be entering his third year in the system.
Zach Merrett (MID) – Is there some value in Merrett priced at 107? He went at 116 for the last 10 rounds including six over 120 and a ceiling score of 172. Uber premium in 2023?
Jordan Ridley (DEF) – Remind me why we were excited about him this time last year? He'll be cheaper being priced at 76.
Jake Stringer (MID/FWD) – It's hard to sell Stringer, but he's got an average of 63 next to his name which includes an injured 13 and a 20 point game. He averaged 80 last year. Definitely a Draft sleeper based on average, but not someone you could rely on in Classic based on role.
Caleb Serong (MID) – Many were expecting his 82 to turn into something closer to 100 for the third-year breakout. It was ambitious but he fell a fair way short with an 88 average, which he will be priced at. Scored 118 and 122 in the finals to add to the 7 tons in the home-and-away season.
Darcy Tucker (DEF/MID) – Donned the vest a few times this year but didn't put up any good scores when he got his chance. Three returns of 70+ were early in the season but was certainly on the outer. He has requested a trade to North Melbourne. Priced at 52, averaged 100 in WAFL.
Nat Fyfe (MID) – Possibility of FWD status… but we needed three more games from Fyfe to get a super-cheap pick. He gets a 9% discount off his 2021 average, pricing him at 77. Still cheap for whe he can do, but body and recent output suggests we stay away.
Patrick Dangerfield (MID) – Most have a line through Danger for the remainder of his career, but he is priced at 76 with finals performances of 93 and 115. There's an outside chance he gains FWD status, but it is unlikely.
Max Holmes (MID) – 98, 90 and 81 in the last three rounds of the season looks good next to his 64 average. If he held onto the MID/FWD status, Holmes would be a buzz name… but he was basically a winger, therefore is unlikely to be too relevant as MID-only.
Matt Rowell (MID) – Ahhh… priced at 75. It was a 20 point increase on where he was priced at the start of 2022. Rowell opened the season with 117 and he looked like he could be a great pick based on his low price. We were wrong. Just two tons followed despite playing every game this year. Can't even cherry pick stats here to make him look like 75 is value.
Jack Lukosius (FWD) – Can Lukosius get a consistent role down back? Or anywhere that isn't forward? Lukosius averaged 86 the previous year and dropped a long way to average 64, pricing him well below what he is capable of pumping out. If he needs to be a forward, we avoid in all forms.
Jack Bowes (DEF) – 15% discount sees Bowes priced at 68 (down from his 80.5 from 2021). Watch this pre-season.
Charlie Constable (MID) – We thought he may have got a chance this year, but no. Sub in two games, came on once for 18. His discount prices him at 37.4. Does he get an opportunity next year? CC averaged 104 in the VFL this season.
Stephen Coniglio (MID/FWD) – Hopefully holds FWD status. Priced at 98 which looks cheap next to the 109 average he managed after the coach change. In fact, it was a 118 average for the first seven weeks under the new regime.
Tim Taranto (MID/FWD) – Like Cogs, hopefully TT holds FWD status as he'll be priced at 96 – which is 10+ points better than where he started this year and 15+ cheaper than his 2019 season. Possible trade to Richmond
Lachie Whitfield (DEF) – There's a couple of injured 40s in Whitfield's average of 91. Does this make him cheap? Possibly, but it's another reminder that we've only seen him play every game of the season twice in his 10 year career.
Tom Green (MID) – A watch on who leaves the club. Averaged the highest percentage of CBAs of all midfielders for the club (dropped away at the end of the season). Started the season in a blaze of glory. Averaged 95 over first 10 rounds. Priced at 85. Breakout incoming?
Harry Himmelberg (DEF/FWD) – It's no secret that HH was epic when he moved to a defensive role. He was averaging 56 up until his position change and then averaged 98 from then on. 80 is super-cheap if he can take those uncontesed marks that he did in the back-half of the season. There was a 161 in there that does bump that average up.
Jacob Hopper (MID) – On his way out of the club (to the Tigers). Averaged 66, but will be priced at 81 as discount is applied to his 2021 average. Sleeper in Draft.
Tom Mitchell (MID) – 96 average his worst since 2014. If he can be the pig that he is at a new club… lock and load.
Chad Wingard (MID/FWD) – Played the 10 games so his 56 average sticks. This is his lowest since debut season. You could argue 30+ points under-priced… but role really isn't looking like it will be Fantasy friendly based on last couple of seasons plus his body is a huge concern.
James Worpel (MID) – Let's hope he is back in the mid-90s that he produced back a couple of years ago… oh, and finds himself in the team and back in the good books with Sam Mitchell. With Tom Mitchell a likely out, he might be back in a Fantasy friendly role.
Jai Serong (MID/FWD) – Given a chance with a couple of games at the end of the season. As he only averaged 35 from his two games, he will be rookie priced. Averaged 56 in VFL.
Angus Brayshaw (DEF/MID) – Averaged 110 in last few rounds when he made the switch to playing back in the guts. Should hold DEF status still as that was his main role for the season as a whole. He's not massively cheap, but could be your 'premium' defender pick priced at 99. You want to hope for consistency in role (and output).
Christian Salem (DEF) – Bargain priced at 74. Almost a no-brainer as he scored 3 in round one which takes his average up to 81 which also includes a 44. He missed R23 and only delivered scores of 52 and 41 in the finals, but if he has an uninterrupted pre-season, Salem should be a safe value pick.
Jacob Van Rooyen (DEF/FWD) – No. 19 in last year's draft should get an opportunity after a year in the system. Averaged 64 in VFL and will now be basement priced.
Kade Chandler (FWD) – Basement priced. Averaged 87 in VFL.
Jy Simpkin (MID) – One of the breakout midfielders to watch. Priced at 96, Simpkin posted 5 scores of 110 or more post-bye (9 games). Copped a couple of tags.
Aaron Hall (DEF) – Priced at 90… has the natural discount due to that unfortunate 12 and also 50. But that is a theme; injuries. Could be 20+ points upside if everything comes together but risk is there! Also need to factor in whether he has it as easy – or unaccountable – with a new coach.
Tarryn Thomas (MID/FWD) – A forgettable season prices TT at 54. A long was from the 81 that he produced in 2021 and well below the 95 he went at post-bye that year. Watch over the pre-season and hope he can be switched on for a big 2023 (with a role that can see him up around the ball) and he could push a top 10 FWD based on who is likely to be available.
Connor Rozee (MID/FWD) – I think he is a chance to be MID-only, which make him hard to pick but is priced at 88. Low considering he was averaging 45 in the first month of the season. From the point he averaged 98 and then 110 for the last 7 rounds. He's a midfielder now and if he does have FWD status, we have to go there based on how he finished the year.
Orazio Fantasia (FWD) – Priced at 45 due to a 30% discount for not playing this year.
Xavier Duursma (MID) – A few sub-50 scores due to vests, Duursma only averaged 55 this year. In his three previous seasons, he's returned averages of 70+. Hopefully he can cement himself in the ones next year. He averaged 87 in the SANFL.
Dion Prestia (MID) – Ahh… every year. Priced at 89, averaged 107 in last month. Has a 17, 37 and 66 in the average (all injured). That's the issue. Body lets him down. If it doesn't, definite value.
Dustin Martin (MID/FWD) – Will be priced at 76 but after playing 16 and 8 games in the last two years, it's a risk not worth taking despite some possible upside.
Jack Steele (MID)  – After averaging 121 in 2021, Steele will be priced at 110. A value uber-premium pick.
Rowan Marshall (RUC) – Paddy Ryder has retired. 2022 saw him averaged 105.3 when Ryder didn't play, 78.6 when he did. That average without Ryder includes a 47 when Tom Campbell played in R23. That will be the thing to monitor. If Campbell is on the outer, then Marshall could be R1 in 2023.
Hunter Clark (DEF) – Whatever happens with him in the off-season, the 54 next to him in Draft will make him value there. Unfortunately discound applied to 2021 so won't be that cheap in Classic (priced at 68).
James Rowbottom (MID) – Was great at the end of the season. Averaged 107 in last 5 rounds. Priced at 82. Further breakout incoming?
Matty Roberts (MID) – Basement priced.
Will Gould (DEF) – Basement priced… again!
Andrew Gaff (MID) – Calvin's mate posted his worst average since 2013. Gaff will be priced at 81 after dropping down from his 97 the previous year and his back-to-back career highs of 111 in 2018/19. The Eagles were trash this year so maybe his numbers can improve for the 30-year-old… but the days of being 100+ are likely behind him.
Liam Duggan (DEF/MID) – Posted some good numbers last year to average 84. If he can pump out the 101 average which he did in the last seven rounds, then he's super-value and in the mix as a top defender.
Dom Sheed (MID) – Played one game so gets a 27% discount off his 2021 average of 91. This prices him at 66.6 which is super value for a guy who averaged 90+ a number of times. It's not necessarily enough to be called a premium midfielder, but one to consider.
Elliot Yeo (MID) – Played five games, so cops 15% discount which will price him at 70.6. If he can get his body right, look at him as his season average PB is 107!
Oscar Allen (RUC/FWD) – Priced at about 40 after a 30% discount.
Campbell Chesser (DEF/MID) – Injured in pre-season. Basement priced.
Toby McLean (FWD) – 30% discount off 65 after missing every game this year. He came in for the elimination final and racked up 100. Priced at 45, could be one of the easy picks if Bevo has him in for R1.