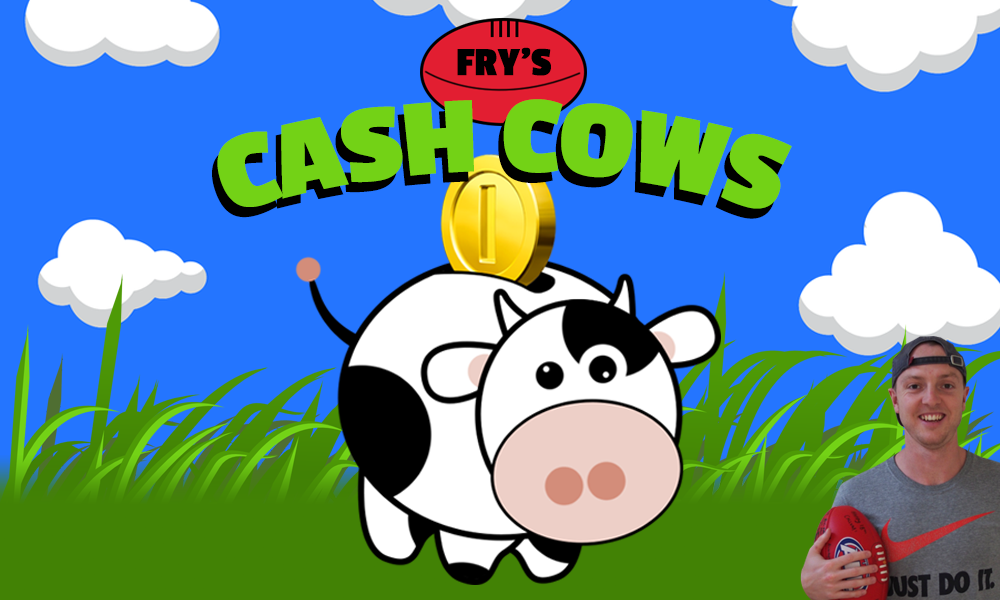 22 down, 1 to go!
Some coaches will welcome it, and some hope it never comes, but we've reached the final weekend of fantasy action for the 2022 season! I've joined the later group who are ready to welcome the 2023 offseason and I can't imagine cash cow advice is at forefront of every coaches with the fantasy Grand Final around the corner. So, there's no better time to drop an award ballot allowing you to have your say on which rookies deserve recognition for their fantasy output this season.
Rookie/cash cows picks are players who start the season at $300,000 or lower
---
Power Ranking Cash Cows – Round 22
After 22 weeks of action, these are the top-10 cash cow performers!
Cash Cow King – Round 22
Earning a Rising Star nomination for his Round 22 efforts, Marcus Windhager (84) also finished the weekend as the top scoring cash cow! The usual staples rounded out the list with Tyson Stengle (83) producing another ripper score while mainstream rooks Nic Martin (79) and Jake Soligo (72) weren't too far behind. Martin will likely be the only player of these four still on the field for unfortunate coaches, but Windhager gets my vote for tying his career-best score.
Loading ...
Round 23 Rookie Rankings
With the exception of Nick Daicos, coaches would've made it a priority to remove all the rookies from their field, however, forced trades may have complicated those plans. Fingers crossed you are reading this without a cash cow still in your starting 22, but if you do have to field a young gun, here are the ones I have the most trust in to close the season.
DEFENCE
Nick Daicos (Magpies)

Jase Burgoyne (Power)

Nasiah Wanganeen-Milera (Saints)*
MIDFIELD
Nick Daicos (Magpies)

Josh Ward (Hawks)

Jake Soligo (Crows)
RUCK
Brynn Teakle (Power)*

N/A
FORWARD
Nic Martin (Bombers)

Tyson Stengle (Cats)

Josh Carmichael (Magpies)
* if named
Round 23 Downgrade Targets
Cash is key at this point of the season and while there's nothing wrong with throwing a bench position away for a $190K player, another cheap option could tempt coaches if you need bench cover to close the fantasy season.
Wade Derksen ($190K, DEF/FWD, Giants)*

Jai Serong ($210K, MID/FWD, Hawks)

James Tsitas ($190K, MID, Suns)*
* if named
Award Races
Game of the Year
Over the course of the season, we were treated to some MASSIVE scores from a bunch of rookies. A few cash cows topped triple-figures on more than one occasion with Nic Martin starting the season in epic fashion thanks to his 5-goal, 27-touch game against Geelong. Josh Rachele and Jack Hayes also scored fantasy centuries to start their careers, but neither were able to surpass the point totals that Nick Daicos chalked up in a single outing.
Twice the Collingwood prodigy topped 120 points, with his Round 18 outing against Adelaide a sight to behold. During that same weekend, Josh Ward produced his best game of the year by gathering 33 disposals and taking home a Rising Star nomination for his troubles. People will default to the highest point total, but it could be a tight vote to determine which rook had the best game in 2022.
Loading ...
Cash Cow Coach of the Year
While Adam Simpson and the Eagles had the highest number of debutants this year, that doesn't mean that he deserves the title of 'Cash Cow Coach of the Year'. One could argue that Sam Mitchell (Hawks) or Brett Ratten (Saints) provided us with more impactful cash cows, while Ben Rutten gifted us with the likes of Nic Martin and Ben Hobbs for the majority of the fantasy season. There's no denying that all four coaches contributed to the fantasy rookie landscape, but who deserves the no as the best of the bunch?
Loading ...
Cash Cow King
While Nic Martin and Tyson Stengle chalked up their 10th and 9th nomination respectively this weekend, neither of them can catch Nick Daicos. The Rising Star favourite finished as one of the four best rookie scorers of the round 14 times through 22 games and accumulated 42 votes in the process. Tristan Xerri rounds out the nominees, but once again the younger Daicos bro should waltz to a victory here.
Loading ...
Defender of the Year
It's a shame that Nick Daicos was so dominant in his first season because it's making the cash cow award season rather redundant. Still, a handful of defenders stood up for fantasy coaches before the Magpie added valuable DPP status in Round 6, with a pair of key defenders in Paddy McCartin and Sam De Koning flying the flag for key backs. Traditionally a fantasy coaches nightmare, both McCartin and SDK finished the season as two of the most important DEF rookies, playing a high number of games and scoring at a reasonable clip throughout the season. Once again though, everyone's fighting for second place…
Loading ...
Midfielder of the Year
This vote should be interesting and you can make the case for any of these four nominees to walk away with the title of the best cash cow MID from 2022. It's possible that coaches owned all four of these rookies at one point or another this season, with Jason-Horne Francis providing the fantasy faithful with a launching pad in the early portion, Ben Hobbs doing some of the heavy lifting in the middle rounds, while the likes of Josh Ward and Jake Soligo ended the year with a flurry. This one should go down to the wire.
Loading ...
Ruckman of the Year
Tristan Xerri technically started the year as a pure FWD, but featuring as North's lead hitout man meant he became a handy tool for coaches over the season. Both Sam and Jack Hayes had their moments as well, with the St Kilda Hayes starting his year with a bang by registering 18 touches, 10 marks and 3 goals. His Power counterpart was unable to break back into the senior side following his Round 11 appearance, but by that point, he'd done his job as a cash cow. The fantasy campaign for all these ruckmen was short-lived, but your vote may differ depending on who helped you the most.
Loading ...
Forward of the Year
I'll admit it, I was straight up wrong about Tyson Stengle. I thought he'd find it tough to even come close to fantasy relevance, but instead, he's gone on to average close to 70 during the season at the same time emerging as a true All-Australian chance. Josh Rachele's fantasy success wasn't as lengthy, but he burst onto the AFL scene and provided coaches with a difference-making rookie for the first third of the year. Rounding out the nominees though, Nic Martin produced at a high level over the enter 2022 fantasy campaign, with some teams possibly still fielding the Dons rookie after his breathtaking first pro season.
Loading ...
Cash Cow MVP
Let's be honest, this is a two-horse race. You don't need to look hard to find coaches who think that Nick Daicos is the clear winner and daylight deserves to finish second, but Nic Martin's rookie campaign can't be overlooked. Making his debut in emphatic fashion, Martin quickly became must-have property for successful sides, with a high number of coaches also plugging Josh Ward and Paddy McCartin into their early lineups.
The later duo deserve shine for their achievements in year one, with Ben Hobbs falling into the same boat after his Round 5 debut. As it stands right now, Tyson Stengle is 3rd in total points for cash cows, however, he never really took off as a rookie prospect with his ownership percentage virtually never reaching 10%. Still, while all six nominees deserve to be mentioned in the MVP conversation, I think we know who wins this award.
Loading ...
---
FOLLOW ME ON TWITTER: @SportsbyFry for all things AFL Fantasy (and more)! Feel free to hit me up with any questions you have throughout the season. Good luck! ✌️