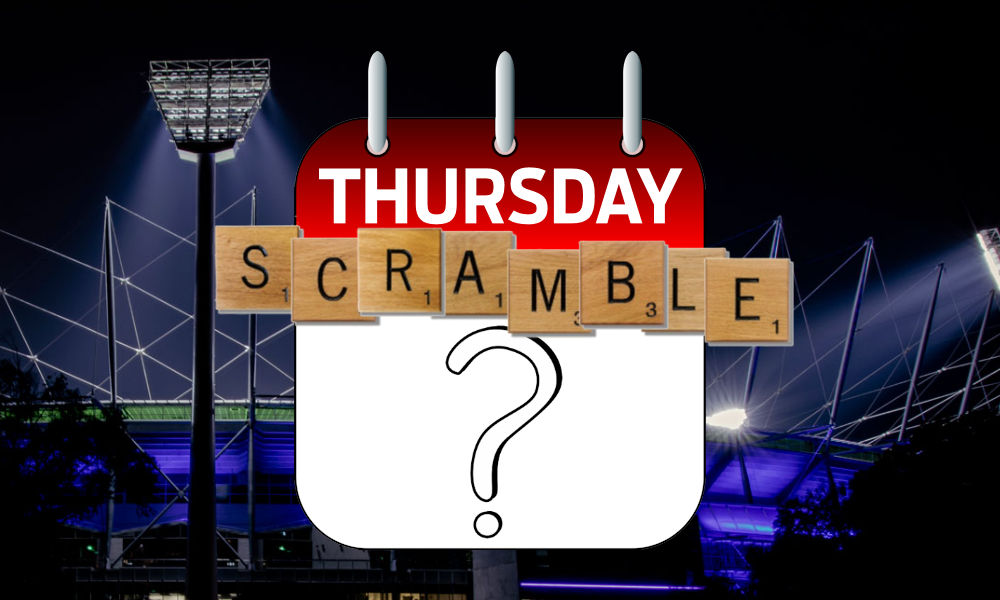 One final down!  Did you survive?  Even if you didn't the season isn't over, we still have rankings to play for and I am sure you have some side bets with mates that need to be won still!  A bit of a mixed bag today so let's jump in and Scramble!
Finals Strategy
As we heard from the Traders on Monday there are a few things you can do this week depending on where your team is. I know we have covered them before but it is worth a bit of a reminder of some of the pitfalls that you can find yourself running into as we navigate this week.
Got the week off thanks to a top 4 win? – In this situation you are sitting pretty. You have a number of choices in what you can do this week and it can set you up for a nice win in the Prelim finals. Warnie mentioned the idea of doing a double downgrade to get yourself some nice cash to use as you go into the next round and this can be really handy and a great strategy if you survive selection tonight unscathed. What it will do for you is allow you next week to upgrade some of your underperforming premiums in readiness for the prelim final. Even better is that if we do lose a premium to injury or suspension next week then you can upgrade to the absolute rolls royce, top of the tree player in that line with no concerns on cash.
The one thing that I would say about using this strategy is that it is best done with a bench player that is not playing and hence is not providing you with any bench cover. If you can downgrade one of those guys to someone that is actually getting a game then that is ideal.
If you are a Supercoach or a RealDreamteam player then I would only be looking to do one downgrade max and you would want to have at least 4 trades in the bank to be doing this. You can't be just doing downgrades for the fun of it if you have 3 or less trades because it is highly likely that you are going to need them in the next two weeks.
Playing in a knockout? – Then you have to go hard or you will be going home. Use those two trades to get yourself the best team you can this week. No time to double down because by next week you may be out of the game and unable to use that cash to get you into the GF. One down one Up is probably the best strategy here or if you have a nice big bank account then you can do a double upgrade this week and get the best guys that you can.
This goes for those in SC and RDT as well. If you are in a must win game then going down to 1 trade here is acceptable as it gives you one trade to cover for a missing premium in the next couple of weeks. Hopefully that is all we need!
Already gone from contention? – Then just trade as best you can to get your ranking up as high as you can by the end of the season. Many coaches will give up once their team is out of their league and then it is time for you to strike and jump up the rankings.
How Deep is your Bench?
This has been a bit of a problem for a lot of teams late this season. Somehow most of the players that we thought were going to be a lock to keep going for us and be bench cover have either become injured or they have been dropped. It is just making it hard to plan out the rest of the season and survive any late outs! But is it worth trading for bench cover?  My short answer to this is no.
Given that we now have the rolling lockout in all forms of the game it allows us to take a few more risks and run with a bit more of a leaner bench than we would normally like to. But it does require some discipline from you as coach. As always you should be planning out your ideal trades each week before the round and then looking at the order of all the games and identifying the latest point in the round that you can make that trade. What this will do is allow you to see if there are any late outs or other issues and you can then make a trade accordingly rather than relying on someone on the bench. This was in play last weekend when Cogs was a late out. Now grated this wasn't too long before the game but if you had no bench cover available you had enough tie to make the trade to get someone in and cover the donut. I know a lot of you don't like being stuck by your phone/laptop for the weekend for a rolling lockout but it is these finals weeks with very shallow benches that you may need to make a bit of a sacrifice.
The other thing that I try to do, particularly in the back half of the year is to make sure that as many of my bench players as possible are DPPs which means that I may only have one or two that are actually playing but I have the flexibility to swing them to whatever line I need them to go to.
But back to my initial question. Should you trade for bench cover? As I said, my short answer is no. But the longer answer is, if you are trading out a rookie/mid pricer that is getting you a 50 or 60 each week and you are bringing in a bona fide premium player that you can have on your bench and loophole each week then yes, that is the time that you can make a trade for bench cover. But just side swapping rookies? That really isn't making your team better. You are better off using that trade to try and improve your players on field.
Things to Remember
From here on out there are no second chances so don't hold back anything!
Just beware of General Soreness. With teams either out of contention for finals or locked into a top four/eight (although that isn't really the case yet) we might see players have a bit of rest to freshen up for finals or they may be sent off for surgery/retirement if the team is done for the season.
I've said it for a few weeks. Watch the Scale of Hardness with any trades you are making. Teams only have 3 opponents left now and that can have a huge influence on your scoring potential.
Have a great weekend everyone and hopefully you can survive another week of finals and we see you all back here preparing for your Prelim finals next week!!