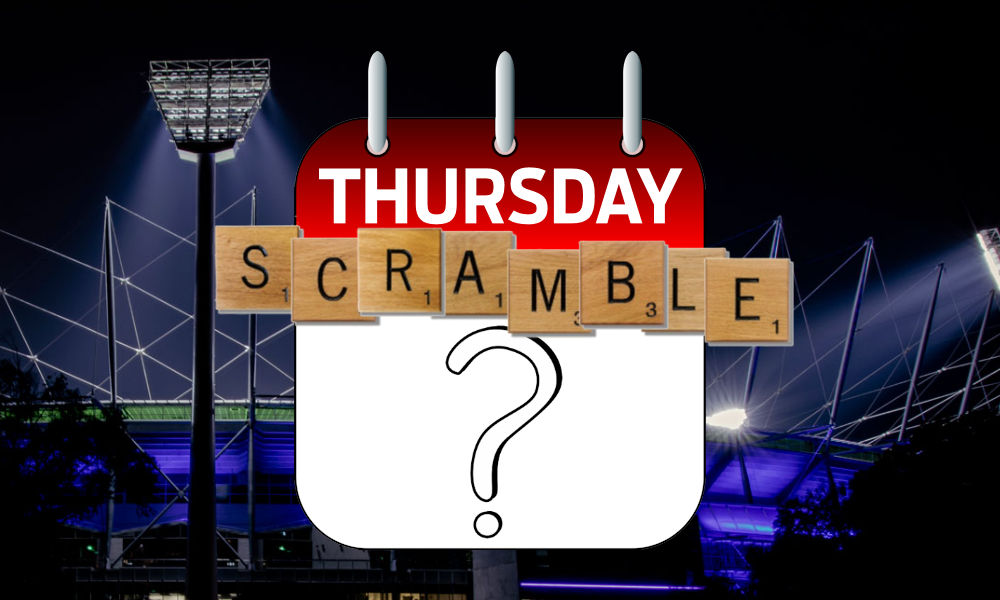 Here we are, first week of finals and hopefully you are in the top four and have the double chance! If not, don't stress, just roll with it and we can make the best of whatever situation you are in.  With just four weeks of the season to go this is where you need to make sure you are pressing forward to the best ranking you can get.
Don't try and get too cute.
So I need to put my hand up and say I did just this last week and it cost me some points. I thought I would be smart in RealDreamteam and loop a premium off the bench.
I had Heeney on the bench as my emergency and when he scored a 101 I took that and benched Cripps. This seemed like a very clear and easy move to make given Cripps had scored in the 80s for the previous few weeks. However, as we now know Cripps had one of his better games in recent weeks. So what does it mean? It means I cost myself 20 points and doing that in a final could cost  a finals matchup.
On paper this seemed to be a great choice but there is always a risk. I think that going forward for the rest of the season I am going to change the way that I do this and this will be to put one of my mids/forwards that is playing on the Friday night on the bench and have the E on them and put the player that I would normally leave on the bench as an emergency on field. What this does is gives me the protection just in case the premium in that Friday game gets injured early on and has a poor score.
Is this the same gamble? No I don't think it is, What I am doing is using this as an insurance policy and if I do this and the guy on the bench scores well, I put a non player on field and take say Heeney back off and put him on the bench. If I get a late out I can still put the E on him too.
Just on that, I don't set all my players on an E at the start of the weekend, and never put it on someone that isn't going to play, that is just a waste and it does then give you that flexibility in the event you do lose two players on the same line.
Time to dump Darcy?
As I said last week, I am the last bloke to give Darcy Cameron advice, but it really did look as though they were giving more time in the ruck to Cox with Darcy playing up forward. Given we are expecting to see Grundy back in a week then it really looks as though they want Darcy to be that marking forward option and this means that his points will plummet back to what we were seeing early in the season before Grundy went down.
Is it time to trade him out? If Grundy doesn't play I would probably hold but if Grundy is playing then it is probably time to move him out.
Super Hewey down again!
So we already know that Hewett is going to miss round 20 after the club posted this earlier in the week. The big question is, if you didn't trade him out last week should you be holding him with the expectation that he will be back in round 21 (although this is not confirmed).
My answer to this is no, I would still be trading him. We know that he has had back issues in the past and this is a reoccurrence of this injury where he has some issues with discs in his back. The second reason is that this is now fantasy finals. We need to have as many premiums on field as we possibly can and unless you have a floating premium on your bench that you are using for cover then you should seriously look at trading George out of the side and maximising your points. Even if you are in a top 4 game, earning that week off and having no stress in the second week of finals is a huge factor.
Do I get Stewart back in?
Hell Yeah! If you can get him in then certainly do that. He would be a great upgrade from almost anyone, but if you do have Hewett and need to move him on then just $49k (in AF) will be able to lift you up to one of the best defenders of the season. He has a brilliant run home (as per the Scale of Hardness) and three of the Cats last four are down at GMHBA Stadium which means he should have a field day.
However, if you have other issues on your field and you aren't using Hewett to get to Stewart then you should really prioritise your other issues before doing this luxury sideways trade down back.
Finals Strategy
I have mentioned this to you all before but thought it worth covering again.  So these are just a few key points that might win you your league matchup.
If you are the underdog you should consider taking a unique captain (this may mean not the number 1 on the pirate's list). You need that point of difference and this could be it.
Similarly you should look to use your trades to either cover off a gun that your opponent has or use that trade to bring in a point of difference by trading out someone that your opponent also has. This can be a bit risky but if you are looking like you need an edge on someone that may have a better side then go for it.
If you have those extra premiums on the bench then use your loopholes on them strategically throughout the round by putting the emergency on them and then seeing how they go. This can of course bite you (as it did in my story above) but if you are looking to be a severe underdog you need to take a few bigger risks if you are in an elimination final.
Don't lose sight of the grand prize. What I mean here is don't destroy your side to get the win this week if it means your side will be a train wreck for the remainder of the year. There is still four games to go remember before you can hold the trophy aloft.
But I probably didn't need to remind you all of those things because you are all over it and have the win penciled in already!
Things to Remember
Don't overthink things. Just take it one week at a time!
Double check your emergencies and captains, particularly if you have been reversing trades and changes during the week. Make sure your final team is set before the first lockout.
Unless you have an non-premium emergency in the first game, take all the E's off to give yourself flexibility, but don't forget to put them back on as the round progresses. See my point above on loopholing bench premiums.
That's about it from me this week folks. Hard to believe we are at finals already but here they are. Enjoy the footy this weekend as there has been some great games in recent weeks (don't forget that, there is actually real footy going on).
Once again massive thanks to everyone that came to the Highway during the week last week to see the Traders shows, I know the guys loved it and it was heaps of fun. Special shout out to Chau and Ali plus their friends (whose names I have forgotten, sorry it was late in the night) who stuck around for a few jugs with me on Thurs night until they stopped serving beers! Have a great weekend everyone and good luck in your first week of finals (even if it is in the Tit-Ed Cup!).