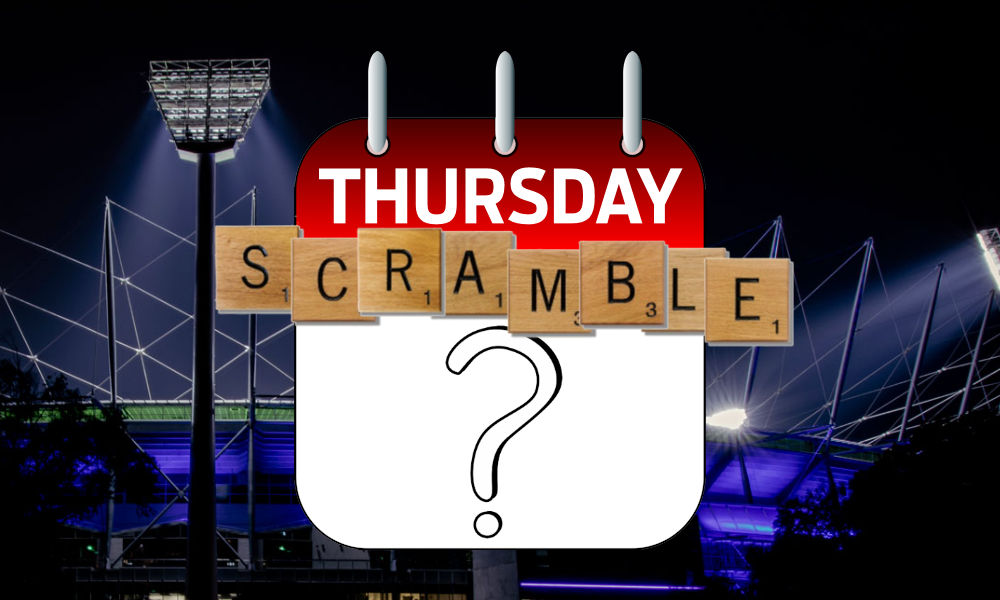 Hi Scramblers!  Firstly an apology from me for last week!  I completely stuffed up the scheduling of the article and set the day but forgot to set the time so it would have published eventually, but probably later in the evening. So I have made doubly sure this week that I have set it up properly so I don't get in trouble with Mr Dawg again this week!
So, are you through to the Prelim finals?  Just two weeks left to win your league and two weeks left to rise through the rankings to hopefully get yourself a hat or at least beat your mates for the bragging rights over the summer.  Either way!  Let's Scramble!
Prelim Final Week Strategy
Is there any strategy we need for this week?  It is all about getting your best possible team on the park to knock off your opponent right?  Exactly. This is the only thing you need to focus on this week if you are still in the finals.  It is all about how you do it though that is the key.  I won't go into too much detail because we have talked about this concept a lot in the past and I may have mentioned it the other week and that is really just have a look at your opponent's side in the main league you want to win and then just assess your team against theirs for strengths and weaknesses and then make your trading plans accordingly.  This will be made even easier for you if you are one of the people that has Cripps in your side and you have a forced trade. This will allow you to use that position and money to make a strategic move!
The thing that I would suggest most is use the Scale of Hardness in any trades you make. With just two games to go this can make or break the remainder of your season. Look for those players that have two green opponents left if you can.
Crippa, Crippa, Crippa
We had such high hopes for him after a great start to the season then he faded and then we were all looking for an excuse to trade him out but couldn't because we always had so many other issues that we had to deal with.  Well he has gone and done it now.  His 2 week suspension means that he is now the one that we have to get rid of over making other luxury trades!
Who to trade him to though?  As mentioned above you want to use the Scale of hardness to ensure that you are getting in someone that should score you maximum points.
Don't just focus on the midfielders though.  If you are a bit lacking in cash you may want to use your DPP so that you can maximise your return on investment.  You are more likely to get a better player in your backline or forward line with less cash than you are your midfield. So investigate that and swing players around as much as you need to.  In AF if you have no other issues then use your other trade as a downgrade if you can to get the most cash you can to get the best player.
All of this is really how we have been trading all year though, get the best possible player that is going to accumulate you the most points over the next two weeks.
What am I doing?  In SC I will be going Cripps to Tom Stewart as I have a bit of cash lined up (and I have a few trades left). In AF, I am not sure yet but I had to take Juicy Preussy a few weeks ago due to a severe cashflow problem so I am going to try and do something to combine trading him out with Cripps and seeing what I can get back in.
I've got it in the bag should I plan for next week?
As they say it ain't over til its over.  You may think you have it in the bag and unless your opponent is going to be copping a couple of donuts against your full premium side I wouldn't be getting too cocky and making trade this week that benefit you next week just yet.  You could wind up with egg on your face if you do a double downgrade this week in the early games and then can't reverse them when one of your premo's is out. Or if you get a premo fail on you like Stewart did last week you will need to wring every point you can out of the rest of your squad so at worst I would be doing a one down and one up this week. But definitely not a double down.
Things to Remember
Go hard or you will be going home!  No second chances this week.
Use the Scale of Hardness.  I have referenced it enough that it should be burnt into your minds now.  It is a valuable resource at this time of year.
Plan your trades but don't pull the trigger until you absolutely have to.  Late outs are a chance this time of year so be prepared.
There we have it folks, come Sunday night we will have just one round to go and hopefully you are getting ready for the Grand Final Parade heading into your big dance on the weekend!  Apologies this is a bit shorter this week, been very busy but I promise I will have a bit of a mailbag for you next week so that I can help you with some of the big decisions heading into the Grand Final.  Best of luck and see you all next Thursday!