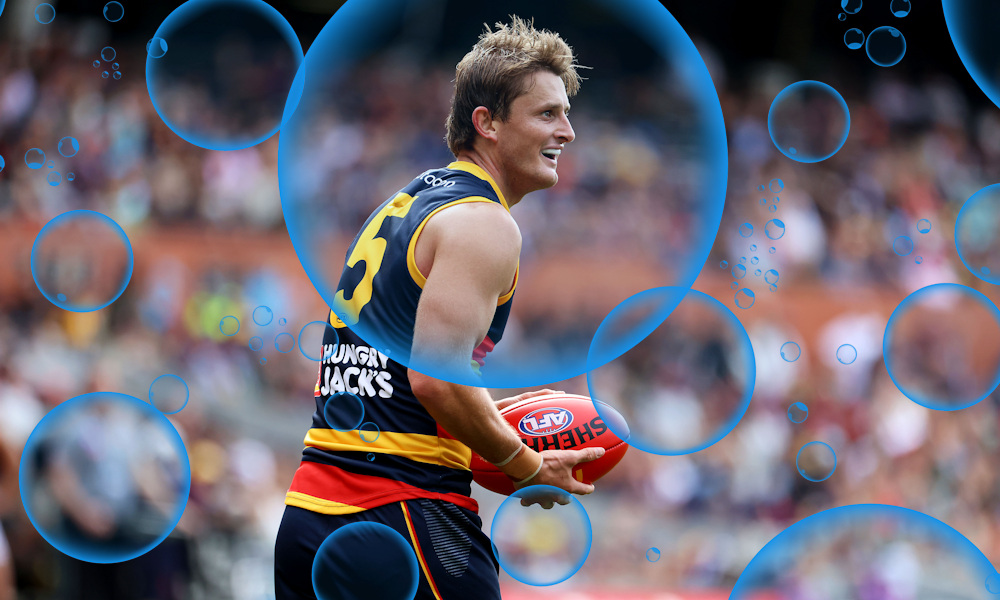 I sit here absolutely stunned. I don't really know where to begin. If you think you have ever witnessed a team collapse before, forget about it. Good luck finding a bigger capitulation than this. I don't even know what day it's coming out or what round we're at by now, but it's time for the weekend wash-up. Strap in.
Legends
Short (123) – Every year I manage this in defence. I missed Docherty's breakout season. I missed Rory Laird's. Missed Jake Lloyd's. And now I've missed Jayden Short's coming out party. I'm stoked to have him in my keeper league, I'm not so stoked to see him averaging 109 for every body else in Australia but myself. To top it off, now he's in the guts. Gun.
Clark (110) – Who would have thought that a bloke who dominated the WAFL for years then won best on ground in a grand final might actually be a gun? Weird concept. Pick 62 in the National draft was what it took to give this proven, seasoned player a run at AFL level. Not everybody is ready to step up at 18 or 19, yet these mature age picks slide through the cracks every year. Anyway….. You should probably make sure you own him.
Vlastuin (102) – Who what where why when? I have nothing to lose at this point so I gambled on Nick Vlastuin, and he didn't let me down. He closed 2021 on fire and looks to have taken over from Bachar Houli. In even better news, Jayden Short pushed into the midfield allowing Vlastuin to do whatever he pleased. He's still value.
Stewart (157) – Beef Stew brought his own footy down to the Cattery on Saturday, finishing with 40 disposals and 14 marks. He was a genius value pickup over the last few weeks, but now I fear you're chasing his performance from last weekend.
Kelly (134) – Josh Kelly was primed for the picking last week. We see it every year. Leon Cameron loses the plot, remembers Josh Kelly is one of the competitions gun on-ballers, then he comes home like a steam train. Get on board.
Gawn (149) – As a non Max Owner (don't even ask), I can safely label Melbourne unwatchable. I need the concrete hands Max back please. It's just annoying now. Legend.
Moore (138) – Dylan Moore, where have you come from? After a 7 point first quarter, he lost his mind and finished with 33 touches and 11 marks. This guy is a jet.
Sicily (114) – My only good pick for the season. That's three tons on the trot for Sic Dawg. Legend!
Oliver (126) – Oliver or Petracca, you can only have one? In fantasy, it may well be Oliver. Beast mode.
Steele (115) – Steele hasn't hit the lofty heights of 2021, but he just set the bar so damn high. He has tonned up every game and hasn't gone under 110 in the last month, the big score is coming…
Cripps (125) – There's no debating it now, holding Patty was the correct call. He is absolutely unstoppable this season.
Crisp (130) – Crisp manages to start slowly almost every game, but this weekends comeback was annoyingly good. Don't take him for granted if you're an owner, he kills me every week.
Miller (140) – If money is no barrier this week, Touk Miller is surely your number 1 target. He's back to tackling and that final quarter was gigantic. All aboard.
Anderson (113) – Has it officially clicked for Noah Anderson? I'm not willing to find out but what a POD he has been so far.
Dunkley (133) – The fact we could select this guy as a mid 700's forward was a bit laughable in hindsight. He has strapped both my fantasy and draft teams on his shoulders and carries the armband every week. The perfect fantasy player.
Mills (131) – The achilles fears are seeming pretty irrelevant right about now. This guy is the future of fantasy. Ridiculous numbers.
Neale (142) – Last, but certainly not least before I absolutely blow my top. I didn't pick Lachie Neale for under $800,000. And I'm getting everything I deserve. Don't overthink things.
Losers
Jesus where do I begin? How about…..
Duncan (69) – The absolute WOAT of WOAT's. I haven't seen a player this washed at 30 since Trent Cotchin. One too many calf surgeries Mitch? Is it at the point now where you're physically incapable of running into space to get a touch? He was never capable of laying a tackle. Just absolutely gutless. Seriously he may as well be Corey Durdin at this point. I now can't look at my team because I'll see this coward in my forward line and projectile vomit across my screen. Thanks for that, Mitch.
Caldwell (67) – I was under the impression that Jye Caldwell had played football before. That was obviously my bad. The bloke couldn't get a touch in a brothel. You do you though Jye, keep jogging out there for your 15 touches and F**K OFF. His parents must have hated him with that name, and now I see why.
Green (74) – Tim Taranto leapt to an average of 110 in his third season. Clayton Oliver did the same. Here comes another ginger looking freak and I'm thinking to myself, there's no way I'm missing out this time. Missing out on what? I had to put up with Derm riding his d**k for 2 hours on Saturday afternoon and I honestly thought he must have had 40 disposals 15 clearances and 130 DT. He had 7 uncontested disposals. Seven? You are allowed to get some easy disposals as well brother. At least he's a "contested beast." 2 tackles? Contested beast my ass. Probably still over priced.
Crouch (89) – Oh you thought you could get away with it because you crawl to 80 every week? He still looks 15 years old and he plays like it to, it's absolutely pathetic. There's no doubt in my mind he's the most bullied man at the club, just take one look at him. It was no surprise he broke the Worpel record for most guessed player when people saw that outline. Get out of my sight and out of my team.
Brodie (64) – Will Brodie has been a great pick this year, so I should show him some respect. But I won't. You are 23 years old, this isn't U13's mate. How can you still only manage 64% TOG? In through your nose, out through your mouth. Try it out. And while you're at it get a dog up ya.
Macrae (94) – Just laughable. I paid $972,000 for a run of the mill middle tier midfielder. Just have a look at what Dunkley can do with a third of the centre bounces. He didn't touch the ball in the final 20 minutes of a blowout victory, and I remember there was a crowd wanting him crowned a pig? Utter disgrace.
Butters (34, 74) – 34. Thirty-four… THIRTY-FOUR?! I can't even talk about this guy because I might throw up. Wah wah wah I got a tiny hit in the first quarter. Wah wah wah I'm sick. Boohoo mate honestly it's embarrassing. Zero ticker. Zero effort. A record amount of -3 votes. Congratulations Zak. I should have expected nothing more from a first name like that.
Three weeks of pent up frustration went into that and boy did I need to get it off my chest. And yes, I own every single one of those guys. Incredible. It's strange that in such a high scoring week I own basically every relevant loser. Some honourable mentions…
Gaff (47) – That Andrew Gaff bloke can rack up the pill, surely he gets a gig next week?! My worst draft pick ever.
Ryan (27) – Go on Flyin, point to the crowd again after you kick your first goal to bring us within 80 points. Hero.
Adam Simpson – It's an interesting tactic, getting our players to mark specific blades of grass. It's an expertly crafted zone that gives our players first class seats as they watch the footy sail over their heads and through the big sticks for 2 hours every weekend. Embarrassing.
Hayes (43) – Yes, you are a rookie. You are also supposedly a number 1 ruck? I can't tell. Terrible.
De Goey (56) – De WOAT.
Rankine (11) – I thought I was feeling down this week, take a second to say a pray for Izak Rankine's AFL career. May it rest in peace.
Martin (35) – Yeah, I reckon Tim English will be pretty safe when he gets back… Enjoy your final month of AFL Stef. Never forget the good times…
Shiel (43) – How many years left on his contract again?
This Game Sh*ts Me
Just give a man a break? Please…? I understand that I have made some… Poor decisions let's say. But come on. Aaron Hall, Jye Caldwell, Tom Green, Mitch Duncan (That one is on me), Bailey Smith, Connor Rozee. Can SOMEBODY SHOW SOMETHING? I have 2 tons from a player I have traded in this season, and the highest was a 102. I've tried to go with the next generation in Green, Caldwell and Smith. I have gone old school with Hall and Duncan. Now I'm just lost. Murphy's law is real and I am the victim. At least that's how I'll explain it. Unbelievable. This game sh*ts me.
The Other Bits and Pieces
1929, 1999 and 1996. Do not scratch your eyes. No those last two weeks are not the year my skippers were born in, they were actually my scores. We are heading into Round 8 and I haven't scored 2000 points for almost a month. I always wondered how it was possible for teams to be that bad, but here we are and mine is. I don't have Jack Crisp, Jayden Short, Jack Steele, Lachie Neale, MAX GAWN?! It's just bizarre.
My fantasy team is absolutely unsalvageable at this point. I mean really what is the point when you're ranked 10,000 with guys like Caldwell giving you 60 points every week. My trades are basically irrelevant but Greg Clark can come in after I was unable to get him last week thanks to injuries. Pretty awesome. Rozee was sh*thouse, I paid $928,000 for a glorified Ed Langdon (formerly known as Bazlenka), I forgot it wasn't 2015 and brought in Mitch Duncan, and somehow Nick Vlastuin has made it into my team. That's where we're at. Jye Caldwell can join Caleb Serong in the category below a never again list, maybe Touk Miller can actually show the boys how it's done.
Thank GOD my draft teams are dominating otherwise you would have needed to call lifeline. It's fine margins in this game but boy oh boy wowee I have missed them by a long way. Good luck this week legends, may you fare better than me.