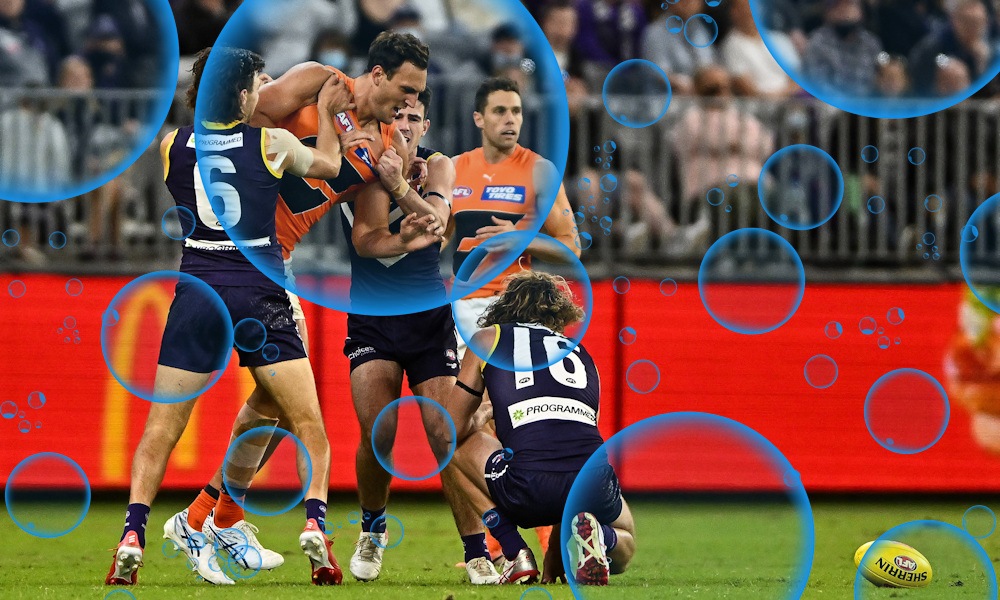 The Masters has me somewhat sleep deprived and I make the rules around here so I'm calling this the GIF edition. Saturday was great. Sunday was a train-wreck. So just another weekend in fantasy. It's time for the weekend wash-up…
Legends
Gawn (140) – Who could have possibly seen that coming? The most predictable 140 in AFL Fantasy history.
Boak (127) – How does this guy do it? Boak must be 50 years old yet he racks up meaningless final quarters numbers like a prime Dane Swan. It doesn't make any sense but the numbers don't lie.
Heeney (111) – Forward, midfield, it doesn't matter. Buddy out will have Heeney playing predominantly full forward so I'm expecting a slight decrease in numbers but he doesn't seem to mind where he plays. Gun.
Daicos (126) – Speaking of guns… Nick Daicos is pretty good at footy. He'll be sliding into D3 next week ahead of Dawson and Whitfield.
Grundy (124) – The most predictable 124 in AFL Fantasy history.
Short (125) – If you're looking for the perfect fantasy role, this is pretty close to it. Ticking every box.
Smith (131) – Bazlenka… I thought the 150 in Round 1 was a fluke. I was horribly wrong. This is legit. The dude basically plays 100% TOG and if he's not in the guts he's on a wing. It's a ridiculously good role and I have him in my top 8 mids. Get on board.
Macrae (130) – Panic over. The Bulldogs form line is alarming however so watch this space. Bevo will want someones head and Macrae's can tilt easily.
Dunkley (129) – Josh Dunkley backed up his 11 tackles last week with… 1 tackle and 11 marks. Oh captain my captain.
Rioli (102) – Moving on swiftly. 2022 is bizarre.
Brodie (127) – This was why we had to own Will Brodie. The worst case scenario was he averages in the 70's, makes a bit of coin and we move him on. The upside was he becomes a full time mid and is a genuine keeper. It's looking very much like the latter.
O'Driscoll (109) – Forgive me for saying this if you benched Dizzy O'Driscoll, but come on. We can't seriously have been taking Patty McCartin's upside…? Did I think he was going to pump out 109 with 20 touches and 2 snags… Not in a million years. I also don't know why Dizzy came into my head but it just sounded right. It must be the luscious locks.
Keays (134) – If you didn't already know, Ben Keays is pretty good at Fantasy. He's ok at footy too.
Rachele (101) – Yeah, I probably made a mistake dumping Rachele last week. I mistook Josh Ward's centre bounce attendances for him having some form of footballing ability. I was sorely mistaken, Rachele is a gun and I wish I still had him.
Steele (130) – For context he only just reached his Round 1 breakeven… In all seriousness if Cripps is a must trade and you don't own Steele, you know what to do.
Sinclair (113) – Yep he's pretty good, I still don't know how much I trust this full time midfield role but you can't argue with the results so far.
Hewett (115) – Defenders playing through the middle hey. Huge numbers again and I doubt he slows down.
Losers
Wines (36) –
Butters (77) – Wines heart scare could be good news for Zak Butters and boy does he need some. He has been a good pick so far but things have taken a decided turn for the worse lately. Officially on notice.
Zorko (44) – Good luck predicting Zorko's scores this season. Bizarre.
Blakey (55) – This is the face of every coach who traded in Nick Blakey last week.
Parker (42) –
McInnes (19) – Yeah… I'm not sure we'll be seeing old mate Reef again.
Stein (25) – You must have to run away from the ball to score this poorly. Luckily I didn't go through with my planned trades and he is now someone else's problem. Sucked in.
Conilgio (61) – I had no confidence in Cogs until last week when I finally thought he had turned the corner. How wrong I was. He is probably just an 85-90 guy now and that's what we paid for him. Disgusting.
Kelly (81) – I can't really be bothered baking someone who hasn't scored under 80 but when you consider the promise and his price, Josh Kelly's underwhelming mediocre play has his owners rightly pissed off. He seems to pull this stunt every year and I can't wait to get him cheap for his storming run home.
Caldwell (69) – Dog-meat. I have no excuse for this weeks trash other than the fact I'm probably wrong and he just isn't very good. He's dead in the water without a ton next week.
Rowell (66) – I watched Rowell closely on Sunday and I honestly don't know what to make of it. He does things where I sit back and marvel, then I see him running around in circles for the next 40 minutes like he has never played a game of AFL in his life. It's almost Reilly O'Brien new born calf style. He's gone for me this week, he looks absolutely awful. Ton pending next week.
Crouch (66) – Those midprice midfielders really did emphasise the 'mid' on the weekend. Absolutely bloody average. I have an extra 3 rookies. 26 disposals for 66 points? Embarrassing effort really.
Ward (27) – My midpricers may be scoring like rookies, but Josh Ward one upped them. 27…? I'd say some of those Hawks scores need to be seen to be believed, but I still think Champion Data must have just glitched. How can you be that bad? It's time to go…
Worpel (10) –
Marshall (60) – He'll be rookie priced soon, if you still have Jack Hayes we might be able to straight swap them as R3 backup. God awful.
Cripps (36) – Here we go. We couldn't go a few weeks without carnage and it has finally arrived. If you had Cripps skipper, I feel torn. On one hand, you don't have to be dead to be stiff and that is a killer blow. On the other hand, how you didn't find a good loophole score this weekend is beyond me. I guess not everyone had the luxury of Durdin. This sucks. The bigger question is where to from here. I've covered my theory before and if he's out for less than 3 weeks I'm holding. Every trade has a cost from now on so spend them wisely. Sideways trades are a last resort, so I'm likely holding as it didn't look too serious. Fingers crossed.
Preuss (85) – Seriously… You just KNEW this was going to happen. Every year the rucks manage to find a way to f**k me. I ask for it. Jack Hayes should be back and Sam Hayes should get a gig while Dixon looks like the real deal and Nic Nat has gone down too. Crisis averted. We'll deal with the next one when Leon Cameron doesn't bring Preuss back in……
This Game Sh*ts Me
On Saturday night I had my targets set on 2400 and that wasn't an exaggeration. I hadn't missed. It's the hope in this game that kills you. It didn't take long for Caldwell Crouch and Rowell to sh*t all over any hopes I had of moving up the rankings in any meaningful way shape or form. I need them gone and I need them gone now. This game sh*ts me.
The Other Bits and pieces
2165. Solid, total disaster avoided, but not spectacular. From here on I think we see the seasoned players separate themselves as we get upgrading, no longer can you go sideways trading premiums that look at you funny on the team bus.
I'm holding Cripps unless we discover he's out for a month, I had Xerri on my bench anyway so that's what I call solid cover. It allows me to see the back of Matt Rowell, which is a much better view than… That was harsh. But he goes and Mitch Duncan comes in. Bizarre I know, but I can't reach a big gun midfielder and I'm confident Duncan can be a top 6 forward, so that still saves me a trade down the track. Plus, he plays Hawthorn this week, so I'm expecting 130 minimum.
Ward -> S.Hayes (DPP)
Rowell -> Duncan
Good luck next week legends, let the carnage ensue.