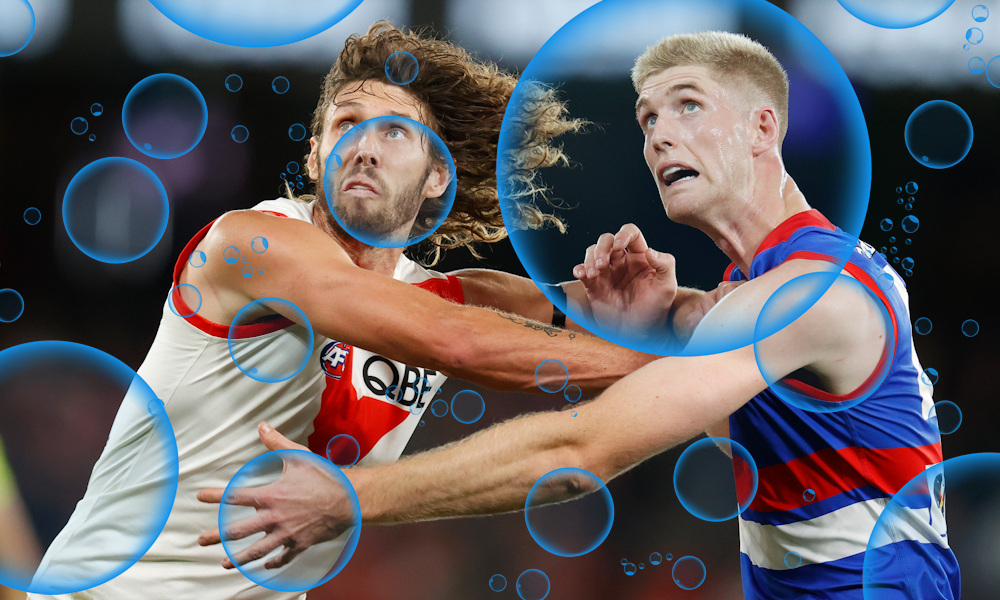 Round 3 was our first look this season at how easily tags can ruin our weekend. Those who went point chasing may have been burned, and there was another correction in the rankings with only a handful of stars capable of backing up their early heroics. If you're team is still in the mud, well I hate to say it but… Anyway, it's time for the weekend wash-up!
Legends
English (138) – I've learnt a few keeper league lessons this season. I didn't take Nick Daicos in the first round of our re-draft, in fact nobody did. I dropped Tom Green last season, but my team that missed the finals last year has stormed into contention thanks to Tim English suddenly becoming the second coming of Dean Cox? Yeah, I'd say he's pretty good. Do I fully trust Bevo? Absolutely not. Kudos to those who started him, nothing short of genius.
Dunkley (132) – As has become the standard procedure, the Bulldogs midfield is a genuine clusterf*ck. I really would love to see Dunkley get unleashed on his own Tom Mitchell style, but for now let's enjoy him as a forward and legitimate skipper option. Macrae is hereby sacked from vice captaincy duties until further notice. Legend.
Blakey (106) – Role, tick. Lizard like build and movement, tick. The Dawson role we saw going to Justin McInerney (wtf) is clearly handed over to another silky left footer and Blakey looks the goods. He's averaging an extra 17 points per game from kick-ins which gives him a solid floor. Just note that the Bulldogs and Geelong have combined for 19:34 over the last two weeks. If Jake Lloyd ever goes down Blakey could go nuclear. For now he's a solid 80-90 guy and certainly value. An option.
Brayshaw (156) – Is it real? Is this just an elaborate dream that I'm about to wake up from? I don't know yet.
Taranto (126) – The disrespect on Tim Taranto this year was disgusting, but nobody would have done him dirtier than me. I thought he was going to become Toby Greene, but I forgot who we were talking about. It was so bad that I may or may not have drafted Rowan Marshall ahead of him and yes typing that out hurt every bone in my body. Jack Billings got drafted in our third round (as a midfielder) and I'm being serious when I say this might be a worse pick (Or non-pick). What a gun.
Green (114) – We've seen it with Clayton Oliver. We've seen it with Tim Taranto. And we're seeing it with Tom Green. There's no reason he can't average 110+ this season, and without any tagging attention this might be his best chance to do so. What a pick.
Coniglio (114) – Credit where it's due, Cogs answered my early doubts and looks epic. He didn't get many CBA's but that didn't stop him from having 32 touches and 10 clearances. *Cornelius Fudge voice* He's back…
Preuss (108) – Yeah… I'm glad I had a week to look at him and I think the question was answered pretty emphatically. I don't really care how you make it happen, but regardless of the ifs and buts regarding COVID and injuries, you have to make room for the big fella. Deal with the rest later.
Cripps (138) – Oh captain my captain. In my first 50/50 call to not end up in the gutter this season, the Hawks let opposition mids do what they like and Crippa said thanks for coming. 11 tackles was the cherry on top and he looks unstoppable this year. Good luck tagging him with Carlton's midfield flying.
Docherty (138) – I don't care what happens, this comeback is the story of the year. Not even Doch's biggest fans could have pictured it going this well. Emotional stuff really. Truly a bloody legend. Also a must have by the end of the year. We'll just have to figure out a way.
Hewett (119) – If you get a full time midfielder in the forward line or down back, you just lock them in and hope we see the upside shine through. We saw it last weekend. Hewy could even be a keeper, what a legend!
Sicily (101) – I find it hard to see how Sicily doesn't average at least 90 this season, I think there's untapped upside as well. A good lesson to not overthink it. He's still value.
Short (118) – I had the chance to trade in Short after Round 1 but how do you bring in someone on the back of a 60? Aaron Hall has since averaged 89 while Short has averaged 125. Just fantastic. Don't trade players in based on what they've done, do it based on what you think they will do. There's a big difference…
Losers
Macrae (75) –  Oh boy. We have our first *Head tilt alert* of the season. And it is a bloody big one. Macrae will need a brace for the rest of the week. This bloke is such a princess. I get it, Bevo put him out on the wing. So? He had 11 pressure acts for the entire game?! 3 tackles?! Why would Bevo not put Liberatore, Dunkley and Smith in the guts? Bont can go through too if he likes. That doesn't mean you score NEGATIVE FOR THE QUARTER. Negative. Macrae actually went backwards after 3 quarter time. I've never seen a sook like him.
Now… I do want to trade him quite badly, but here's the problem. This has happened before. In 2019 Macrae spent a couple of months out on the wing and he averaged around 100, bleeding cash in the process. Things got even worse before his bye, with consecutive scores of 70 as he officially spat the dummy. Everybody traded him during his bye. How did he respond? After a return to the guts in Round 14, he scored 140, 180, 135, 106, 110, 132, 127, 151, 132, 107 and 109 for an average of 130. One-Hundred-and-Thirty. Is he a pig? No. Could it be a rough ride short term? Yes. Should you have started him? Probably not. Should we trade him? Definitely not. It's just as likely he scores 140 next week and you're thinking wow, that Jackson Macrae guy looks like a good value pickup this week. Like it or not we ride or die with Jacko.
Daniel (68) – The poor guy gets tagged on reputation alone, his lethal kicking is a little too lethal for our liking as fantasy coaches. Just pay up for a butcher like Bazlenka instead.
Parish (80) – There's bigger issues than his on-field struggles. Following his performance on instagram this week Parish has unfortunately been stripped of all captaincy duties for me until further notice. Have a think about it mate, and actually a get a touch while you're at it.
Draper (28) – The worst player in the competition? He's pushing hard. Embarrassing.
Houston (68) – Ah. Whether that 150 comes in pre-season or Round 1, there's always one guy that sucks everyone in. I may have pumped his tyres a little and that's on me, now you're stuck with a problem that's worth $30k more than you paid for him. For now. Yikes. Hopefully he turns it around…
Butters (59) – Yes he scored 137 last week so yes he gets a reprieve. But come on brother, these scores need to be in the 70's on an off day. Don't panic.
Whitfield (91) – Whitfield had the perfect chance to shut his haters up in the final quarter last week. It was all set for a (former) top 3 seagull in the comp. You're up by 5 goals against Gold Coast. Go put on 50 in the final quarter and score 130. What do we get? 11 points? ELEVEN?! I don't know what Lachie thinks he's playing at but after his efforts so far I wouldn't have been putting my feet up early. On notice.
Crisp (83) – Think of the fantasy points! Even more embarrassing than Darcy Parish's efforts. Saved by his last quarter and I still think he turns it around but god damn it's ugly stuff right now.
Hall (86) – What is the AFL's obsession with playing every single game at the GABBA on a Saturday night? Are we purposely making sure that they're playing with a bar of soap? That should be as hard as it gets for poor Aaron, but his effort last week is still really stinging. Oh he's playing at the SCG this week? Mother of god what have I done. Everybody is going to enjoy picking up Aaron Hall for close to $800k and I look like a right fool. Disaster.
Mitchell (87) – Tom Mitchell…? Is this is the same Tom Mitchell that I saw average 127 after his bye last year? The same pig that has averaged 127 twice before that?! Because I am bloody confused. He's even out of the centre bounces! The second he shows that he's back to his best I am making him a priority, but that's no good to the poor souls who started him. Gut punch.
Marshall (66) – Well done Brett Ratten. 2-1 and in the top 8, I hope you're happy! Because I am F**KED. Patrick Ryder enjoyed his rec time away from the nursing home to pick up *checks notes* 6 disposals, 1 tackle and 1 mark. Right…….. That makes sense. Rowan Marshall, touted as an All-Australian ruckman had *checks notes* 9 disposals and 3 marks? That adds up. Honestly, spare me. And I'm not letting Marshall get away with it either. When you get your chance in the guts, make the most of it! He was spilling uncontested marks in what has become a complete and utter sh*tshow since the first half of Round 1. Good riddance. I'll be back in a months time for more pain when Ryder pops his achilles for the fifth time.
Captains – Last, but most certainly not least. Jack Steele (101). Touk Miller (68). Lachie Neale (86). Andrew Brayshaw (95). Christian Petracca (83). Oh, you were all tagged? Actually Jack Steele, you're excused from detention. Unfortunately we're seeing through that fluke season pretty clearly now. You're just in the wrong class. Neale actually fought through that ankle tweak well and maybe this was too much too early for a value pick. The rest of you however… Yes, the taggers are pests. News flash, you are STILL ALLOWED TO TACKLE. Brayshaw, you are just lucky the Eagles dropped that tag because Jackson 'worst player in the AFL' Nelson was about to hold you to under 50 points. Touk Miller, the "tackling machine", 3 hugs?! You had me fooled last week, fair play. Melbourne are just too good to care, but does Petracca want a Brownlow? What a disastrous weekend for our skippers. Sometimes you just have to put your hands up and say, this game sucks. It's all you can do.
This Game Sh*ts Me
Again. Certain coaches have potential All-Australian level players in their teams, but do everything in their power to make sure they never get there. Can I argue with St Kilda's win? No. Can I safely say that Rowan Marshall could have bettered his 9 disposals playing as a key forward in his actual position? You had better believe it. Thank god we got to see a 45 year old Patrick Ryder have 6 touches and 1 clearance playing full-time on ball. Yuck. Marshall could be a top 3 ruckman in the competition, instead he's a glorified Nathan Vardy. Fantastic.
That wasn't even the worst one of the weekend though. Say it with me. Jake. Stringer. Is. Not. A. MIDFIELDER. Could you throw him in for a few centre bounces if you need a spark? Absolutely. Newsflash Ben Rutten, he's not Dustin Martin. 22 centre bounces yielded 14 disposals and 2 clearances, and you wonder why the Dons got belted. Meanwhile Jye Caldwell gets a brief crack in the middle (8 CBA's) for 5 clearances, 2 of them them from the centre. By all means, stunt Caldwell's growth to make sure Stringer plays full time midfield, my god. The worst part is Stringer is a potential All-Australian key forward in the right situation. Seriously what are we doing. This game sh*ts me.
The Other Bits and Pieces
2096. I butchered my rookies (again) benching Nic Martin and JHF, fielding Rachele instead. Obviously a horrendous call but that's easily rectified next week. Rowan Marshall is a must trade out and Brayden Preuss is a must trade in, so that kills two birds with one stone. If I could get English for Marshall and Preuss for Hayes I would, but I fall just short.
So… You would think I could make something happen with $387k in the bank, but I'm not willing to give up on Caldwell or Rowell yet and if I'm upgrading a rookie, I can only get McCartin to Jack Sinclair or even worse, Nick Blakey. Old me would chase the value with Blakey, however new year new me. My new gameplan, only trade in keepers otherwise you're just creating yourself more problems down the track. The other major factor for me, is Nick Daicos can safely sit at D6 in 2 weeks time. Nathan O'Driscoll can hold the fort until then. Patience is a virtue…
Therefore, McCartin is going down to old mate Steiny and I'll be pocketing…. $524,000. I feel a little bit sick, I'll probably never see those kind of numbers in a bank again. It will let me bring in a one if not two big dog midfielders next week and then it will be upgrade season. And it can't come quick enough.
Marshall -> Preuss
McCartin -> Stein
Good luck next week legends, may the best rage trades win!