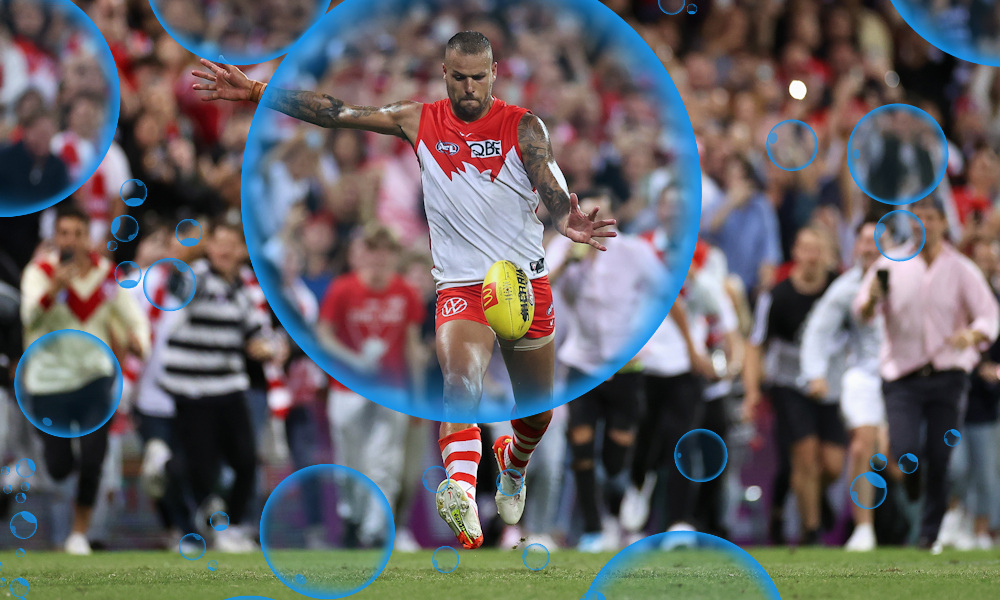 One week. That's all it took for my team to turn from respectable to shambles, and for the washup to get delayed until Tuesday morning. It's fine margins at the start of the season and one or two bad calls can leave you in the mud with no where but the wash-up to look for answers. You're not going to get them, but just know that you're not alone. It's time to vent, it's time for the weekend wash-up!
Legends
Cripps (123) – Yep, Patty Cripps is back to his best. With the rest of the blues midfield dominating too (Shoutout to Matt Kennedy – 114) it's not as simple an equation for opposition teams as it was in years past. He's looking like a keeper.
Treloar (117) – I imagine Treloar vs Coniglio was a close toss up for as many others as it was for me, and there's a clear leader early. Bailey Smith's injury helped, but it's hard to see Treloar not averaging 100+ if he stays fit. Great pick.
Heeney (107) – This guy is just really good at football, I don't think it particularly matters where he plays. Heeney's upside would be a lot higher as a midfielder, but he's looking like an early keeper in our stacked forward line. Big tick.
Crisp (126) – It goes against my number one rule, usually you need at least two big scores before I bestow you a legend after dropping a turd. However as cringe as it was, I reckon he did think of the fantasy points… Fair play. He'll be fine.
Keays (131) – Were most of Keays disposals cheap rubbish rivalling Jack Ziebell? Perhaps. Do we care as fantasy coaches? Absolutely not! No matter how poorly they're travelling on field, Adelaide will always produce fantasy guns. Ben Keays is certainly one.
Dawson (111) – Finding his feet and settling into Adelaide's system nicely. They want the ball in Jordan Dawson's hands and I think we could see a lot more tons to follow…
Neale (145) – This hurts to type, so I'm just going to choose to pretend it never happened on move on with things. If you didn't already know, he's pretty good at footy.
Butters (137) – How the hell am I supposed to write about this game having not watched it. I mean this makes next to no sense. We all knew Butters was stepping into a midfield role and obviously he's a gun. But add in Boak (152) with 39 touches 7 marks and 9 tackles, Amon (148) with 38 touches and 8 tackles, and Wines (126) with 36 touches and try to explain to me how they got beaten by 10 goals at home to the Hawks who didn't register a single ton, had 90 less disposals and 12 less I50's. Will Port change ways next week? I don't know how much to read into it so let's monitor next weeks showdown closely.
Miller (147) – This guy is just ridiculous. If you could pick one out of Jack Steele or Touk Miller now, I don't think there's a single person left who wouldn't admit Touk is the number 1 player in fantasy. I need to show the rest of my team his match tapes because the difference in hunger is alarming.
Petracca (146) – Wow. Goals didn't inflate this score, he had 41 touches and actually missed both his shots! This guy is unstoppable and I look forward to watching how the first person who actually tries to tag him fares. I'm not sure what Rowell was doing but it wasn't that.
Bowey (125) – I mean, how much can you really trust this score? Salem went down early last week and he managed a whopping 30 points. I don't think chasing this ends well but who am I to say you shouldn't. Bizarre. Just remember for context that Alex Neal-Bullen scored 113. I need to see it again.
Short (131) – Always hold your premiums. It doesn't always work, but you're digging your own grave trading out Jayden Short after Round 1. Still a gun.
Green (102) – Yeah, this is looking pretty real… Tom Green has the green light.
Brodie (109) – 61% TOG…? This guy must burn through fuel like a ford mustang because his tank is empty by three quarter time no matter what he's done. Luckily, while he was actually on the field he was awesome. Just bizarre.
Brayshaw (181) – Oh my goodness. It's often said there's nothing better than a ton in a losing team, well this effort is right up there. My eyes were bleeding for most of Sunday afternoon but watching Andy Brayshaw realise his potential was a sight to behold. This kid… I look forward to seeing how he handles the tags, because they are coming. If they don't, he might average 130. I shouldn't have to tell you at this point how good Brayshaw is and kudos to those who had the guts to start him, and even captain him. This man is just built a little different. Legend!
Losers
Durdin (22) – Durdin more like Turdin. Hey, at least his pressure gauge was up… Should hold his spot.
Dangerfield (50) – Essendon's midfield fooled us into thinking we still had prime Dangerfield running through the middle. This was tough to watch and it could be a long season for anyone with stocks in Dramafield. Disaster.
Grundy (80) – OK. Serious discussions need to be had here. I don't really believe Grundy ever deserved pig status in the first place, but hey he's obviously a good man and B2B 120 seasons is impressive. However he is tainting the very brand of being a fantasy pig right now. You are 27 years old mate. The prime of your career. Do I see any piggish tendencies, at all…? Not a single one. No cheap short +6's. No effort to get some cheap tackles. In fact there's no effort to do anything other than his job as a tall clumsy ruckman that only gets a gig because he's 2 metres tall. To put his name next to Dane Swan, Tom Rockliff and Tom Mitchell (Who have all averaged 130) is blasphemy. Hopefully this is the rocket he needs. I doubt he cares. Embarrassing.
Lipinski (69) – Harsh – But unfortunately fair. We rushed to the conclusion that Lipinski could cruise to an average of 100+. Suddenly you just hope he can make a few more $$$ before you move him on before his bye. It's the harsh reality of picking midpricers in AFL Fantasy, particularly trading them in. Have patience, he'll still be good. Consider the expectations tempered.
Adams (57) – Silly me. I didn't think picking Taylor Adams could go wrong in draft as long as he was named. I was in fact incredibly wrong. What the hell was that? 60% TOG. More frees against than marks. Awesome. F**k me. Fallen premium, maybe… Premium might be too strong a word.
Smith (18) – This is Devon Smith for anyone wondering. Statless in the second half and hopefully hanging up the boots mid-season. I don't think we'll see him again after that effort.
Caldwell (58) – Well. Silly me. I saw this team play Darcy Parish as a forward for almost 5 years. I'm not sure how I didn't see them sending Caldwell to full forward for 70% of the game just so Jake Stringer… Yes, Jake Stringer could play as a full time mid. What are we doing? Let's have 20 coaches in the box, outsmart ourselves and try to pull off these genius coaching moves that go against all logic. Zach Merrett's syndie is a devastating blow, but it's good news for Caldwell owners. Let's hope he makes the most of this opportunity.
Wingard (21) – Just bizarre. He's a draft nightmare.
Rowell (50) – I should almost put Matt Rowell in the legends column this week. We always say it. If you're going to get given a sh*tty job, there's only one solution. Be terrible at it. I think Rowell did enough to ensure it never happens again. Stay patient.
LDU (14) – He may have been off to a slow start but this sucks. From hero to zero, that's the trials and tribulations of AFL Fantasy. Unlucky.
Simpkin (52) – After all that hype thanks to attending every centre bounce in Round 1, Jy Simpkin couldn't cut it in the WAFL. That is terrible. Pathetic effort.
Darling (Who cares) – I have half a mind to boo him if he gets picked for nexts week's derby. Let's be clear, Jack Darling hasn't been up to AFL standard for 2 seasons now. In fact since COVID struck. I don't want to hear for a second excuses about his preparation. That was his choice? And you REALLY don't want to get me started on the merits of that… 'choice'. But if I had to pick a bloke who would pull this stunt off, Jack Darling is at the top of that list. What makes me sick is that he walks back into our team out of pure desperation and his name alone. It's undeserved and honestly, he's just a terrible footballer. I don't want him pulling on the blue and gold again but here we are, I don't think we have that choice. Yuck.
Whitfield (88) – Not even close to good enough. Lachie Whitfield is covering the ground like myself on a Sunday afternoon hung as a dog on the back of 6 pints and a couple of treats. I'll leave that up to interpretation but if he's fully fit I am alarmed.
Marshall (64) – Ok, his first half last week had me feeling all types of ways, but there are now red alarms flashing all over the cockpit. What the hell was that? I had the displeasure of going to that game, and despite starting most centre bounces, around the ground it was actually Jack Hayes doing most of the work around the ball, and Marshall was sitting at full forward. I know that's confusing given he won 26 hitouts to Hayes 6, but after each ruck contest Marshall would jog back to the forward line. The split was at best 60/40, I thought while he was on the ground he would be a permanent on baller. That was always a concern if Ryder came back, but I was confident he wouldn't be rushed back in. Well if Marshall is going to get sent packing for Jack Hayes, we are now doomed. He was honestly lucky to get to 60. If he's not on ball for most of next weeks game it will be a swift axing. No good.
Gawn (80) – If there's smoke in the Brodie Grundy cockpit, and there's alarms going off on the Rowan Marshall train, then what the hell is going on in the Max Gawn control centre. We're nearing a Challenger level disaster as Big Max tries to implode 54% of the competition's squads. OK. I may have gotten a little carried away there. But… Considering Luke Jackson's emergence and Gawn's concrete hands, you have every right to be concerned. My honest thoughts? He tons up next week and still averages 105.
Fremantle – Where do I begin here…? Maybe it's not as simply as never pick a docker but damn. Caleb Serong (60). If you read the washup last year, congratulations and you're welcome. Call a spud a spud. I was actually in a draft where Sean Darcy (45) was taken in the second round. I have a soft spot for that man but I don't know how people got that high on him. Hopefully he recovers. I can't say the same for Michael Walters (44). Our history is well documented and the sooner he retires the better because he is washed. As for Bailey Banfield, thank god he's winning off the field. The list goes on. Blake Acres, Darcy Tucker, Jordan Clark, Lachie Schultz, Minairo Frederick… There's a genuine argument to say that team is no better than the Eagles colts side that got a run out on the weekend. Unless you're just looking for a laugh, I advise any neutrals to make room for some family time during next weeks derby. It's going to get ugly. Utterly embarrassing.
This Game Sh*ts Me
Why did I take Lachie Neale out of my team? I don't actually know. Getting pretty with our teams at the eleventh hour rarely ever ends well and this split second lockout decision certainly hasn't. Silly me for thinking opposition teams might put just a LITTLE BIT OF ATTENTION INTO HIM? Sorry. I don't know what else I expected from Essendon's midfield. Kudos to everyone with an ounce of common sense. I'm apparently not one of them. This game sh*ts me.
The Other Bits and Pieces
2061. It's actually only 11 points worse off than last week, yet I'm ranked 27,000 for the round. It was to be expected that guns like Crisp and Short bounced back, and honestly it was expected that value players such as Caldwell and Lipinski were in the mud. Spending over 900 grand to skipper Aaron Hall for a 90 didn't help.
In all honesty I'm just as happy with the majority of my squad as I was last week, that's just the swings and roundabouts you get early in the season. Zach Merrett's injury is as devastating for my draft squad as it is a huge positive for Jye Caldwell, who surely follows in Parish's footsteps now that he can be unleashed as a full time midfielder. Or so I hope. Matt Rowell can thank Stuart Dew for what can only be described as a bizarre coaching move, he can get the sack if it happens again. Rowan Marshall however was a concern. I can't quite figure out why the hell he played minutes as a key forward while Jack Hayes got beaten up in the ruck. Thank god Max is struggling too.
There's no way Freo can keep O'Driscoll out of the side after his clutch goal in the last quarter. They're not short of options to cut. Tristan Xerri has the role we all hoped for and is a must have in my books, so he's in for one of my dud rookies. Wayne Milera was a mistake but is easily rectified.
Milera -> O'Driscoll
Owens -> Xerri
These next couple of weeks are still about fixing up your rookies. If you're in the luxurious position of having every gun rookie and 30 green dots, then you can start fixing up your dud premiums or mid-pricers.
Good luck in Round 3 legends, with more H&S protocols to come we're sure going to need it…