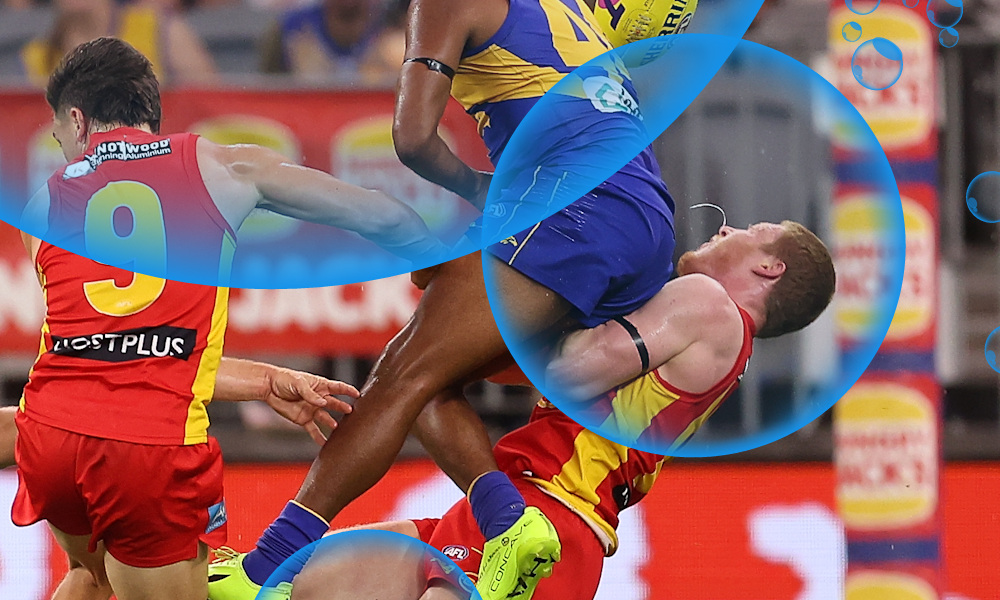 Every year I tell myself I need to grow up and care less about my virtual fantasy football teams, and yet here I sit again ready to vent away like a petulant child. The biggest sook in fantasy is back, let's see if I can beat my effort of throwing the toys out the pram in round 15 last year. Nothings changed, our premiums still suck. It's time for the weekend wash-up.
Legends
Petracca (142) – Let's start on a positive note shall we. Christian Petracca took his game to a new level towards the backend of 2021, and he looks like pushing on with it in 2022. An average of 120+ isn't out of the question and his owners must be laughing. Unstoppable.
Smith (154) – This was… Random? Libba was booted out of the midfield mix and Bailey Smith had himself a field day. Can he keep that up? There's almost zero doubt in my mind this is the peak for Bazlenka this season, but anybody who started with the instagram star must have been hot and flustered by the score too.
Macrae (120) – Just the 39 touches and 11 clearances for the most reliable fantasy player in the game. Lock and load skipper, lead from the front. No loopholes required.
Kennedy (122) – Matt Kennedy may have been a little expensive in Fantasy to seriously consider, but I might be being harsh. He dominated last season when given the opportunity, and this is a new look Blues midfield. Sam Walsh returning will be a factor, but regardless those who drafted him have to be thinking they have themselves a steal. Gun.
Cripps (112) – If you didn't start Cripps I can't really blame you, but I'd be looking to rectify that if I could. He's back. Superstar.
Docherty (95) – Not really fantasy relevant yet, although he made other defensive premiums around him look pedestrian. It was just awesome to see Doch back out on the G and dominating. Truly a legend.
Marshall (108) – Marshall looked on course to score 120+ but his owners have to be rapt with that score given how the "big 2" fared. I don't think it makes sense for the Saints to rush an injury prone 33 year old into the team on the back of no pre-season, without any match fitness whatsoever. With Jack Hayes emergence also, I'm hoping Rowan Marshall can be the number 1 ruck for at least the next month. It's no exaggeration to say he could be the number 1 fantasy ruck given the right opportunity and I think we may see it…
Lipinski (117) – Wow. We didn't get a chance to see Lipinski during pre-season so I think it was a fair call to fade him in round 1. If you have the opportunity to do so, feel free to rectify that mistake for Round 2. Clearly well underpriced, a bargain and potentially even a keeper.
Hayes (111) – I thought BT was genuinely going to have a stroke while calling Jack Hayes' debut, but I don't really blame him. That third quarter was special. Who would have thought that these players who dominate at state level could also make it in the big league. Truly groundbreaking stuff. Obviously a must have, but I'm not restructuring to get him on the ground. Don't do anything silly, like trading out Nick Martin to do so…
N.Martin (130) – You'd be forgiven for think that was D.Martin out there on Saturday afternoon. Goodness me. I knew he had a higher ceiling than other rookies but I didn't expect that! Don't let anyone tell you they did either, but good on those gutsy enough to start him on field, that is a huge leg up. As long as he's in your squad you're good to go. An absolute must have, no two ways about it. Just don't expect him to score more than half that next week.
Again, classy state league players translating to AFL, weird concept. Meanwhile the Eagles are just picking up the leftover garbage from bottom half AFL teams. Have a look in your own backyard please.
Caldwell (103) – Essendon ran a strange midfield mix. They have at least 6 midfield options which goes against Caldwell, however he was still able to attend half the centre bounces and at his price that is more than enough to make him a brilliant pick. An average of 90+ is certainly achievable and that makes him still way too cheap. Gun.
Green (133) – Sometimes in fantasy you're just a year too early. Tom Green may not have taken the leap we thought he would last year, but he was totally dominant against Sydney. If you want a point of difference, Tom Green ticks about every box possible. What a jet.
Taranto (128) – Still got it. Some players just know how to score, it's a shame Coniglio isn't one of them.
Heeney (121) – I had to restructure to make sure I had Heeney in my side, at that price it was a free hit. Either the midfield talk was pure gas and he averages 90, or he potentially breaks out to be a top 5 forward. In the second half, it was the latter. He attended 9/13 centre bounces and scored 88 points. I don't think Brownlow discussion is silly talk if he keeps the role he had on Saturday, let's just hope Buddy stays healthy…
Neale (118) – One of the easiest picks you could make this season, and I decided not to. Bizarre by me, I hope the tags are on their way because if not he could average 115+. Gun.
Houston (150) – WOW. We have all fallen for the Dan Houston hype before, but it's easy to forget he's only 24 years old. That wing role suited him, I guess the 36 disposals, 12 marks and 2 goals suggested that much. At his price I think he's a genuine option so feel free to go chasing those points.
Hall (125) – Having watched Crisp, Short, Whitfield and quite frankly just about every other popular defender fail before him, Aaron Hall came out and showed just how easy scoring Fantasy points from half back can be. There wasn't a finger laid on him as he chipped his way to 87 points at the half and left all of us wondering what the f**k we were thinking when we never considered him for our Round 1 squads. He was arguably underpriced, which is incredible to say. 31 years young.
McDonald (109) – This guy has averaged close to 100 before, albeit in a mickey mouse COVID season. He's back at half back and looks awesome. McDonald looks and feels like he's 35, yet is only 27. AND he was priced cheaper than McInerney. Oh boy. What an awesome pick.
Davies-Uniacke (121) – I just traded this guy away in a keeper league so excuse me for a second while I go and find the nearest bridge. Unbelievable.
Sicily (96) – Usually a ton is required but considering what the other defenders produced, this may as well have been a 120 by the Sic Dawg. Give it a couple of weeks for him to turn into sick dawg, but it's just awesome to see him back out there. Gun.
Brayshaw (120) – This kid who's not really a kid anymore looks ready to go to another level. 110+ almost a guarantee and he could even go one better. Tags are your only concern because he's a genuine jet.
Keays (132) – I guess it wasn't a fluke after all. You could just never do it… A draft bargain. Underrated and under-appreciated.
Rachele (100) – Not overrated and most certainly appreciated, Josh Rachele is special. Amazingly he might even sit on my bench next week which is honestly a crime. Some of these rookies are showing up our 'premiums' and it's quite frankly embarrassing.
Rowell (117) – There aren't too many better sights than Matt Rowell the midfield bull back at full fitness. The easiest pick of the year. Bloody gun.
Losers
Gawn (79) – Hmmmmm, now where have I seen this before? Oh yes, Round 1 last year. Big Max will be fine and there's every chance he could hit his 138 breakeven next week. That doesn't ease the pain of spending over 900 bags on a spud before the first weekend of the season has even begun. On the backfoot from game 1.
Salem (3) – At this point your finger is hovering over the delete team button, and I understand it. However in my only successful season in fantasy, I started with Libba who did his ACL in the first 10 minutes of Round 1 and I honestly don't think there was another person in Australia who picked him. What I'm saying is, this is easily recoverable. Remember, it could always be worse. God I hope Tom Morris didn't own him too.
Z.Williams (31) – Carlton may have won, and thank god they did. They are paying Zac Williams $800,000 per year to do, kids close your ears, f**k all. Saying that in an article is about as useless as the former Giants play, but hey, at least he won't hit those incentives.
Short (68) – The pre-season champ does it again. Honestly I feel as though this is what you deserve for picking a Tiger. They do it every damn season. Look at their fantasy scores! Putrid.
Crisp (51) – This game is often about luck. I was a HUGE Jack Crisp fan all pre-season. I had him pencilled in to go full time mid and have a Rory Laird like breakout season to the uber premium category. Wayne Milera got named and now I can sit here and laugh at everyone for making such an embarrassingly bad pick. $854,000, what were you thinking?!?! I'm still high on him, but emotions are running high and you can feel free to send a message to him early in the week by trading him out. That's a pathetic effort.
Owens (23) – Sometimes scouting reports can be wrong. I can't pretend to do a second of real research so who am I to complain. Get comfy at M10 Mitch, you'll be staying there a little while. Dog meat.
De Koning (20) – This is just dire. SDK was supposed to be our saviour in the defence, now he's heading into concussion protocols. Keep your fingers crossed but don't hold your breath, we may not see him again for a while.
Langford (1) – Ping goes the string but for the sickos amongst us, I think Nick Martin's role got way better the moment Kyle Langford was out of the game. W.
Baldwin (28) – A moment of silence for anybody who had to watch this game having picked Baldwin over Martin for "job security". It's going to be a long season for you.
Ridley (59) – Just… Ugh. Everywhere you turn in defence, it's a bloodbath. Nobody is safe.
Whitfield (69) – I tell you what, Whitfield's ability to go COMPLETELY missing in a game of football is incredible for somebody who is supposed to be an 'A grader'. I honestly couldn't have told you he was playing on Saturday, barring a 15 minute period in the second term. He's one bad week away from being labelled the 'other' C word, but he has one more chance to prove me wrong. I don't think I am.
McInerney (43) – My goodness me. Ok, I have a confession to make. Yes, this weekend was the first time I have ever actually watched Justin McInerney play a game of football. The only problem was I honestly couldn't tell if he was playing or not. Come on, I'm not the only one out there. It's not Lumumba levels of bad but my god it's not far away. I don't actually care what other trade I make this week, as long as this cowa… king isn't in my team.
Gray (27) – ……? I don't even know if I can blame the knee injury for Robbie Gray getting 1 kick in a game of football. ONE kick. Washed.
Rozee (21) – Is it possible that Connor Rozee can be washed in his fourth season? Where's Kane Cornes now? That is just awful. If he sits in your draft team on name alone, don't be afraid to cut bait. You can't stand for mediocrity, let alone down right sh*thouse. Cya.
Zorko (32) – The half back role was… Interesting to say the least. Add an achilles injury to the mix and you have another disastrous draft pick. RIP.
Ward (41) – Well that, was f**king dreadful. Maybe he'll be better for the run? You'd have to hope so.
O'Meara (49) –
Thomas (49) –
You can tell I'm getting tired when I start resorting to GIFs, but Tarryn Thomas can't get away with only Clint's disapproval. This is what you get when you try to pick North Melbourne players who aren't named Aaron Hall. This is an absolute turd and he has one week to turn it around, if he can't… You know what to do.
Walters (26) – Some things never change. Never forgive, never forget.
Milera (50) – I may as well have played Patty bloody McCartin for heavens sake.  He'll be better for the run, he'll be better for the run, he'll be better for the run, he'll be better for the……….. What have I done.
Serong (69) – If sometimes in fantasy you're a year too early, well, sometimes you're just plain wrong. Sucked in you morons… Did you not read the weekend wash-up once last year? I went through that pain so you never had to. Forget his last month, go and have a look at why I quit on my team at Round 15. This guy sat in my midfield for the entire season. For an inside bull, his ability to run in circles around the ball and never lay a tackle let alone get his hands on it is incredible to watch.
This Game Sh*ts Me
If anyone over east thinks they've ever had a stressful lockout, try the west out for size. Thanks to a combination of work, daylight savings and a total lack of care for anyone in WA, we get to enjoy our first lockout of the season at 4:10pm on a Wednesday afternoon. No dramas there with the teams sorted 24 hours beforehand. But Thursday… You have a one hour window between 3:20-4:20pm on a Thursday afternoon to process teams, assess your green dots and restructure as required before another bounce down before 5pm. At this stage you're one extended bench out in the Sunday teams from total disaster. Friday afternoon the old school dream teamer in me took over and I thought I had to finalise and lock my team before 4:50pm. This resulted in about 5 bathroom breaks not only because I needed to use my phone, but because I was literally shitting myself. Sicily had COVID then didn't, Wayne Milera made his way into my team at the eleventh hour and bloody Mitch Owens came from nowhere to sit on my bench for the next 22 weeks. Who's Connor McDonald? I didn't have the foggiest but one positive tweet was enough for me to pay up for him as well. Meltdown.
But I still have to hear that you guys need to worry about… Not getting too sauced before lockout? Have a spell at fine leg. This game sh*ts me.
The Other Bits and Pieces
2072. Considering the utter chaos and multiple re-structures on Friday afternoon, things didn't turn out too bad. Sh*tfield and the entire defence can hang their heads in shame, but picking a defence was like raiding the beaches of Gallipoli. We stood no chance. I don't regret picking Justin McInerney, but I also don't need to ever look for him on a football field again.
Aaron Hall still has the best fantasy role I've ever seen so that was the aim, and my man DP3 has to be sacrificed to achieve that upgrade. Caldwell ticked a lot of boxes and was (still is) a bargain. I'd love Lipinski but we'll have to settle for Jye, the fact Essendon scored well in such a belting has to be a positive. On the other hand, it probably just means they play sh*thouse football. That doesn't bother me though.
At the moment I have to bench one of Martin and Rachele, which is quite frankly a disaster. Assuming Owens is dropped never to be seen again, he can become a mid/fwd rookie as soon as one appears.
Parish -> Caldwell
McInerney -> Hall
Good luck next week legends, may our backlines stand up and at least be counted.