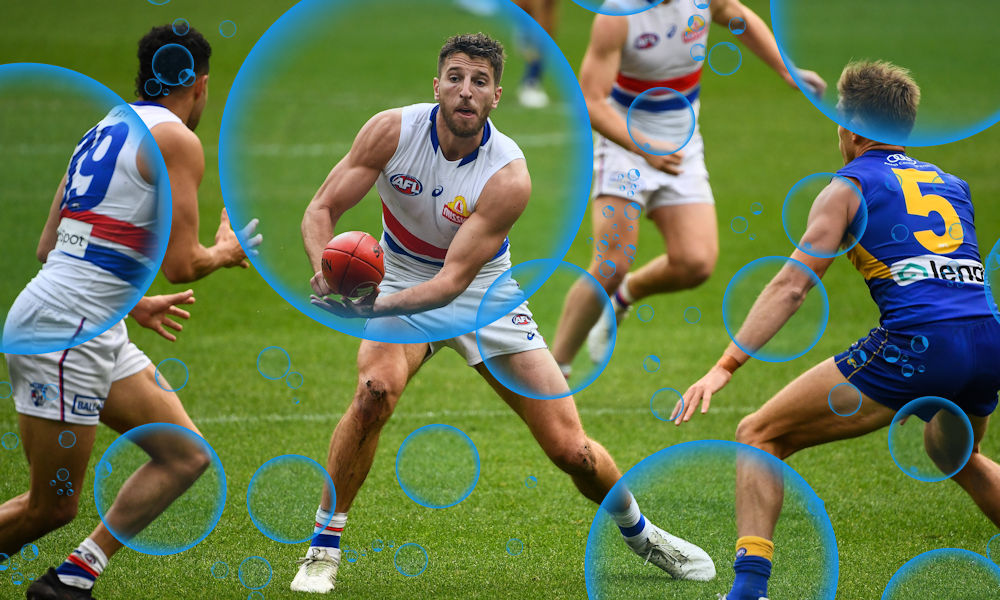 We had our full teams out on the park, yet scoring was seemingly worse than pre byes. Go figure. You'll notice the list of losers far outweighs the winners, there definitely wasn't a huge amount to get hyped about. This game just toys with us, it's time for the weekend wash-up!
Legends
Zorko (142) – Man Dayne Zorko was a huge miss by a lot of us. I have to admit I avoided him believing he was nearly maxed in price. Age is no barrier apparently, Zorko is averaging 122 (!!!) in his last 5. Massive.
Neale (106) – Guts, grit and determination. It went from total disaster in the first half to jubilation. Let's hope that shoulder is OK…
Grundy (118) – Welcome back ruck pig. He's priced at a nice discount and should be a high priority upgrade. Don't do anything silly to get him however, there are value upgrades elsewhere if you don't have the coin. The term "must have" gets thrown around wildly, but you'd want Grundy in the next month for sure.
Adams (116) – One for those players who have nothing to lose or hate getting sleep at night. He's a serious option, I get the feeling Robert Harvey isn't about to just blood the kids.
Cunnington (112) – This one is on me guys. I should have known Ben Cunnington was going to suddenly turn into a prime Joel Corey. Beast mode.
Simpkin (110) – I couldn't have been hotter on Jy Simpkin, hopefully someone out there had the courage to actually back him in. Future star.
Mills (111) – God this was such an obvious pick, Mills is as consistent as they come. Good leave Matt well done mate.
Merrett (153) – THERE IT IS. Seriously overdue, but Zach Merrett finally showcased his immense fantasy talents and packaged it together over a full game. 41 disposals, 5 marks and a huge 8 tackles! Let's hope he can stay hot for the rest of the season, Essendon's fixtures are golden after next week.
Parish (115) – It's an insane concept that I'm slightly underwhelmed with Darcy Parish 'only' scoring 115. Forever my boy.
Langford (114) – It was obvious to me watching him live that Kyle Langford was absolutely the real deal in midfield. He has an awesome all-round fantasy game and now carries a 5 round average of 108. Massive. Dylan Shiel is certainly a concern but we'll cross that bridge if and when we get there. Enjoy the ride.
Mitchell (139) – Wow. The pig is absolutely back to his best form. That bye came at the perfect time for Titch, he has averaged 133 post their break. We have our answer for our Round 12 trade dilemmas, thank you captain Hindsight. I can't watch Hawthorn now, he's too good.
Whitfield (123) – Whitfield was my answer in Round 12, and whilst it's not totally horrendous I'd feel a hell of a lot better with the Pig in my side. After a rocky start Lachie is up and flying, it's a shame his team is a total basket case. I am very concerned for all my GWS assets if they lose touch with 8th place. Fingers crossed…
Cumming (106) – If Lachie Ash stays out of the side I seriously think Isaac Cumming could average over 100. I don't think that will remain the case however. Regardless he has the best role in football, and I'm all for it. My runner up for pick of the year, he's no DP3 but I think we can agree he's better than Jordan Clark or Hayden Young!
Howe (111) – Don't look now but Daniel Howe is dominating on a wing and carries a 3 round average of 97. Just take note that he plays Port, Brisbane and Melbourne over the next month. It's enough for me to avoid him, but kudos nonetheless.
McEvoy (101) – Man landed on the moon and Ben McEvoy is averaging 97 over the last 4. Anything is possible.
Hurn (110) – It helps that the Bulldogs kicked 20 behinds, but Mr Reliable was at it again. The ship has sailed but Hurn was an awesome pick up when he bottomed out.
Bontempelli (135) – Charlie scored 120+ AGAIN. The Bont is from another planet, clearly the best player in the competition. That goal is as good as you will ever see.
Smith (127) – Can this game finally be the turning point for Bazlenka? We thought he was moving back into the guts a few weeks ago, only for him to get sent left right out again. Even Bevo can't keep him out of the midfield after this performance, and just take a look at the Bulldogs upcoming fixtures. It's risky, but the reward could be huge.
Losers
Dahlhaus (26) – He really put the foot in football with 0 kicks.
Ah Chee (7) – Talk about having a game son. More frees against than disposals, impressive.
Menegola (58) – *Scratches that name out and hopes nobody saw*
Stewart (51) – Beef Stew. That's off. As I said last week, better player than fantasy player.
Ryan (-2) – No, you didn't misread that. Samson Ryan scored negative two. I hope it was a good hitout…
Marshall (43) – When Ryder eventually retires Rowan Marshall is going to be an all time bargain. Until then, have a 10 foot pole handy.
Poulter (44) – I'm sure it will be an emotional farewell, but thanks for your services Caleb. I wish I had been along for the ride…
Cerra (56) – He's at Carlton already. Horrendous effort.
Serong (42) – Don't worry though, rely on Caleb Serong to go one better. This guy has to be the most utterly useless midfielder I have ever seen. I've seen young guns have their scoring restricted by low time on ground. However having watched him closer than anyone should ever have to for the last four months, I can't actually tell you what Serong offers. Ball magnet I was told. Bullsh*t I say. One of the worst to ever do it. Gone and never again to be mentioned in this article.
Darcy (64) – It was a down week for the big fella but he'll be back. Grundy had his number in the ruck contests but don't under-estimate Big Sean's 9 clearances and huge final term. He faces Tom De Koning next week, pencil in a bloodbath.
Fyfe (-) – I don't care how cheap he is next year, Nat Fyfe will cause you more pain than he can ever be worth in fantasy. The rule is nearly flawless and I've learnt the hard way. Never pick a docker… Unless his name is Sean Darcy.
Xerri (37) – You guys suddenly think Amartey is bad? Try this guy out for size. Disaster.
Ziebell (78) –
Anderson (49) – Something is in the water up on the Gold Coast. I just have to look at their midfield and question what they're actually doing. Greenwood lays a bunch of tackles and Touk Miller tries to put 20 other grown men on his back. I hope his chiropractor gets paid well.
Heeney (61) – Keep talking to me about how the bye is going to rest Heeney's body ready for a huge run home. There's no saving this train-wreck. G.A.W.N.
Lloyd (57) – I can't lie I had to triple check this score. Jake Lloyd…? The same Jake Lloyd that will retire as one of the great seagulls to ever play the game? I don't care how cheap he gets I don't think you can touch him this season, and it's a true head scratcher given how well half backs and back pockets have scored this year. He's only 27, so we haven't seen the last of ALllllllllllllloyd.
Amartey (39) – A prime example of why you can't settle with rookies on your ground and bank in a 60. Now he's suddenly on the chopping block. He's still making bank though…
Amon (70) – Karl Amon is a great young talent, but in the same way I can never trust Andrew Gaff a guy like Karl Amon is prone to these howlers. Interestingly he didn't take a single mark, not his day.
Hind (54) – I let this one slide and that's on me. I'm usually the first to call a player out for getting comfortable and Nick Hind has just taken me for a god damn ride. He has averaged 70 in his last 4 games??? I held this guy during his bye priced at $650k! Huge miss play. Pack your bags Nick, we'll see you on the end of season trip.
Phillips (51) – Guys. Come on. Tom Phillips isn't getting mentioned again, in the same way super goals will never get another run. It shouldn't have even been a discussion in the first place.
Gaff (71) –
Kelly (36) – This makes it consecutive 30's for Tim Kelly, only he played 84% of the game this time. His game can get in the bin along with the entire Eagles midfield, but he's going to be ridiculous value in a couple of weeks time. Or next season for that matter.
Yeo (60) – Next season? Sure you could tempt me, but not in 2021.
Duggan (63) – Remember this guy? That 148 seems light years ago. He has been embarrassing.
Cripps (60) –
Docherty (74) – Major concerns. I do my best to never watch Carlton games, but Docherty's wing role must be hurting him here? He hasn't tonned up since Round 10, that was well over a month ago. He had just 16 disposals in a win against Adelaide, and has averaged just 20 touches per game over that same period. Coupled with just one tackle per game, it's not even close to enough. Be better Doch.
This Game Sh*ts Me
If I had a guy like Caleb Poulter, I could go Deven Robertson to Brodie Grundy this week. Instead, the most I can cash in the bank is $160k. When you're trying to upgrade from rookies, that's not getting you very far. I can't even upgrade Caleb Serong to anyone respectable. The best I could manage is Andrew Gaff! It leaves me throwing Hail Mary's and it's not going to end well. And now there's nothing I can do to fix it. This game sh*ts me.
The Other Bits and Pieces
2201. Solid again, but not enough to be a chance for a cap. Caleb Serong, congratulations for not only letting down the other 29 players in my squad, but our coaching staff too. Incredible. He's gone this week, and never coming back into my team. Ever. I'm still chasing upside, so I'm gambling on two incredibly risky trade options that could be the final nail in my coffin. But at rank 1000, it has to be done.
Welcome Jordan Ridley and Bailey Smith. Ridley's role looked back to what he does best and I'm taking the chance that he comes home averaging high 90's. Bevo can't seriously hold Bailey Smith out of the midfield after that performance, and the Bulldogs run over the next month is incredible. It could go horribly wrong, but he could average 100+. Nick Hind is done at this club and he should have gone at his bye.
Hind -> Ridley
Serong -> Smith
That removes the last of my midpriced bots and we stick by Deven Robertson. After calling him out earlier in the season he has become a fan favourite. Emotional stuff really. He's better than Serong.
Disclaimer: If I was ranked closer to the top 100, I would be playing a much straighter bat and downgrading/upgrading. 
Good luck next week legends, let's hope we can see some huge 2300+ scores…