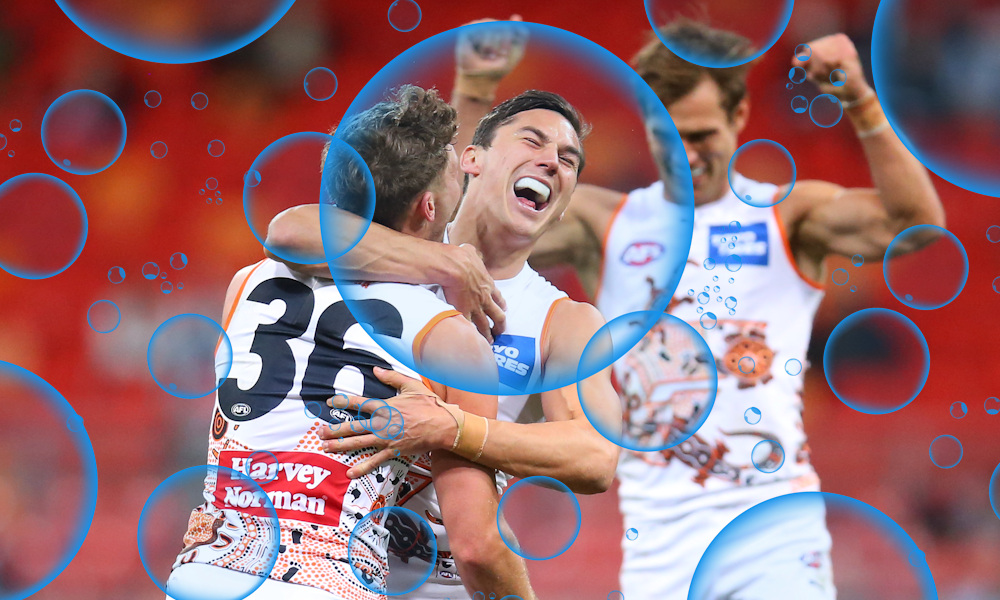 One year my team won't totally bottle the bye rounds. It wasn't this year. I guess it's time for the weekend wash-up.
Legends
Stewart (121) – Nobody has ever doubted that Tom Stewart was a gun, but this performance was special. Better real life player than Fantasy player.
Bontempelli (127) – Bont scored 120 again. Is anyone surprised? They shouldn't be. Somehow still underrated in Fantasy.
Menegola (111) – Need to make a late season charge from deep? Sam Menegola should be on your watchlist. Mitch Duncan is gone and this guy can average 100. He's cheap.
Daniel (109) – I like Caleb Daniel the inside midfielder! I'm never sure what Bevo is going to do next, but this is a move I can get behind. In fantasy at least… Hard to trust it though.
Hunter (103) – Not reaching his massive ceiling, but Hunter has been rock solid over the last 4 weeks. He's back.
Wines (154) – This season has marked a passing of the guard in midfield. Oliver Wines, Jarryd Lyons, Touk Miller, Darcy Parish. Ridiculous. Formerly just an inside bull, Ollie Wines is now capable of getting 43 disposals and 8 tackles. Gun.
Miller (122) – Touk was quiet is a big loss, with just the 31 disposals and 9 tackles. Unbelievable.
Lyons (161) – This is why you need midfielders that can tackle. We all know Jarryd Lyons can rack up 36 touches. When you add on 12 hugs, you get a beast score like that. What a jet.
Neale (111) – There may be a tag coming next week, but it's all aboard the Lachie Neale bandwagon from there on. You almost can't go wrong at his price. Almost….
Simpkin (108) – Jy has been my boy lately, I just didn't have the guts to pull it off. He's currently playing for a spot on my team in 2022.
Cunnington (106) – Because I don't like 2021.
Taranto (145) – It would have been nice for you to do this with a VC next to your name Tim, but you're carrying most of my under performing premiums. Midfielders that love a hug are worth their weight in gold.
Cumming (119) – Boy oh boy wowee. Lachie Ash being left out unlocks Cumming's potential. Suddenly he has a monopoly on kicks ins and he's the driving force out of their back line. Could average close to 100 if things fall into place, what a pick he was.
Haynes (95) – A trade in worked out for once! Huge tick, but I'm not sure he can average more than 85. Temper expectations.
Mitchell (134) – I thought the bye might have come at a perfect time for Mitchell, and his 125 and 134 following the week off suggest that was the case. He is almost looking piggish again, especially his tackling numbers. Titch may be back…
Stringer (136) – When you see Stringer have a game like this, you just have to question why he can't even get close to this impact consistently. He really can be the package if he wants to be.
Losers
Duncan (8) – This just sucks. If this happened to my team and I wasn't inside the top 1000, that would probably be it for me. I wouldn't blame you at all. I'll prepare the shed for you, and even clean up afterwards.
Johannisen (30) – Never give up on your dreams kids.
Smith (58) – Bazlenka hang your head in shame mate. Less time on instagram and more time remembering how to actually touch the pill might help. He's looking a bit pasty to me, maybe he just needs to sun to come back out.
Markov (73) – Has to go at this point. Serviceable.
Ellis (61) – Brandon Ellis. In case you were wondering, he's not part of the new school premiums. Useless.
Jones (31) – Lachie Jones… He scores a 70 when nobody needs it, but when we're all desperate for the bloke to show something. Anything. We barely get a heartbeat. Thank god his string went ping.
Xerri (35) – Goldy will go down as one of the greats. One of the all time great ruck killers. Don't bother playing a second ruck with the bloke, North just need to put him on ice. What are they gaining? Disclaimer, I don't actually put myself through watching North and Xerri might just suck. He probably does.
Green (41) – Oh my goodness. There I was watching the Giants beat the Eagles and I thought Tom Green was the second coming of Clayton Oliver. Turns out he's the worst trade I've ever made, overtaking two of the great names in f**k up history in Michael Walters and Heritier Lumumba. He is as useless as Ben Simmons shooting sleeve. Get a dog up ya, pathetic.
Ward (49) – Callan's saving grace, and it's only small, is that he gave me a wild streak of three consecutive tons. Looking back at it, I was lucky to even get those. It takes real skill to attend more centre bounces than you get disposals, whilst also not laying a single tackle. Wish I had Kieran Briggs instead. Genuine mud.
Williams (48) – I was pretty close to getting Zac Williams last week, and that really would have been the final straw. Carlton have paid this bloke $800,000 to do what exactly? I wish Browny had really ruined his reputation because this is as gutless as it gets. It's almost not out of line for me to label it cowardly. He has been impossibly bad.
Walsh (55) – Yes he's being tagged. Yes his teammates should have helped out more. But there's only so much they can do. 2 tackles? Two tackles is all Sam Walsh could manage. It was more than his zero kicks for the first half. The tags will come, and he can't be this bad. That was disgusting.
Newcombe (27) –
Phillips (59) –
Merrett (88) – We chose this guy over Lyons?
This Game Sh*ts Me
What are we playing for? Really at the end of the day what's left over these last two months. There's a small 1% of the competition with something going for them, but what do the rest of us do now? Play for pride? Pathetic… Just the Tuesday morning lift you needed hey? This game sh*ts me.
The Other Bits and Pieces
1739. I said last week was do or die for the boys, and they dug my grave beautifully. Nearly forgot I was supposed to lift everyone's spirits, not destroy them. My bad! My rank has gone backwards during the byes. Again. Skipper Darcy let me down for the first time all season but this isn't on him. Tom Green. Thank you for placing one of the final nails in my coffin. 41? Callan Ward, forget your three tons mate. 49? Nothing short of a disgrace.
What has really killed me this season is the rookies. Deven Robertson was my last good rookie pick… In Round 4. Caleb Poulter, how about Finlay Macrae. Ryan Byrnes, try Ronin O'Connor out for size. When I tried paying up for job security during the byes, Lachie Jones doesn't register a score for me, while barely making me $70k. Joel Amartey was the obvious call the other week. In a state of panic at work I ended up with Tristan Xerri. Hmmmmm. Finally I need one rookie to stand up this week. One. I get a 27 from Newcombe, 31 from Jones and 41 from Tom Green. Hang on… Meanwhile I'm watching other teams get 110 from Highmore. Total pisstake. I'm salty and I'm not afraid to admit it, but we move.
I don't care what else happens this week, I don't care about the fact I still have Deven Robertson on my ground. I'm making a statement. Those two GWS dogs are gone.
Ward -> Neale
Green -> Pendlebury
Robertson aside, Caleb Serong will be my 21st player. Every other player on my list can be a solid 85-90 if not an uber premium. It's a nice spot to be in, but that's until you look at my bench. If you think you have cash generation problems, think again. I DON'T HAVE A CAPABLE ROOKIE. I tried, I really did. And failed. Lachie Jones will be my best cash in, and that's barely gets me $150k.
I chased upside with my trades last week, so I held Serong and dumped Tom Phillips. He has no hope. But maybe, just maybe… Caleb Serong can figure it out. It wouldn't shock me if he comes home averaging 90+, and we look at him as a value pick next year. Perhaps we just went a year early? There's no substance to that statement, but a man can dream.
As you can tell, it's clutching at straws time but if we can get a cap from outside the top 1000 with this team you can forget LeBron's 3-1 comeback against Golden State. This would top it.
Good luck this week legends, let's make it a big one first week off the byes.