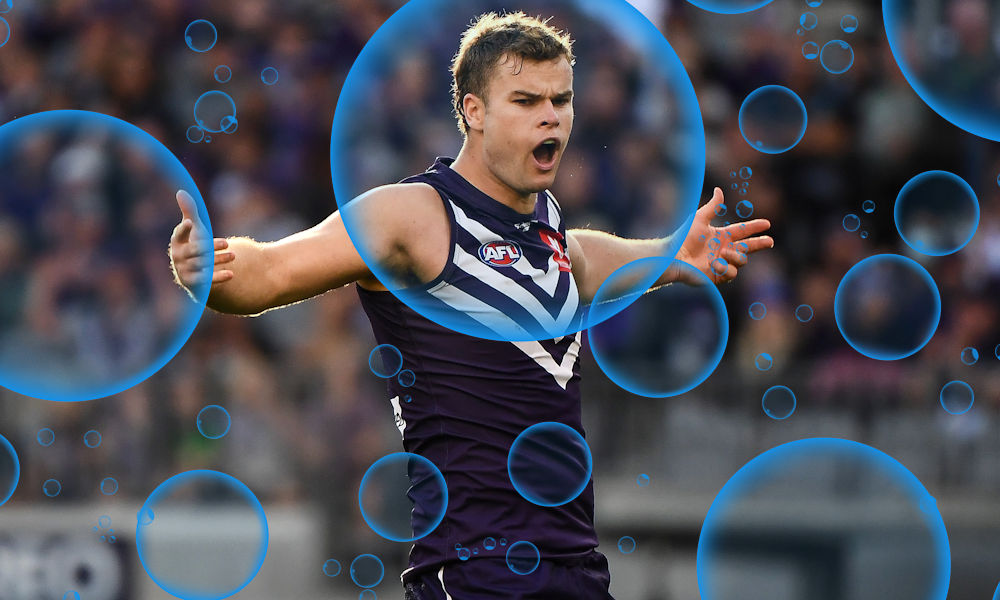 Did you win this week's round of rookie roulette? What a load of bollocks. Get me out of the byes. It's time for the weekend wash-up.
Legends
Wines (116) – Yep, he looks like that guy. Ollie Wines has arrived.
Mitchell (125) – It was a big tick for the Round 12 premium mids, Duncan aside of course. Tom Mitchell was no exception. The pig looked on track for a massive 150+ score in the first half, and I'm big on him in the run home. All aboard.
Newcombe (87) – One of my rookies showing a little bit of ticker, you wouldn't read about it. All I ask is for effort, and 14 tackles is exactly that. Good man.
Darcy (132) – Oh my god. The crystal ball has been put away, I can now tell you what was always going to happen. The third best ruck in the competition has arrived. That final quarter was special.
Steele (133) – Tackling remains the most under rated stat in fantasy. When you can average 8 tackles per game, that's a 10-15 points boost on your average midfielder. That takes Jack Steele from a 100 guy to a 115 guy, and don't expect him to slow down anytime soon. Beast.
Crouch (121) – What a pick he was a few weeks ago. Brad Crouch is back and I expect him to remain a 110+ guy for the remainder of the season. Arguably still value, even though the Saints scare the sh*t out of me.
Keays (122) – Obviously? He's averaging 118 in his last 8 games. Do not scratch your eyes. Over that span he averages 8 tackles, that's Tom Rockliff-esque. When you average 30+ disposals on top of that, you have a fantasy jet.
Laird (121) – Rory Laird has surpassed 117 in four of his last five games. He did it with 10 clearances too, so that will keep those weird supercoachers happy as well. Legend!
Miller (130) – In the same way that Ben Keays ticks every fantasy box, Touk Miller does it and more. Not only does he win it at the contest and tackle hard, he gut runs to get +6's in transition. Touk is the real deal.
Hall (133) – Wow. Wooooow! There isn't a player in the competition that has the scoring power of Aaron Hall. Halfway through the second quarter Aaron Hall was on 16 points, copping some attention from Matt De Boer. Halfway through the third quarter… Yes, 30 minutes later, Aaron Hall had surpassed the ton. Nobody else can do that. Insane stuff. Genuine 120+ guy.
Simpkin (126) – I am a huge Jy Simpkin fan, even though I may have got on him a season or two early. I forgive him and I'm looking at jumping on board this week. It's a toss up between him and Patrick Cripps and I think at this point, it's time to chase ceiling. Cripps is a safe 95 guy, but Simpkin has 4 tons in his last 6 games including a 142 and a 126. The potential is there, and he's putting it together.
Cunnington (113) – I'm less keen on Ben Cunnington. Look, I get it. Maybe he will continue this Travis Boak like explosion. But what incentive do the Kanagroos have to push Ben Cunnington to the limit? If they start trying a new midfield mix, he may play more forward. Even if they don't, I still don't believe he's this guy. Having said that, if you already owned him, what an awesome pick.
Kelly (152) – Josh Kelly has averaged 116 in an entire season before. His 5 round average of 118 should come as absolutely no surprise. Easiest pick ever.
Haynes (107) – Talk about gutsy, if you chased Nick Haynes' value last week I tip my cap to you. I couldn't do it myself, if you get stuck with a guy like this averaging 70 it's almost curtains. But if you're coming from deep, maybe it's worth the gamble. I'd need to watch his role closer myself, this call is on you.
Houli (127) – Bacher is looking like great value coming off his bye. Defenders and huge scores at Optus Stadium go hand in hand.
Short (122) – Houli and Short may as well be the same player from a fantasy perspective, and it's the same write up. He's value, but this score was overdue. Still a gun.
Losers
Higgins (46) – Shaun Higgins hey? This is definitely a "what were we thinking" moment. If you pulled the trigger even with Danger back, I've got a shovel ready to go out the back.
Dangerfield (51) – Any Danger? The centre bounces were there. The TOG% was reasonable (73%). He had 7 clearances, so I assume he had 151 supercoach. Otherwise he was unsighted. It's been a rough roller coaster ride so far, but getting on Danger at the right time could be season defining. Be ready to pounce.
Duncan (71) – If you have players facing Port Adelaide away, be worried. It's a devastating blow for those that held Duncan, it's party time for the rest of us waiting for him to bottom out. The Bulldogs and Brisbane are on the horizon… Yikes. He'll be back.
Heeney (40) – Congratulations Isaac. That has to be the worst individual display I have seen for some time. It's one thing for a player to go missing. It's another for them to drop more marks and have more fumbles than touches. I can't unsee that game, but I can never have to watch Isaac Heeney play for my fantasy team again. Ever.
Wingard (67) – Yeahhh, no. Nope. Definitely not.
Phillips (80) – I am sitting here celebrating Tom Phillips getting to 80…..? He started the season priced at more than that. His highest score for the season is 87. Yet he still stays for me this week. Unbelievable, I might start calling him Neo. He's back at UTAS this weekend so he should be able to get to 70. Everyone rejoice. Less than useless.
Rowell (48) – That's not my Matt Rowell. There was a few things I wish I could erase from my memory in that game. Firstly, the game. Secondly, Ben King's miss. And most importantly Rowell looking like Gold Coast plucked him straight out of the NEAFL. Yuck.
Anderson (36) – This guy was a number two draft pick…..?
Bowes (60) – Is this a second coming of Jordan Ridley? Jack Bowes goes down injured averaging 102, comes back and suddenly he's Simon Prestigiacomo? Double blow.
Markov (70) – He's routinely scoring under his current value and the Suns are a potential train wreck. Keep him another week if you need his score this week, but if you're in a luxurious position like me it's time to go Oleg. Done his job.
Highmore (110) – What a prick. Oh you had Tom Highmore? I'm sure you'll get over me placing him in the losers column then. Was it a role change? Was it just the luckiest, flukiest kiss on the d*ck I've seen in fantasy? Probably. 110. From Tom Highmore. The bloke that was dropped before the first week of the byes. Why do people still have him? Yet 26% do. Absolutely farcical. How did I not see this coming!!!
Billings (71) – If he wasn't on your never again list before, I bet he is now. Soft as they come.
Worrell (16) – Genuinely may as well have not been there. I wonder if his family and friends even got a chance to spot him? Maybe next game. If there is one.
Xerri (29) – Dominating the VFL they said. A safe 50 I said. What was I thinking? Not much. The Reeves late out had me scrambling and quite literally scrolling for a green dot. It turns out Xerri may as well have been a red dot. He would have contributed the same amount of points, AND saved me the $1,000 he lost. Thanks mate, appreciate it. F**k off.
Hopper (52) – And this is why you should never own Jacob Hopper. He's just not that guy. Stinker.
Green (68) – Speaking of stinkers, trading in Tom Green is a genuine howler from me. The writing was on the wall, and I witnessed him dominate West Coast. I'm just wishing I had missed that game. He was nothing short of pathetic this week. Again. There's too many midfielders at GWS, but that doesn't explain this pitiful excuse of a score. He still gets a run through the guts, only he's just as much use as tits on a bull. Gone.
Whitfield (77) – Speaking of another stinker. I am flushing a hat down the toilet with my trades the last three weeks. They have been pitiful. Lachie Whitfield. He's right up there with Andrew Gaff competing for the weakest player in the competition. Gutless. Soft. Borderline cowardly. He looked like he was playing the wrong sport on Sunday. AFL 9's is played during the week. Disgraceful.
Gaff (74) – My god. If Andrew Gaff had a pressure gauge there wouldn't be a low enough reading for him to register a blip. Seriously he may as well not be out there some games. Call for a pointless short 10 metre kick. Jog 15 metres sideways then hope the ball gets switched. Call for another pointless sideways kick. Jog to the next contest. Accidentally go near a loose ball and look for the handball receive. Jog to the next contest. Have to face an opposition player running at you, stick one arm out and get brushed aside. Repeat. If you're ever on a treasure hunt, call the guys at Champion Data because they found Gaff a bonus tackle after the siren on Sunday. Talk about a needle in a haystack. After all that, I look forward to owning him in two weeks time….. You have to hold.
Oliver (80) – I've got nothing here. Absolutely nothing. Just like Clayton Oliver's effort on Monday.
Bianco (33) – If you needed a reminder that you don't want rookies on your field from Round 15, this is it. Right here. I am done with this rookie non-sense. Total guess work.
Crisp (72) – De Goey's midfield clock is a slight concern, especially when Taylor Adams gets back. And if Jack Crisp is in trouble, double if not triple that concern for poor Steele Sidebottom. That man barely scored 30 points outside of the third term. Even when we get rid of him, JDG is still causing us headaches.
This Game Sh*ts Me
Bloody rookies are going to cost my season. Finlay Macrae was the next coming of jesus, or so I was informed. Caleb Poulter came in the week after. Tom Highmore was dropped before the first round of the byes. A quarter of the competition got 110 from him this week. You know what, Amartey is on me. But that's a 63 point differential between him and Xerri. 63?! How is that fair. I'll be alright when the rookie nonsense is behind us, but that may be too late. Don't even get me started on my cash generation. We cross our fingers and hope when we trade in a rookie. No word of a lie, Deven Robertson was the last rookie I brought in to make over $50,000. And that was in Round 4. This game sh*ts me.
The Other Bits and Pieces
1748. Last week I had Darcy Parish's captaincy score to help salvage the train wreck that are my rookies. This week I didn't have the luxury of getting a massive score from Highmore or Amartey, and combined with the players I was missing it was only ending in one way. Disaster.
HOWEVER. I might seriously be a chance to win the week in Round 14. Sorry guys, but I'm hoping for carnage this week. I'm looking at 19 players before trades, but it's the quality of players that has me all kinds of excited. My 18th best player will be Tom Phillips. Let's face it my 19th man Deven Robertson will likely outscore him anyway.  If I don't crack 2000 this week there may not be a washup to read next week.
My rank has dropped to 1200 so it's literally now or never for my cap chances. No more cash in the bank. No more playing the long game. I'm 0-2 down in the series and if I lose this week I may as well pack my bags and go home now. Do or die.
Markov -> Houston
Serong -> Langford
Heeney -> Hunter
Jordon -> Cripps/Simpkin/Amon
Never seen before, a quadriple upgrade. I'm lucky enough that Robertson will be my last rookie to move, and he goes to a Neale type next week. It's time to remove the deadweight from my squad.
There has been plenty of finger pointing and soul searching between the coaching staff midweek. I'll be writing up our team values on the whiteboard in the change-rooms pre game.
Grits. Guts. Determination.
Family, friends and fantasy caps.
I've also singled out Tom Green and Tom Phillips in front of the playing group, and rightfully so. What's our brand Gerard? We'll find out next week.
Good luck legends. Let's have it.