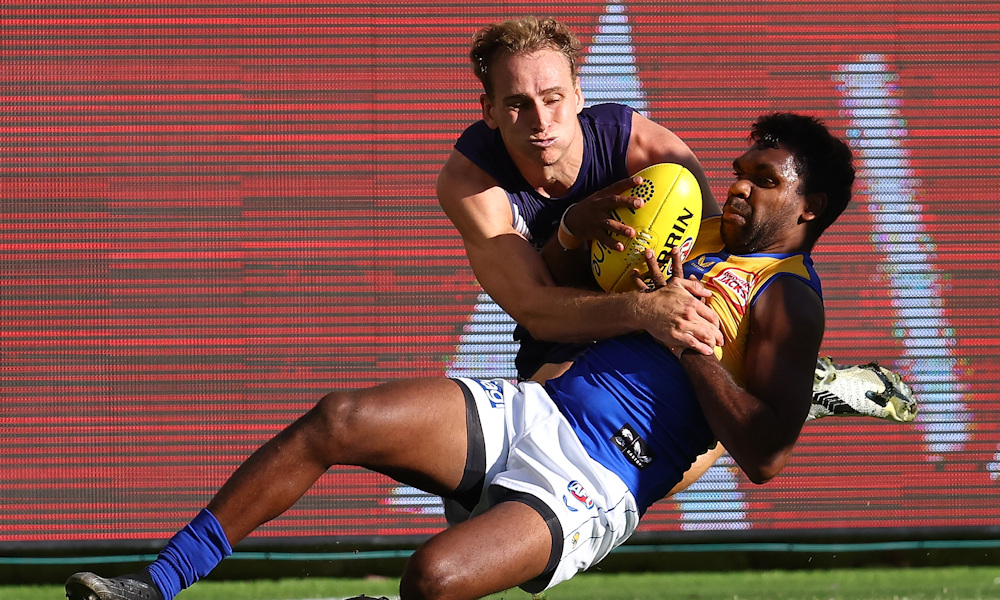 On a perfect day for footy, in a pristine Optus Stadium, Fremantle and West Coast went head to head with the best teams they had available in front of no crowd.
While there were a few more defensive structures evident than last week, Fremantle still came out on top and left us wondering if this fantasy football friendly style they're now playing will translate into the home and away season!
Missing in action:
Luke Shuey, Liam Duggan, Elliot Yeo, Dom Sheed, Oscar Allen, Jamie Cripps, Tom Cole, Jake Waterman and Jack Darling
With a few players missing, West Coast needed players to stand up and make their cases for Round 1. Of those players, here are the most fantasy relevant.
Tim Kelly (mid $707,000) – West Coast's prime mover today, Kelly attended 21 of 23 centre bounces, had 32 touches and a total of 110 fantasy points. Will certainly cop a tag once the season is underway.
Andrew Gaff (mid $815,000) – Started slow with only 33 points to half time. Got going more in the second half to finish on 80 points but clearly only in 2nd gear.
Alex Witherden (def $791,000) – 84 points including 21 kicks from his 27 touches. Clearly the designated kicker out of defence taking 6 kick ins and playing on from all 6. Job security is good with Sheppard retired and Duggan/Cole injured. Unfortunately may have a case to answer with the MRP after a head high hit on Brayshaw.
Connor West (fwd $362,000) – Split time between fwd/mid for his 62 points. Had 7 CBA and added to West Coast's contested pressure when in the middle. Should be a lock for round 1 if you need a cheapish forward.
Hugh Dixon (fwd/ruck $190,000) – Recently signed and should also see games early. Dixon provided a reliable target forward of the ball and was a serviceable 2nd ruck when needed. Only 38 points today but will play.
Tom Joyce and Patrick Naish – We should know today (monday) which one of these players nabbed the last list spot. Both impressed on their audition though. Joyce the former Lion with 11 CBA's and 58 points from 60% TOG and Naish with 52 points from only 37% TOG. Both showed scoring potential and are sorely needed as West Coast struggles for midfield depth. Either would be a welcome rookie priced player for coaches regardless!
Missing in action:
Nat Fyfe and Darcy Tucker
With Fremantle pretty close to full strength, we were given a pretty good look at how they're planning on lining up and playing. Players of note were;
Luke Ryan (def $733,000) – Benefiting from Fremantle chipping the ball around in defence, Ryan top scored for the match with 118 points, owed in no small part to his 13 marks! At only 1.8% ownership, Ryan could be an excellent POD this year.
Andrew Brayshaw (mid $875,000) – 102 points from 30 touches and 77% TOG. Brayshaw looks as reliable as ever. If you were considering him, just do it.
Will Brodie (mid/fwd $387,000) – 96 points from 67% TOG. 13 CBA's with 8 tackles shows Brodie is using his big frame to Freo's advantage. Slight risk with Fyfe and Tucker both to come back into the midfield (also Erasmus knocking on the door) but he's put his best foot forward and I'd be surprised if he wasn't lining up in round 1.
Michael Walters (fwd $516,000) – Started slow with only 32 points up to half time but worked his way into the game after. Finished with 97 points but could have been more if things had gone his way. Still a dangerous option up forward and got involved in Fremantle's kick to kick as well.
Caleb Serong (mid $691,000) – Picked up from where he left off last year. Needs to go back to bandaging his head pre game however as he lost 10 minutes getting it strapped in the first quarter, 10 minutes of potential scoring down the drain! Finish with 91 points from 70% TOG
Heath Chapman (def $408,000) – Worked across the half back line intercept marking and getting involved in the kick to kick. Scored 90 points and looked very composed.
Jordan Clark (mid $552,000) – Playing purely as a rebounding defender, Clark scored 82 points from 24 touches. Is a certainty to gain defender dpp at round 6, Freo were looking to use his run at every opportunity.
Sean Darcy (ruck $786,000) – With the game being more about possession, there wasn't too many stoppages around the ground. This impacted all ruck scores. Also compounding this is the fact that Lobb went down early (courtesy of Darcy) and was replaced by Meek who then split ruck duties with Darcy. I wouldn't read too much into Darcy's score of 47, if he's sitting at R2 for you now, just be happy he got through unscathed.