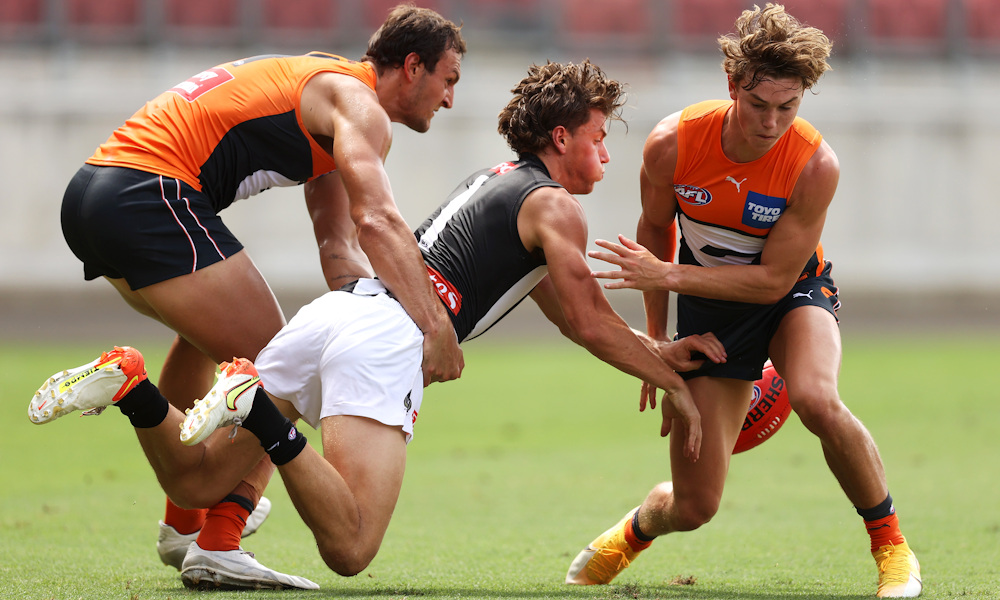 GWS hosted Collingwood in the first of the Sunday AAMI series games at Giant's Stadium and despite almost continuous rain throughout the week, the condition of the ground was surprisingly good enough to see a pretty decent standard of footy played.
Following last week's very promising display against Hawthorn in which they absolutely belted the Hawks in the first half, the Magpies and their fans were brought back to earth against the Giants, with the hosts running away comfortable winners by 41 points.
The win was built on a dominant performance from the GWS midfielders, which, given the absence of Taylor Adams in this game due to hamstring tightness and the loss of Patrick Lipinski in the first quarter to an ankle injury, was not a surprise. Collingwood kept trying until the end, however, the ability of the more mature Giants to see the game out in trying conditions was obvious, and they were able to take advantage of the many mistakes the younger Pies made as they tired.
As mentioned above, the Giant's midfield dominated their Collingwood counterparts with Kelly, Taranto, Ward and Green amassing 30 plus disposals each and Coniglio not far behind with 27.  While these numbers look impressive – as do the fantasy scores that came with them, it's important to take into account who they were up against. With no Adams and Lipinski out early, the Pies had to rely on the younger players rotating through the midfield more than they would have anticipated. The contest between Pruess and Fynn as the number one ruck for GWS was probably won by the former Demon and Kangaroo today, however, it wouldn't surprise if Leon Cameron continues to use both in the early rounds of the season.
JOSH KELLY
Easily the best player on the field today with 41 disposals and 122 fantasy points. Often referred to as the Rolls Royce of the Giant's midfield, Kelly looked exactly that as he picked up possessions at will with a grace that stood out in the wet conditions. Attended 13 centre bounce clearances and is back in the midfield full time. While the last two seasons have not been his best from a fantasy perspective, Kelly could change that downward curve in 2022.
STEPHEN CONIGLIO
Along with Kelly, Coniglio was one of the best on ground in the first quarter collecting 10 disposals and 41 fantasy points in a return to his premium days of a few seasons ago. While Cogs didn't quite keep up the same tempo for the rest of the game, he finished with 27 touches, five tackles and 120 fantasy points. 15 CBAs and although the opposition wasn't the strongest, with forward DPP and valued at just 82 points, Coniglio has done enough over the last fortnight to entrench himself in my forward line.
TIM TARANTO
Although, as touted Taranto lined up and spent plenty of time forward against the Pies, it didn't seem to affect his output too much. May have only attended the six centre bounce clearances, yet still gathered 31 disposals and an equal game high 122 fantasy points – despite laying just the one tackle. At $904k Taranto, is the most expensive forward in fantasy classic and while today's performance easily surpassed his B/E of 107, the opposition was by no means the hardest he will come up against this season.
CALLAN WARD
A different role for Ward today as he didn't attend a single centre bounce and spent virtually the entire game in the defensive half of the ground. Seemed to suit the Giant's veteran as he amassed 30 disposals of which 25 were uncontested, gained 456 metres and finished with 118 fantasy points. Valued at 84 in Classic, so probably not an option yet, however, if he gains defender DPP could be worth a look. A definite late option in single season drafts.
BRAYDEN PRUESS
As mentioned above, Pruess shared the ruck duties with Matthew Flynn, and although they were beaten by Grundy early, the two Giant's big men got the better of the ruck pig the longer the game went on. Pruess attended just the 10 centre bounces with 14 hit outs compared to Flynn's 17 and 15, however, he was the more damaging of the two, and if one were to be chosen Pruess would be ahead on today's performance. Looked injury free and will only get better as he gets more games.
TOM GREEN
Another of the Giant's midfielders to gather over 30 disposals although his efficiency left a bit to be desired at times. Was used in 16 CBAs, so was given every chance to impress, which he dutifully did. Just feel short of a fantasy ton and awkwardly priced at $602k, so probably another who is more relevant in draft leagues than classic, however, if a breakout season came about in 2022, the 21 year old could be a real POD at less than 1% ownership.
OTHERS
Lachie Whitfield was solid without standing out as he did last week. Played his usual role floating across half back and wing picking up 23 disposals at 87% efficiency. Tanner Bruhn did his Round 1 chances no harm with 18 disposals and a goal, while Jake Riccardi and Bobby Hill were the two most effective forwards on the ground with three goals each. Harry Perryman was solid before suffering an ankle injury, while Lachie Ash was quiet. Connor Stone injured his hamstring and Daniel Lloyd was taken from the ground with concussion after a high hit from Maynard.
While there were a few promising signs from the Magpies, it wasn't a great day for Collingwood against the Giants. Compounding a 41-point loss were injuries to Patrick Lipinski, Nathan Krueger and Nathan Murphy, while Brayden Maynard will face the MRO for a high shot on Daniel Lloyd. Although Murphy's injury won't be of much concern to fantasy coaches, Krueger was a cheaper option firming for a Round 1 debut for the Pies, while Lipinski is currently in 7% of teams, and Maynard would have been at least on the watch list of a quite few coaches.
The changes touted pre-season and shown against Hawthorn last week continued, and despite the bad day out for the Pies there were quite a few positives for fantasy coaches, including the first appearance for the year from Jordan de Goey. However, there was also something to come out of this match which could be of grave concern from a fantasy perspective which I'll get to below.
JORDAN DE GOEY
As mentioned above, de Goey made his first appearance for the year after his tumultuous off-season and while he didn't set the world on fire, he was solid enough with 17 disposals and a goal. De Goey spent his time between midfield and forward and attended 15 centre bounces, which was probably more than was intended at the start of the game, however, the loss of Lipinski early may have forced Collingwood's hand. Wasn't anywhere near his best but showed some promising signs for his 55 fantasy points. Although it's doubtful his 5% ownership will rise on this performance.
NICK DAICOS
Once again rotated between halfback, midfield and forward and was arguably Collingwood's best player. Racked up 31 disposals with a nice ratio between kicks and handballs and finished the day on 99 fantasy points from just nine CBAs. Simply an absolute lock for fantasy classic and after today's performance will be moving up quickly on single season draft boards.
SCOTT PENDLEBURY
Rotated again between defence and midfield, picking up a lazy 28 disposals for 90 fantasy points. Attended six centre clearances while taking a couple of kick ins, Pendlebury looked more comfortable in his new role against the Giants than he did last week and could easily end the season as a top 10 defender. Priced at 84 there's not going to be a huge upside to his scoring, however, his dependability in what shapes as a another COVID affected season could be a strong lure for some coaches. Another who's ADP will rise in single season draft leagues.
STEELE SIDEBOTTOM
While a mooted switch full time to a wing during the pre-season has come to fruition, the fantasy scoring potential which many may have seen coming has unfortunately not. Was fairly quiet last week against the Hawks and gathered just the 16 disposals against the Giants – of which 10 were handballs. Only made two tackles and took just the three marks for the game for a fantasy score of 54, which is far below his value of 84.
JOSH DAICOS
Upstaged by his younger sibling throughout the off season, the older of the two Daicos's looks to be picking up from his 2020 season in which he averaged a promising adjusted 87. Back in his preferred position of wing, the Daicos of the Josh variety was also amongst the Pie's best with 22 disposals and 81 fantasy points. While perhaps not relevant in Classic at this stage, he is one to keep an eye on late in single season draft leagues.
BRODIE GRUNDY
As mentioned above, there was one concerning aspect that came out of this game which could impact 38% of fantasy classic coaches, and that concern is for the ruck pig. While Grundy was one of his side's best players and his effort cannot be questioned, coming up against two-man ruck combinations week in and week out throughout the season could see the big man tiring in a big way in the second half of games. Grundy was 37 fanatsy points at quarter time easily holding his own in both the ruck and around the ground against Pruess and Flynn, yet scored just 83 for the match, with Pruess eventually outscoring him with 85. While of course it is early on and Grundy's fitness will improve dramatically, it is something to keep a close eye on given his high price.
OTHERS
There weren't a lot of other Collingwood players worth mentioning from a fantasy classic perspective in this contest. None of the rookies stood out to put their hand up for a spot in Round 1, although the more you see of Ollie Henry the better he looks. Jack Crisp continued in his midfield role with the occasional stint in defence, while John Noble was very good off half back with 25 disposals. As mentioned above Brayden Maynard will face the MRO, while Patrick Lipinski, Nathan Krueger and Nathan Murphy did not see out the game.