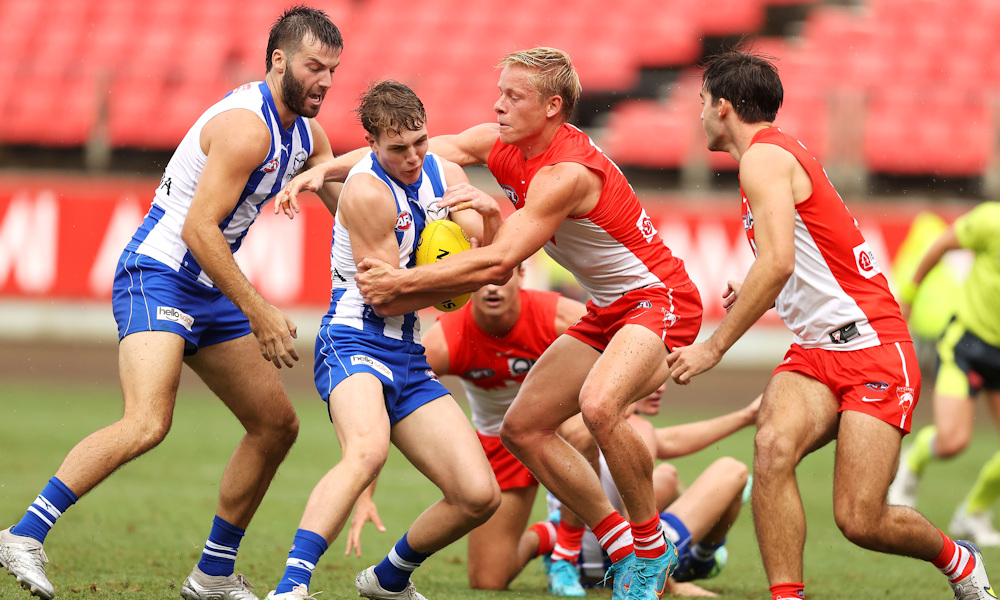 She was a wet day at GIANTS stadium in game seven of the AAMI Community Series and from the game, there were quite a few interesting take-aways.
ISAAC HEENEY (FWD, $639,000) – Ok… so Heeney started forward and spent much more time there than he did in the first practice game. Buddy and Papley didn't play and we also need to note that Papley will be out for the next 4-6 weeks with a hammy. SO what does this mean for the Heen-Train? He scored 100 but slotted four goals which proves his worth to Sydney as a forward. He only attended 5 CBAs with 72% time in the forward half. Heeney will play forward at times and we need to remember that Horse will be Horse. My faith in Heeney has dropped with this 'midfield role'.
JAKE LLOYD (DEF, $823,000) – Doesn't like a wet day but scored 90 with 8 marks. He was disappointing last week and a little better today. I'm not 100% sold he can get back to his piggish ways like 2019 when he averaged 107. I'd love to find an extra $30 odd thousand and upgrade him to Crisp.
JUSTIN MCINERNEY (DEF/MID, $583,000) – Here we go. McInereny scored 107 and looked wicked coming off the wing and running through the guts. Priced at an average of 70, McInerney averaged 80 from round 16 last year in this role. He was awesome today with a game-high 30 touches and based on the way he ended 2021 and this game… and the fact he was a name on the radar – he is a serious option.
CALLUM MILLS (MID, $922,000) – Mills had his first game back and was great in limited time. He scored 86 and laid 8 tackles from just 41% game time. His injury concerns appear to be gone and he is a name you can certainly draft with confidence.
JOSH KENNEDY (MID, $746,000) – Interesting… JPK played parts of the game similar to what Pendlebury will be doing for the Pies, cruising off half-back. He still had time in the middle though (4 CBAs). Will this continue or was it just a role to save his petrol in the game? Either way, maybe he picks up DPP if this continues.
MATT ROBERTS (MID, $224,000) – Another rookie we can put a line through. He came on late and scored 7pts. Looks like he is on the fringe of the best-22.
OLIVER FLORENT (MID, $609,000) – Hit 100 and was everywhere. Not a name we have even mentioned this pre-season and a name you don't need to consider.
PADDY MCCARTIN (DEF/FWD, $271,000) – played a full game in defence and scored 53 (from 91% TOG). Is he an F6 or D6 option? Once again, rookie priced but you just couldn't do it. At least it looks like he'll play.
JASON HORNE-FRANCIS (MID, $290,000) – We need to lock guys like this into our teams for the simple reason that he will play. Rookies are very limited and JHF needs to be paid up for. He scored 78 and looked very good. Not as good as Daicos earlier today but still very good slotting 2 goals from 16 touches.
TARRYN THOMAS (MID/FWD, $681,000) – started forward but made his way through the middle as the game progressed. The wet day didn't suit Tarryn as he scrapped his way to 78pts. He attended 13 CBAs which ranks third most out of the North mids. He sits in 14% of teams and is the most owned Roo behind JHF.
TOM POWELL (MID/FWD, $574,000) – Only scored 42 from 69% game time, and is now a firm NO. Possible late draft option.
JY SIMPKIN (MID, $801,000) – I've seen Jy in a few teams floating across Twitter but today he only scored 61 with 15 CBAs (equal most for North with LDU). I wouldn't be too fussed if I was an owner. He didn't really overly try too hard.
JOSH GOATER (MID, $248,000) – The Goat came on very late in the game and scored 10. Suggests that he won't be there in round one.
CHARLIE COMBEN (RUC/FWD, $190,000) – Sits is 13% of teams as a $190k hopeful but you guessed it… he didn't play and won't be needed with Goldy and Xerri running the show.
TRISTAN XERRI (FWD, $281,000) – The X-Man played a blinder. He scored 110 and shared the ruck duties with big Goldy. He had 16 CBAs (Goldy 7). Hear me out…. maybe… just maybe, he could be an F6 option. I can't believe I said that. He is rookie priced and we need all the green dots we can get. Would I do it? Never. But desperate times call for desperate measures and if North like this one/two ruck punch they displayed today, he is worth a thought.