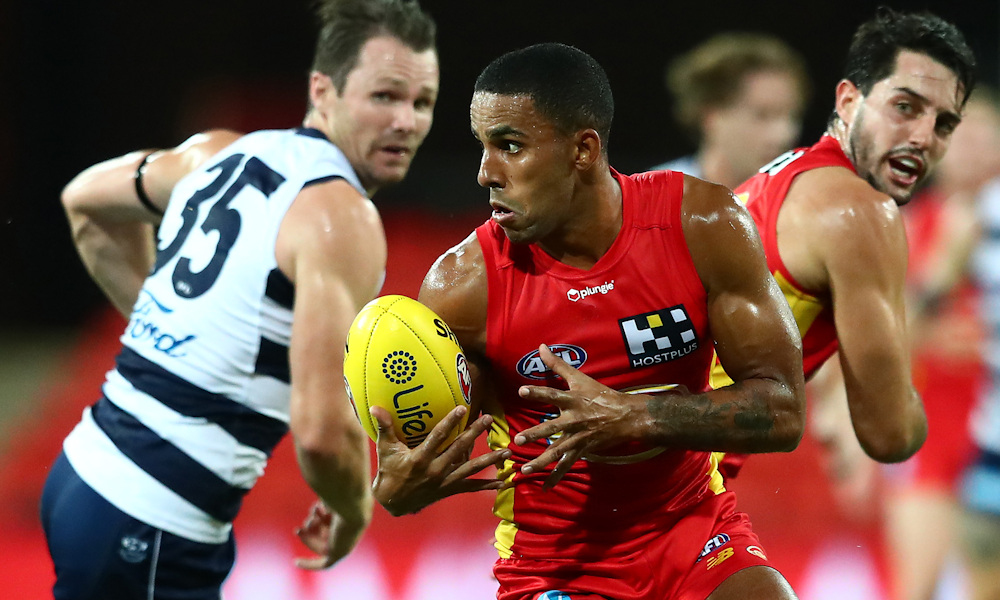 Gold Coast hosted Geelong on a warm and humid Monday night in the final game of the AAMI series at Metricon Stadium, with the Suns running out comfortable winners 13.17.95 to 11.6.72.
However, had it not been for an inaccurate second term in which the home side kicked nine straight behinds the margin would have been far greater. Although Gold Coast were the far better side on the night, the Suns treated the game as a full-dress rehearsal for Round 1, while the Cats tried a few different things and appear to still be searching for their best 22 to open the season.
There was much to take out of this game from a fantasy perspective, with both sides containing a number of fantasy relevant players, including a couple of bottom priced rookies who did their Round 1 chances no harm.
As mentioned above, the Suns treated this game as a full-dress rehearsal for Round 1, and as they have done early in previous seasons looked much better than they did at their finish of the year before.
The Gold Coast midfield of the returning Jarrod Witts, newly appointed co-Captain Touk Miller, Noah Anderson, Matthew Rowell and Brayden Fiorini, outpointed their more illustrious counterparts of the Cat's engine room, and gave Sun's fans a glimpse of what could be the best midfield in the AFL in a season or two.
Notable absentees:
Jack Bowes, Ben King, Charlie Constable, Sam Day, Elijah Hollands, Jeremy Sharp
Matthew Rowell
I'll admit to not being on the Rowell bandwagon this year after his 2021 season, however, after his two pre-season performances I'm jumping on board. From the opening siren Rowell looked a totally different player to the near mummified plodder of last year. Not being bandaged from head to toe gave the former number one pick a freedom of movement not seen since the phenomenal start to his career in 2020.
Rowell gathered 27 disposals, laid seven tackles and attended 24 centre bounce clearances for a fantasy score of 101. If you're not one of the 30% of coaches in fantasy classic who have him in your side, I'd suggest jumping on the AFL Fantasy app and amending that situation as soon as possible.
Touk Miller
Those coaches predicting a regression in the fantasy output of last year's highest averaging player in Touk Miller might want to have a rethink. Miller has picked up where he left off last season with another 30 plus disposal game, while also laying nine tackles and kicking two goals. Was the highest possession winner on the ground and his fantasy score of 134 was 25 points better than the next best.
Although the most expensive of the 'big 4' midfielders, he, along with Jack Macrae have been by far the most impressive at this early stage of the year, and on his performance today it could even be argued Miller is under-priced.
Jarrod Witts
While Witts was a popular name on Fantasy Classic coach's watch list early in the pre-season, the interest has waned as the big man has failed to make an appearance thus far this year coming off his knee injury that kept him out the majority of last season. Although he spent just 53% of TOG, Witts seemed untroubled by his knee and easily beat Rhys Stanley when they were opposed to each other.
Still a risky proposition despite his low price, as he will no doubt be eased into games early on. However, he'll also no doubt get better as the season progresses. While the 12% of coaches who own him in Classic won.t be jumping up and down on Monday night's performance, they will be buoyed by the fact he made it through the game unscathed. Expect his ADP to rise slightly in draft leagues.
Will Powell
Although priced awkwardly at $606k with a break-even of 72, Will Powell could well be a decent mid-priced defender option in Classic. Having averaged 55 fantasy points from 13 games in 2019, Powell increased that to an adjusted 62 from 15 games in a COVID affected 2020 and 72.3 from 22 games last year.
He shapes as the ideal candidate for a break-out season in fantasy, and the 91 he scored against the Cats on Monday night from 20 disposals, seven marks and five tackles only reinforced that candidacy. As mentioned, is awkwardly priced, yet with only 0.48% ownership in Classic could possibly be a POD to look at in defence. Definite riser in draft leagues on this performance.
Noah Anderson
Although Anderson's fantasy score of 79 was the lowest of the four Sun's mids, he did give away five free kicks, which took away a fair chunk of what was on offer for the night. Was everywhere early on and ended the game with 25 disposals. However, priced at $679k in Classic with a B/E of 80 he'd need to average in the high 90's to low 100's to make him a viable option. While that is certainly possible, only 1.2% of coaches are willing to take him on at this early stage of the season.
Others
Ben Ainsworth was by far the best forward on the ground with four goals and 109 fantasy points, while Brayden Fiorini got better as the game progressed, finishing with 23 disposals, five tackles and 89 points. David Swallow appears to be following the recent trend of veteran midfielders moving to defence and was solid with 20 disposals. As he was touted to do and has done so far this pre-season, Jack Lukosius played forward and looks to be growing into the role nicely. Kicked three goals, but his fantasy relevant days look to be behind him for the moment. Former Tiger, Brandon Ellis was quiet, while Mabior Chol was impressive before being injured and coming from the ground.
Hard to gauge where the Cats are at on Monday night's performance against the Suns. It appears their best 22 is far from settled, and without Tom Stewart a number of their defenders produced performances that are probably not reflective of what we'll see moving forward.
There were, however, a number of fantasy relevant performances to come out of the game from Geelong, not least of all, that of a few bottom priced rookies who did their Round 1 chances no harm with strong games.
Notable absentees:
Mitch Duncan, Tom Stewart, Gary Rohan, Sam Menegola, Jack Henry, Gryan Miers, Jonathon Ceglar
Sam De Koning
One of those afore mentioned rookies is defender Sam De Koning. Following a quiet game last week, De Koning looked a lot better against the Suns, picking up 19 disposals and taking five marks for a very respectable 70 fantasy points. While he made a few mistakes, and someone has to make way for the return of Stewart, on Monday night's effort it won't be De Koning. Should be lining up for the Cats in Round 1 and at $190k will be a life saver with so many basement priced players no longer looking in contention for Round 1.
Cam Guthrie
Although he started the game off slowly, looking like anything but the premium midfielder he is priced at, Guthrie kept getting better as the game went on. Only had the six disposals and 15 fantasy points at quarter time, but went on to gather 32 possessions for the game and a team high 92 points. Probably better options around the same price in Classic, as his ownership of 0.92% attests to, but will be a popular player in draft leagues.
Cooper Stephens
Another bottom priced rookie who could well be in contention for a Round 1 berth. Played mostly on a wing and half forward and gathered 15 disposals while laying four tackles for a fantasy score of 62. Could be battling for a spot in the Cat's best 22 with Max Holmes though, who was slightly better on the night.
Patrick Dangerfield
Former fantasy pig Dane Swan is pretty firm in the belief that only losers try in pre-season games, and on his performance against the Suns, Dangerfield might be of the same ideology. Danger didn't appear to get out of second gear all night, and although he attended 14 centre bounce clearances, spent a fair bit of time forward and finished the game with 17 disposals and two goals. Valued at 86, Danger is no doubt under-priced in Classic, however his recent injury history and age are probably the reason only 3.4% of coaches have him in their Classic sides
Zac Guthrie
Could another Guthrie be about to put together a surprising very fantasy relevant season? The younger Guthrie in Zac was one of Geelong's best player against the Suns, racking up 25 disposals – of which 21 were kicks, three marks and four tackles for an equal game high fantasy score for the Cats of 92. Only played in 10 games last year for an average of just 60.6, but did score 128 against North Melbourne in Round 20 and 76 in the Preliminary Final capitulation to Melbourne. Priced at $508k with a B/E of 60 he is understandably not a popular option in Classic, but could be a very rewarding late pick up in draft leagues.
Others
Joel Selwood was easily the Cat's best before being managed and coming off the ground during the third quarter, while Isaac Smith was also very good early before finishing the game 20 touches. Tom Aitkins was solid in defence with 25 disposals and 85 points while Jeremy Cameron looked as fit as he has in quite some time kicking 3 goals from 17 disposals. Max Holmes was arguably the best of the young Geelong midfielders with 23 disposals playing on a wing whie Quinton Narkle attended 13 centre bounce clearances and gathered 15 disposals from just 52% TOG. Brandon Parfitt spent a similar amount of TOG as Narkle with 12 CBAs, however, just had the nine disposals.