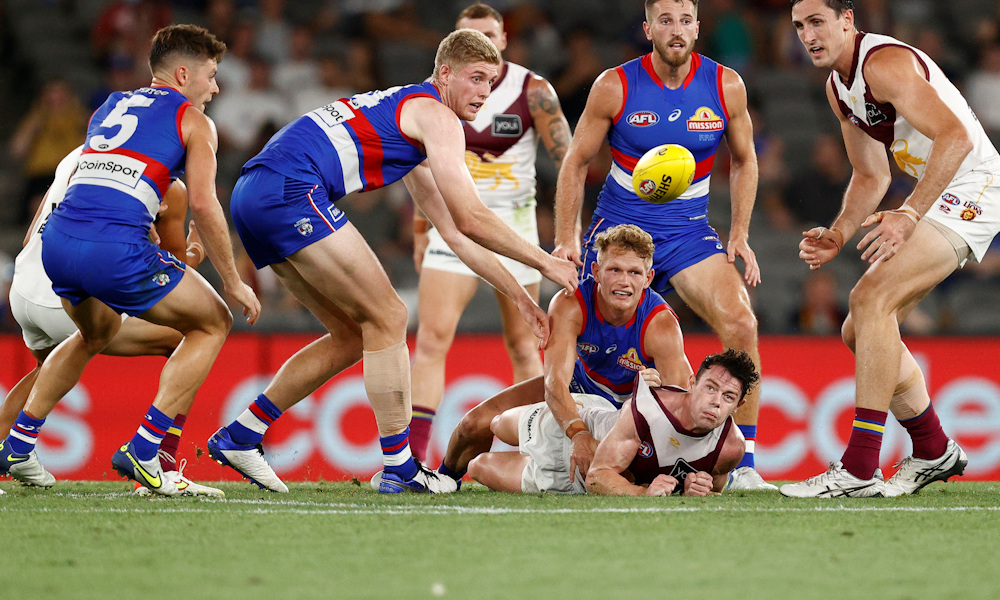 Welcome to the medium time ! Its community series baby, we've got real grounds ( sorry not sorry Ikon park ) , real stats, real commentators, and real injuries to really relevant fantasy players ( Hi Coleman you jerk  ), but lets not forget as the great man Drew Carey says in community series everything's made up and the points don't matter ! ( score, or fantasy at the end of the day )
To recap last week the lions crushed a hapless crows in the wet, and the dogs narrowly went down to apparent premiership favorites ( if you read the herald sun ) Essendon.  The lions went in looking for a challenge ( the only one they got in the last week was from the rain ) meanwhile the dogs were looking to sure up their structures and prove to us all they're the most fantasy relevant team in the land. Mission achieved bulldogs, I still hate you from the semi but dam your a fantasy watchable side.
An open, free flowing and fantasy friendly game saw mids from both sides rack up good numbers, before the dogs get on top in the middle and the lions got on top on the scoreboard. As the game went on the dogs got their scoring game going and the lions looked to kick themselves out of it in traditional lions fashion. The lions did however juuuuust hold out the dogs guns late, in what could only have been described as something they should have done 6 months ago. Nevertheless a quality match and a pre season hit out that should see both clubs in good football and fantasy shape heading into RD1.
RapidFire Relevance
As always a quick glance at the good stuff for those of you with no sense of humor , attention span or just CBF reading ( I get that I really do )

The "Reckon"-ing
As there were more than scratch matches, we had official live stats on almost everything you could wish for (including CBAs ! ) . However I was on delay so I was operating purely by my highly trained eye ( aka the seat of my overly handsome pants ) , looking for fantasy relevant snippets of gold while commenting and tweeting on things that I reckoned were probably sort of going on.
Here we compare these reckonings to cold hard undeniable statistical truth ( obviously statistics cannot be questioned, nor can government bureaus who compile and publish said statistics for the greater good of the nation and the excellent self sacrificing men and women in their employ ).  Lets see just how my years of footy watching and fantasy nuance stack up. From there we ascertain just how many grains of salt you need to take with my advice ( half a dozen, tops , surely )
Millar Reckons
Survey Says……
Explanation / Comment
Macrae everywhere, dominates
143 PTS, 33 DISP, 0G, 10 TK, 18 CBAs
YY Bang right on the money here. Stats and me dominating
Neale everywhere, dominates
106 PTS , 30 DISP, 1 G, 4 TK, 23 CBAs

XY This is where the eye lets you down. Dominance and disposals doesn't necessarily equal scoring if you don't do the right disposals, funny (re frustrating / annoying / unfair / rigged ) game fantasy.

Dunkley, Treloar on a par with each other
TRL : 108, 29D,2G,17CBA
DUNK : 105, 32D,1G,21CBA
YY Different scoring routes, different mid/fwd clock, but roughly equivalent. I'm giving myself the points here.
Daniel (potato DP ) Rich (Daniel DR ) dominate down back
DP : 90PTS, 0G, 22D , 84 TOG
DR: 69PTS(nice) ,1G, 16D,62TOG
YX Looks like they weren't as damaging as they looked, but Rich at least has TOG on his side
Dan McStay could be a very handy draft FWD
71 PTS, 2G, 13D

XX for what he did to turn out to be a low 70 is a blow. But he also kicked for goal like a bag of crap, so that hurt my predictions there.

Bont goes fwd after half time, kinda sucks from there
107 PTS, 22 DISP, 1 G, 6 Tk, 15 CBAs
XX Wow, he either had some 1st half, or managed to might be ok even as a FWD. Still Pick
Missing ( Sam Darcy, Toby Mclean, Josh Bruce, Tom Liberatore, Tim O'Brien)
Jack Macrae | MID | 972K | 143 PTS | 33 DISP | 18 CBAs | 0 Goals | 81% TOG 
There's honestly not too much I can add about Macrae at this point. He crushed it,  I pretty much expected him to crush it. He's been in my team since about 8 seconds after I created it. If he's not in your team, I can't help you.
Marcus Bontempelli | MID | 905K | 107PTS | 21 DISP | 15CBAs | 1 Goal | 87% TOG
Bont was a strange one. It looked like he got pushed forward early in the third quarter and stay there, spent a chunk of time on the bench in the 4th and then came back to fwd and did not much. Watching it I was concerned for his role and his future as a fantasy stud. But he still somehow managed to rack up 107 points, I'm flabbergasted. Seems a steal in draft and a possible upgrade target for classic but its a definite role watch early in the season
Treloar | MID/FWD | 731K  | 108PTS | 29 DISP |17 CBAs | 2 Goals | 81% TOG 
Treloar wasn't macrae, but he was electric when he got the ball and doesn't mind kicking a goal or two. For mine was on a par with Dunkley, but he seem to spend more time forward and play a slightly more impact role rather than a accumulation one. I'm taking Dunkley over Treloar but it's a coin flip, and you could probably have both if you feel like looking over your shoulder for Bevo to stab you all season.
Josh Dunkley | MID/FWD | 767K | 105PTS | 32 DISP | 21 CBAs | 1 Goal | 81% TOG
Another solid outing for Dunks and has cemented his spot as my F1 For now ( although saving 30 odd K for a Treloar switch sounds appealing now I'm looking at it ) . Seemed more of a mid based role than Treloar as the CBA's would suggest and his scoring may be less goal dependent, but I'm honestly clutching at straws, different strokes, different folks those two.
S.peakano.English | RUCK/FWD | 673K | 106PTS | 21 DISP | 18CBA | 0 Goals | 79% TOG
I've always been big on English as a draft forward, but could he be a relevant classic forward ? Even a possible R2 Option ? Forward yes, absolutely,  Ruck , no, pick the big kids and don't look back. He was good though,  had a solid battle with big O , didn't share with Martin too much, and got around the ground taking marks and laying tackles. Definitely one to watch as a potential upgrade Fwd.
Caleb Daniel | DEF | 729K | 90 PTS | 23 DISP | 0 CBA | 0 Goals | 84% TOG | 4.8 Ft Tall | 1 helmet | 2kg potato's
Daniel looked really good across half and full back , took kick outs, made run down tackles and presented across the backline for clearing kicks at will. I really liked the look of his game despite the stacks not backing that up. I'm bullish on him as a POD option for our defense ( Although as a rule I'm anti PODs for PODs sake – even POD POD ) , even though he's burnt me ( and Cal ) many , many times in the past.
Other mentions
Bailey Smith – Had a solid game and 99 points, really liked what I saw and don't just mean that impressive hair that I'm insanely jealous of
Bailey Dale – Looked good at times and could be a steal in drafts
Aaron Naughton – Faded out of the game late but looked great in the first half. Another stellar haircut
Roarke Smith – Good in patches. Maybe keep an eye on
Jason Johanisson – During the first half I thought he might be a draft steal and one under the radar. Wrong, he went to crap, just like he has for 3 years.
Josh Schache – I'm kidding, I hate that guy. ( Waste the lions pick 2 will you, and then sign a contract and request a trade a month later, boo urns ) Steer clear, even in draft.
Missing ( Zorko : Ankle, Raynor : Family Reasons ,  Hipwood – Knee – due back mid season )
Caveat : The thing that you need to keep in mind when perusing the lions scores, especially the mids, is just how good a midfield unit the western bulldogs are. You need to be very good to get first hands before the epic dogs Mids. Thusly their midfield scores will be down just due to getting beaten up around the ball. Rest assured lions mids WILL score big against most teams.
Kiedean Coleman | FWD-DEF | 343K | 34 PTS | 7 DISP | 0 CBAs | 0 Goals | 30% TOG | 1 HAMMY !!!!!!!!!!!!
This is the Big news out of this game. The man with the right price tag, the right juicy half back role and some epic positional flexibility was looking lip smackingly good early doors. But then HE DID A F***N HAMMY ! OH THE HUMANITY . No word on the severity except for confirmation its a hammy and the fact he's "quite sore" but bad signs. Cross him off the list and move on, or complete restructure, honestly who knows with the mid pricers.
LOCK-IE Neale | MID | BARGAIN(792)K | 30 DISP | 23 CBAs | 1 Goal | 87% TOG
Last week I said the talk of him spending time forward was false, I also said he's an absolute lock for your mid field at that price. I stand by all of this and saw nothing to change my mind. If anything I assumed his score would have been higher based on what I saw out there. He's certainly got upside and the capability to have a very big ceiling against teams with less dominant midfields than the bulldogs. Hop on board. Toot Toot.
Daniel Rich | DEF | 823K |  69PTS – Nice | 0 CBA | 18 DISP | 1 Goal | 62% TOG 
Another case of really liking what I saw, the fantasy friendly half back games of Daniel and Rich really stuck out. Throw in rich's sneaky ability to float off the mark and take pot shots at goal from 50 and you've got yourself a potential option in the backline. He's TOG slowed down his scoring and wasn't seen much in the last quarter. Talk of his role changing and his scoring being effected seem to be quashed, although that could in part be due to Colemans injury. Still a risk at his inflated price, but definitely one to consider.
Zac Bailey | MID-FWD | 610K | 63PTS | 18 DISP | 16 CBAs | 2 Goals | 80% TOG
Zac Bailey was my best on ground last week and seemed to have sewed up a juicy midfield role. This week, by eye at least he seemed a lot more forward and playing a lot more of an impact role. That said his 16CBAs are telling, although from what I saw he got positions in almost none of those CBAs. Unsure if that's a reflection on his ability as a mid, or how good the oppo are ( Yes I judged Raynor more harshly for the exact same thing last week, but Bailey is my boy, he gets more lee way )
Jarrod Berry | MID | 725K | 86PTS | 19DISP | 11 CBAs | 0 Goals |  82% TOG
Down on his massive game from last week, and seemed to have a quite quasi quiet quarter quirk which raised a quality question about his quantity of his quench ( of observable thirst ) but I don't have any quips in my quiver to quicken or quash that quarrel. Abundantly Awesome Alliterations Aside he remains a good draft player and a watch for classic. Don't do anything rash based on the up and down form we've seen in the pre season ( too late for me ) but we might yet get a juicy pick from the Berry tree.
Hugh McCluggage | MID| 839K | 94 PTS | 22DISP | 14 CBAs | 1 goal | 81% TOG 
Seemed to have a pretty consistent output over 4 quarters and may finally have figured out how to kick a goal. Not huge numbers on the stat sheet but racked up 14 CBAs and looked to be one of the lions best for mine.  Even being as lions biast as I am I still cant recommend in classic at that price, but definitely a good option in draft if you miss out on some of the big mids going around.
Other mentions
Jarryd Lyons : 82 PTs and 22 disposals. He was ok, but his price tag is epic. His role seems changed and he's not the same guy he was last year. Avoid in salary and if draft unless you can somehow get it for a bargain pick.
Charlie Cameron : Hit 96 points which surprised me. He seemed to get around the ground a lot too, and kicked goals as he always does. You couldn't at 522K, but a definite sleeper in draft.
Mcstay : A liked his game and it could have been even bigger if he could kick straight. Another draft sleeper.
Dev Rob : If you thought about him for anything, he got injured
Harry Sharp : Came on and did ok, which is interesting considering the injuries to Coleman and Dev Rob
Cockatoo : Only the 56 points but to the eye he looked alright out there and could be a mid priced option if he can secure a spot.
Marcus Adams : I liked his game last week as well, 15 disposals and 76, you could get him for virtually nothing in draft, probably even of the waiver. Keep an eye out for that guy, although he is made of paper and he's injured all the time. caution.
Big O : Fort rucked a lot , and Big O's score and impact in general was down. He also wasn't much of a forward. Don't punt on him as your draft ruck.