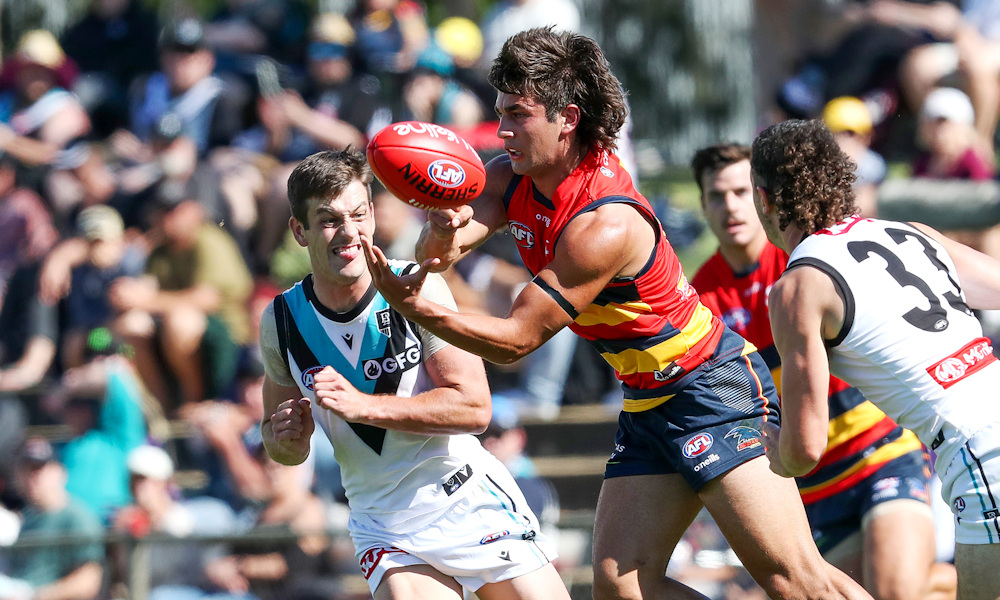 There was plenty of interest in this contest with a few very relevant rookies on display for both sides as well as many of us wanting to see how returning Crow Matt Crouch would go as well as how much time Butters would spend in the midfield.
As the morning went on I was doubtful this would be a high quality spectacle. I live not too far from Richmond Oval and it was blowing fairly strongly all morning and that didn't really ease up as the game time came about. Most grounds during the season have some big stands that block some of the wind, but at a suburban ground the game was open to the elements thus rendering this as a game that will never be referred to as one of the great preseason contests.
It took the players a while to work out the wind so based on that I took a lot of what happened early in this game with a grain of salt.
B: L.Brown 16 J.Butts 41 N.Murray 28
HB: B.Smith 33 C.Jones 1 A.McPherson 36
C: L.Sholl 38 R.Laird 29 M.Hinge 20
HF: J.Rachele 8 B.Keays 2 N.McHenry 25
F: R.Thilthorpe 7 D.Fogarty 32 E.Himmelberg 34
Foll: R.O'Brien 43 R.Sloane – C 9 H.Schoenberg 26
I/C: L.Gollant 44 J.Soligo 14 M.Crouch 5 T.Doedee 39 L.Pedlar 10 S.Berry 21 B.Davis 40 K.Strachan 45
Emerg: J.Rowe 31 B.Cook 15 B.Frampton 22 W.Hamill 17
Notable absentees: Taylor Walker, Paul Seedsman, Jordan Dawson, Wayne Milera
The first thing I noticed about the Crows was their run and pressure around the footy. They were quick (or Port were slow) as they adapted to the conditions very quickly. They did fade a bit after half time but they certainly looked better than they did last season.
CBAs  O'Brien 27, Crouch 22, Sloane 20, Keays 15, Berry 14, Schoenberg 13, Laird 12 (half a game), Thilthorpe 5.
Kick Ins Jones 2, Smith 2, McPherson 2, Brown 1, Davis 1
Rory Laird – Not good news for the Crows midfielder. He left the game just after the half with a suspected broken hand. Up until that point he was just going about his work the same way he has all of his career and was building to a very nice score. He would have been drafted high in a lot of drafts that would have been completed already but he will hopefully be back sooner rather than later. He was shown on the coverage struggling to use the hand to help put a sock on and that made me think that this could be an injury that may see him miss a couple of games early in the season.
Josh Rachele – One of the key rookies that has been very popular this season. He did everything we needed to see to be able to pick him. He put his hand up for the Crows round 1 side and he should certainly be a part of that side, particularly after slotting 3 goals out of the Crows 11. He ended the game with 12 touches 9 tackles and those 3 goals and looked very dangerous up forward.
Reilly O'Brien – All preseason we have been talking about the three key rucks but O'Brien has now put his name up there as a very viable option. He is clearly the number one ruck for the Crows but he also spent a lot of time drifting back taking intercept marks. We didn't see Lycett after half time so he didn't have much ruck competition but he did more than enough to show us that he is in for a very handy season. He could be a solid unique for you and save you a bit of money at the same time.
Matt Crouch – This was a typical game for M Crouch.  10 kicks and 21 handballs. He looked like he did a few years ago. He is right to go and if you are willing to take the risk that his injury won't re-occur then he will provide you some value. Just remember that Crouch is a prolific handballer rather than a kicker. He did everything we wanted to see from him. He will be selected in a lot of sides with that attractive price.
Jake Soligo – The other of the Crows draft picks to play in this game that we were interested in and he had a solid outing without being stunning. He ended with 9 touches 3 tackles and a goal. He will certainly push for game time and as a result could certainly be considered for your side. I wouldn't risk an on field position for him but if you put him on your bench he should make some money, just not as fast as Rachele will.
Ben Keays – Keays had a break out season last year and had the 21 touches in this game with 4 behinds to his name.  Crouch's return could be part of his issues as we saw Crouch attend 7 more CBs than Keays did. Keays will still be a draft option but not til late.
B: R.Burton 3 T.Clurey 17 A.Aliir 21
HB: D.Houston 5 T.Jonas – C 1 D.Byrne-Jones 33
C: R.Bonner 26 O.Wines 16 K.Amon 15
HF: Z.Butters 18 M.Georgiades 19 C.Rozee 20
F: J.Finlayson 11 T.Marshall 4 R.Gray 9
Foll: S.Lycett 29 W.Drew 28 T.Boak 10
I/C: S.Hayes 25 J.Mead 44 J.McEntee 41 J.Sinn 8 X.Duursma 7 T.McKenzie 12 L.Jones 34 S.Mayes 32
Emerg: S.Skinner 31 D.Visentini 38 M.Frederick 45 J.Pasini 48
Notable absentees: Sam Powell-Pepper, Charlie Dixon, Orazio Fantasia
Port were slow out of the blocks and didn't use the conditions very well and as much as it hurts me to say it, they were just bombing the footy into the forward line and hoping that Marshall, Georgiadies or Finlayson could take a grab. The people that this does help is the small forwards but when Charlie comes back it should help Port as he will take the biggest and strongest defender. After half time we saw the Port Adelaide that we expected as they took control in the third quarter as they got their running game going and kept the Crows at bay in the last answering most goals that Adelaide kicked to take the win.
CBAs – Wines 22, Drew 19, Boak 17, Lycett 17 (Half a game), Butters 15, Hayes 12, Amon 8, Rozee 7, Duursma 5, Mead 3, Finlayson 2, Marshall 1.
Kick Ins – Bonner 6, Burton 1, Byrne-Jones 1
The key to note on the CBAs is that the Power rotated a lot of players through there in this game as they often do. Drew was watching Sloane for much of the game, hence his high CBA count.
Robbie Gray – Disappointment for the Power veteran as he had a slight hamstring twinge at the start of the second quarter. For a player of his age this is going to take a little longer to get over. Whilst he isn't a Classic option he would be heavily owned in Draft leagues and should drop down your draft board accordingly.
Josh Sinn – Sinn was in a lot of teams prior to this game and those coaches would now be a little concerned  He didn't enter the game until after half time which is a concern. Is he going to make the R1 side? He had 8 touches and 3 marks in his time on the ground but when he did have it he used it well and looked good. If he does get picked he will take his opportunity with both hands but don't expect huge scores straight out of the gate.
Jackson Mead – Mead is looking to break into the side this year after rupturing his spleen in the SANFL last year. He played well and flashed in and out of the game but like Sinn ended with 8 possessions. He may struggle to break into the Power side and unlike Sinn he played 63% TOG for just the 34 points whilst Sinn ended with the 29 from 43% TOG. I think he will be a risk and he could be in and out of the side week to week.
Zac Butters – Yeah I know, I buried the lead here putting him down the list. Butters midfield role is real. He spent a lot of the time in the middle attending 15 centre bounces and he was everywhere during the game. When I saw his score at the end of the game as 107 I was a bit surprised, I didn't notice him that much, but he racked up 36 possessions and 8 marks. If only he hadn't given away 5 free kicks he could have been easily the top scorer on the ground. For those that are unsure on him, just lock him in and throw away the key. Last year he had an injury interrupted season but looks to have no issues at the start of 2022.
Connor Rozee – With no Butters or Fantasia in the forward line we are now seeing Rozee as the key small forward and he pounced on the opportunity. Although he did attend a few CBs during the game too. He was very zippy up forward and set up a few goals as well as kicking 2 himself. He may not be a popular pick but he will pop up with some very good scores throughout the season.
Sam Hayes – Hayes has been touted as a good player to have as the R3.  But I think we saw in this game that he is still going to battle to get into the side. In the second half when Lycett was on the bench he took the main job but this was when O'Brien took over. So based on what I saw in this game I think that the Power will run with Lycett as sole ruck with Finlayson, Dixon and at times Marshall sharing the load while Scotty has a rest.
Lachie Jones – Jones has looked good in the preseason and is over his injury issues from last season. He ended this game with 22 possessions. He looked great across half back and was a real bull busting through packs on the way out of defence.  His price makes him too hard to pick in classic but he is well worth a late pick in Draft.