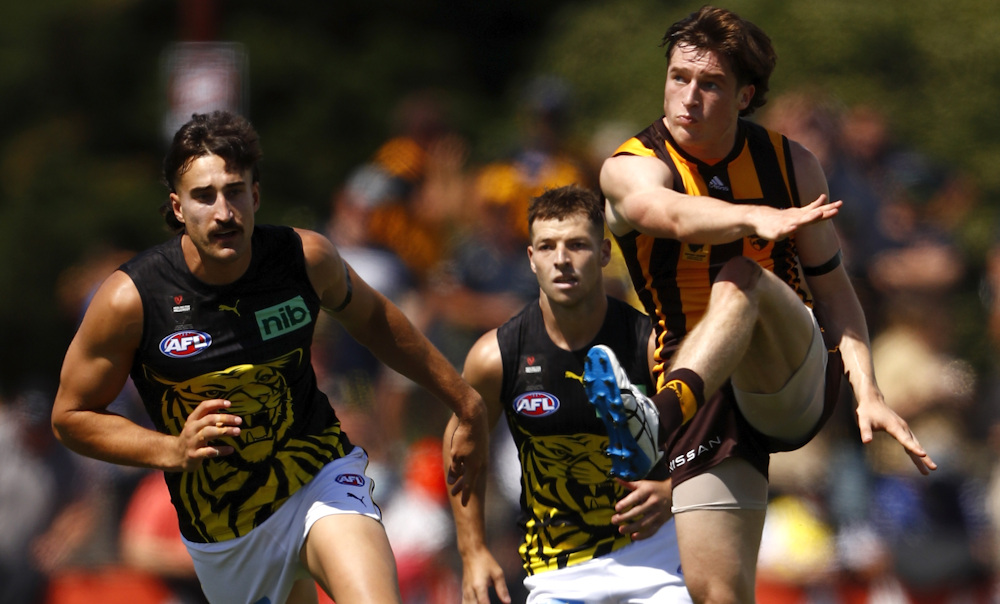 In a time where Tasmania is screaming for an AFL side, the town of Hillcrest (Population approx 1000) put on a real display with over 8,000 fans coming out in support for the Healing for Hillcrest Hawks v Tigers Tribute Match. But we aren't here to talk about a 19th team just yet, or when North Melbourne will relocate, let's talk about Fantasy!
Whilst your typical pre-season games are bruise free, cheap possession footy, the first half was anything but. The Tigers exploded early against a very youthful Hawks midfield. Richmond are seemingly coming into 2022 with eyes on another premiership tilt, showing their hunger to drive the ball forward at all costs. With the notable absentees of Vlastuin and Grimes put on ice early, I was keen to get a look at the Tigers' backline mix. Rioli looked to have the half-back role early over Ralphsmith, until late in the 2nd Qtr and into the second half where Ralphsmith was involved in seemingly every exit out of Richmond's backline. Gibcus was also very impressive back there, flying for screamers and running back with the flight, showing everything he needed to find a place for round 1.   
The Hawks looked to be about five steps behind Richmond at every stoppage early. It was clear the game plan was to create space with switches across the backline and when possible move the ball through the corridor (with a lot of missed kicks, handballs and just poor skills). With both Titch and JOM missing in action, it was left to the young Hawks mids to fly the flag. Needless to say they were smoked early by an experienced Tigers midfield. It did mean we got a good look at number 7 pick Josh Ward and how he would fit alongside the likes of Worpel, Newcombe and Nash. 
26 possible CBA's
Hawthorn
Newcombe 21, J. Worpel 18, J. Ward 17, N. Reeves 15, C. Nash 14, M. Lynch 8, F, Maginness 4, B. McEvoy 3, C. Wingard 2, N. Long 2
Richmond
Prestia 18, D. Martin 16, T. Cotchin 16, T. Nankervis 16, J. Aarts 10, W. Martyn 6, I. Soldo 5, N. Balta 5, S. Bolton 5, J. Ross 4, L. Baker 3
James Sicily
With Hartigan missing from this game and the Tigers using Riewoldt, Lynch and Balta in the forward line, Sic was required to play as the third tall. This limited his ability to sit off and take intercept possessions for a lot of the game. Almost all of the play in Hawthorn's backline at one point went through Sicily and as an added bonus Sic took a few kick ins (2) but was behind Hardwick (5) and Scrimshaw (3). Priced at 60 there's a lot of upside early this season, just monitor how many defensive talls Hawthorn bring in round 1 as Sic will have to play accountable at times. 
Ned Reeves/Max Lynch
At no point were the Hawks rucks used as a duo throughout the game. The first half belonged to Reeves, whilst Lynch took over after half time. 
Reeves wasn't overly impressive in the first half, showing that he is very similar to a Witts type of tap ruckman. Apart from 16 hitouts against Nankervis/Soldo in the first half, there was very little to build a score from Reeves, with only 2 kicks, 3 handballs, 1 mark and 1 tackle. Priced at 58 he would need to be reaching around the 75-80 Fantasy points to be a good pick in general.
Lynch was the more impressive of the two around the ground. Managing 11 hitouts against Nankervis/Balta, he was able to add points around the ground with 4 kicks, 5 handballs, 2 marks and 3 tackles and 54 points in a half. We will likely see the 2 interchanging week to week this season, so I would be steering clear. 
Recap of the Junior Hawks Midfield…
Jai Newcombe/James Worpel
1st and 2nd in Hawks CBAs; they were both impressive just doing what is expected of them. It's likely that both will feature as the 3rd/4th mid once the midfield is back to full strength, however not being able to see that in this game and with Ward impressing as much as he did it, they are a no in starters for me.
Conor Nash
The big bodied Irishman featured heavily in the mids taking 14 CBAs and often resting forward as another taller option. A watch early in the season as it was hard to gauge where he will sit with Titch and JOM to come back. Priced at 55, we needed to see him perform in a full strength Hawks midfield before locking him in our sides for round 1. 
Finn Maginness
Played in a lockdown defender role early and was then thrown onto the wing and attended CBs in the 2nd half when Liam Shiels was put on ice. I have simmered on Maginness after seeing him thrown around. There isn't a place for him in that backline once Jiath and Bramble return, however there didn't seem to be a place on a wing for him either. Pre-season hype has come crashing down.
Josh Ward
WOW. After being placed behind MacDonald by many in the community last week, Ward took his opportunity in a Titch and O'Meara-less midfield this week. Attending 17 of the possible 26 CBAs, Ward showed exactly why the Hawks took him at pick 7 in this year's draft. After starting slow with the Tiger Mids running over the young Hawks, it took until late in the 1st for Ward to start accumulating. Once he did there was no stopping him, showing incredible workrate to push up and down the field and pick up both contested and uncontested possessions at will. Ward managed 29 disposals, 4 marks, 2 tackles and 91 fantasy points to all but secure his place for round 1. 
Connor MacDonald
Played as a dynamic high forward floating into stoppages when he could. Was very shaky through the game but kicked a nice goal and looks likely to feature in Round 1. Although he may not be a field-able rookie for us in that role, he should generate some cash. This piece of commentary summed up his day perfectly: "He hasn't played an AFL game yet, he's looked good but he looks like he hasn't played an AFL game yet."
(Slim) Dustin Martin
Slim Dusty. Dusty is back! (Sorry DC) 2nd in CBAs for the Tigers and looked back to his bullish best. He was dominant in the middle in the first half before turning more bruise free after half-time. It's all upside for Dusty, the question is how much and is it enough to start him in our sides? He managed 26 disposals and 3 marks, however the concerning stat was he didnt lay a single tackle. Along with no goals on the day, it's hard to see Dusty exploding past the 100 mark if he can't include a handful of tackles each game. 
Jayden Short
Mr. Pre-season himself. Short was at his best running off half back, being used as the spare man in all scenarios to push the Tigers forward. On top of that he was clearly the designated kick-in taker, with 9 out of a possible 15, playing on 6 times.  Racking up 31 touches (26 of those kicks) and 8 marks, there's no doubt that Short will take the next step to be a top 10 defender. I wouldn't be surprised if his ownership jumped ahead of round 1 after this impressive display.
Hugo Ralphsmith
Very slow to get going in this game, although that could have been caused by the ball very rarely reaching the Tigers backline early. HRS seemed to be everywhere but wasn't being given the ball. That all changed after half time. Once the Tigers started to slow the game, HRS was on the end of plenty of +6s and followed up down the line to provide another option. Priced at 30 but cheaper than some rookies in our sides. If HRS is named round 1 in this role, he is a lock to make us some well needed cash early.  
Daniel Rioli
Rioli was used a fair bit early coming off half back and the wing, but through the game ended up sharing the role with Ralphsmith. With Vlastuin missing, it's hard to gauge if both will get this role come round 1. Monitor where Rioli is named.
Josh Gibcus
After a quiet first quarter disposal wise, Gibcus warmed into the game and put a serious case forward for round 1. The defender was impressive in a football sense, showing great courage and composure for a first year player. Although he may not score a lot for our sides, he looks to have great job security early.