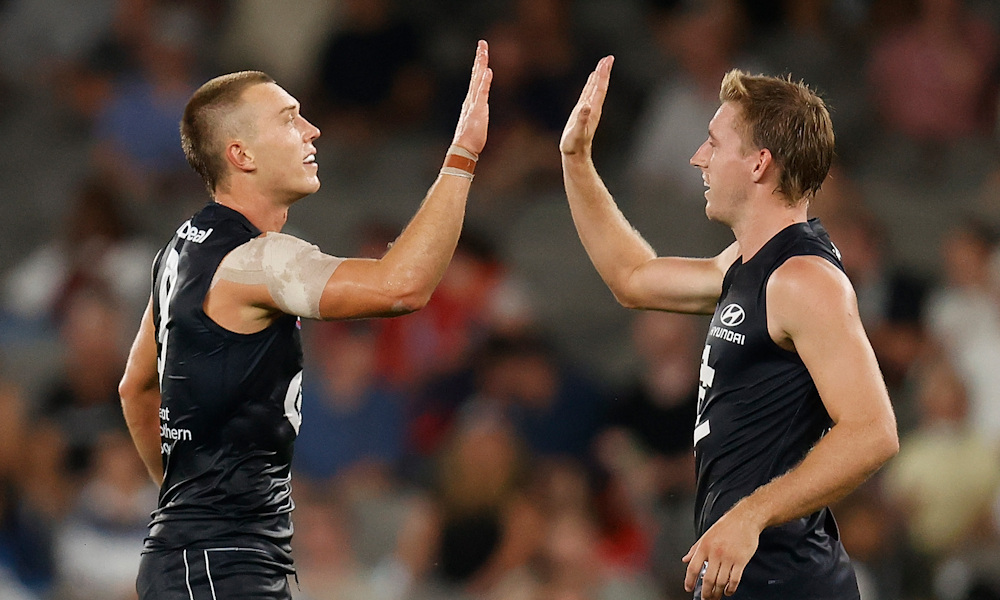 Footy is back and order is restored! Melbourne returns to being a mediocre middle of the rank team. Carlton return to being 'Wizard Cup' specialists and premiership favourites. And we get proper camera operators who know how to cover a game of football.
I've gotta say, I love having a single proper preseason game. Whilst it still may be relatively bruise free (players coming off early ect.), the positions, and tactics employed are real. There's a lot we can read into. Starting with Carlton;
CBA's – Preseason 2 Game 1 – Carlton 32 – Patrick Cripps 28, Marc Pittonet 26, George Hewett 25, Adam Cerra 20, Matthew Kennedy 17, Zac Fisher 5, Tom De Koning 5, Matthew Cottrell 1 & Jack Silvagni 1

— AFLstatsmate (@AFLstatsmate) March 3, 2022
One of the first things I noticed was Carlton's willingness to handball through the middle of the ground. Looking at Carlton's top-4 CBA midfielders; Cripps ended with a 12:19 kick:handball ratio, Cerra 9:21 (repeat… 9:21… 70% of his disposals were handballs),  Hewett went at 11:21 (66% of disposals were handballs) and Kennedy went at 17:20. Carlton looked to play on at any opportunity and control the ball through the center by hand. A high disposal game style still, but when 70% of your disposals are handballs, it hurts the score.
Another thing I like to look at that doesn't often get recored is who attended the opening center bounce of the game and the first center bounce after the half. For the record it was;
Q1: Pittonet, Cripps, Hewett, Cerra.
Q3: Pittonet, Cripps, Hewett, Kennedy.
CBA's – Preseason 2 Game 1 – Melbourne 32 – Clayton Oliver 30, Christian Petracca 27, Jack Viney 22, Max Gawn 20, Luke Jackson 12, Tom Sparrow 11, Alex Neal-Bullen 3, James Harmes 2 & Kysaiah Pickett 1

— AFLstatsmate (@AFLstatsmate) March 3, 2022
The biggest thing to take from Melbourne's CBAs was the Gawn:Jackson ration. Of the 32 CBAs Gawn attended 62.5% to Jackson's 37.5%. A huge tick for Gawn as you'd think if there was a time to give young Jackson the reigns it would be during a game like tonight. Might be a strong indication on the ratios they plan on using the two ruckman during the year. No doubt this may vary game to game, but on average, this sounds about right. Plus Gawn started both half's in the ruck, small tick, but a tick none-the-less. I think it's best to not get carried away with what happened in that Grand Final…
Q1: Gawn, Oliver, Petracca, Pickett
Q3: Gawn, Oliver, Viney, Neale-Bullen
B: Le.Young 33 O.McDonald 39 Z.Williams 6
HB: N.Newman 24 M.McGovern 11, A.Saad 42
C: W.Setterfield 43 P.Cripps – C 9 L.O'Brien 4
HF: M.Owies 44 J.Silvagni 1 Z.Fisher 25
F: C.Durdin 19 H.McKay 10 T.De Koning 12
Foll: M.Pittonet 27 G.Hewett 29 A.Cerra 5
I/C: J.Boyd 37 M.Kennedy 7 E.Curnow 5 J.Martin 21 T.Williamson 31 L.Parks 26 M.Cottrell 46 L.Plowman 20
Emerg: L.Fogarty 8, J.Newnes 32 P.Dow 2 A.Mirkov 45
Notable absentees: Charlie Curnow, Jacob Weitering, Sam Walsh, Sam Docherty
George Hewett – Started like a house on fire. Had the first clearance of the game and ended Q1 with 12 disposals. He did slow down a bit after the first break but was still hard working and tough over the ball. He's playing that inside mid role we've heard a lot about this preseason and attended 78% of the CBAs for the game. Finished the game with 33 disposals, and 87 Fantasy points. He was not helped by his kick:handball ratio, 0 marks, and only the 2 tackles (a stat line he usually fill a lot more than this). I think the bump in tackles and marks will be compensated by him averaging closer to 25 disposals a game but anything above an 85 average is a big tick from a guy priced at an average of 64. Walsh coming back in the only concern for his role, but he'll get a good run at it before Walsh returns.
Role is a tick.
But I'll play devil's advocate here. His ownership is increasing, currently at 19%, which is nice as a current non-owner. He's 26 years old and his highest career average is 75. Yes, he played accountable football back then, but let me remind you who Carlton vs in round 1. If Dusty does his usual round 1 thing, who in Carlton's midfield might be given a role? Remember no one plays accountable football in preseason.
Adam Cerra – Looked clean, going at 86% disposal efficiency. He took a while to warm up in Q1 but got on his horse and ended with 94 in a promising display. Cerra is a hard read. No doubt an extremely talented footballer.. But what's his Fantasy capability? He was given the typical Fremantle young midfielder nursing for majority of his career and rarely played the position he was drafted for or the TOG he was capable of. We got a small taste of it at the end of 2021 with scores of 129, 138, and 98 in 3 of his last 4 games, but he's never shown this scoring consistently which makes him incredibly risky at a price of $732 ($46k more than Cripps). You'd want to be really sure of it!!!
One I have in my keeper league, and one I'd be stoked to have in my draft team, but I couldn't pull the trigger on a valuable mid possie in classic. That's just me. Still a lot of merit in this pick, and if he comes off and he goes closer to a 108 average, it's a huge leg up.
Patrick Cripps – In one twitter post:
He's back #AFLFantasy pic.twitter.com/CSKglwxLac

— Adam Roy Davey (@RoyDT) March 3, 2022
The big bustling bull is back… Haha.. I couldn't even keep a straight face writing that. Little back story on my relationship with Cripps. I historically have never had a 'never again list' or had any bias towards a player… Until I brought Cripps into my team back in 2019. I was sitting pretty at rank 23 and climbing every week. QUEUE Patrick Cripps in round 18 vs Gold Coast. A team he's absolutely towelled for monster scores of 163 (earlier that year) and a 162 before that. For no reason at all. No tag, no injury, no excuse, pops a 55 with the C on. I'm generally a forgiving person, but I won't forgive, and most importantly, won't forget. And while I'm not going to talk anyone out of Patrick Cripps priced at career low 82 (taking out his 3 game debut year) I employ you not to forget.
Taking out that amazing 2018 year where he went at a 109 average, his career average is 93 (again taking out that debut year). With a next best seasonal average of 101. Crippa is a gun inside mid, highlighted by his 8 tackles tonight, with the capabilities of hitting the scoreboard, kicking 4 goals tonight, but he lacks on the outside. His marks are always hard earned.
If I were to guess Cripps' end of year average right now, my gut says 100. A big bump from where he is, but you don't want to end the year with an 100 averaging player in your mids (10-30 points a game behind the best).
In saying that was easily best on today with a monster score of 141, and he is capable of going 110. I'm going to #staystrong… but are you?
Loading ...
Quick fire:
Zac Williams – Looked better than his 47. Had a lot of kick-in duties. But considering Hewett and Sicily are cheaper, you couldn't do it surely. Not with him, Saad, Newman and potentially (fingers crossed) Doc around that line begging for the ball.
Nic Newman – 92 points and looked okay when he was allowed to silk off across half-back. Draft more than classic to start the year.
Jordan Boyd – Could it be? A $190k DEF? Only had the 45 Fantasy points but played a very promising 80% TOG, playing the entire game whilst Williamson, Cottrell and Parks started as a sub and came on after the half. Had tough matchups on the likes of Fritch at times and will learn from it, but overall, promising signs. Found his way into my team in place of Collingwood's Charlie Dean who's now been reported to miss round one.
Corey Durdin – Threw his hand up for a round 1 selection. Was super lively, kicked 2 goals in the first quarter when the game was in the balance. Had a lot of inside-50 pressure and was involved in a few other goals. He had a few plays where he impacted the contest to the point the goal was scored off his pressure but didn't get a Fantasy point for the act, but it's the sort of thing that bodes well in the eyes of the coach.
But the memo of us not being allowed to have a single $190k rookie was well received and he came off at the half with a calf complaint. Fingers-crossed it's nothing and he gets through the week off to play round one. Small forward, so won't be a scorer. But I'll take anything at this point. It's grim.
EDIT;
No real concern with Corey Durdin. Michael Voss telling us poat game he got a "knock to the calf" and should be good for Round 1 in two weeks time. #AAMISeries

— Jono Baruch (@JonoBaruch) March 3, 2022
Paddy Dow – He didn't make the final team. If you have him in your team. Delete the account.
Charlie Curnow – "Fit and ready to go for round one" were the words uttered in the commentary. Shame we didn't get to see him play with McKay as the main reason he appealed to me initially was the freedom McKay would have given Charlie to run down the wing and take marks on the 3rd best defended. Can still go at a 70 average as he's proved twice before… But tough to start now coming off yet another injury.
B: J.Bowey 17 J.Lever 8 J.Smith 44
HB: J.Harmes 4 A.Tomlinson 20 J.Hunt 29
C: A.Brayshaw 10 J.Viney 7 E.Langdon 15
HF: S.Weideman 26 T.McDonald 25 T.Sparrow 32
F: B.Fritsch 31 B.Brown 50 A.Neal-Bullen 30
Foll: M.Gawn – C 11 C.Petracca 5 C.Oliver 13
I/C: L.Jackson 6 C.Spargo 9 T.Bedford 12 J.Jordon 23 O.Baker 33 K.Pickett 36 K.Chandler 37 D.Turner 42
Emerg: B.Laurie 16 B.Howes 22  M.Brown 38 J.McVee  41
Notable absentees: Harrison Petty, Michael Hibberd, Trent Rivers, Christian Salem
Max Gawn – Was my biggest watch tonight after Hewett. The ruck situation felt stressful until seeing Gawn play the last two weeks. There were a lot of questions over his role with Jackson, understandably, but I think Maximus will be fine. He was a clear #1 tonight, and even when Jackson had the duties, Gawn was either a kick ahead or behind the play. Was taking marks as the leading forward target, last man in defence and the target down the wing. He ended with another 120 Fantasy score this preseason (124) aided by 9 marks and a goal. This score could have been bigger too. He had a few very poor deliveries inside 50 when he was a clear target. Looked worth the price tag.
Clayton Oliver – Not much to write about here. Did what he does. He's the sort of player you don't need to read into. Did his thing for 83 points.
The ticks you needed for Oliver were, TOG. Tick, usual 89%. CBAs, 94%… Tick. That's about it. He was the most lively of the Demon mids, and his Fantasy score was hurt by his usual handball happy game going at 10:18.
Really if anything, if you were hot on him before, this is the type of game you want to see. Few people will likely jump off now (at their own peril).
Christian Petracca – Much the same as his BFF above. 96 Fantasy points, set up the first goal of the game and was unlucky for 3 behinds.
87% TOG, 84% CBAs.
Tick, tick. Should continue doing his bullish things and back up his 110 average.
Angus Brayshaw – "He will play down back.. It might be something we do during the season". And play down back he did, but did nothing to justify a classic selection with 42 Fantasy points. MAYYYYYYBBBEEE in a deep draft you could select him to get that DEF status. Sounds like he's taking that Rivers role.
Kade Chandler – Named, but never came on. Another missed $190k.