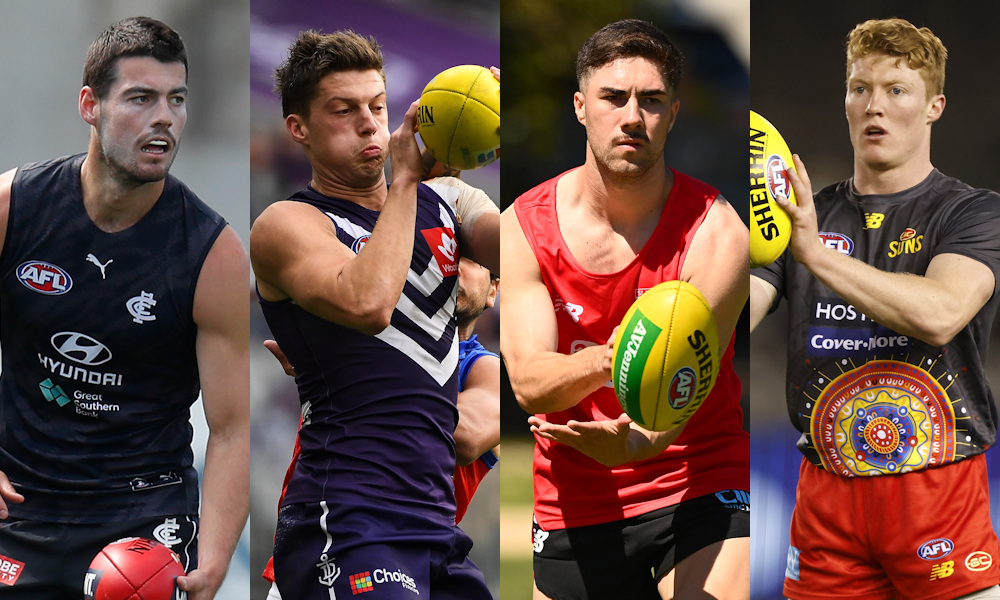 Finding the right mid-priced players for your fantasy squad can be a real hit and miss proposition. Select the right player or players and you're well on your way to a successful season. Choose wrongly, and your season could be shot before it's had a chance to really begin.
The temptation to have that mid-priced player sitting between your elite selections and rookies on each line is hard to ignore. Yet ignore it you should. Rather than look at these mid-priced players by line, look at them as a group and adjust your lines to account for where the best value lies. Listed below are 10 players valued between $450k and $550k who could provide some real value under the right circumstances.
Hayden Young (Def) $543k
2021 Average 68.9 | B/E 64 | R1 Projected 74 | Ownership 5.4%
After missing the majority of his second year in 2021 through injury, Young returned to the senior side in Round 19 and averaged 79 over the last five games of the season. This included scores of 93, 86 and 91 in rounds 21, 22 and 23, which will no doubt have him on the radar of a number of fantasy coaches. Had surgery prior to Christmas to drain an abscess, which has put him slightly behind his team-mates in terms of his preparation.
George Hewett (Def/Mid) $537k
2021 Average 64 | B/E 64 | R1 Projected 71 | Ownership 4.2%
While never really being a relevant player in AFL Fantasy, Hewett has shown on occasion he has the ability to produce decent scores when given a favourable role. He topped 90 on four occasions in 2021 and has six tons to his credit over the last five years. Following a move to Carlton, most pundits believe he will play a similar role, however, if he is given a bit more freedom by Michael Voss, he could improve his average quite dramatically in 2022.
Darcy Tucker (Def) $514k
2021 Average 61.3 | B/E 61 | R1 Projected 62 | Ownership 1.75%
Following the loss of Adam Cerra to Carlton, the Dockers are giving Tucker every opportunity to take over his midfield spot, and according to all reports he is grabbing that opportunity with both hands. Like Hewett, Tucker has shown some fantasy potential in the past, however, either through injury, form or team set-up, he has never been able to build on that potential. Scored three BCV tons from seven games before being injured in the opening minutes of Round 8 in 2020, although only produced one against the Suns last season.
James Sicily (Def) $510k
2021 Average 0 | B/E 60 | R1 Projected 83 | Ownership 46.08%
With a highest season average of 95.6 in 2018, followed by averages of 83.6 and a BCV of 86.9 over the following two years, Sicily is a proven fantasy defender who is priced conservatively at 15 points under what he should achieve if he stays on the park. From all reports Sicily has hardly skipped a beat during the pre-season, and the Hawks are confident he has recovered from the ACL which kept him out for the entire 2021 season.
Jade Gresham (Fwd/Mid) $514k
2021 Average 73 | B/E 60 | R1 Projected 73 | Ownership 11.61%
After starting the 2021 season on fire with scores of 95 and 107 in the opening two rounds, Gresham suffered an Achilles injury in Round 3 against the Bombers and missed the remainder of the season. Although from all reports he is tracking well, Achilles can be difficult to get over and with so many mouths to feed in the midfield at the Saints, Gresham may be eased into the season playing predominantly forward.
Jye Caldwell (Mid) $488k
2021 Average 76.5 | B/E 58 | R1 Projected 75 | Ownership 12.14%
After being traded from GWS at the end of the 2020 season, the then 20-year-old couldn't have started off at his new club any more impressively. Caldwell posted a ton in his debut for the Bombers against Hawks and was heading for another against Port in Round 2, before sustaining a hamstring injury which sidelined him for the remainder of the season. However, Essendon showed their faith in the former Giant by rushing him back into their Elimination Final against the Bulldogs, in which he again looked like he could be headed for a fantasy ton early, before fading out in the second half. The loss of forward DPP hurts and it's anyone's guess at the moment how the Bombers midfield will line up come Round 1.
Sam Draper (Ruc) $481k
2021 Average 57.3 | B/E 57 | R1 Projected 60 | Ownership 5.14%
As a 23-year-old ruckman heading into his third season and with only eight and 12 games in his first two and with fantasy averages of just 50.6 and 57.3, it's fair to say Draper is not on the radar for most coaches. However, an outstanding Elimination Final effort against the Bulldogs of 121 has shown he can be fantasy relevant, and appears to have at least piqued the interest of some coaches at this early stage of the year.
Jack Gunstan (Fwd) $468k
2021 Average 31 | B/E 55 | R1 Projected 74 | Ownership 1.79%
Once a regular amongst fantasy sides, following a season in which he managed just the one game for an abysmal 31, Jack Gunston appears to be a forgotten man for fantasy coaches. However, with his ownership currently sitting at under two percent and a breakeven of just 55, he could be a valuable POD if he can get on, and stay on the park. Prior to 2021, Gunston produced averages of 76 BCV, 76, 87 and 85, and even at 30 years of age is at least 10 to 15 points under-valued.
Matthew Rowell (Mid) $464k
2021 Average 55.3 | B/E 61 | R1 Projected 59 | Ownership 42.72%
After Sicily, Matthew Rowell is the most owned player in this list solely on the evidence of three games of a 17-game career. Admittedly those three games were absolutely outstanding, however, he has looked only a shadow of that player since his return in Round 13 last year. Rowell produced just the three scores over 70 and two in the 60s from 11 appearances in 2021, and while the hype around the former number one draft pick looked justified after his first three games, it's fair to say it hasn't come close since.
Dan Hannebery (Mid) $456k
2021 Average 58.5 | B/E 54 | R1 Projected 78 | Ownership 1.66%
After only missing eight games between 2011 and 2017, Dan Hannebery has managed just 30 in the last four years and only 15 in his three seasons at the Saints. An endurance beast at his best, Hannebery's best two seasons from a fantasy perspective were in 2015 and 2016 in which he produced averages of 110.7 and 108.4. Now, while that may be what seems a lifetime ago, he did produce a fantasy average of 98.6 from his first five games for St Kilda in 2019 and like Gunston, if he can get on and stay on the park, he is hugely undervalued.
Safest Bet
Due to their high ownership, Sicily and Rowell are the two safest selections on this list. Even if either or both don't produce what fantasy coaches expect from them, it won't hurt your side too much as half of total coaches will be in the same boat. For mine, Sicily should provide the most value of the two as he is a proven fantasy performer and extremely under-priced historically. Rowell on the other hand is pretty much valued at what he showed upon his return from injury last year, and although the latest reports from the Suns are positive, I'm not totally sold.
Risk vs Reward
While all the players on this list provide some risk, the two veterans in Gunston and Hannebery arguably provide the most uncertainty, yet could also provide the greatest reward. A fit Hannebery (as far fetched as that may seem now), is more than capable of averaging in the mid-80s and Gunston in the mid-70s. With break evens of just 54 and 55 respectively and ownership for both at under two percent, could you do it?
Preseason Eyecatcher
Reports started coming in pretty early in the pre-season regarding who would be vying to fill the void in Fremantle's midfield following the departure of Adam Cerra to Carlton. The two names that seemed to be brought up most frequently were ex-Sun Will Brodie and Darcy Tucker. In a recent match sim, the two were on opposite teams with Tucker earning most, if not all of the praise from observers. At this early stage he seems to be on track for a spot in the Docker's midfield in Round 1, and has proved in previous seasons he can produce solid fantasy scores if given the opportunity.
Track Watch
It's fair to say that at this early stage in the year, fantasy coaches need to keep an eye on all player's progress up until teams are locked for Round 1, however, a few players on this list could provide some real value for fantasy coaches under the right circumstances.
Jye Caldwell and Jade Gresham really need to be spending a decent amount of time in the midfield to provide value, while George Hewett will most likely be in Carlton's engine room, however, will it be a lockdown role, or will he be given the freedom to hunt his own ball?
Much has been made about Hayden Young's strong finish to the 2021 season without having the amount of kick ins expected to boost his scores. If he's fit, and lines up in pre-season games and does take over the kicking duties expect his ownership to rise quickly.
Better Value Elsewhere
Despite his outstanding 121 in the Elimination final last year, Sam Draper hasn't shown enough from a fantasy perspective at senior level to justify a spot in your team when just an extra $90k will get you a proven fantasy performer in Jarrod Witts. While Brayden Preuss will save you $114k and his Round 1 break even is 13 points less than Draper's.