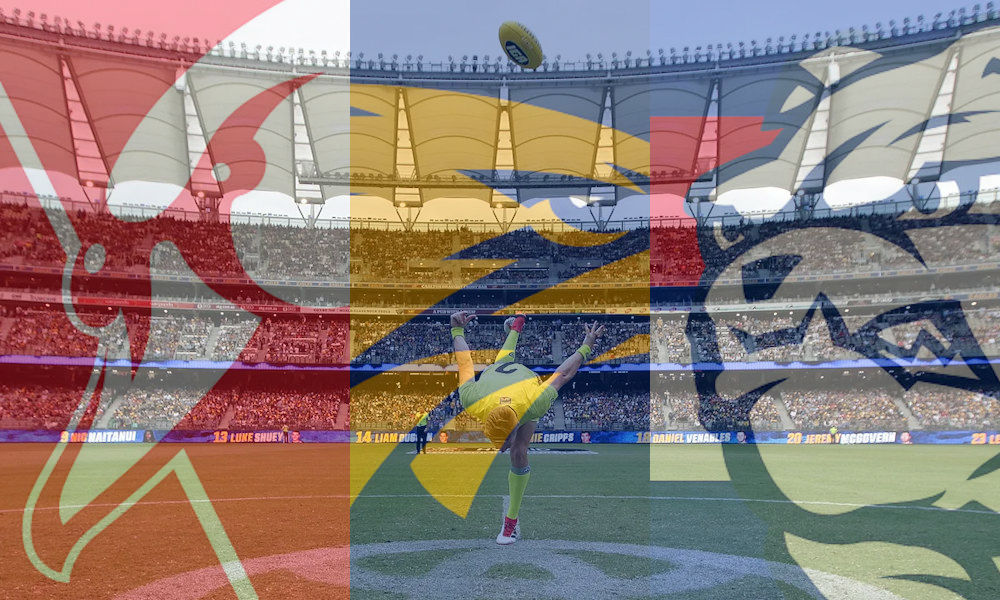 "…more mid time"
Click here for DC's preamble and more on the all important centre bounce attendances.
*Only players who played 5 games or more are included in the CBA lists. All percentages only represent the games played by that player, not the whole season.
More CBA analysis:
Top centre bounce attendees
Hickey 84%
Parker 72%
Mills 68%
Kennedy 64%
Rowbottom 45%
Warner 38%
Hewett 24%
Florent 20%
Callum Mills is exhibit A on why we should never have never-again lists (unless it's Dusty). The 24 year old took a little while to break out but when he did, boy was it worth the wait! He was sensational last year as he moved into the midfield full-time, proving to be one of the most consistent players in the game as he averaged 110 with just two scores below 90 for the season. Whilst he only managed 4 scores over 120 for the year, he produced another 8 scores between 110 and 120 in his 18 games. If he can find a way to take those scores into the 120s more consistently then I really think he could be one of the very best players in the game due to his perfect blend of inside and outside abilities. He showed his potential ceiling in round 20 against the Bombers too, with a jumbo score of 152 built on the back of 12 marks! He's pricey in 2022 but don't discount him as an insanely consistent premium mid with potential growth left. 
There was an appreciable gap between the top three Sydney mids and James Rowbottom as the 4th mid in 2021 and it will be intriguing to see whether Horse Longmire continues with that policy in 2022. I see no upside in Josh Kennedy or Luke Parker but if one of the three key mids goes down then watch very closely to see who picks up the slack. Rowbottom, Chad Warner, or Oli Florent have all shown glimpses of their fantasy chops and could prove to be shrewd trade targets if you pick the right guy. For what it's worth, Chad Warner excites me the most and is only just coming into his third year. Both Warner and Rowbottom could fill the George Hewett defensive midfielder role after his departure as well. Hewett attended 60% CBAs after the bye as Warner, Rowbottom and Mills all missed multiple games.
The final name we must talk about is Isaac Heeney. The fantasy tease barely attended CBAs in 2022 but did push up to the wing consistently. He dropped two 130+ scores but also delivered four scores below 50. The pre-season talk is about him playing in the middle more but we have heard that all before too. That said, he has certainly had seasons when he's been more of a factor in the guts. If he's attending CBAs during the pre-season games then he could be a reasonable pick for your forward line whilst priced at 76. He does have 3 seasons of averaging 90 after all. 
Buyer beware: Luke Parker, Josh Kennedy, 
Black book: Callum Mills, Chad Warner, James Rowbottom, Isaac Heeney
Top centre bounce attendees
Naitanui 79%
Yeo 78%
Kelly 73%
Sheed 67%
Shuey 66%
Redden 62%
Gaff 28%
Ah Chee 28%
Vardy 22%
O'Neill 21%
Williams 21%
My West Coast Eagles performed below expectations in 2021 and missed the finals for the first time since 2014. A large reason for the slide was Elliott Yeo and Luke Shuey having heavily injury affected seasons. Yeo didn't play until round 11 due to a year long battle with osteitis pubis, whilst Shuey played just 7 games due to a series of muscle strains. In their absence, Tim Kelly struggled to perform to his previous levels as the main man in the middle. Dom Sheed and Jack Redden were the Eagles best midfielders over the year and both averaged in the low 90s in fantasy. Andrew Gaff also dipped below a 100 average for the first time since 2016. 
So what happens with the Eagles midfield in 2022? Well to start with, hopefully we see Yeo and Shuey get a decent run of games after full pre-seasons. Both are training fully at the moment, so the signs are good. Yeo is priced at 83 but prior to his OP wrecked seasons he averaged 102.7, 107.8 and 98.3. Even if he hits the mid 90s he still has 10-15 points of upside and a fantastic scoring ceiling to boot. I would expect him to be the Eagles' number 1 inside midfielder in 2022 due to his defensive abilities, something that the Eagles sorely lacked for much of last year. If he gets through the whole pre-season then look out because he'll have a point to prove. 
Shuey doesn't quite have the fantasy pedigree as Yeo but did produce his career best year in 2019 with a 101 average. Priced at 80, he is certainly underpriced but his recent history of soft-tissue injuries just makes him too risky in my book. 
The Eagles sold the farm to get Tim Kelly and he hasn't really repaid them consistently yet. He has had some outstanding games but also goes missing fairly frequently. That said, he should outperform his 84 average, although I don't quite see the same upside as I do for Yeo. 
Sheed is always a tempting option due to his huge ceiling but he still hasn't shown the ability to do it consistently over a whole season. I don't see enough value there to start with him, especially if his time in the middle is reduced by Shuey and Yeo. Jack Redden is currently in rehab after shoulder surgery. Put a line through him as a starting option. 
The head-tilt himself, Andrew Gaff, certainly has the capacity to improve on his 2021 year and a full-strength engine room may release him to rack up uncontested possessions like he does better than almost any winger in the comp. However, I am always hesitant to pick him due to his lack of inside game. If he doesn't take marks then he generally doesn't score. 
The last name to discuss is Greg Clark. The Eagles grabbed the 24 year old at pick 62 in the draft. The 190k mid averaged a massive 114.7 points and 7.3 tackles in the WAFL in 2021 and should be an absolute lock (even on your field) if he starts the year. At 193cm, he would add much needed size and defensive pressure to the midfield mix if he is given games, which is especially likely if Redden misses the start of the season. He's my early pick for fantasy rookie of the year. 
Buyer beware: Shuey, Redden, Sheed, Gaff, Kelly
Black book: Yeo, Clark
Top centre bounce attendees
Macrae 79%
Sweet 79%
Bontempelli 72%
Martin 69%
Liberatore 67%
English 55%
Dunkley 46%
Treloar 38%
Smith 33%
Young 20%
The 2021 grand finalists rival the Giants for the most stacked midfield in the comp (from a fantasy perspective anyway). How can guys like Adam Treloar and Josh Dunkley, who have both averaged over 110 in a season not be in your starting midfield? Bonkers stuff!
Jack Macrae was sensational again in 2021. He's an absolute fantasy jet but his high CBAs suggest there probably isn't a huge amount of upside there in 2022. He's nice as a captain option but I don't think I'll be starting him this year. 
Bontempelli is a freak of nature and is single-handedly capable of ripping a game apart. He has also taken another step in the fantasy world over the last three years and recorded a career best 107.9 average in 2021. I see that as about his ceiling though. Josh Bruce's ACL injury means the dogs may be searching for targets in the forward 50 in 2022. I expect his CBAs to drop just fractionally and his average to be closer to 100 than 110. 
Liberatore is the least fantasy relevant Dogs mid but from a footy perspective he's critical with his defensive pressure and inside grunt. I don't see him moving anywhere after his season in 2021 but 90 is about his fantasy threshold. 
And now we come to Dunkley and Treloar. Both will be highly owned in 2022 due to their forward statuses and potential value. Their roles within the team are crucial here though. To unpack this, let's look at the start and end of the season when all of the Bulldog's midfielders were actually playing. Dunkley started the 2021 season hot, averaging 115.5 over the first six rounds before being struck down with a dislocated shoulder. Importantly his CBAs over that period were only 47%, which was still 4th in line at the Dogs, with Macrae, Bont and Libba all ahead of him. Treloar averaged 44% CBAs over the first six games but played a different role in his first few games at his new club. He attended 68% and 64% in rounds 3 and 4 but they were his highest CBAs for the year. Treloar averaged 97.8 over the first six games but did ton-up in the four games where he attended over 40% CBAs.
The end of the year is even more fascinating to me. Treloar returned in round 21 from a long lay off with the dreaded syndesmosis sprain. Dunkley had also just returned from his own extended break. In the six games between round 21 and the Prelim, Dunkley attended 38% CBAs. Treloar? Just 12%! But then in the Grand Final things seemingly switched, with Dunkley only attending 3 centre-bounces (8%) whilst Treloar attended 17 (50%). 
If it wasn't for the GF I would say that Dunkley is clearly the man you want to pick in 2022 but Treloar is obviously still seen as an important inside midfielder in the big games. Perhaps the answer could be neither as well? Both players scored poorly in their roles to end the season. Dunkley averaged just 57 between rounds 20 and the first final, although he did finish stronger in the finals with 95, 101 and 83. Treloar scored marginally better on his return but still didn't set the world alight. He managed just one ton and averaged 79 until the end of the season. Even though those sorts of scores would be catastrophic to begin 2022 I think we need to give both players a bit of leeway after such long breaks through the middle of the season. If they get through full pre-seasons I would expect a better scoring output in 2022, especially from Dunkley, who showed at the start of 2021 that he can still be an uber-premium with moderate CBAs. Treloar's scoring might be more dependent on the inside role. 
Adding even more complexity to this discussion is the continual emergence of Bailey Smith. After no CBAs in the first five games of 2021, he was a major benefactor of Dunkley and Treloar's injuries, especially over a six game patch from rounds 15-20 when he averaged 106.5 from 68% CBAs. The blonde mullet can have a big impact as an inside midfielder and will surely be putting pressure on his five more mature teammates again this season. You probably can't start him but if injuries strike again then jump on board. I grabbed him before round 16 last year and didn't regret it!
Keep your ear to the ground for info on the Bulldog's team structure for 2022 and watch their pre-season games closely. They are sure to be right at the top of the relevancy tree again in 2022. 
Buyer beware: Macrae, Bontempelli, Liberatore, Treloar, Smith
Black book: Dunkley
Thanks for getting through these articles. Midfield roles really are the bedrock of great fantasy footballers. Hopefully you've picked up a few nuggets of gold that will help you to get closer to the car in 2022. You'll have to beat me first though!
Follow DC on Twitter, Hat Chat on Twitter and listen to the podcast.