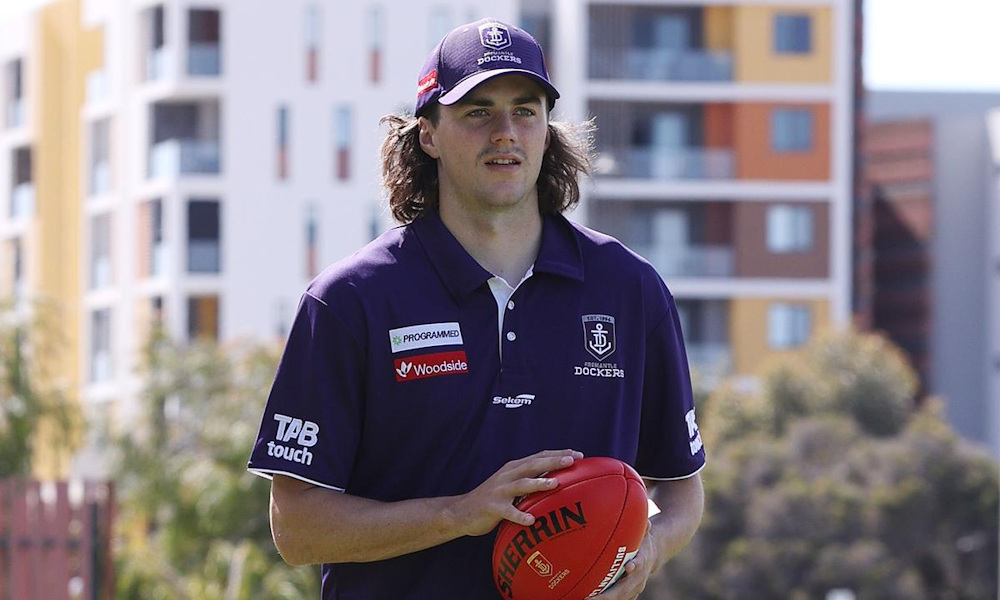 Name: Jordan Clark
Team: Fremantle
Position: MID
Price: $552,000
Bye round: 14
2021 average: 56.4
2021 games played: 8
Predicted average: 80
Draft range: Late bench coverage
Click here for 2022 Fantasy prices.
Why should I pick him?
Clark has been teasing us with Fantasy potential since his debut season.
Last year he made a late charge into our round 1 teams by posting a 135 from 3 quarters in the last game of the preseason. In that game Clark showed us what he can do when the stars align with his role, he was taking kick ins (leaving the square every time) and pushing forward to hit the scoreboard.
Unfortunately Clark's 'run and gun' style wasn't conducive to Scott's nursing home gameplan, with Smith and Higgins ahead in the pecking order and Geelong deciding Clark was better suited to playing dodgeball on the defensive wing, resulting in another season of undelivered potential.
Fast forward to now, Clark will be lining up for the Fremantle Dockers with another chance of fulfilling his potential.
He has already impressed on the training track, finishing top 3 in all preseason time trials and showing off his elite disposal efficiency during match simulations.
Justin Longmuir has flagged an initial position as a half back flanker and this is where Clark is best suited from a Fantasy perspective. He is at his best when getting into space for handball receives to be able to use his speed and kick to full effect.
Fremantle are desperate for outside run and Clark fills that role nicely.
While Fremantle have amassed a wealth of half back flankers, Clark's unique attributes set him apart from the others which could see him become a dangerous 1-2 punch out of defence when partnered with Young.
Currently only in 1% of teams, Clark presents as a unique midpricer who could conservitavely average 80 points in that role meaning, if you have faith in him, he's currently sitting at 24 points underpriced.
Why shouldn't I pick him?

This depends on how highly you value the opinion of Matthew Scarlett. For whatever reason, Scarlett didn't want Clark anywhere near his backline. Is there a chance that Clark gets 3-6 games under his belt in Fremantle's system and they see the same problems?
If this happens, there's no shortage of options with Wilson, Young, Chapman, Aish and Walker all looking to take that role if needed.
Durability is also a concern. In his short, 3 year career, Clark has been plagued with shoulder/AC style injuries, missing a significant amount of footy along the way.
While we can hope he gets a clean run, the history doesn't look good and as of typing this, Clark sat out today's match simulation at training.
Deck of DT Rating.
JACK
Yet to prove himself but the potential is there. This may be one where the risk outweighs the reward too much.
MID only at that price makes it difficult but if Clark can add 30 points to his average there's no denying he's a bargain.
FOLLOW US  ON TWITTER: @DTTALK for all things AFL Fantasy (and more). Got something to say about the deck or AFL Fantasy in general? Join the conversation and use the hashtag… #AFLFantasy.