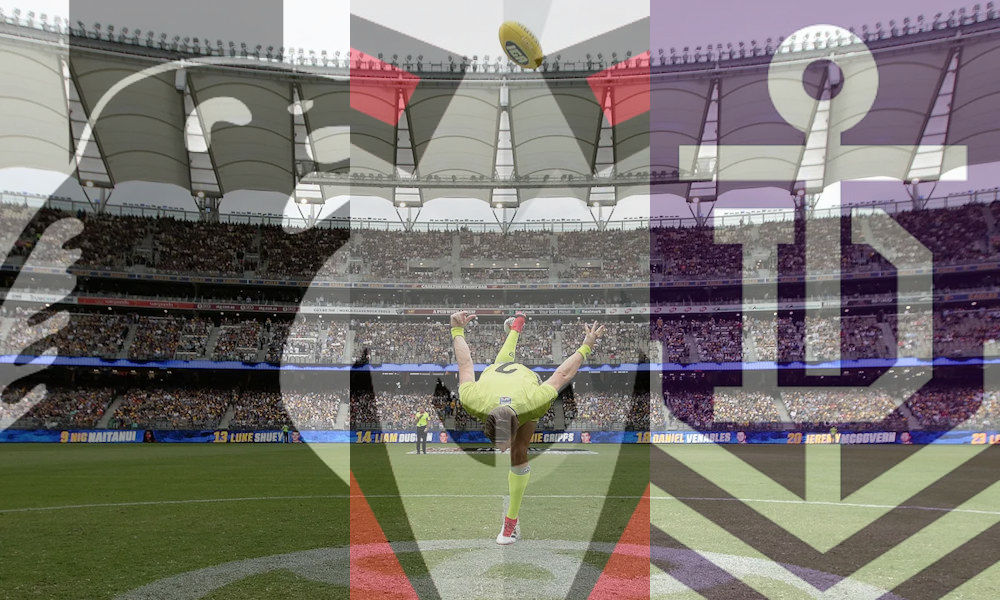 "…more mid time"
Click here for DC's preamble and more on the all important centre bounce attendances.
*Only players who played 5 games or more are included in the CBA lists. All percentages only represent the games played by that player, not the whole season.
More CBA analysis:
Top centre bounce attendees
Grundy 80%
Adams 77%
Pendlebury 56%
De Goey 45%
Sier 43%
Crisp 40%
Tyler Brown 38%
Sidebottom 36%
Macrae 31%
Josh Daicos 29%
Cameron 22%
Elliott 20%
A lot of players attended CBAs for Collingwood in 2021 but you could probably only guarantee the top three in the list would maintain substantial midfield time this season. Adams looks like the one midfielder who will be locked in at the vast majority of centre bounces. He averaged 107.1 his last 10 games but is priced at 100.9. His body has been an issue but at 28 years of age he's in his prime and will score around the 110 mark if he stays on the park.
The dependable Crisp had an outstanding year (101.8 average) but his CBAs waned after the bye. I'd expect him to play primarily in defence in 2022. De Goey's year was the inverse to Crisp's, as he came home like a freight train on the back of a midfield shift. While he could be good value, his situation is as dubious as a fart in Bali, so it could be best to steer clear for logical and moral reasons.
Of the others, Pendles and Sidey are closer to the start of their lawn bowls careers than their footy ones and surely need to pass the baton somewhat, whilst Sier was delisted, and Macrae and Brown both need further development. 
This brings us to the new faces. Patrick Lipinski has been starved of midfield opportunities at the powerful Bulldogs but he does have some fantasy game. He averaged 85.5 in 2019 and at 23 years of age he should be ready to step into an AFL midfield fulltime. If a key mid role is there then don't be surprised if he averages 90+ in 2022. That would be a tasty return on his 606k price.
The Pies biggest off-season coup was grabbing Nick Diacos at pick 4 after he was in the mix for pick 1. It's been suggested that he will spend most of his time off half-back next season but don't be surprised if he spends more time in the middle as the year progresses. He should be a no-brainer rookie pick with a nice role and great job security.
Finally, whilst he's not a new face, there has been some chatter that Brayden Maynard fancies himself as a midfielder. If that ends up coming to fruition, then pay attention. Could he be the Callum Mills of 2022?
Buyer beware: Pendlebury, De Goey, Crisp, Sidebottom
Black book: Adams, Lipinski, Nick Diacos, Maynard, Grundy
Top centre bounce attendees
Draper 89%
Phillips 80%
Merrett 80%
Parish 79%
Stringer 68%
McGrath 51%
Shiel 50%
Langford 26%
Wright 25%
Injuries to McGrath, Caldwell and Shiel early in 2021 paved the way for Darcy Parish to finally become the midfielder we wanted him to be and he was consequently one of the picks of the year. It was a perfect example of how midfield opportunities can lead to huge scoring bumps. Merrett was a top midfielder in 2021 and should be again for the upcoming season. The only way that doesn't happen is if he gets pushed out to a wing. His 80% CBAs in 2021 suggests that's unlikely though.
After Merrett and Parish it looks slightly more murky for Essendon's midfielder mix. Stringer became a centre bounce beast in 2021 and was relevant as a forward, particularly in the second half of the year. He's kept that forward status this year but with McGrath, Caldwell and Shiel returning he could be shifted back forward to make room. Interestingly, when all of those names played together in the Bombers' elimination final, McGrath and Caldwell both had zero CBAs, whilst Stringer attended 76%.If Stringer does keep his role then he may actually be value at a price of 80.5. He averaged 94.2 in his last 10 games. 
Caldwell is the other relevant option for 2022 with his discounted price of 488k (priced in the fifties). He should get some mid time but even if it's only sporadic, he's so cheap that it's still a low risk pick. 
McGrath and Shiel are good players but they are both awkwardly priced and will be a way off the top midfielders, especially with uncertainty about their midfield roles. Pass.
One final name to watch is Ben Hobbs, who was the Bombers' top pick in the draft. Expect the tough young mid to play early, although he may have to wait for midfield opportunities behind his more mature teammates
Buyer beware: McGrath, Shiel, Stringer, Langford
Black book: Caldwell, Hobbs
Top centre bounce attendees
Serong 71%
Darcy 70%
Fyfe 67%
Mundy 65%
Brayshaw 61%
Meek 55%
Cerra 46%
It's all about the young midfielders at Freo in 2022. Caleb Serong. Andrew Brayshaw. David Mundy…
Brayshaw took another step in 2021 and looks destined to be a fantasy gun for years to come. He averaged 108.6 in his last 10. Don't discount a 110 average this year. He will be unique and still hasn't hit his prime.
Conversely to Brayshaw, Serong didn't kick on as many were expecting in 2021, even though the midfield role was clearly there. His time on ground for the season was just 74% which certainly limited his scoring capacity. If that increases to around 80% in 2022, then he will break-out faster than Houdini in a strait-jacket. A 104 average from his last 5 games in 2021 is a delicious indication for next year.
Justin Longmuir clearly favoured a restricted centre bounce group in 2021. If that continues into this season then we can expect a big role change or debut season for one or two players at Freo in 2022. That's because Adam Cerra has moved to the promised land at Carlton and his 46% CBAs have to go somewhere. It's also likely that Fyfe will have a delayed start to the year and Mundy isn't getting any younger.
In my mind, the two main candidates to fill the holes are Darcy Tucker or new-face Will Brodie. The other options, and potential cash-cows, would be the untried Luke Valente (if he does actually exist), Nathan O'Driscoll, or 2021 draftees Neil Erasmus and Matt Johnson. Or could Blake Acres or Connor Blakely finally show that they are quality AFL players and not just fantasy teases?
The 25 year old Tucker is supposedly training as a midfielder this pre-season but is priced at 61 with defender status. He averaged 94 (adjusted) over the first five games in 2020 whilst playing a mid role. If he starts round 1 as an inside mid he should be on your radar at the very least. 
Brodie has apparently also impressed early at his new club. He's a natural scorer and if he can crack the midfield he's an absolute gift as a forward at 387k. 
Could both be options to start with in 2022?
Buyer beware: Fyfe, Mundy
Black book: Serong, Brayshaw, Tucker, Brodie, O'Driscoll, Darcy
Follow DC on Twitter, Hat Chat on Twitter and listen to the podcast.