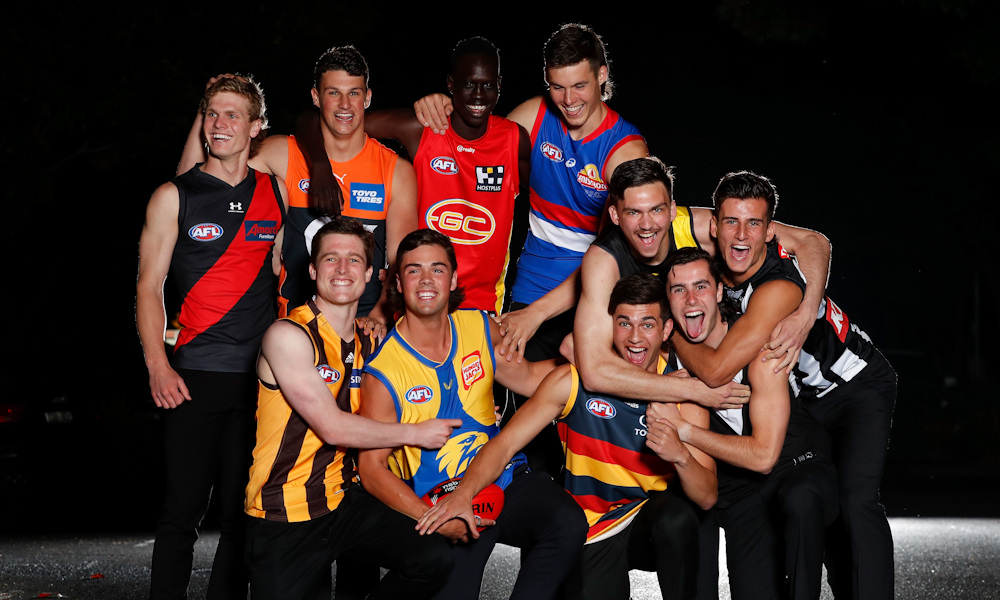 Another draft has been and gone so it's time to take a look at the fantasy numbers of the players drafted and work out who may offer some value in our AFL Fantasy teams next year.
At The Keeper League, we analyze the fantasy numbers of all the players taken in the AFL Draft to get a snapshot of how they might perform from a fantasy perspective.
You often hear about the players at the top end of the draft in the media, but the players taken early don't always equate to being the best fantasy scorers.
We think it's vital to know which players are most suited to fantasy so we can work out which players are best suited for our fantasy teams.
In this article, we will take a look at some of the most talked-about players in the draft from a fantasy perspective, but also try to identify some lesser-knowns who could turn out to be fantasy gems.
Jason Horne-Francis
After playing 29 SANFL League games across the past two seasons we have no doubt that Horne-Francis will be right to go from round one.
He'll walk right into that North Melbourne side and complement their young brigade extremely well.
He played 20 games in South Adelaide's SANFL League side, averaging 11 kicks, 5, handballs, 4 marks, and 4 tackles per game for an AFL Fantasy average of 74 points. This might seem a little on the low side, but let's remember he was playing in the seniors against adults.
You need to look no further than his 24 touches, 3 goals, and 112 point Preliminary Final display to show you that this kid is going to be something very special.
He is also a sneaky chance of having centre/forward dual position status next year, which would make him an absolute lock in everyone's side next season. While that won't last in the long run, I have confidence we will be seeing a 100+ average player in two or three years time.
This kid simply has it all.
Nick Daicos
In season 2021, Daicos averaged 136 AFL Fantasy points per game; a phenomenal number.
In terms of averages, he went at 35.8 disposals per game, which is 4.1 disposals ahead of Matt Rowell and 3.8 ahead of Walsh in their respective draft years, confirming that this kid is an accumulator of the highest order.
His top score of the season was 149 AFL Fantasy points against the Murray Bushrangers where he had 24 kicks, 20 handballs, 6 marks, 3 tackles, and a goal in a dominant performance. This should give you a fair idea of his scoring power.
We do have some slight concerns for him though. As he is so dangerous in front of goals (kicking 3 goals on multiple occasions this season) he may have to spend some time up forward early in his career which may hinder his fantasy scoring.
With that said, he should debut early in 2021, making him an ideal candidate for your starting squads.
Greg Clark
It was an interesting selection from the Eagles, taking the 24-year-old Greg Clark at pick 62 in the 2021 AFL Draft.
Clark finished the WAFL season with the fourth-highest fantasy average in the league at 114.7 AFL Fantasy points per game. This is an outstanding effort as regular listeners of our podcast will know big scores are hard to come by in that league. In terms of averages, he went at 16 kicks, 12 handballs and 5 marks per game, which shows he can find the footy. But he is also a tackling machine too, averaging 7.2 tackles per game across the season.
In terms of individual performances, Clark had 15 scores of 100+ in 2021, including five scores above 140, with a top score of 164 coming against West Perth in Round 3.
In this year's WAFL Grand Final, he won the Simpson Medal as the best player on the field with 26 touches, 14 tackles, and 2 goals.
The Eagles obviously recruited him for a reason and is a big chance to play some AFL footy in 2021. West Coast would believe their premiership window is still open, and with Redden likely to miss a lot of footy early, Clark looks a likely type to step straight into their midfield.
Matty Roberts
Roberts could very well be the steal of this year's draft.
He had a somewhat underrated season, only playing seven SANFL League matches in a very strong South Adelaide side.
He's a well built young man, and while usually playing as a midfielder, he was forced to play the majority of his senior footy up forward in 2021. However, he still performed well in that role, kicking six goals in those seven games, but also averaged 4 tackles a match against the big bodies in the SANFL. In terms of AFL Fantasy, he averaged 51.3 points per game at this level.
But if you want a glimpse of how good he can be from an AFL Fantasy perspective, just look at his SANFL U18 numbers. He played three games at that level collecting an average of 32 touches per game along with AFL Fantasy scores of 119, 160, and 169.
Sydney has shown they are not afraid to give young kids a chance and Roberts looks ready to take that step to AFL level.
Connor MacDonald
This guy could have the biggest fantasy game in this year's draft.
MacDonald is a running machine who loves to lay at tackle and had the footy on a string in the NAB League this year. He averaged 30 touches across his four matches this season, going at 19 kicks, 11 handballs, 7 marks, and five tackles per game for an AFL Fantasy average of 121 points.
Out of this year's draft crop, only Nick Daicos put up better numbers.
Landing at Hawthorn means he should get plenty of opportunities after the departure of depth players like James Cousins and Damon Greaves (who were both given games last season).
If the rumors of Hawthorn soon wanting to move on guys like Tom Mitchell and Jaeger O'Meara in the future are true, Connor Macdonald could be part of their midfield plans for a long time to come.
If he gets a chance to show what he can do next season, we might see him produce some decent fantasy scores.
The Keeper League has the fantasy numbers of ALL players selected in the 2021 AFL Draft available to their members.
Sign up to gain access.