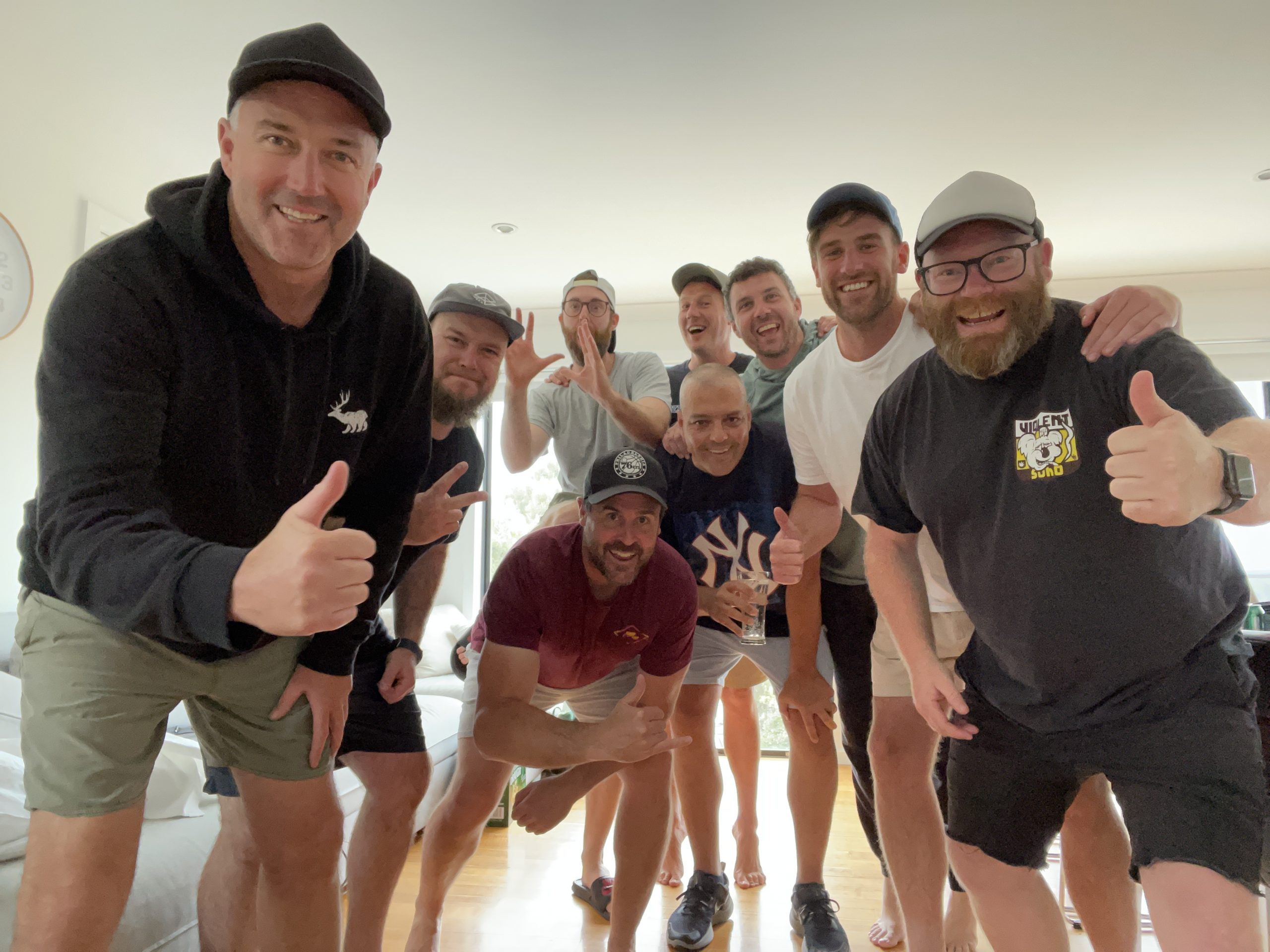 It was a big weekend – which is why this is being posted a week later. We're getting it up so that people can see how we drafted as they do their drafts this weekend. Learn from some of the mistakes!
We had a weekend on the north coast of Tassie in a beachside town called Hawley. Airbnb, 9 (of 12) mates there. Great time. Friday night was the draft order determination event (DODE). This was an old Royal Rumble from 2011. We all got a wrestler and the first eliminated got to choose which pick they had in the draft. Ruz, the first out, went with pick one.
We drafted on Saturday arvo so that Jonty could participate from Florida!
League settings include:
12 teams
3-4-1-3/6
Captains on
You can type in different things in the search bar on this table. Want to see how a particular team drafted? Type their team name in to see all their picks. Want to see how the rucks ranked, type in RUC in the search. Take out of it what you will!
| Pick | Player | Club | Position | Coach |
| --- | --- | --- | --- | --- |
| 1 | Josh Dunkley | BRL | MID/FWD | Tackling Tit-ed |
| 2 | Rory Laird | ADE | MID | Calvinator |
| 3 | Sam Docherty | CAR | DEF | Manzacs |
| 4 | Stephen Coniglio | GWS | MID/FWD | Merv Gray Autos |
| 5 | Tim Taranto | RIC | MID/FWD | Warne Dawgs |
| 6 | Andrew Brayshaw | FRE | MID | Fighting Camels |
| 7 | Clayton Oliver | MEL | MID | BEATBOX16 |
| 8 | Rowan Marshall | STK | RUC | destROY |
| 9 | Tim English | WBD | RUC | Girth Control |
| 10 | Touk Miller | GCS | MID | A Point For Trying |
| 11 | Jack Steele | STK | MID | Cubby House |
| 12 | Bailey Smith | WBD | MID | Fantastic MrFox |
| 13 | Jack Sinclair | STK | DEF | Fantastic MrFox |
| 14 | Errol Gulden | SYD | MID/FWD | Cubby House |
| 15 | Dylan Moore | HAW | FWD | A Point For Trying |
| 16 | Connor Rozee | PTA | MID/FWD | Girth Control |
| 17 | Callum Mills | SYD | MID | destROY |
| 18 | Jack Macrae | WBD | MID | BEATBOX16 |
| 19 | Zach Merrett | ESS | MID | Fighting Camels |
| 20 | Jordan Dawson | ADE | MID | Warne Dawgs |
| 21 | Christian Petracca | MEL | MID | Merv Gray Autos |
| 22 | Zak Butters | PTA | MID/FWD | Manzacs |
| 23 | Lachie Neale | BRL | MID | Calvinator |
| 24 | Brad Crouch | STK | MID | Tackling Tit-ed |
| 25 | Max Gawn | MEL | RUC | Tackling Tit-ed |
| 26 | Angus Brayshaw | MEL | DEF | Calvinator |
| 27 | Marcus Bontempelli | WBD | MID | Manzacs |
| 28 | Josh Kelly | GWS | MID | Merv Gray Autos |
| 29 | Patrick Cripps | CAR | MID | Warne Dawgs |
| 30 | Nick Daicos | COL | DEF | Fighting Camels |
| 31 | Jarrod Witts | GCS | RUC | BEATBOX16 |
| 32 | Tom Stewart | GEE | DEF | destROY |
| 33 | James Sicily | HAW | DEF | Girth Control |
| 34 | Jake Lloyd | SYD | DEF | A Point For Trying |
| 35 | Noah Anderson | GCS | MID | Cubby House |
| 36 | Hugh McCluggage | BRL | MID | Fantastic MrFox |
| 37 | Brodie Grundy | MEL | RUC | Fantastic MrFox |
| 38 | Reilly O'Brien | ADE | RUC | Cubby House |
| 39 | Luke Parker | SYD | MID | A Point For Trying |
| 40 | George Hewett | CAR | MID | Girth Control |
| 41 | Tom Mitchell | COL | MID | destROY |
| 42 | Darcy Parish | ESS | MID | BEATBOX16 |
| 43 | Hayden Young | FRE | DEF | Fighting Camels |
| 44 | Sam Walsh | CAR | MID | Warne Dawgs |
| 45 | Darcy Cameron | COL | RUC/FWD | Merv Gray Autos |
| 46 | Sean Darcy | FRE | RUC | Manzacs |
| 47 | Isaac Heeney | SYD | FWD | Calvinator |
| 48 | Ben Keays | ADE | MID | Tackling Tit-ed |
| 49 | Dan Houston | PTA | DEF | Tackling Tit-ed |
| 50 | Mitch Duncan | GEE | DEF | Calvinator |
| 51 | Luke Davies-Uniacke | NTH | MID | Manzacs |
| 52 | Lachie Whitfield | GWS | MID | Merv Gray Autos |
| 53 | Isaac Cumming | GWS | DEF | Warne Dawgs |
| 54 | Mark Blicavs | GEE | MID/RUC | Fighting Camels |
| 55 | Caleb Daniel | WBD | DEF | BEATBOX16 |
| 56 | Dayne Zorko | BRL | FWD | destROY |
| 57 | Will Brodie | FRE | MID | Girth Control |
| 58 | Toby Nankervis | RIC | RUC | A Point For Trying |
| 59 | Andrew McGrath | ESS | DEF/MID | Cubby House |
| 60 | Cameron Guthrie | GEE | MID | Fantastic MrFox |
| 61 | Ben Cunnington | NTH | MID/FWD | Fantastic MrFox |
| 62 | Elliot Yet | WCE | DEF | Cubby House |
| 63 | Jayden Short | RIC | MID | A Point For Trying |
| 64 | Bailey Dale | WBD | DEF | Girth Control |
| 65 | Dustin Martin | RIC | MID/FWD | destROY |
| 66 | Liam Duggan | WCE | DEF | BEATBOX16 |
| 67 | Tom Green | GWS | MID | Fighting Camels |
| 68 | Ollie Wines | PTA | MID | Warne Dawgs |
| 69 | Nic Martin | ESS | MID/FWD | Merv Gray Autos |
| 70 | Jade Gresham | STK | MID/FWD | Manzacs |
| 71 | Chad Warner | SYD | MID | Calvinator |
| 72 | Jy Simpkin | NTH | MID | Tackling Tit-ed |
| 73 | Jack Crisp | COL | MID | Tackling Tit-ed |
| 74 | Isaac Smith | GEE | MID/FWD | Calvinator |
| 75 | Caleb Serong | FRE | MID | Manzacs |
| 76 | Jai Newcombe | HAW | MID | Merv Gray Autos |
| 77 | Karl Amon | HAW | MID | Warne Dawgs |
| 78 | Keidean Coleman | BRL | DEF | Fighting Camels |
| 79 | Nick Vlastuin | RIC | DEF | BEATBOX16 |
| 80 | Brandon Ellis | GCS | DEF/MID | destROY |
| 81 | Tom Liberatore | WBD | MID | Girth Control |
| 82 | Jeremy Cameron | GEE | FWD | A Point For Trying |
| 83 | Jason Horne-Francis | PTA | MID/FWD | Cubby House |
| 84 | Bradley Hill | STK | DEF/FWD | Fantastic MrFox |
| 85 | Jordan Clark | FRE | DEF | Fantastic MrFox |
| 86 | Toby Greene | GWS | FWD | Cubby House |
| 87 | Luke Jackson | FRE | RUC/FWD | A Point For Trying |
| 88 | Adam Treloar | WBD | MID | Girth Control |
| 89 | Matthew Kennedy | CAR | MID | destROY |
| 90 | Alex Witherden | WCE | DEF | BEATBOX16 |
| 91 | Adam Cerra | CAR | MID | Fighting Camels |
| 92 | Patrick Lipinski | COL | MID/FWD | Warne Dawgs |
| 93 | Ben Ainsworth | GCS | FWD | Merv Gray Autos |
| 94 | Aaron Hall | NTH | DEF | Manzacs |
| 95 | Braydon Preuss | GWS | RUC | Calvinator |
| 96 | Nick Blakey | SYD | DEF | Tackling Tit-ed |
| 97 | Charlie Curnow | CAR | FWD | Tackling Tit-ed |
| 98 | Shannon Hurn | WCE | DEF | Calvinator |
| 99 | Sam Berry | ADE | MID | Manzacs |
| 100 | Daniel Rioli | RIC | DEF | Merv Gray Autos |
| 101 | Jordan Ridley | ESS | DEF | Warne Dawgs |
| 102 | Jack Ziebell | NTH | FWD | Fighting Camels |
| 103 | Adam Saad | CAR | DEF | BEATBOX16 |
| 104 | Ed Richards | WBD | DEF | destROY |
| 105 | Shai Bolton | RIC | MID/FWD | Girth Control |
| 106 | Jack Viney | MEL | MID | A Point For Trying |
| 107 | Jaeger O'Meara | FRE | MID | Cubby House |
| 108 | Brodie Smith | ADE | DEF | Fantastic MrFox |
| 109 | Blake Acres | CAR | MID | Fantastic MrFox |
| 110 | Will Day | HAW | DEF | Cubby House |
| 111 | Dyson Heppell | ESS | DEF/MID | A Point For Trying |
| 112 | Luke Ryan | FRE | DEF | Girth Control |
| 113 | James Rowbottom | SYD | MID | destROY |
| 114 | Taylor Adams | COL | MID | BEATBOX16 |
| 115 | Jaidyn Stephenson | NTH | FWD | Fighting Camels |
| 116 | Nat Fyfe | FRE | MID/FWD | Warne Dawgs |
| 117 | Zach Tuohy | GEE | DEF/MID | Merv Gray Autos |
| 118 | Tanner Bruhn | GEE | MID/FWD | Manzacs |
| 119 | Travis Boak | PTA | MID | Calvinator |
| 120 | Harry Himmelberg | GWS | DEF/FWD | Tackling Tit-ed |
| 121 | Brayden Maynard | COL | DEF | Tackling Tit-ed |
| 122 | Jordan De Goey | COL | MID | Calvinator |
| 123 | Toby McLean | WBD | MID/FWD | Manzacs |
| 124 | Zac Bailey | BRL | MID/FWD | Merv Gray Autos |
| 125 | Will Setterfield | ESS | MID | Warne Dawgs |
| 126 | Mason Redman | ESS | DEF | Fighting Camels |
| 127 | Sam Powell-Pepper | PTA | FWD | BEATBOX16 |
| 128 | Tom Powell | NTH | MID/FWD | destROY |
| 129 | James Harmes | MEL | MID/FWD | Girth Control |
| 130 | Daniel Rich | BRL | DEF | A Point For Trying |
| 131 | Jacob Hopper | RIC | MID | Cubby House |
| 132 | Tyson Stengle | GEE | FWD | Fantastic MrFox |
| 133 | Charlie Constable | GCS | DEF/MID | Fantastic MrFox |
| 134 | Oscar McInerney | BRL | RUC | Cubby House |
| 135 | Sebastian Ross | STK | MID | A Point For Trying |
| 136 | Tim Kelly | WCE | MID | Girth Control |
| 137 | Kyle Langford | ESS | MID/FWD | destROY |
| 138 | Cameron Zurhaar | NTH | FWD | BEATBOX16 |
| 139 | Sam Flanders | GCS | MID/FWD | Fighting Camels |
| 140 | Luke Shuey | WCE | MID | Warne Dawgs |
| 141 | Christian Salem | MEL | DEF | Merv Gray Autos |
| 142 | Ryan Burton | PTA | DEF | Manzacs |
| 143 | Archie Perkins | ESS | FWD | Calvinator |
| 144 | Jarryd Lyons | BRL | MID | Tackling Tit-ed |
| 145 | Andrew Gaff | WCE | MID | Tackling Tit-ed |
| 146 | Scott Lycett | PTA | RUC | Calvinator |
| 147 | Harry Perryman | GWS | MID | Manzacs |
| 148 | Nasiah Wanganeen-Milera | STK | MID | Merv Gray Autos |
| 149 | Luke McDonald | NTH | DEF | Warne Dawgs |
| 150 | Patrick Dangerfield | GEE | MID | Fighting Camels |
| 151 | Ben Long | GCS | DEF/FWD | BEATBOX16 |
| 152 | Nic Naitanui | WCE | RUC | destROY |
| 153 | Peter Ladhams | SYD | RUC | Girth Control |
| 154 | Liam Jones | WBD | DEF | A Point For Trying |
| 155 | Dion Prestia | RIC | MID | Cubby House |
| 156 | Josh Daicos | COL | MID | Fantastic MrFox |
| 157 | Matt Crouch | ADE | MID | Fantastic MrFox |
| 158 | Chad Wingard | HAW | FWD | Cubby House |
| 159 | Jack Graham | RIC | MID/FWD | A Point For Trying |
| 160 | Tom Atkins | GEE | DEF/MID | Girth Control |
| 161 | Jack Bowes | GEE | DEF | destROY |
| 162 | Mason Wood | STK | MID | BEATBOX16 |
| 163 | Connor Macdonald | HAW | FWD | Fighting Camels |
| 164 | Sam Draper | ESS | RUC | Warne Dawgs |
| 165 | Will Ashcroft | BRL | MID | Merv Gray Autos |
| 166 | Josh Goater | NTH | DEF/MID | Manzacs |
| 167 | Dylan Shiel | ESS | MID | Calvinator |
| 168 | Nic Newman | CAL | DEF | Tackling Tit-ed |
| 169 | Tom Hickey | SYD | RUC | Tackling Tit-ed |
| 170 | Tom Papley | SYD | FWD | Calvinator |
| 171 | Hunter Clark | STK | DEF | Manzacs |
| 172 | Lachie Hunter | MEL | MID | Merv Gray Autos |
| 173 | Scott Pendlebury | COL | MID | Warne Dawgs |
| 174 | Izak Rankine | ADE | FWD | Fighting Camels |
| 175 | Wayne Milera | ADE | FWD | BEATBOX16 |
| 176 | Jed Anderson | GCS | MID/FWD | destROY |
| 177 | Tom J. Lynch | RIC | FWD | Girth Control |
| 178 | Jarrod Berry | BRL | MID | A Point For Trying |
| 179 | Jack Scrimshaw | HAW | DEF | Cubby House |
| 180 | Zac Fisher | CAR | MID | Fantastic MrFox |
| 181 | Matt Rowell | GCS | MID | Fantastic MrFox |
| 182 | Josh Ward | HAW | MID | Cubby House |
| 183 | Liam Baker | RIC | DEF/FWD | A Point For Trying |
| 184 | Dom Sheed | WCE | MID | Girth Control |
| 185 | Jack Lukosius | GCS | FWD | destROY |
| 186 | Tarryn Thomas | NTH | MID/FWD | BEATBOX16 |
| 187 | Riley Bonner | PTA | DEF | Fighting Camels |
| 188 | Darcy Macpherson | GCS | DEF/FWD | Warne Dawgs |
| 189 | Mason Cox | COL | RUC/FWD | Merv Gray Autos |
| 190 | Tristan Xerri | NTH | RUC | Manzacs |
| 191 | Darcy Byrne-Jones | PTA | DEF | Calvinator |
| 192 | Brad Close | GEE | FWD | Tackling Tit-ed |
| 193 | Harry Morrison | HAW | MID | Tackling Tit-ed |
| 194 | Rhys Mathieson | BRL | MID/FWD | Calvinator |
| 195 | Brandon Parfitt | GEE | MID | Manzacs |
| 196 | Kysaiah Pickett | BEL | FWD | Merv Gray Autos |
| 197 | Todd Goldstein | NTH | RUC | Warne Dawgs |
| 198 | Liam Henry | FRE | MID/FWD | Fighting Camels |
| 199 | Cam Mackenzie | HAW | MID | BEATBOX16 |
| 200 | David Swallow | GCS | MID | destROY |
| 201 | Jack Gunston | BRL | FWD | Girth Control |
| 202 | Nick Hind | ESS | DEF | A Point For Trying |
| 203 | Lachie Ash | GWS | MID | Cubby House |
| 204 | Oliver Florent | SYD | DEF | Fantastic MrFox |