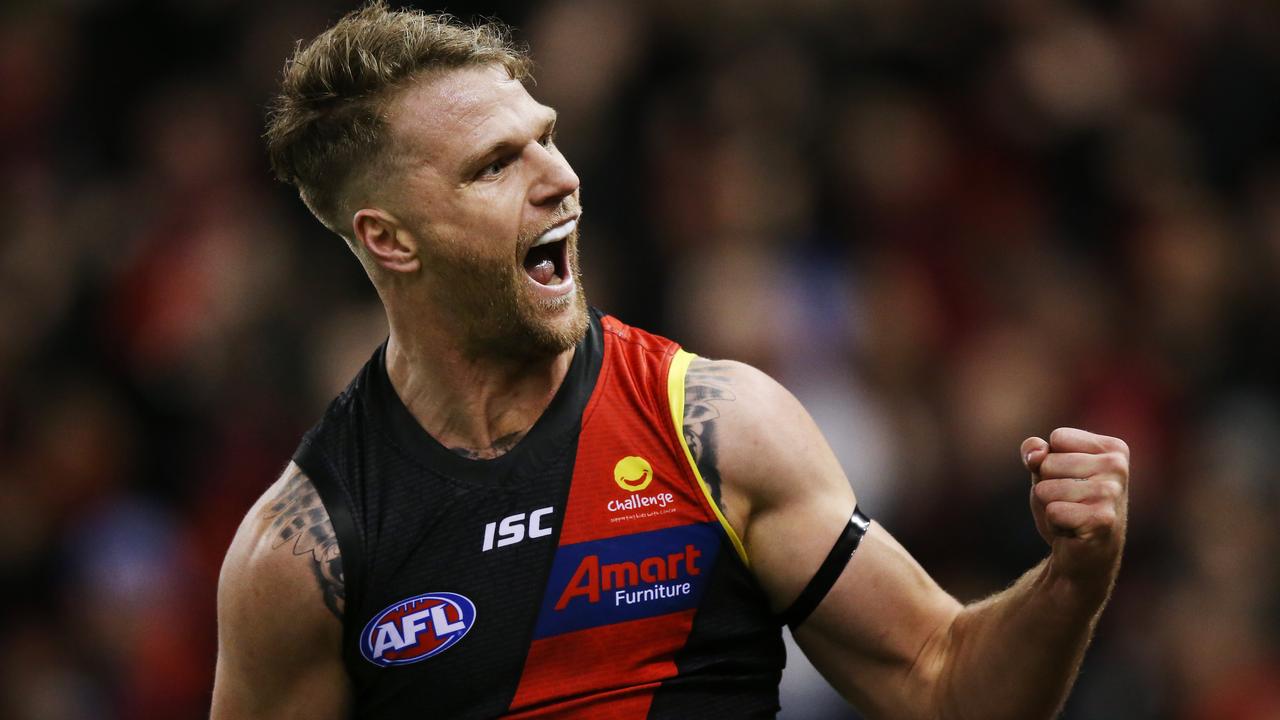 The fixture chaos makes it difficult to plan but plan we must. At this time of year, we are attempting to trade out maxed out players to premiums or players of value. No one needs help buying a premium midfielder priced over 800 K. So, today's aim is to give some trading options to the not so uber-premiums. I'll look at players priced below 600 K (apart from the ruck situation where it is just finding a way of getting whoever you have at R2 to Grundy in the next few weeks).
DEFENDERS
Jordan Ridley: 566 K with a BE of 74 and 11% Ownership. Ridley's last two scores are 87 and 90 as it looks like Essendon are now using Hind as a more attacking weapon rather than as a defensive transition player. I still think Ridley's score is maxed to 90-95 with Heppell and Redman in the side, but it looks like he won't end up as a lockdown player as long as Laverde and Stewart are in the side.  After the Geelong game, Essendon play Adelaide, North and GWS and 3 of them at Marvel where he averages 92. Importantly, apart from Geelong none of those sides have three massive talls, unlike the Eagles which is where Ridley scored 54. I'd take another look after Geelong and then look to sideways a maxed-out rookie to Ridley in R17 (like Bianco).
Brad Sheppard: 493 K with a BE of 79 and 1% Ownership. Sheppard is a gun player whose score is affected by a KO'd 6 in R12 and a poor 45 in R10.  However, either side of those scores are 105, 80, 73, 105, 90. Sheppard is a legitimate 85 average player and would be a good steppingstone to the more uber premiums in the weeks to come. For example, via DPP, you could just straight swap Poulter to Sheppard. West Coast won't be as terrible against Sydney, North, Adelaide, and St Kilda in the coming weeks.
Nick Haynes:  556 K with a BE of 43 and 7 % Ownership. I bought Haynes 2 weeks back, but he is still value. He did loiter around the wing on occasions, but he also just gobbles us plus 6's when in the last line of defence. It is now or never for Haynes, but because of his burgeoning ownership, you might want to find value in other players.  Last three scores of 107, 95, and 95 and with upcoming fixtures against Melbourne, Suns, Sydney, and Essendon means Haynes will continue to get many opportunities. For example, Melbourne conceded 107 and 90 to Heppell and Ridley, whilst the Suns didn't concede massive scores to North defenders because they conceded them to their midfielders. However, the week before they conceded 103 to Bergman and 98 to DBJ.
Other defenders: Just a few players of interest for the risk desirous: Webster (441K), Hill (465K), B. Williams (475K), Day (516K), Newman (566K) and Bowes (544K).
MIDFIELD
Bailey Smith: 575K with a BE of 72 and 7% Ownership. The Smith rollercoaster was in full force against the Eagles where he scored 127, but just to delve into the role change a bit. His heat map is still on the wing, although he had 3 centre clearances.  However, it was on just the one wing, unlike against Geelong where he was on both wings and had zero possessions in the attacking 50 and only 3 just over the half-way. Against Fremantle it was the same as the Geelong game with Smith loitering on the defensive side of both wings.  Can you trust Beveridge to keep Smith on the wing and centre line- maybe not, but if so, his score will rise.
Elliott Yeo: 594K with a BE of 109 and 0.78% Ownership. I mentioned Yeo as a watch last week and he delivered 60, which screams don't touch.  Yeo attempted, at times, a run with Bontempelli, which was completely unsuccessful.  The Eagles have a good run after the Sydney game this week: North, Adelaide, St Kilda, Collingwood. If not Yeo, watch the Eagles as getting an under-priced Eagle after this week is a valid play. I like one of Yeo, Gaff, Kelly, or Shuey for the run home.
Blake Acres: 531 K with a BE of 57 and 0.31% Ownership. I mentioned Acres as a value pick last week, and he scored 81 which I think is what he might average on the run home. I have a soft spot for Acres after last years as a forward. Last two scores of 107 and 81 although they are against Collingwood and the Suns.  He is playing both sides of the wing and seems to alternate with Aish (comparing Aish and Acres' heat maps), which might hold his scoring back a bit. However, he has games against Carlton and Hawthorn which should yield scores around 80 plus.
Other midfielders: for the insane: Kelly (596 K), Menegola (588K), Dumont (590 K), Brayshaw (505 K).
FORWARDS
Jake Stringer: 526 K with a BE of 27 and 1.82% Ownership. I have never once thought of buying Stringer and this will not be the first time, but he is worth an investigation.  His last two weeks heat maps are interesting with him against Melbourne acquiring most of his possessions in the centre arc to go with his 5 clearances (3 CC).  The week before against Hawthorn he played more of the Dusty Martin role where he spilled from stoppages to go forward, but still apart from the centre square most of his possessions were in the forward 50 arc. So, there was a role change even in the last 2 weeks.  Going back to the Richmond game where he scored 56, his map is the same as the Hawthorn game, it is just he didn't really touch the pill.  The game against Melbourne, where there is now no McGrath, is when Stringer played more on ball.
The risk is two-fold: injury and Shiel. Namely, can his body handle more midfield time, and will it change when Dylan Shiel returns.  He is almost a free hit this week with his BE, but if he scores 60, you may not be able to get rid of him when you want.
Jordan De Goey: 515 K with a BE of 34 and 7% Ownership. Read above for the same risks, but with the added risk of a now fit Pendlebury, the return on Adams, the consistency of Crisp as a midfielder and Harvey as the coach. Where will De Goey play? The game against Melbourne, his heat map is that of a generalist midfielder, whilst the game before against the crows it was the same- it was just his scoring was lower, and this is the same for Geelong. So, that is three weeks where he has played predominately as a roaming midfielder.  Team selection will be interesting, namely who does De Goey come in for? Also, with Elliott back, does that free De Goey, especially at stoppages to play as the extra midfielder who will roam forward. I think De Goey is a better option than Stringer, mainly because of Elliott playing the old De Goey role.
Matthew Kennedy: 507 K with a BE of 52 and 9.86% Ownership. I am staggered by his ownership stats. He's injury interrupted start to the year had scores of 22 and 44 (Medi-sub in R4 for 22).  His last two weeks are 110 and 93.  The problem is, is Kennedy's JS safe or will he be the medi-sub next week. With Murphy's injury, he at least has some more JS.  Just be prepared for a low score every now and then like his 44 against the Power where he had 88 min on ground and scored 44 as a midfielder.  If you like Kennedy, this is the week, but I'd rather the risk with the string or kmart dusty.
Other forwards: for the amnesiacs among us: Walker (542K), Stephenson (580K) Duryea (555K), Heeney (546 K), Franklin (500K) Rozee (526K).
Upshot: For me I will look at a simple one up and one down option with fattened cows. Last week was okay with 2242 and ranked 1399. Good Luck all!