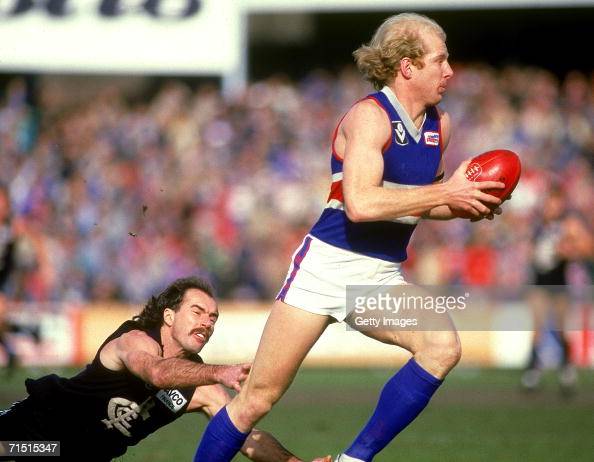 For many of us, AFL football wouldn't be the same without fantasy footy. Yet believe it or not, there was a time when fans didn't spend hours obsessing over player stats, role changes and the like, in pursuit of fantasy glory in whatever their preferred format might be.
However, just because fantasy footy didn't exist, doesn't mean we can't take a look back in time to see how some of the players from the past, would of performed in fantasy football if it did exist when they took to the field.
In each week of the 2021 season, we'll delve into historical statistics to find a player of the past who would've excelled from a fantasy perspective in the corresponding round of football, and that player will be named our Fantasy Flashback 'Player of the Round'.
In Round 15 of the 1985 season, Melbourne made their way to the Western Oval to take on Footscray in what was the second time the two sides would face each other that year. In their previous encounter in Round 4, the Demons had run out 19 point winners, however, the Dogs had improved since that game winning 10 of their 14 games, while Melbourne had won just the five games.
Most punters expected the Bulldogs to win quite easily, but not many would have predicted their massive winning margin of 20 goals and a final score line of 169 to 49.
While the Dogs had plenty of strong performances on the day, none were better than full forward Simon Beasleys'. Beasley had 17 kicks, took 13 marks and kicked a pretty amazing 12 goals straight, which would also have netted him a very impressive 164 fantasy points if fantasy footy had existed in his playing days and earns him the nod for our Fantasy Flashback's Player of the Round.
Beasley started his career in Western Australia with Swan Districts, playing 80 games and booting 292 goals before being recruited by Footscray at the end of 1981. In his debut season in the then VFL, Beasley showed a lot of promise, kicking 82 goals from 21 appearances and a reasonably respective fantasy average for a young full forward of 67.1.
However, from a fantasy perspective, Beasley's first season would also have been his best. Although he would go on to have a highly successful career in the real world, he would have been pretty irrelevant in fantasy footy with averages of 56.5 and 57.9 in his second and third seasons. In the following three years Beasley would have averaged 60.5, 62.6 and 61.4, before finishing his career with fantasy averages of just 56.3 and 53.3 in his final two seasons.
On his day though, Beasley could be a fantasy beast. Just three weeks after he would have scored 164 against the Demons, he would have produced the exact same score against the Tigers. However, in between those two games Beasley would have scored just 56 against the Bombers in R16 and a big fat zero versus the Swans the following week. Which was, from a fantasy perspective, the story of his career and why his season averages would have been so poor.
Although, Simon Beasley wouldn't have had much relevance as a fantasy option had fantasy footy been around in his playing days, his effort against the Demons in Round 15 of the 1985 season makes him a worthy recipient of DT Talk's Fantasy Flashbacks Player of the Round.