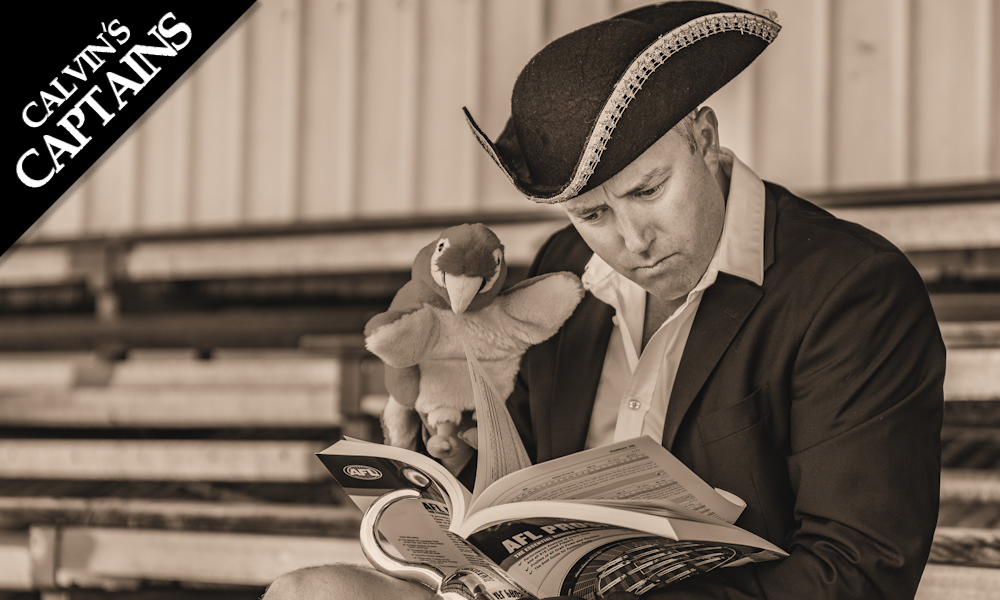 Welcome back you bloody awesome legends to another edition of Calvin's Captains.
As I said last week – my confidence ratings for high scores was down. This is because all our great picks had a small flag to go with each. This week is different… I'm confident that what we have here in front us is some big, huge, massive scores. Enjoy and good luck.
CALVIN'S TOP-10
#1– Mitch Duncan v Suns
VC OPTION: Saturday 2:10pm @ GMHBA
We can't turn our backs on this guy after anther stunning score of 134. Duncan now averages 133 in his last four and this week he meets the #4 easiest team to score against in the Gold Coast Suns. In his most recent games against them he has posted 124, 118 and 136, never dropping under 102 in his last six.
Last week against the Suns Lyons (142), Zorko (127) and McCluggage (121) had massive scores against the struggling Suns which sets up Mitch Duncan to have another 130+ score once again.
#2 – Jack Macrae v St Kilda
Saturday night @ Marvel Stadium
Macrae has still scored 10+ in each game this year and under the roof he meets the Saints who rank as the third easiest to score against this year. He only managed 101 and 81 on the Saints last year but that was when old Mac was sooking about sitting on awing. This will be different.
Check out the top scores other teams have been having against the Saints and you'll see why Macrae once again ranks at the top.
GEEL – Guthrie 138, Duncan 134
SUNS – Swallow 130, Touk 119
HAW – Mitchell 128, Worpel 124, Shiels 119
PTA – Amon 138, Wines 129 plus another 4×115+
#3 – Ollie Wines v Collingwood
Plays: Sunday @ the MCG
Plays Collingwood – enough said.
Wines has been outstanding in recent weeks though with scores of 130, 70, 126 and 129. This match-up is mouth watering for this guys who has hit form and meets a team who bleeds so many points it's not funny.
#4 – Cameron Guthrie v Suns
VC OPTION: Saturday 2:10pm @ GMHBA
Great match-up for Guthrie who plays at home on Saturday afternoon. Now, he only managed 76 on the Suns last year but this is not a concern based on his form that has seen hm average 132 in his last three as he now sits as the #1 man in the games ranked on form.
#5 – Clayton Oliver v Adelaide
Plays: Saturday 4:35 @ Adelaide Oval
Oliver had a career-high 164 (at Adelaide Oval) on the Crows last year who are starting to crumble like they did in 2020. Over his career, they rate as one of his favourites to score against. Last week, the Eagles posted 5×100+ scores against the Crows and although Oliver's form hasn't been overly great (110, 102 last two) – expect a nice big boost in that this week. I'm expecting a 115 to 145.
#6 – Brodie Grundy v Port
Plays: Sunday @ the MCG
Surely Grundy will be too good for Ladhams?
After having 84 (season-low) last week against Hickey, Grundy returns to the MCG. Prior to last week when he met the hardest ruckman to score against, Grundy was coming off 112, 119, 124 and 120.
#7 – Sam Walsh v Hawthorn
VC OPTION: Plays Saturday 1:45 @ MCG
Welcome Walshy! Walsh has hit 120+ in three of his last four games and meets the Hawks who give up the second most points to midfielders this year. Another 120 is certainly on the cards.
#8 – Jarryd Lyons v Richmond  
VC OPTION: Friday night @ the GABBA
The Giants had 6 tons on the Tigers last week and Lyons has been running hot himself coming off 142 and 121. He's unrated and even scored 105 and 121 against Richmond last year.
#9 – Tim Taranto v West Coast 
Plays: Sunday @ GIANTS
Coming off 107, 125 and 140, Taranto returns home to take on the Eagles. He only managed 73 against them last year but based on form and the fact he's back home, Taranto has to make the list.
#10 – Travis Boak v Collingwood
Plays: Sunday @ the MCG
Boak has a solid record against the Pies and that was back when they were good. Coming off a nice 113, the fact he is playing the Pies means you can add another 20pts to his season average of 98.
WHAT ABOUT?
Max Gawn – 108 is Gawn's best in his last four. Had 88 on O'Brien last year. Will be better than that.
Zach Merrett – 74 on a tag last week opens him up for another one from Turner.
Tom Mitchell – Could be tagged by Curnow. Loves playing Blues though with 134, 187 and 143 in most recent.
Callum Mills – 111 and 133 his last scores, shoudl be good against the Dockers.
Tom Stewart – Birchall, Starcevich, Andrews combined for 34 marks v Suns last week. Interesting.
Andrew Gaff – 105 on the Giants last year, but outside of WA, Gaff is always a risk.
Touk Miller – returns after suspension, but hasn't hit 100 v Geelong in his career 6 games.
Josh Kelly – Averaging 114 in his last three, 121 on the Eagles last year – like it!
Adam Treloar – 85 last week with low CBAs, there's better.
Jack Steele – Risky against the Dogs who are #1 hardest for mids.
Aaron Hall – Still like him this week with score of 103, 133 and 144, but we have safer options.
Christian Petracca – 0x100+ in his last three. No thanks but a good match-up.