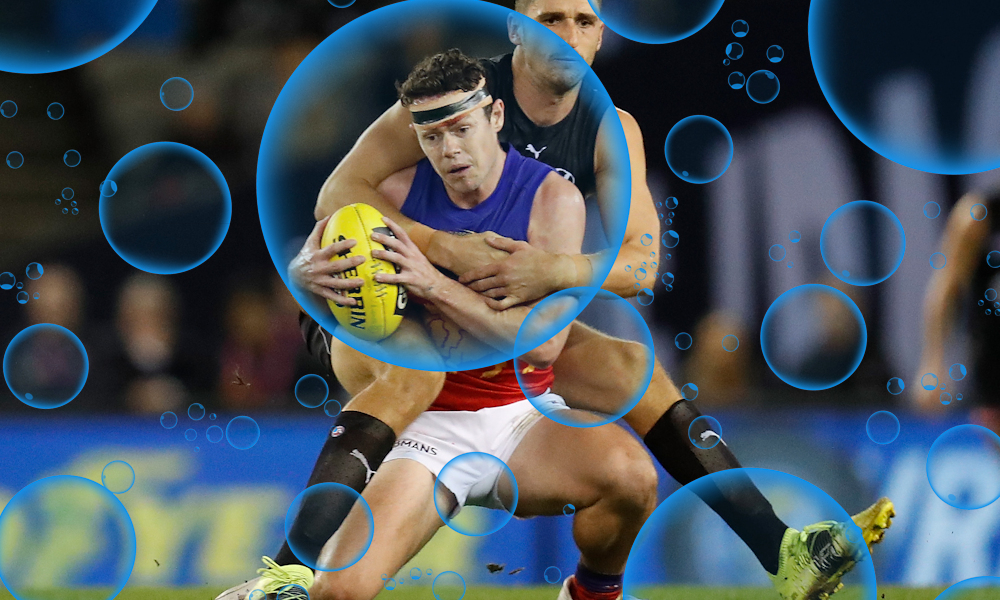 What was that? You didn't score 2200 this week? Don't speak to me. Those kind of scores aren't for everyone I get it. It's time for a positive spin on a weekend of football, how strange. It's time for the weekend wash-up.
Legends
Ash (146) – Lachie Ash is my weekly emergency loophole in draft, but it's becoming blatantly obvious I'm not giving him anywhere near enough respect. 35 touches and 15 marks?!? In a huge loss? That's Jack Ziebell areas. Fair to say my toss up between him and Cumming is looking shaky, even though Isaac raised the bat. Ash is a gun, with a ceiling.
Macrae (159) – The dominos have landed perfectly for Jack Macrae in 2021. The Bulldogs are dominant. They play a high possession game. There's heaps of junk time. And for every second he steps foot on that oval, Macrae is in the guts. Forget about resting forward, he leads the Bulldogs CBA's every week. There's no reason he can't average 125-130 this season, all aboard!
Treloar (115) – My number one trade target this week is Adam Treloar. I was always hesitant to bring him in given the number of Bulldogs midfielders potentially capping his ceiling. With Dunkley out, he's a clear member of the midfield rotation and is almost a lock to average 110+. He's averaging 113 since moving into the midfield, and he could get better. Value.
Duncan (146) – After a POD? Mitch Duncan is owned by just 1% of coaches. Talk about a leg up on the competition, he is primed for a massive season. A rare exception to the outside mid rule, Duncan will average 110+ with ease. And there's no reason he can't go bigger.
Miller (142) – Scores were through the roof this week, but this is just another standard game for the Gold Coast Suns and Touk Miller. I'll never forget the season Touk burnt me to a crisp when he was a forward, but this is his third 130+ score of the season and his second 140 in the past 3 games. He does it all and needs to get his respect. Gun.
Anderson (120) – This one is hurting. Noah Anderson attended 19 centre bounces and posted his third monster score in the last 5 weeks. He's still cheap considering his ceiling, the only concern is those weeks where Gold Coast rock up as witches hats. Hopefully they're past that stage. Jet.
Mills (142) – If it looks like a duck and quacks like a duck… It's probably a bloody duck. Why did we not all start with Millsy? Thankfully I drafted him everywhere, but the extra coin I couldn't find to get Daniel to Mills is looking real expensive right about now. Take note that he moved to half back in the second half after George Hewett went down. It certainly didn't slow him down. Must have.
Curnow (135) – I'm simply never going to give this guy any respect, but he's always one of the great draft sleepers. He may be a tagging prick, but at least he offers something to his team on top of ruining our weekends.
Docherty (126) – Could this be a kick-start for Doch to rediscover his pig days pre ACL? He looks to be getting better by the week and the 7 tackles were awesome. Safe as houses.
Walsh (123) – What a brilliant pick. Sam Walsh isn't looking back from here, prepare for the uber premium midfielder we all knew he'd be. He has arrived.
Salem (141) – These half backs. It really goes to show how badly someone is going if they can't rack up in the defensive 50 this season. Salem has three 110+ scores in his last 4 games and racked up 39 touches on Saturday night. He'll be pushing the top 6 defenders and looks to be a nice differential.
Petracca (137) – I am that jealous of anyone who owns Christian Petracca. He's too big to tag, he can go forward and kick snags. And now he's an absolute ball magnet. He has a 5 round average of 121 and does not look like slowing down. Beast.
Oliver (124) – These Dees. I did NOT see this coming, but we knew Oliver was a star. A 3 quarter De Boer tag aside, Oliver has scored 120 in his other 4 fixtures. Consistency, tick. Ceiling, tick. By the end of the season the winner of AFL Fantasy will own all big 3 Demons.
Bolton (122) – Following his 38 point effort against Sydney, Shai Bolton carries a 3 round average of 106 and remains priced under $600k. It would be hugely risky, but his midfield role is awesome and Dusty is out next week. One for those that like to live on the edge… And not get much sleep.
Serong (143) – About god damn time. To say this was owed is an understatement, and it only takes his average to 85 on the season. However if you're looking for a cheapish upgrade target and can't reach an uber premium… There's clearly a lot of upside here.
Brayshaw (121) – Ed Curnow and James Worpel tags aside, Andy Brayshaw has cleared the ton in every game. He's a gun and opposition teams are aware of how damaging he is, but there aren't too many hard tags going around. A bargain at under $700k.
Ziebell (170) – I don't know. I just don't know. There's two sides to this debate. On one hand, if he keeps this role to end all fantasy roles he could average 125 this season. There's no doubt about it, Jack Ziebell was a winning pick and will continue to put up huge numbers off half back. The problem is, that's all it is. Numbers. And the role isn't half back. It's back pocket. His disposal heat map has become a meme. The Kangaroos are quickly becoming a laughing stock, and their captain and leader is busy walking the ball half a metre out the square to chip it into the back pocket.
Now don't get it twisted, I have to respect it. I'd do the same! As fantasy coaches it's exactly what we want, and if I owned him I'd be frothing at the mouth. BUT. I'm not sure the Kangaroos can keep it up. It's stagnant. The ball movement is horrendous, it's hard to watch and you can't have your skipper and leader offering basically nothing to the game. 30 of his disposals came from defensive 50! And now he's priced at $800k. So it's keep the role or bust. I can't tell you which side to choose, and it could decide people's seasons. For me, I can't trust it and I'm going to pass. I wouldn't blame you for a second for jumping on board.
Powell (102) – My guy. While Chad Warner and Tom Powell are getting midfield clock, they can comfortably sit in your teams until the bye rounds. Future stars.
Koschitzke (101) – An important reminder that rookies stranded on your bench aren't totally useless. Don't forget your emergency loopholes! If you can of course. We desperately needed this cash generation, Kozzy you king.
Keays (156) – Wow. Ben Keays had been a picture of consistency, but at no point has he shown this level of ceiling. Combine those two traits and you have yourself a fantasy gun. Ball winning, tackling machine.
Parish (150) – Are you not entertained?!?! Dane Swan and Darcy Parish, a comparison not even made in my wildest dreams.
Heppell (142) – The writing was on the wall. Essendon were playing Collingwood! Heppell is thriving off half back and looks to be a genius pickup right now. At worst he should average 90, at best we know he can average triple figures. Huge value.
Merrett (125) – Better… But still not the ceiling we're after. Come on Zach, 140's please! Take a note from Darcy's book.
Grundy (124) – If it's possible to be disappointed with a 124, this is it. 84 at HT rucking against Peter Wright?! The two best rucks are clear as day.
Sidebottom (130) – All aboard! Sidey's back in the guts out of necessity. He averaged 105 for half a decade. He's listed as a forward. Need I say anymore? Epic POD.
Ross (141) – Nope. Whole lotta nope.
Amon (136) – My fingers are actually getting sore typing up the winners this week. Amon continues to dominate, what a draft slider. Gun.
Wines (129) – I see you Ollie. Could this be the year? He has a 110+ average season in him, and this could be it. $729k is arguably a bargain.
Houston (127) – Let's round of the list with another fallen premium. I am all over Dan Houston as an upgrade target this year. I'm looking at guys like Cumming, Markov and Sholl before comparing them to Heppell, Houston and Ridley… It seems a small price to pay for a massive upgrade. Houston is in the guts and setting aside his injury affected 32, he averages 103. He's now priced at roughly 90. The upside is through the roof and he's in my plans…
Losers
Dunkley (100) – Don't really know how I can help here. It's hard to take the game seriously when sh*t like this happens. It's a small consolation that his shoulder popped when he was on 100 and not 10, but this isn't fair. In for surgery and has to go…
Smith (59) – Bailey Smith has been down bad lately, averaging 78 over his last 5. He attended 3 centre bounces after Dunkley went off so keep him on your watchlist next week, the same goes for Lachie Hunter (74) who could move back onto a wing.
Daniel (55) – On one hand I think I simply have to hold Daniel and assume he comes good. He won their best and fairest playing off half back and is an elite ball user. On the other hand, the Bulldogs don't seem to care and I've seen the same capitulation from another bloke who wears a helmet. One too many hits to the head perhaps. This is crap, and I don't have an explanation for it. Watch his role closely next week, if he's not in defence and taking kick ins, he goes for me. Basket case.
Green (40) – Tom Green needs to go back to Auskick and learn how to kick a ball. Embarrassing.
Ward (56) – Lord give me strength. 23 centre bounces. How on God's green and blue Earth did Callan Ward manage to get just 22 points in the first 3 quarters. I regret trading him in MASSIVELY, but we're here now and I still think he can average 90+. Surely.
Clark (22) – Rubbing salt into some already gaping wounds with this score. Does he come back into the team after their massive 100 point demolition of my listless Eagles? I doubt it. Has to go.
Kelly (52) – Tim Kelly was the Eagles seventh best fantasy player. With 52. Name an Eagle and they were sh*thouse. Duggan (40), Sheed (47), cowards the lot of them.
Gulden (54) – It's been fun Errol, but winners are ruthless. This isn't the time of year for fourth chances. Gulden has a 3 round average of 62 and a BE of 77. That's a clear trade, he has done his job. Upgrade time.
Neale (83) – This is the kind of guts, grit and determination that my players could only ever hope to display. Neale rolled his ankle badly in the first quarter so this could have been a lot worse… Who am I kidding? If you traded Lachie Neale in this week you have my permission to delete your team. Incase you live under a rock, he's in for surgery and out for months. Cool, cool, cool, cool, cool.
Stocker (40) – Another gun Carlton draft pick. When you couldn't break into this team alarm bells had to be ringing.
Cripps (69) – Yuck. Never a fantasy option. End of.
Short (75) – Zzzzzzzz. Jayden Short has scored just 71 and 75 in his last two appearances, this lacklustre scoring coincides with Bachar Houli's return. It is just a co-incidence? Maybe. However he has lost his monopoly on kick-outs and these scores came both in an easy win and an ugly loss. Hopefully it's just a blip, but the top 6 defenders seem out of reach.
Martin (25) – Yes the concussion hurts, but don't let that take away from the fact that Dusty was on 25 points midway through the third term. He just turns it on when he feels like it, and it's pretty bloody obvious he doesn't give a flying f**k right now. I've been there with Dusty in the past, and it's why I could never get him again. He's one of the greatest players ever, you think he cares about how your fantasy team is going? Tell that to his Norm Smith's.
Treacy (22) – A green dot. Is. Not. Always. Worth. It.
Scrimshaw (49) – He had been on my watchlist….. Aaaaaand he's gone.
Morrison (45) – No, no absolutely not. Pig park producing some mud scores.
Phillips (83) – I'm sick of this bloke. I mean really. A game couldn't have been better crafted for Tom Phillips and he started well, scoring 35 in the first term. If you can't produce a good score here I don't think you ever will, and my patience has run its course. Unfortunately there's bigger fish to fry, so just settle in for mediocrity. Awful pick.
Sholl (61) – Just give us something in between please Lachy. It's all or nothing for Sholl this season, a few consistent 80's wouldn't go far astray. Ideally he goes this week, but we don't live in an ideal world.
Walker (76) – There's absolutely nothing wrong with this score. Until you consider the fact that Tex is priced at 90. For those who are going to need a way to get from Flynn to Gawn, this would be my ideal escape route.
Macrae (26) – You can add Rantall (29). Who am I to blame? Finlay? Buckley? Myself? There should be no surprise that a couple of gun young bulls that play inside mid struggled as small forwards. How did we not see it coming? Playing the kids isn't in the Collingwood dictionary. We paid up for Macrae, meanwhile Atu was cheaper and a SIGNIFICANTLY better option. Jy Farrar also looks awesome. We're struggling for cash generation, so Macrae has to come good. He simply has to. Otherwise we are in as much trouble as Prince Andrew at a sorority. Not good.
Crouch (49) – Did I really think it was a good idea to go chasing a St Kilda midfielder? This is unfathomably bad. The Saints list managers must be trying to one up each other. Who's next on their list of garbage pickups? I've heard that Paddy Dow kid has something special. Consider it Ratts.
This Game Sh*ts Me
I maintain that the key to a successful fantasy season is getting kissed on the proverbial during Round 5-11 and then escaping carnage during the byes. Well we're well into upgrade season now, and it's totally reasonable that some people haven't have a luxury trade to make an upgrade yet. Dangerfield, Neale and Dunkley have all gone down and if you've copped every bullet, I don't really know how to say this. You're well behind the 8 ball already. And it's a dog scrap to get back.
If you're stuck with 6-7 rookies on your ground and little cash flow on the bench, you're in for a long season. And it's not even your fault. Farcical really. My condolences to those coaches who picked good players. This game sh*ts us all.
The Other Bits and Pieces
2220. Now we're cooking with gas! Wow it feels good to pass 1900 again. Honestly I see this round as more of a correction to the mean than a sign of things to come, but I'm not upset with how my team looks. I've had to put up with over a month of tripe from Caleb Serong, and Darcy Parish hadn't been much better. Massive scores from those two and obviously captain marvel Jackson were the catalyst for success last round.
That's not to say it was all smooth sailing. I'm furious I got Callan Ward over Heppell but here we are. If's but's and maybe's will get you nowhere. Oleg Markov is my D6 and Callan ward is my M7 so that's a solid foundation for success. It's pure downgrades and upgrades for me until the byes at least, as long as I keep dodging these bullets of course.
Gulden -> Frederick (Kozzy DPP)
Jordon -> Treloar
$100k in the bank.
I'm down to 5 rookies on my ground. Flynn, Robertson, Warner, Powell and Bergman. That seems safe enough. Of course I'll be hanging onto my butt every time the GWS team gets announced, but I have backup plans in place. I'm getting the luck required to secure a hat, now I just need the good trades to follow. Ranked at 8,000, we're still a chance.
Good luck next week everyone, may the ridiculous scoring continue.