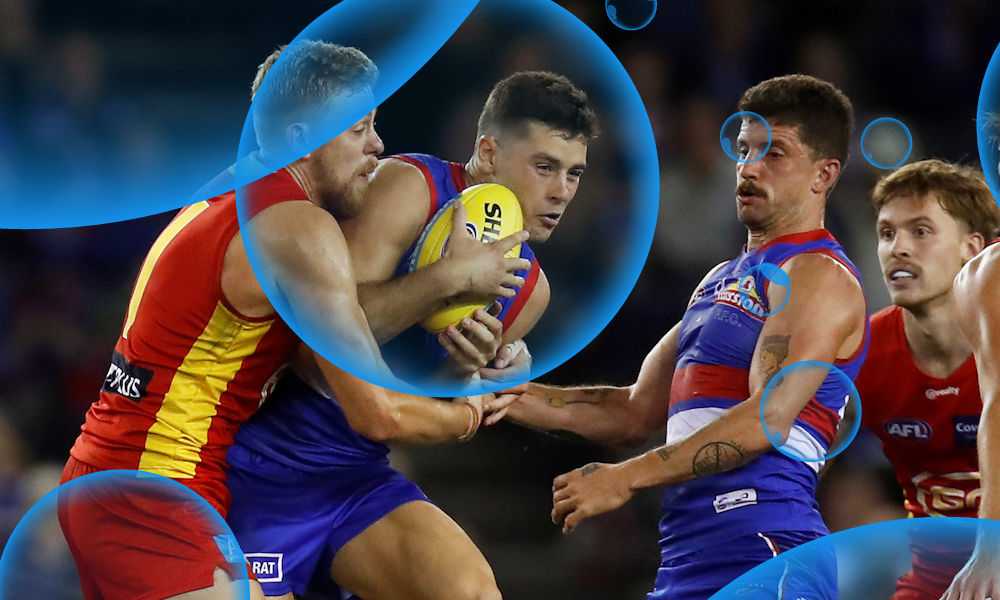 Draining. That is the best way I can describe the fantasy season that is 2021. I am yet to crack 2000, and I'm certainly not the only one in that camp. If last week was the outburst then this week is the simple acceptance that this game sucks. It's time for the weekend wash-up…
Legends
Steele (115) – It doesn't matter how bad the Saints play, Steele will always turn up. He's a tackling machine and a sure fire top 8 mid. Gun.
Duggan (148) – Optus Stadium can be a feeding frenzy when it wants to be. Liam Duggan had a career game and suddenly looks well worth his starting valuation. The only catch is he looks better off half back than through the middle!
Redden (142) – Massive. He's the biggest beneficiary of the Eagles depleted midfield, this could be a good sell high moment on Redden.
Gaff (131) – When it's time to fill your boots, Gaff rarely misses out. Fair weather footballer but that's all you need in fantasy!
Witherden (121) – Wow. He looked awesome, as just about every fantasy coach in Australia knew he would. His field kicking is elite but I'm still unsure where he fits in. If Hurn comes back in, himself and Duggan will be the ball users off half back while Tom Cole, Brad Sheppard and Josh Rotham play lockdown roles. It really is a like for like swap, but there's probably a good argument to say Witherden may offer more. I wish I could pull the trigger, but I simply can't.
Crisp (124) – Midfield role, tick. Top 6 defender, tick.
Grundy (120) – So much for his struggles against Nic Nat, Grundy was running around like a man possessed on Friday night. A much needed bounce back after Mummy brought the bath bombs last week.
Dunkley (151) – Yep, pretty obvious we over thought this one. The Bulldogs could have 10 players running through the midfield and Dunkley would still dominate. In my opinion, the best fantasy player going around. Just needs the opportunity.
Bontempelli (133) – Owed, and delivered.
Ellis (120) – Brandon Ellis, a picture of consistency. Yeah, I can't see it either yet here we are. Head scratcher.
Walsh (118) – The writing was on the wall. We all saw it. 23% of us acted on it. Well done to those with half a brain, myself obviously not included.
Neale (145) – Optimus primed. You won't get a better week to trade in Lachie Neale, so fully expect a Curnow tag and a 70 to boot. That's how this game works.
Lyons (130) – If someone had started Jarryd Lyons in their fantasy team I would have genuinely asked if they were ok. They're doing more than ok now. Geniuses.
McCluggage (128) –
McGrath (133) – Andy McGrath and Darcy Parish need a one on one tackle lesson. That's how it's done.
Sholl (103) – I see more guts in this bloke than I would at a fish market. Amongst the total rabble that is my team Sholl is shining when all others melt before him. Beast mode.
Mundy (122) – Mundy four-hundy?
Gawn (131) – I nearly put myself in the losers this week for picking Grundy over Gawn two weeks ago. In fact scratch that, I should be there for ever thinking set and forget rucks isn't the way to go. Now I've just got to find a way to get Max in, how hard can it be?
Oliver (121) – Zzzzzz. Too good.
Ziebell (140) – I'm going to get this over quickly before I throw up in my mouth. Jack Ziebell is an awesome option in fantasy this season. Ugh. 13 play on kick-outs?! It's the softest 38 disposals you'll ever see but that never stopped me from picking up Brent Stanton back in the day. I've gone soft. Be shameless.
Losers
Webster (24) – Apologies to Jimmy, but we'll start the losers off with a potential fantasy winner. Crisis creates opportunity, and Webster's loss could be Highmore's gain. Poor bloke can't stay on the park.
Hill (36) – Fremantle must be popping the champagne. The Saints have been hoodwinked, bamboozled, led astray, run amok and flat out deceived.
Ross (53) – Of all the spuds that came to pre-season training for my squad, Seb Ross tops the lot. He's finished.
Billings (57) – …. *Thud*
De Goey (3) – I really can't be bothered getting angry here. That bubble burst last week. Don't give me the spiel about his injury affected score. He would have been on 6 at quarter time, so Jordy was a chance to get to 30 if he saw a slight uptick in the second half. 6 centre bounces in a quarter didn't help, he still couldn't find the ball if it was placed in front of his eyes. Tim Kelly did us all a favour and left one on him courtesy of fantasy managers around the country. At least he got a bet on Finlay Macrae for the second half. Never again. Ever.
Howe (14) –
Campbell (44) – Why did I chase Braeden Campbell? Do not let the door hit you on the way out mate because I'll be slamming it shut.
Cumming (65) – It's actually pretty hard to have 22 disposals and manage to only score 65, especially when your entire role is collecting cheap footy off half back. He's getting singled out in match review this week and I'm not afraid to make an example of a player.
Houston (32) –
Ridley (15) – Ok I have to write about this one. You're taking the piss now. Sorry Selby but rookies getting dropped aren't forced trades. This is a forced trade. And it's totally unfair. Please for the love of god hold him if you're an owner, you'll cripple your season if you trade him. Just try and have a laugh about it, because if you don't you'll most certainly cry.
As for the non-owners……..
Serong (68) – Caleb Serong sucked again? Well blow me over with a feather. Having seen barely any footy in 2020, how was this guy ever any good? Put some cornrows on Rapunzel and they'll be of more use, utterly depressing.
Walker (74) – Take the small wins people, Tex might only go up $400,000 after all.
Treacy (21) – Sometimes the green dot doesn't mean all that much.
Cerra (17) – Another great pick ruined by injury. Cerra is basically Caleb Serong but better in every single way. He's straight onto my mid-season watchlist.
Dangerfield (72) – Oh the drama. Danger got his 40 minutes of screen time and that's all that matters people. Seeing him hobble around every stoppage in play like his ankle was about to fall off really has to be admired. All about you mate. C***.
Clark (-) – You had better believe I was out of my seat cheering on a Geelong injury substitution, alas Chris Scott did fantasy managers a favour for once. How good are Sunday teams. Best idea.
B.Scott (24) – Time to finish off on a low note with an unnecessary fly by. I had the displeasure of finally watching a North game and wow. I thought Paddy Dow gave people hope. I've seen Coles provide better delivery than Bailey Scott. Poor bloke.
This Game Sh*ts Me
I don't usually like to go back to the well, but well, this team announcement business is the most pointless invention since the gold fish training kit. Why are we bothering? The sides know who's playing by Thursday, seriously what are we doing here AFL. A meaningless addition that helps nobody and leaves fantasy managers sweating bullets for 72 hours.
If Thursday team announcements aren't back in 2022 then Donald Trump becoming president isn't the dumbest idea humans have ever had. I've had enough.
The Other Bits and Pieces
1803. Fantasy can get in the sea honestly. It's pretty hard to post anything respectable when De Goey is being the iceberg to your titanic. The violins are out and the ship is sinking, and I don't think there's anything I can do to stop it. I'm sending Lachy Sholl out in the life rafts because he is literally the only bloke on my team showing any form of ticker.
De Goey to basically anybody at this point is a major upgrade so there's something, while Braeden Campbell can join him in the bin as one of my worst pick ups. I have huge regrets not going for Alec Waterman and backing myself in, but alas that's probably not my teams biggest issue.
De Goey -> Ward
Campbell -> F.Macrae
At this point I need to swing for the hills to have any chance of getting back… Getting into* the top 100. I'm sensing a Travis Boak like resurgence for Cal Ward, who has been thrust into the midfield and looks awesome. There is a way I can scramble my way to Lachie Neale, but with cash generation struggles on the horizon I'm taking a huge gamble. Let's see if it pays off Cotton.
Good luck to everyone next week. We hope for the best, but expect the worst. That's fantasy people, that's all it is.