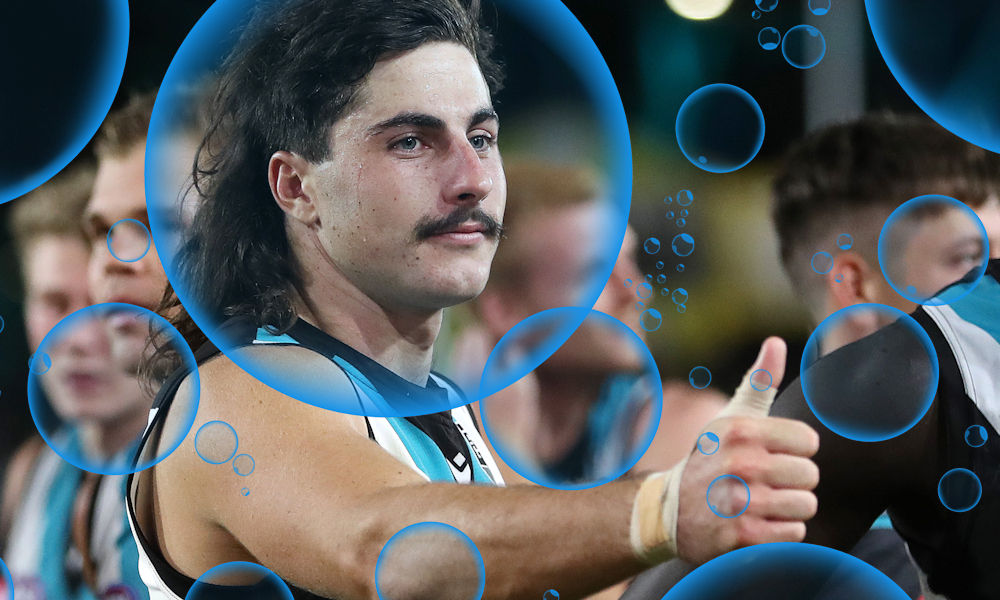 *Warning* Viewer discretion advised
I've cracked. Another weekend of football and another absolute fantasy sh*tshow. I can't keep up with the amount of frauds we're seeing in 2021, it's as painful a fantasy season as I can remember. I guess that depends how your team is going… Let's get into it. It's time for the weekend wash-up.
Legends
Ridley (110) – Let's start with the players I should have picked. Ridley is taking 84% of Essendon's kickouts, I don't see anyway he doesn't average three figures this season. Good for him and his owners.
Parker (126) – Feels like he is 38 years old, not 28. In his prime and remains an underrated fantasy player. He'll be pushing the top 8 mids.
Houston (110) – 14 CBA's, keep an eye on it. He has also been taking some kick-ins, Houston looks primed to break into bonafide premium territory in 2021.
Short (113) – Another player with a monopoly on kick-ins, taking advantage of over 50% of Richmond's kickouts and Jayden Short's scoring reflects that. It's free points and Short should be in for a massive season.
Treloar (127) – Treloar has moved into a permanent midfield role at the Bulldogs, attending 14 centre bounces on the weekend. We all know he's a great fantasy scorer and now he comes at a nice discount. Consider.
Crouch (125) – Brad Crouch sits in the same boat. He's currently priced under $700k, you likely won't see that again for a while. After one warmup game Crouch attended 28 centre bounces and absolutely dominated. Great pick.
Steele (121) – Jack Steele ticks every fantasy box, not only does he tackle for a living but now he racks up 30+ disposals with consistency. Can't go wrong.
Miller (140) – Gold Coast can put some huge fantasy points on the board, unfortunately barely anyone owns them. 13 tackles and 28 disposals for 140 is awesome from Touk, his second 130+ score of the season.
Greenwood (124) – Consecutive 120's for Hugh Greenwood, I need to send my midfielders to his tackling school. Tackles are worth twice as much as handballs, a message my spuds are struggling to comprehend.
Bowes (124) – 31 kicks. Ridiculous. Bowes and Ridley are the kick-in kings, their arrows are pointing straight up and not coming back down.
Anderson (118) – Noah Anderson's second big score of the season. He's still cheap and looks brilliant. I got Oleg Markov instead, awesome pick by me.
Ash (122) – Lachie Ash continued the form of non-midget half backs absolutely dominating and racking up cheapies. Fair play if you started him.
Taranto (129) – All hail Tim Taranto. He does it all, including putting my entire fantasy squad on his back. Forward DPP or not he has ticked every box. Awesome.
Ward (121) – Take note. 23 CBA's, 37 disposals, 7 clearances, 6 marks and surprisingly only 3 tackles. Priced at $512k, it has to be seriously flagged.
Hall (123) – Aaron Hall is dominating, the only proof you need to describe how f**ked 2021 has been. I'd usually be pretty confident in saying you shouldn't go near Aaron Hall, but alongside Taylor Walker I simply don't know anymore.
O'Brien (135) – ROB is back. An extreme example of holding your premiums, he's suddenly averaging 83 and he's priced around 90. You couldn't… Or maybe you could, just to see how f**ked up sh*t can get.
Sholl (130) –
Walker (99) – It makes me feel slightly better about myself that it was 99 and not 100, but he's just dominating. Pick of the year.
Petracca (136) – Running red hot for the Brownlow, the tractor is beasting. I don't think it's that far fetched to say he could be the highest scoring midfielder in fantasy, hard tags are your only concern. That's if they'd even bother him. Monster.
Gawn (132) – Why did we ever doubt him. Why did I trade Grundy in over him. All questions that don't have a legitimate answer. King.
Oliver (128) – The Mark O'Connor tag was barely evident, I couldn't even tell you who he went to. With Petracca suddenly looking so dominant, Clayton Oliver could get off the chain. Viney (123) also dominated, all aboard the Demons bandwagon.
Wingard (115) – Wingard is in the guts and we know he's a top 6 premium if that's the case. Will it last? Does he have the tank? At this point you could take a gamble much worse than Chad Wingard, and that's saying something.
Jiath (102) – CJ all the way.
Losers
Heeney (45) – Breaking your hand punching an opposition player in the head is Jack Higgins levels of dumb. Sorry that's off. But the lid is off this week.
Butters (83) – This game is pretty fair hey.
Rozee (32) – Connor Rozee would have to show me at least a month of the most elite football you've ever seen for me to ever even CONSIDER picking him in fantasy. He hasn't been fit for 2 years and I'm not sure he ever will be at this rate. Yuck.
Daniel (20) – Ok. Midget tossing may be frowned upon these days but I'd pay good money to hurl this c*** after that effort. I don't know what to say. How do you manage to get 20 points. Twenty. 50 is a pathetic effort. 40 is enough for me to never play a rookie again. A best and fairest winner and supposed premium? Twenty? It is without a doubt the worst performance I have ever seen by a so called "premium" in my decade of playing AFL Fantasy. In fact it could be the worst performance I have ever seen hands down. Don't forget Lycett cost me a semi-final with an 8.
AND NOW HE'S SUSPENDED. At this point the set of balls on a dildo are more useful than owning this bloke. I'm moving on before my laptop goes out the window.
Bontempelli (75) – A clear loser since Treloar has moved into the midfield, he's still going to dominate but not to the extent he was.
Daniher (26) – For every Taylor Walker there is a Joe Daniher. A brain dead key forward that runs around like a newborn giraffe and gets a gig for no other reason than his gangly legs.
Markov (66) – I may as well have traded in a rookie. One more 60 and Markov can pack his bags and head back to Belarus for all I care. Pathetic.
Dow (30) – Every week this guy gives me hope. It's amazing that somebody with such little ability can carve out such a wealthy career, never give up on your dreams kids. You could one day be as fraudulent as Paddy Dow. Head down to your local ammos game next Saturday and you'll see better footballers than Dow, and sadly I'm not taking the p*ss.
De Goey (44) – Someone rebuttal me that De Goey is the most overpaid footballer in the AFL. Seriously. Have a spell at fine leg if you're going to argue the fact he kicked 2 goals. I could find a fringe 22 forward pocket to get me 9 touches and occasionally snag two goals. That's all De Goey is. Seriously.
16 disposals, 4 marks, 3 tackles and 1.4 goals are his career averages. That is pathetic. Bayley Fritsch averages 15 disposals, 6 marks and 1.1 goals for his career. One of these guys earns $750,000 per year!!!!!!!!!! To cap it off he's making that kind of money while on bail and facing assault charges. Hopefully the courts can do us all a favour and move his hearing forward. De Goey sucks, he has always sucked and he will continue to suck. If he can't move into the midfield with Taylor Adams gone for 10 weeks then we may as well resign ourselves to the fact we made the worst pick since Heritier Lumumba had a blinder of a pre-season. Fraud.
Adams (67) – Taylor Adams, a player with some form of genuine ability, obviously suffered a serious knee injury and is out for the foreseeable future. The Magpies are crumbling, at least I got something right this year.
Clark (63) – Jordan Clark is bad. Obviously. What has he ever proven? That he can gut run and rack up 50 disposals in a preseason friendly where 80% of the players barely give a single iota because they're not on the fringe of their teams best 22 playing for a career? Ah yes that's right he did. Not up to standard and I'm not waiting until Sunday to find out if he is getting another gig next week. I severely doubt it. I am the biggest advocate for backing players in. I held Darcy Parish. I might even hold Jordan De Goey. Jordan Clark is barely worthy of lacing up De Goey's boots. Get out of my team.
Jordon (29) – At least we have a solid core of reliable rookies… Right? James Jordon absolutely capitulated on the weekend, attending just 3 centre bounces and barely playing half the game. I think I saw him on my screen about 5 times for the entirety of the match. Shambolic.
Brayshaw (54) – Andy Brayshaw was targeted for a tag again, and it's easy to see why. For a start he's an absolute gun when allowed to roam free, and more importantly he is a gutless coward who can't stand up to any added attention. Hopefully Gaff tags him one more time Sunday week.
Serong (72) – The Hebrew meaning for Caleb is "Faithful, devotion, whole hearted, bold, brave." Sure. And I am the most level headed man you'll ever meet.
Well done mate. Go out there, play your 70% of game time, have 20 touches, barely lay a tackle and then f**k off. Never pick a Caleb.
Meek (27) – Justin Longmuir trying to justify why he picked Lloyd Meek last week. Proper head scratcher, but I'll take the 27 points and run.
Flynn (-) – Leon Cameron is a c***. I've had enough. Sure Mummy was good, but I don't care. If Matt Flynn doesn't get back in next week I'm pulling the pin on my team. It's as simple as that. Of course he won't, why would the future ruckman of your club come in and play over a 34 year old when your team is going nowhere this season. Makes perfect sense. Just like refusing to play Josh Kelly in the midfield makes sense. And Coniglio is barely in GWS' best 22. What a moron.
This Game Sh*ts Me
Rolling lockouts can kindly show themselves out the door and all the way back to f**king supercoach because this is total bullsh*t. Half my squad could get dropped on Sunday and before I know what disaster is set to strike me down next week, half the players in the competition are already locked out.
I guess it's more the lack of Thursday teams and it needs to be fixed ASAP. Who do the AFL think is going to watch Bulldogs v Suns on a Saturday morning if they drive over half their fantasy coaches to retirement, or worse. It's unnecessary and it could be the reason I walk away for the second season in two years! Sh*t game, sh*t rules, sh*t season, I guess this game sh*ts me.
The Other Bits and Pieces
1783. I've contacted Tony Gelati to get Spudshed to sponsor my AFL fantasy team, because I am absolutely f**ked ladies and gentleman. What are you supposed to do when you've got 11 rookies running around for your team. Daniel, Markov, Clark, Serong and De Goey continue to drag the rest of the squad through the mud and there's nothing I can do about it.
The problems don't stop there though. I'll be lucky to have 3 playing bench rookies by Round 6 if this keeps up. I need 10 trades to fix up this absolute sh*t show and I obviously only have 2. I'm at a crossroads. I want to back in Clark and De Goey to show me why I picked them, but the facts are simple. They are no better than the rookies I selected them over.
Caleb Daniel sits at about sixth in my list of priority trades, which is an amazing feat considering his suspension. He stays.
I'd tell you my trades but hey, I won't actually know what I can even do to fix my rabble until Saturday afternoon. Just put 2021 in the bin alongside 2020. Rant over. See you next week. Maybe.