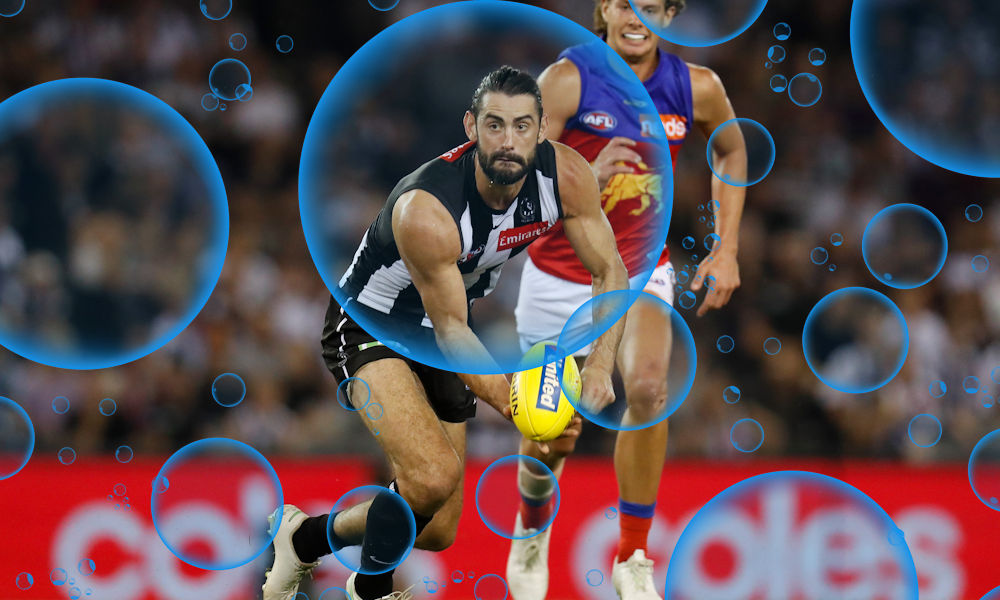 I hate this game. I really do. Want to just have a bit of fun and watch your fantasy team perform? Good luck, because a truck load of bullsh*t will hit you head on reminiscent of Shane Mumford on Mitch Duncan. Let's sort through the rabble. It's time for the weekend wash-up.
Legends
Grundy (152) – Hold. Your. Premiums. Does this mean ruckmen are back? Not necessarily. He literally rucked against nobody, winning over 90% of hitouts. However, a lot of teams are taking up that philosophy and Grundy and Gawn will still have great seasons.
Lyons (142) – Criminally underrated given his history, Jarryd Lyons is dominating again. Just too expensive to ever consider.
Zorko (133) – Zorko sent a reminder to everyone that he's still a lock to end the season as a top 6 forward. He may be past his prime but his fantasy ceiling remains sky high.
Rich (113) – Don't look now but Daniel Rich is averaging 100. A legit top 6 defensive option? Kick-outs don't hurt this season…
Ziebell (139) – Soft. Yes he scored 139 and yes he played with great efficiency. Did he do much to help North Melbourne? Absolutely not. At the end of the day we're fantasy coaches and as much as it makes me vomit in my mouth to say it, Jack Ziebell has to be an option.
Bruce (152) – I really hope no one played Josh Bruce in draft this week, I would be concerned for whoever has him. You'll never see anything like this ever again.
Dunkley (110) – Dunks is just a fantasy gun, simple as that. The midfield timeshare puts a cap on his ceiling, but as a forward he's clearly the number one option. Jet.
Walker (136) – And here I was thinking 2020 was a weird year. In 2021 Tex Walker is Wayne Carey? I'm not going anywhere near this now, but if you jumped on board early congratulations are in order. It was an awesome move. Regardless of the fact Walker plays Freo and North, I think there's too many patch ups required to go chasing Tex when he'll be nearing his max value in the next couple of weeks. Unless you think he's going to average 100+, in which case I can't help you. Fantasy aside, he has been awesome to watch. Long may it continue.
Sloane (115) – Rory Sloane really was one of the safest starters out there. This is the proof we needed he can still go big, and an average of 95+ is certainly on the cards. Great value pick.
Ellis (110) – Brandon Ellis continues to rack up for Gold Coast, it's just hard to put your trust in an outside midfielder. Specifically those named Brandon Ellis.
Mills (111) – Sydney are awesome and Callum Mills looks right at home in midfield. Can't really go wrong here, he'll be in all our teams come seasons end. Congratulations if you started him.
Warner (100) – Sydney have the four favourites for the rising star award, something I'm confident in saying one team has never had before. I think Chad Warner might be my favourite of the lot. I noted that he had 17 CBA's last weekend and that midfield role is locked in now. Just strap in and enjoy the ride. If you don't have him, find a way to get him. Now. Gulden (98) is pretty awesome too…
Ridley (124) – Criminally underrated in fantasy circles, Jordan Ridley continues to dominate. At the rate he's going he'll be contending for the top defensive spot! Looking like a top 6 lock and an awesome POD.
Merrett (121) – Zach Merrett hasn't set the world on fire given his starting price, but he might be starting to click into gear. The 73% TOG is annoying, his TOG was up last week due to injuries but he played just 74% of the game in Round 1 also. A concern. The 34 disposals and 7 marks in that time is awesome. Shiel and Caldwell going down leaves Merrett exposed to potential tags, but if teams let him off the chain he should go bonkers.
Parish (117) – Who saw this coming? I flagged it last week but needed to see that it was really Parish's role holding him back and not ability. I saw more than enough. He absolutely dominated this game, collecting a game high 10 clearances and looked like Essendon's best in and under mid. He also collected 9 marks, and if we could add some tackles into the mix Parish could be a fantasy jet. It's hugely risky I know, but Darcy Parish is far better than his current 80 average price tag in his current role. Consider.
Hind (97) – Lock and load. The half back flankers are the way to go in 2021. It's a bad look for St Kilda to have picked up one of the VFL's best half backs, play him as a small forward (Unsuccessfully) and then he picks you apart in his natural role after you delist him. Shambles.
Gaff (154) – Well well well. How the turn tables. Value.
Cripps (125) – The potential for tags puts me way off Cripps in Fantasy, however it's always great to see him let loose and dominate. The criticism he receives is totally unfair, what a beast.
McKay (137) – I don't know how deep your draft would have to be to own Harry McKay, but he's an intriguing talent. He doesn't even need to know how to kick a drop punt!
Walsh (116) – I was concerned that Sam Walsh's footballing ability wouldn't reflect in his fantasy scores after a dominant first half that netted him just 48 points. He still only had 3 marks for the game, but when you rack up 37 touches and he finally added a few tackles, you get the uber premium he looks like out on the field. The tackles are key.
Taranto (127) – The pieces are falling into place for Tim Taranto. If he can hang onto forward DPP even with Coniglio out, his owners will be having a laugh. We know he has the fantasy game, now the opportunity should be there also. Tick.
Gawn (135) – Welcome back, Max. In Round 1 we were screaming that Gawn struggled as a forward. In this game it was the sole reason he scored so well. He had 60% of his disposals in the forward half and couldn't be stopped in the forward 50, kicking 2.2 and clunking marks left right and centre. I'm not totally sold but he'll still be awesome, obviously.
Duncan (130) – It was a typical Mitch Duncan fantasy triple double, thanks to 37 disposals and 10 marks. He obviously hasn't missed a beat and looks set to dominate once again this season. Just don't expect many contested disposals, hopefully he never gets tagged…
Guthrie (153) –
Losers
De Goey (66) – Jordan De Goey should have been gone last week. He should be on his bike this week. I'm in such a mess that at this rate, I'm not sure he'll be leaving my team anytime soon. Perhaps a timely suspension would help us out. He's due a big score and it better bloody come this week, this is disgusting.
Hunter (66) – In a 128 point bloodbath, Lachie Hunter managed just 18 disposals and 1 tackle. Splitting his time between the wing and half forward, nothing about Lachie Hunter screams fantasy comeback at the moment. Just watch his price plummet and monitor the role…
Witts (66) – I can barely put my anger and frustration into words here. Witts was the correct pick. It's as simple as that. A freak twist of the knee later and his owners are in shambles. One minute he's on track for 100, the next you realise your team is absolutely cooked. I get so little enjoyment out of this game. It dictated my mood this weekend, and it wasn't great. Yet here we are. Whatever. Fun game.
Swallow (48) – Yep, makes sense. Total sense. I can't wrap my head around the Gold Coast scores. Ben Ainsworth (32) can barely touch the ball and DO NOT get me started on Will Brodie's (30) ability to find his pills. We know how that ends.
Martin (57) – Welcome to the highs and lows of owning Dustin Martin. For a guy that's just so dominant, if it goes pear shape for Richmond it won't end well. Luckily you can be extremely confident this was a one off for the Tigers.
Heeney (68) – Isaac Heeney was great for Sydney, but not for his fantasy coaches. I don't see it ending well. He sits deep forward while guys like Gulden and Wicks push up the ground and actually get involved…
Gresham (17) – Achilles are the most mystifying injuries in sport. It could be ready to snap at any moment and the player will have no idea it's coming. Then pop. Fingers crossed Gresham can come back just as strong next year, but I have my doubts. It opens up a midfield spot and I'd be surprised if Hunter Clark didn't return to the engine room. Enter Thomas Highmore. Please.
Ross (53) – You'll all be pleased to know that Seb Ross still sucks. Thank god I didn't end up going there.
Butters (58) – Zak Butters was on my radar when I watched Port Adelaide in the flesh on Saturday night. What I saw is exactly what I expected. He's not really in the midfield rotation, rather pushing up the ground from half forward and getting involved in transition. When Port get smashed, things won't go well. Luckily for his owners that shouldn't happen very often. This should be an outlier, but an average over 90 might be asking a bit much.
Dow (33) – Ok. I don't like to kick a man while he's down, but I feel bad for Paddy Dow at this point. He will never be an AFL level footballer it's as simple as that. The bloke sucks. What really sh*ts me off is the scam every single reporter who watched Carlton's pre-season scratch match sold us. I knew he was awful. I think deep down we all did. Yet here we are, with no luxury trades and Dow bleeding cash. You honestly might be better off holding an injury at this point.
Dead set as useful as Anne Frank's drumset.
Young (24) – Hayden Young's hamstring might have done us a favour, but it would have been nice if it could at least hang on until he scraped his way to 50 in the final quarter. Young needs to realise how dangerous a weapon his kicking is, he's severely lacking confidence right now. Going going gawn.
Brayshaw (63) – Tags are back and they suck just as bad as ever. Andrew Brayshaw was an Ed Curnow victim this week, and Oliver's (80) owners can be thankful Matt De Boer pulled his hamstring in the third quarter. He sat on just 39 points at the end of the third. Even the pig Tom Mitchell (71) faltered thanks to a hard Mark O'Connor tag that was Lachie Neale's undoing last week. Sorry Matty but let's hope he's out for an extended period of time, and keep an eye out for who Geelong play. Oliver is flagged again next week.
Serong (64) – No excuses for this bloke though. Talk about getting sucked in, I fell for the Caleb Serong hype train hook line and sinker. He's actually going backwards in comparison to his rookie season, even with Nat Fyfe sidelined. I never make this kind of pick and should have clearly stuck with Rory Sloane. I'm stuck with Serong now, so play those violins because I'm going down with the titanic. See you at the bottom of the Atlantic.
Clark (55) – With two trades per week it should be easy enough for us to fix up these mid price failures that Jordan Clark comfortably classifies as. This year has been a stark reminder that luxury trades aren't something we can take for granted. And now we have to watch complete and total spuds like Jordan Clark play like an expensive rookie every week. Give us a spell.
Coniglio (26) – Did my AFL app break? Or was it an issue on Champion Data's side? My Coniglio stats just stopped updating, weird.
This Game Sh*ts Me
It's fair to account for some forced trades, planning your moves weeks in advance rarely works out. HOWEVER. It is totally reasonable that some coaches have had 5 or 6 forced trades in the first 3 weeks of the season. And that has a ripple on effect. This could be a perfect week for a double downgrade to fix up our rookies that have been dropped. Well good luck with that. The advantage coaches have who dodge these bullets is enormous. Don't get me wrong it's not all luck based, but this season is getting out of hand at the minute.
Maybe I'll have a luxury trade to fix my team by Round 8. Farcical. This game sh*ts me.
The Other Bits and Pieces
1953, otherwise known as total sh*t. I said Round 3 is where you start to see the cream slowly rise, and you should have a much better idea on what your team has to offer. Well I saw Gawn and Grundy both dominate. Markov, Sholl, Clark and De Goey may as well be rookies. And total disaster struck with Jarrod Witts.
Starting with cheaper rucks was always risky, but the reward was huge. Witts was on target for another ton and was a great pick, and I can't say enough positive things about Matthew Flynn. Sometimes it's just not meant to be I guess.
Deven Robertson is a must get this week so through DPP Hayden Young is gone, and that's not much of a loss if I'm honest. It gives me the cash to go Witts to Grundy so there's a silver lining, albeit a small one.
Young -> Robertson (DPP)
Witts -> Grundy
$105k in the bank.
The rookie carnage however, that's not such a simple fix. Cash generation is number one in this game, but if we don't ever get a luxury trade those rookies will just rot on our bench. And that is disastrous.
If you have a luxury trade up your sleeve, please don't go trading your premiums. We learnt that lesson this week. Fix up your non-playing rookies, and prioritise them in order of job security. I think Highmore is a chance to return for the Saints next week, and I'm keeping my fingers crossed for Bergman after the Power got spanked (Their team is named before Thursday lockout). Paul Hunter will be a must trade for me next week.
It's still recoverable. Just. But the luck has to begin now, as we're just about at the downgrade upgrade time of the season. Good luck next week ladies and gents, we're going to need it.