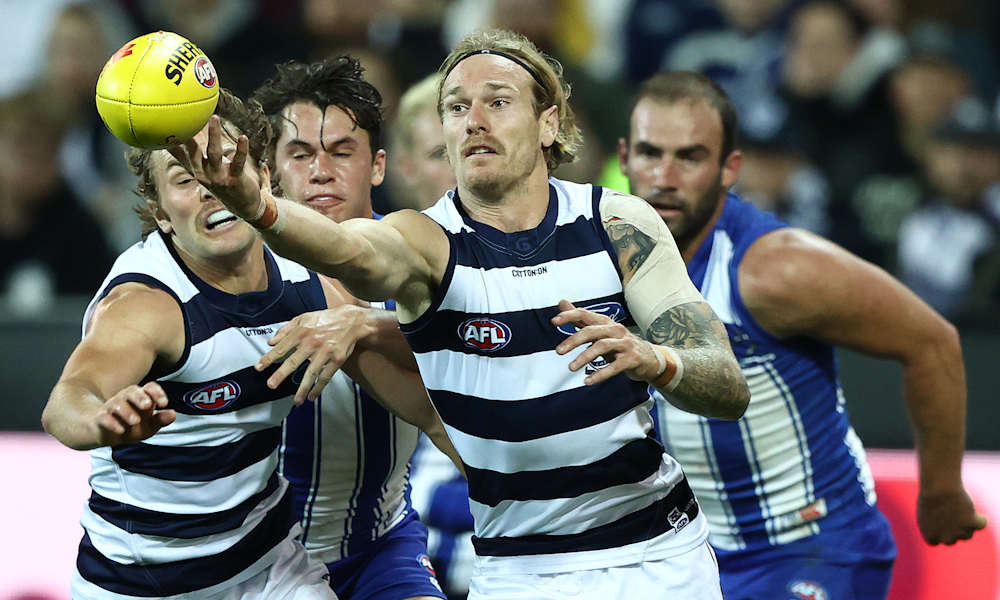 Last week was rookie roulette, but this week I am going to the opposite end of the point scale: under price premiums. About this time last year, I made a list of players from every team who I would be willing to trade into my side ( and if I obeyed it totally I would have went Rich instead of Blicavs). It was made up of what I thought would be the 3 highest performing players in each position from every team and I said I would not trade another player in unless they were rookies or injuries forced an alteration.
Round 6 is a good time to begin thinking about which under-priced premiums you can get, because from after the first bye we'll all be chasing premiums who are over $800k. The thinking is simple, most mid pricers have had their chance to go up and if they haven't it's because they are not any good or they have been injured or are playing in the reserves and will have poor job security (don't go Jackson Hately for example when he comes in).
This is my quick take on all the teams and the players I will be looking to trade in. Which one at which week is dependent on injuries and what rookies are named in order to sell 2 mid pricers to 1 under-pried premium and 1 rookie. For example, I have Dan Houston and if he is out, I will upgrade to Tom Mitchell and downgrade a non-playing rookie or Campbell to Macrae or Farrar; otherwise, I would consider Phillips and Campbell to a Neale/Mitchell and a rookie.
I don't have O'Brien or Walker and as I already own Sholl and Laird, I will only be trading rookies into my side as bench options for the rest of the year unless something significantly changes, which would be Tex still averaging over 100 in Round 15 (or a ruck injury). This means I cannot see any value in Adelaide apart from Laird and Sholl, and there will be many sides in this bracket.
I can only see 4 players worth buying: Neale, Lyons, Rich and Zorko, but before Round 12 only Neale is on my radar, although his next 4 weeks have a few potential tag speed humps.
I already own Docherty and no other player will finish in the top 6-8 in any position. The entire team is a no go, unless Walsh starts to average 110 and Williams 95, but I will wait for the evidence.
For me now, it is only Grundy and Crisp. I need to see Sidebottom average 90 plus for a few weeks first.
I own Merrett and Hind and only Ridley is worth considering, and that in about 3 weeks if he comes back well from concussion.
This maybe harsh, but I cannot see any Fremantle player being in the top 6-8 of any line unless Ryan has a run of intercepting everything. At this stage only rookies for bench spots, or at a pinch in later rounds you might go Fyfe up forward, but his injury risk is a downside. But he could be a good option late in the season if Fremantle are close to finals.
Dangerfield and Stewart when their price is right and Stewart's price is right, right now. Duncan and Guthrie post bye if they are averaging top 8 midfielders.
I know Ellis and Bowes are averaging high now, but I will not buy a Suns premium until after the byes and there is a longer history of consistency that they have a top player. Bowes is the only option.
I currently own Taranto, but I suspect only Kelly as a forward will end up in the rolling 22. Buy as soon as he gets near a wing.
Mitchell – forget the rest.
Gawn, Oliver and Petracca are gold and 1 of those midfielder's and Gawn is a must- no-one else.
Ziebell is like Tex, I'll wait now until after the byes and he is still averaging 100.  No-one else is even close.
I still have Houston, but Port have become like the Tigers of 2020 and therefore they spread the love, unless the pig Rocky looks cemented in the midfield after a few more massive price drops.
Martin and/or Bolton, and I think Short will finish outside top 6 defenders and so if you don't have him, I wouldn't be getting him whilst Houli is in the team
Jack Steele and like Hawthorn forget the rest unless you like Clark as a DEF, but he hasn't a high ceiling yet.
Mills and/or Lloyd and forget the rest.
Who knows what Witherden will do, but he is a watch and Gaff will finish anywhere between M7-12 and is a post bye buy when the Eagles have a favourable run at home.
How many is too many, I have Dunkley and Macrae and there is a chance I could look to get Treloar and maybe even Daniel again, but I still think he ends up D7-12.
Upshot
I am sure I have forgot many players but create a list as it stops you buying a player who just had a good game and will go up $40k, but in the end is a player stops you buying Oliver in Round 15 because you have failed to generate cash in post bye rounds. For example, Redden this week or dare I say Jiath last week (i.e. you needed to buy him the week before)
The only players apart from rookies I am wanting to buy between now and Round 12 are (I'll include in the list the ones I already own): Neale, Rich, Crisp, Ridley, Laird, Docherty, Merrett, Stewart, Grundy, Taranto, J. Kelly, Gawn, Martin, Steele, Mills, Lloyd, Gaff, Treloar, Macrae, Dunkley, Houston, T. Mitchell. You cannot not end up with them all as the fantasy gods play havoc each week, but at least you won't be stuck with Angus Brayshaw in weeks to come. Avoid mid pricers who have just had a good game but have a history of scoring lower.
This week
All depends on Houston's fitness, but I will be hopefully going to a Farrar/Macrae rookie and up to a Mitchell or Neale. Round 5 was 1955 and ranked 816. Good Luck everyone!