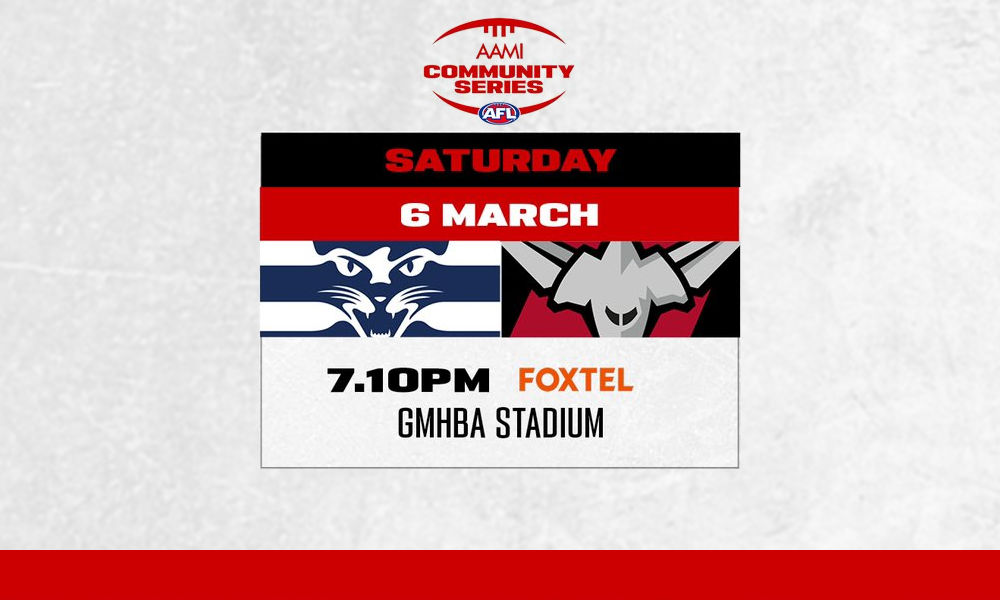 I was getting close to being in full supporter mode as the Dons looked a chance to win the game, but it was more about the fantasy action going on at GMHBA Stadium. Plenty to watch and some very good information out of the game! Here we go.
Final CBA's – Merrett 20, Parish 14, Caldwell 12, and Shiel 11. Danger 17, Selwood and Parfitt 16, and C. Guthrie 11. #SuperCoach #AFLFantasy #AAMISeries

— Fantasy Freako (@FantasyFreako) March 6, 2021
Who's missing: Mitch Duncan, Rhys Stanley, Luke Dahlhaus
Jordan Clark (DEF/MID, $422,000)
The story of the night was Clark's game. Absolutely sensational, racking up the most points for the match with 135 (66% TOG). Roy has been hot on him all pre-season with mentions in the AFL Record, his Cats' preview and even as a sleeper in our Draft Kit. Time to jump on board if he can hold down that wing role. It was a thing of beauty as he was basically running where he wanted. Not only was he taking kick-ins (and running out of the square like a good boy), he also hit the scoreboard kicking 1.2. If you are looking at guys like Cumming, Young, etc in that $300k range, then you've got to grab Clark at $422k.
Jordan Clark omg. #AFLFantasy score by quarter:

Q1: 29 (81% TOG)
Q2: 50 (80% TOG)
Q3: 0 (0% TOG)
Q4: 56 (100% TOG)

— Haydn 'Dos' Kenny (@HKdos) March 6, 2021
Patrick Dangerfield (MID/FWD, $780,000)
We were off Danger earlier in the pre-season as he was injured and seemingly, not 100% for round one (he only joined the main group recently). There are absolutely no worries as he played mostly in the midfield with some stints up forward, finishing with 86 (76% TOG). The Cats have a nice draw early and you could have him as your F1 as there is value priced at under 102.
Jeremy Cameron (FWD, $488,000)
The former Giant was solid, presenting well up the field (definitely playing higher than Tom Hawkins who scored 57 from 98% TOG)… but the return was modest with just three marks. Two goals for 67 points (77% TOG) isn't enough for me to want him. I know Roy and Cal have been keen, but I'm not so sure with the unknown of the forward combo. He's value, but I don't think he's going to hit the 80-85 average he would need, in my head, to be worth it.
Others of note…
Tom Stewart did what he does… eight marks to go with his 29 disposals and 112 points. Fellow defender Jed Bews took 12 marks for 93 points.
Geelong's midfielders shared their time in the guts (and on field) with only backs and key position players having more than 80% TOG.
Don't get fooled by Josh Jenkins' 86 (and decent average next to his name in Draft). While he could potentially do some rucking this year, the fact that Sam De Koning started in the ruck and Rhys Stanley/Darcy Fort are currently out of the side, he's got an uphill battle to have a consistent place in the side.
Who's missing: Michael Hurley (hip), Jake Stringer (achilles), David Zaharakis (knee)
Zach Merrett (MID, $884,000)
Lock. Lock. Lock. He's my M1… and I'm ranking him as my top midfielder this year. We all know his scoring history, but this was special. None of the bullshizen of playing in some different positions, he played as an inside mid and the numbers were awesome. 37 disposals, 5 marks, 6 tackles and 134 points (85% TOG), Merrett will be leading the midfield group alongside Shiel (who played half a game) and Andy McGrath… oh and Darcy Parish
Darcy Parish (MID, $625,000)
Alright. Adjust your draft rankings. With a mid-80s average next to him, he's gotta be moved up your draft board. Seriously, Parish is a mid-90s guy at worst when playing pure midfield. Now, the comms coming out of the club this pre-season is that this will be the case and it certainly looked like it tonight. 116 points (80% TOG) from 32 disposals, of which 11 were contested possessions. I liked it, but after the disaster of round one last year… I can't do it in Classic, but he'll be a target in the Bacon Cup draft for me.
Nick Hind (FWD, $409,000)
Would have entered plenty of teams in the first three-quarters as we saw the rebounding half-back role in full flight. Hind was 'subbed out' of the game on 75 points (60% TOG) when he copped a shoulder knock. Rutten said in the presser that they took a conservative approach with he and James Stewart (hamstring awareness). He's going to be productive back there, as he was in that role for the Dons' VFL team before being picked up by the Saints (I need to find those numbers to rattle off on the podcast). Monitor his health, but for that price, I'd feel much more comfortable with a running half-back than a Jez Cameron or Joe Daniher type at this point.
Dyson Heppell (MID, $566,000)
I liked what I saw from Heppell as he basically eased himself back after missing a heap of footy. Similar to last week. I think he's still value and he's a lock to get DEF status, but will he hurt us enough in the first five rounds that we should use a MID spot on him and flick him back? I don't think so. I'm passing for now.
Jye Caldwell (MID/FWD, $502,000)
Passed the eye test. Midfield role, tick. Looks busy, tick. Plenty of the ball, tick. Fantasy score, not quite enough to be a tick. I raised these concerns earlier in the pre-season about his ceiling. I'm not sure it's there. Caldwell had 24 disposals, but with 9 kicks and 15 handballs, there are some important points being missed by having the K:H ratio like that. I liked his intent on the ball and was linking up a fair bit, the tackles were a bonus… although, he was a victim of the 'almost tackle' as he did everything right on a few occasions, but it wasn't recorded due to the ball going to a teammate. So, I haven't ruled Caldwell out… his 75 points did come from just 67% TOG, so the PPM was great, but there could be some different shuffling with the FWD line this week.
Harrison Jones (FWD, $170,000)
He'll play round one, but as we've been saying, bench only. Five marks were promising and he moves pretty well – including up the ground… so you'll want to have him, but if there are an abundance of forwards, Jones isn't necessarily a must-have. Think Max King from last year.
Others of note…
Nik Cox played 80% of the game. He may just play round one, but with the price premium, I don't think I can justify starting him… even with worries of backline rookies.
We all had Ned Cahill on our list as a sub-$200k forward option. He appeared to play in the backline but the little fella made a few mistakes, and only scored 36 from his 83% TOG. A watch for those Friday night teams as the Dons play on the Saturday of round one.
Sam Draper played half a game. I love him. Buy stocks in keeper leagues… but be aware that he may rest. Nick Bryan came on late to ruck. He didn't look awful, but he was hardly up against anyone.
I could talk all day about the Bombers and probably run through the whole list, but I better go to bed. Jordan Ridley is a gun and will be knocking on the door as a top 10 defender. Devon Smith may pick up forward status, so grab him in draft, but don't reach. Oh, and two-meter Peter Wright… Joe who?! Haha.
Ok, bed time now.