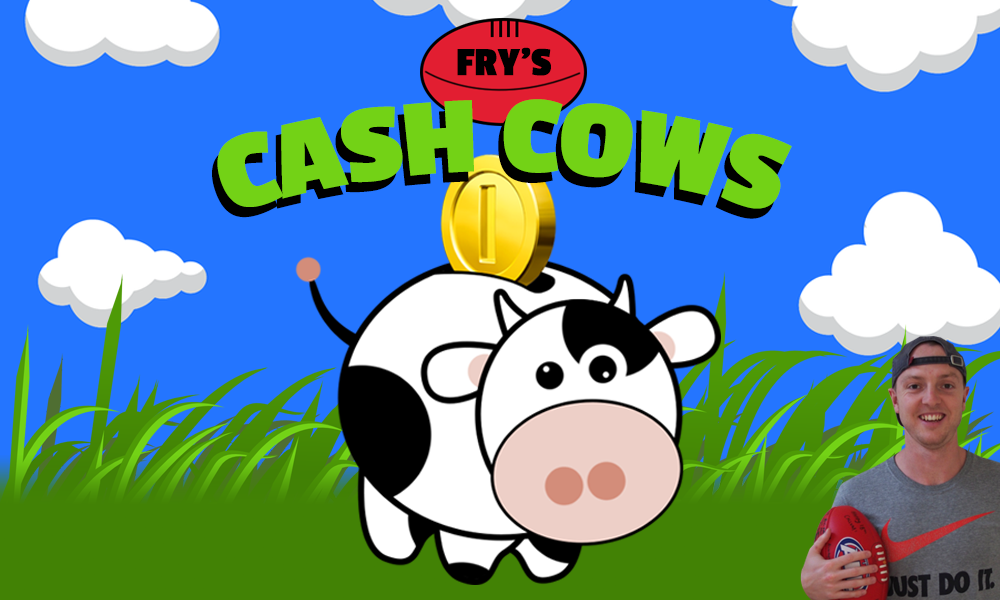 Shoutout to the fantasy coaches reading this and still making their three trades each week – we didn't always think we'd make it, but here we are. The 2020 fantasy season comes to a close this weekend after tumultuous and testing conditions that saw a lot of coaches wave the white flag before we reached Round 18. There's one chance left for coaches out there to better their sides before the final round of fixtures, but to get there we all needed some help from cash cows along the way. Below you can find the deserving nominees for a number of different rookie awards to help reward some of the league's most exciting youngsters for their performance during a fantasy season for the ages!
Rookie/cash cows are usually players who start the season priced at $300,000 or lower
---
Cash Cow King – Round 17
Weird scores tend to appear during the final few rounds of the season and this week's top rookie scorers, involving four first-time nominees, is very on-brand. Lachie Sholl (89) was the cash cow to catch in Round 17, with gun midfielders Harry Schoenberg (82) and Tom Green (86) posting career-best numbers in an effort to chase down Sholl's score. The successful return of Trent Rivers (76) in the past few weeks saw the Demons youngster play himself into form with his best numbers of 2020. This round though, my vote goes to Schoenberg after the Adelaide talent has flirted with success all season and finally managed to cash in.
Loading ...
Rookie Downgrade Targets
With no Round 19 on the horizon, ditching the money on your bench is the smartest way to make the money necessary for those final upgrades. Choosing a non-playing rookie priced at $170K is a good start, but if you're craving an emergency score and these players can hold their place in their respective sides, here are your best downgrade targets.
Hamish Brayshaw ($172K, MID, Eagles)

Ben Jarvis ($175K, DEF, Cats)

Joel Amartey ($170K, RUC, Swans)

Jake Buckley ($193K, MID/FWD, Giants)

Jordan Sweet ($170K, RUC, Bulldogs)*
---
Award Races
Game of the Year
Reduced game time this year meant fantasy scores around the entire competition weren't as lofty as we've been used to seeing. There were still some bright sparks though with most of the highlight reel point totals coming early on in the season. Matt Rowell only played five games in his debut season, but in back-to-back matches, the young Sun managed to drop the two best rookie scores of 2020 – scoring 108 (BCV score of 135) and 104 (BCV score of 130) in Rounds 2 & 3. In just his second AFL game ever, Rowell gathered 26 disposals with 7 tackles and two goals as the Suns upset their coastal rivals from WA, before following it up with another ton fuelled by 20 touches, 10 tackles and another two majors vs. Adelaide.
It was always going to be hard to outshine Rowell's early successes and in Round 6 Sam Simpson gave it his best shot in his AFL debut. Playing in his first game since late in 2018, Simpson scored 102 points (BCV score of 128) for the Cats in their triumph over the Lions finishing the game with an impressive 26 disposals, 6 marks and 5 tackles. No other cash cows managed to breakthrough the triple-point threshold, despite multiple close efforts from Caleb Serong. The youthful Docker has three scores in the 90's this season, all of which have come against impressive opponents in Geelong, Collingwood and Richmond – with his heroics against the Magpies particularly noteworthy. Technically, Serong had higher scores in Round 8 vs. the Cats and Round 15 vs the Tigers, but 24 disposals and 6 tackles in a victory over a formidable foe makes Serong's score of 92 (BCV score of 115) stand out as his best of the season.
Loading ...
Rookie Coach of the Year
85 debutants have filtered through this season as each club battled to field their best 22 week in, week out. Seven teams handed half a dozen or more players their AFL debut this season, with Matthew Nicks and the Crows leading the charge with nine fresh faces. As Adelaide goes through a rebuilding transition, there is a priority in getting games into the younger players on their list – and the similar could be said for Fremantle, Gold Coast and Sydney. A few of the Freo kids became relevant as cash cows, with Caleb Serong emerging as the Rising Star favourite for his efforts and Sydney's cash cows would've filtered in and out of a lot of sides this year. You could argue that the Suns were the most relevant fantasy team from a rookie perspective with Matt Rowell, Noah Anderson, Izak Rankine and Connor Budarick all emerging as popular picks over the 2020 fantasy campaign – giving Stuart Dew a strong case to claim COY honours.
Loading ...
Cash Cow King
You would think Caleb Serong runs away with this award based on seven nominations in 14 games as the Cash Cow King of the week, but this is a much closer count than you think. Serong won three of those rounds as the best cash cow, tying Matt Rowell for the most CCK victories for the season. Rowell's three wins and four nominations came from just five games though, with the Gold Coast gun injuring himself in his final game of the season – ruling him out of CCK contention in Round 5. Marlion Pickett scored well throughout the season and Curtis Taylor deserves his spot amongst the finalists, but this is a two-player award race in my opinion.
Loading ...
Defender of the Year
No offense to Brandon Starcevich and Andrew McPherson, but this is Will Day's award. The 13th overall pick from 2019 hasn't put a foot wrong since taking to the field in Round 6, emerging as a stable D5-D6 for a large portion of the fantasy community. Day has maintained his fantasy scores as the season progressed too, scoring north of 55+ in five of his last six matches and providing coaches with a trusty rookie as other options dried up. Starcevich deserves recognition for his entire body of work over the 2020 season, but by no means was he the same type of scorer as Day – with the Lions cub last scoring more than 50 points in Round 3!
Loading ...
Midfielder of the Year
The four midfield nominees that emerged from last week's voting ballots are conceivably the four best rookies from this season, with a high percentage of coaches owning all of them at some point in 2020. When picking the best rookie MID of the season it boils down to personal preference. On one hand, you may want to reward Noah Anderson for scoring the most total points in the group. On the other, maybe your vote foes to Matt Rowell for his immense fantasy ceiling despite playing just five games this year. Or maybe the consistency from Caleb Serong appeals to you with Freo's rookie scoring under 40 just once in the entire year. Finally, let's not forget about Marlion Pickett, who didn't display the same stability as a scorer, but lifted his output in the back half of the year. All four midfielders can stake a claim as the best of the bunch and this vote could go down to the wire!
Loading ...
Ruckman of the Year
I included Marc Pittonet in this section based on his starting price of $305K, although he technically doesn't qualify as a rookie. The discarded Hawk enjoyed a successful first season in navy blue by averaging 54 over his 13 games and emerging as the best cheap ruck this year. However, Sam Draper and Darcy Cameron are the two cash cows I'd rather see poll a lot of votes, with their services crucial to successful sides this year. Draper didn't come onto the scene until later in the season and despite being managed multiple times throughout, he still managed to be a factor with 7 scores all over 40 – which is saying something for a ruckman. Cameron managed to play in 8 matches during his first year as a Pie with an 87 back in Round 11 boosting his average significantly and his versatile FWD/RUC status made him a handy player to own throughout 2020.
Loading ...
Forward of the Year
Key forwards don't often produce eye-popping fantasy numbers and Max King was no exception this season. The towering Saint didn't produce huge scores, but he did become one of the most relevant rookies in the early frame with his value flatlining around the mid-season mark. Around a similar time, Curtis Taylor also peaked in value, with a knee injury ending his campaign after a promising 46 AVG from 9 games. It was also near that point of the season that Izak Rankine came into the fold, with the second-year Sun thriving once he took to the field for an average just under 50 from his 12 matches. Rankine and Taylor are the two clear best forwards from this year in my opinion, but separating the pair is a tough task.
Loading ...
2020 Rookie MVP
No offense to Matt Rowell, but I can't full support his candidacy as the rookie MVP for 2020. Sure, Rowell excited in his five games this year, but his 354 total points for the year put him in the same category as Darcy Cameron and Sam Simpson. Will Day's numbers guarantee his spot on the final ballot, but Caleb Serong and Noah Anderson are the two players who should come under serious consideration for this award. Anderson's 994 points are the most by any rookie in 2020, with Serong exactly 100 points behind Gold Coast's young star. Both MID's should take to the field in the final round to cap off what has been two unreal rookie campaigns – and the end of the day though, there can only be one MVP…
Loading ...
---